Lights, smile, action! NatruSmile Teeth Whitening Kit blends advanced cold-light technology and a fitted mouthpiece for a dazzling, effortless smile.
Dual Whitening Technology
Comfortable fit
Professional-level results
Minimal sensitivity
Lights, smile, action! NatruSmile Teeth Whitening Kit blends advanced cold-light technology and a fitted mouthpiece for a dazzling, effortless smile.
Dual Whitening Technology
Comfortable fit
Professional-level results
Minimal sensitivity
Regular price
$89.99
Sale price
$62.99
Unit price
per
Sale
Sold out
Shipping calculated at checkout.
Bundle and Save
Split your payments up with
View full details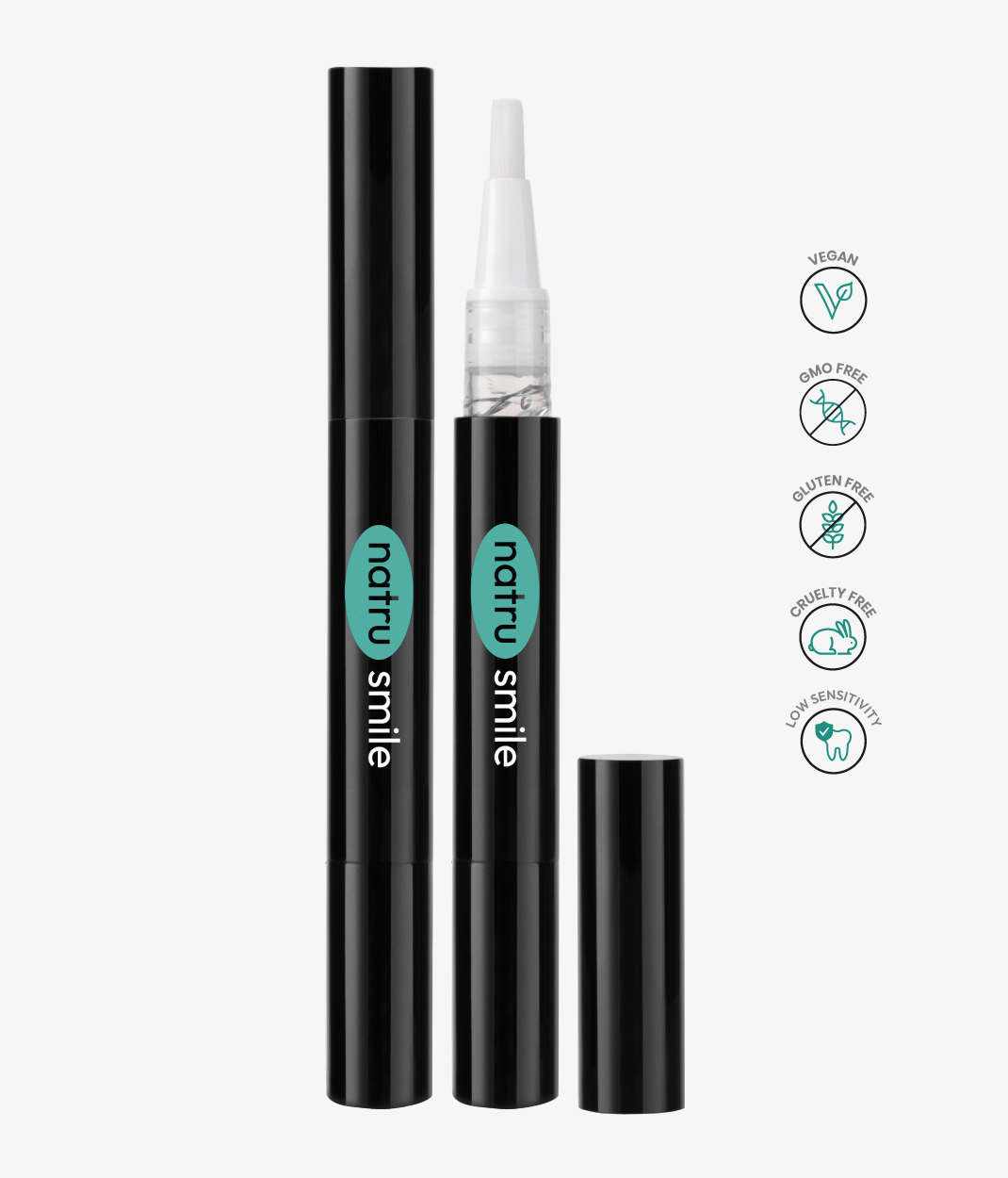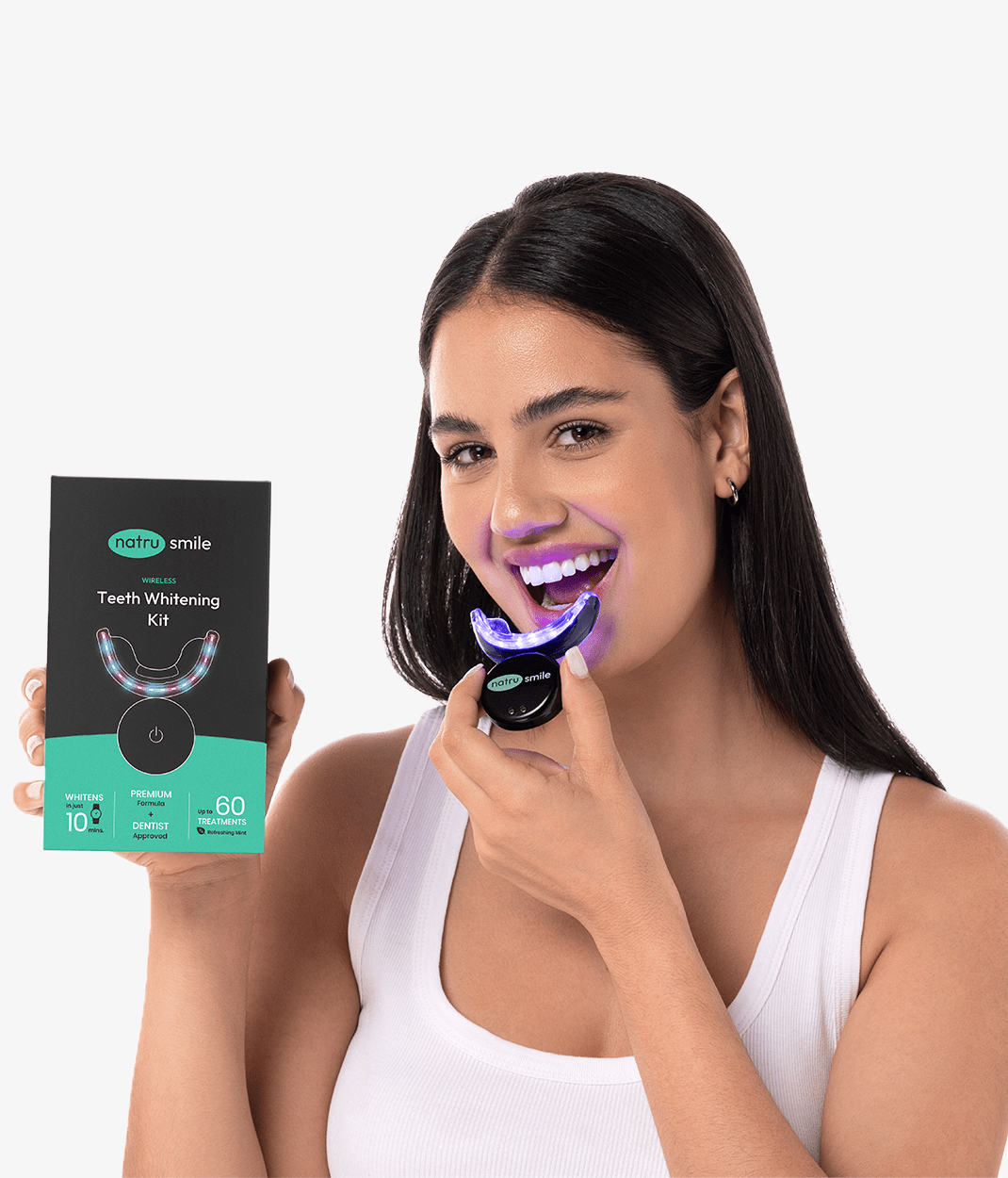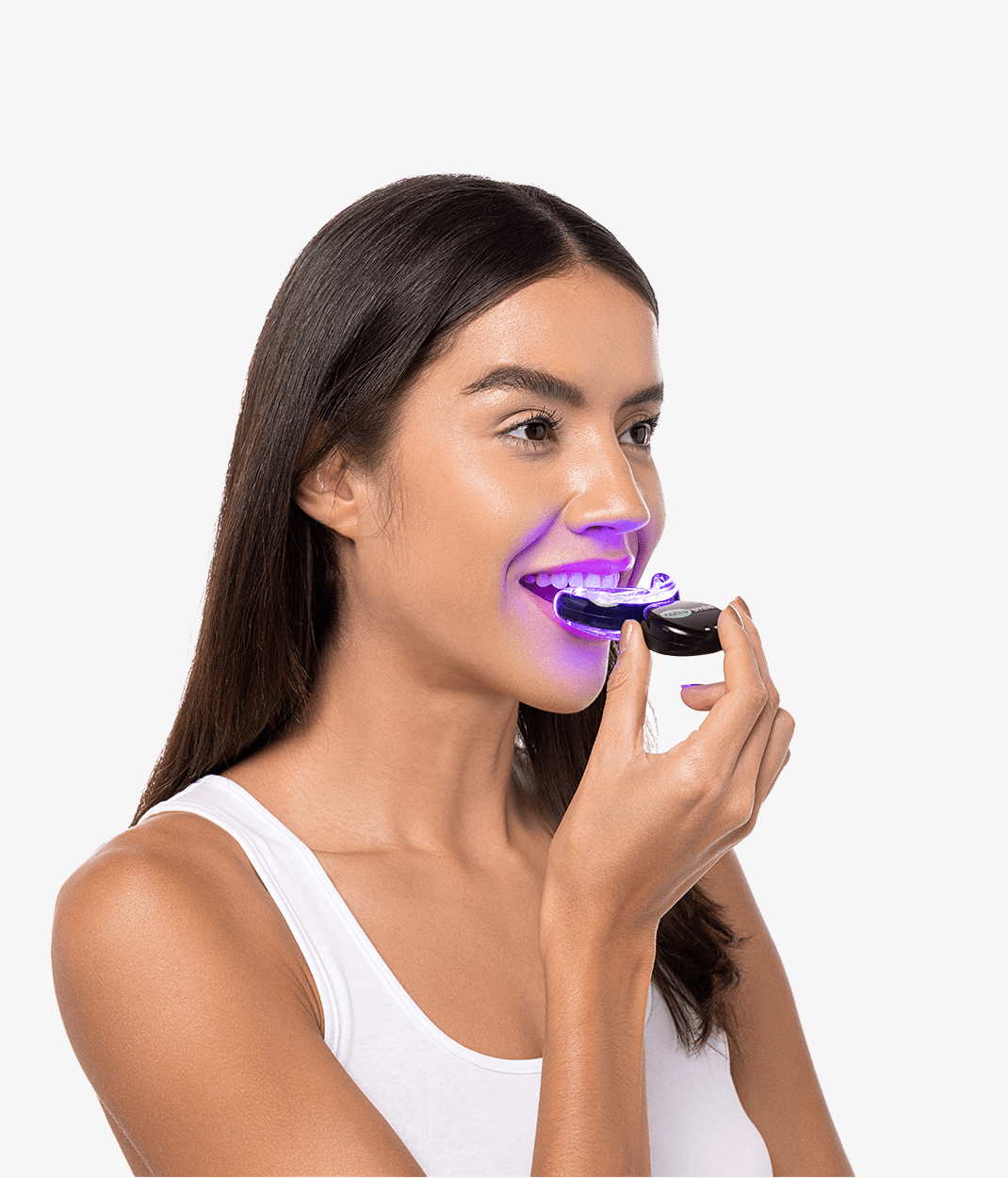 Benefits

Our non-sensitive formula and ergonomic mouthpiece ensure a pleasant at-home whitening experience.

How to use

Simply insert the mouthpiece into your mouth and enjoy a pearly-white smile in as little as 15 minutes.

Shipping & returns

We happily ship worldwide and offer hassle-free returns. All products are available for immediate shipping.

Ingredients

Carbamide peroxide and PAP gel in whitening kits comply with US and UK regulatory guidelines, respectively.
Whiten your teeth, brighten your life.
How to use video
As featured in
How to Use Our Teeth Whitening Kit
In just 4 steps, the NatruSmile Teeth Whitening Kit gives you a noticeably radiant smile.
Brush your teeth

Brush normally, then rinse your mouth and mouthpiece with water. Use the provided shade guide in front of a mirror to record your tooth color.

1

Apply the serum

Twist the teeth whitening pen until the gel appears on the brush. Apply a thin, even layer (about 0.5ml-0.7ml) to your upper and lower teeth

2

Whiten your teeth

Pop the mouthpiece into your mouth and bite down. Turn on the LED light, selecting either Blue (whiten 15 minutes) or Blue/Red (whiten 10 minutes).

3

Rinse and reveal

After the whitening device turns off, remove the mouthpiece and rinse it and your mouth with water. Compare your teeth with the shade guide to track progress.

4
Before & After Results
NatruSmile Teeth Whitening Kit fixes tooth discoloration from coffee, tea, smoking, and more. See the results for yourself in just 15 minutes.
Before
Yellow teeth from coffee staining make your smile look dull. Without treatment, these stains become increasingly difficult to remove.
Yellowed teeth
A dull smile brings out your wrinkles, making you look older than you are. Even if you're young and beautiful, yellow teeth highlight your least complementary features.
Stained teeth make you feel less attractive when smiling or talking in public. Personal and professional relationships when you're insecure about how your smile looks.
Hiding your smile while dating, networking, or speaking is off-putting to peers and potential partners. Others will perceive you as less friendly, trustworthy, and engaging.
As stains go deeper into the enamel, they become harder to reach and may require professional attention. Professional whitening and restorations cost thousands.
After
The NatruSmile Teeth Whitening Kit produces dentist-level results for a brighter, healthier-looking smile.
Glowing white teeth
Look five years younger and minimize your wrinkles with a sparkling smile. With a stunning set of teeth, you'll look healthier and shift the attention back to what makes you beautiful.
Be the life of the party, secure in your new and improved pearly whites. Feel like yourself again when socializing and smile freely with an enhanced look and improved confidence.
Come off as friendly and trustworthy to potential partners and employers. When you're approachable, you'll achieve greater success in your career and personal aspirations.
Save yourself time and money before it's too late. Whiten your teeth now and protect yourself and your smile from the inevitable: An invasive and potentially painful treatment.
Why Use a Teeth Whitening Kit?
Teeth whitening kits are the best alternative to professional teeth whitening. They're easy to use, safe, and advanced enough to produce professional-level results. You can forget about tedious trips to the dentist's office and the sensitivity that comes with it. Plus, they're cost-effective—you won't need to give an arm and a leg for your beautiful smile.
Convenient and cost-effective
In-office treatments cost up to $1,000, or more—a price that isn't realistic for most. And taking off work to drive to the dentist for each visit (that's right, there are multiple!) means more time and money wasted. But dentists use the same whitening agent we do: peroxide gel. Instead of paying for expensive treatments and waiting weeks for results, you can save time and money with our Teeth Whitening Kit.
Designed with Safety and Sensitivity in Mind
Tooth sensitivity affects up to 57% of the population. During and after whitening, sensitivity is the most common side effect. That's why we developed our teeth whitening kit with sensitivity-reducing technology, keeping your teeth and gums safe from irritation. Using the Blue/Red mode, you can whiten your teeth painlessly.
At-home whitening can sometimes be error-prone. Applying the whitening gel is effortless and safe with our precision gel pen, which allows for a seamless application.
What's Included In Our At-Home Teeth Whitening Kit?
NatruSmile's home whitening kit has everything you need for safe teeth whitening in the convenience of your home.
Improve your smile in 3 days

Erase years of smoking, coffee, and wine stains with one of the fastest treatments on the market.

LED mouthpiece

Activates the whitening gel with cold-light technology for better, faster, and longer-lasting results.

Dual light therapy

Blue LED light for teeth whitening. Red LED light to support healthy gums.

Safe on sensitive teeth

Designed with sensitivity in mind, so you can painlessly achieve the results you deserve.

Water-resistant

Save time and whiten in the shower. Don't sweat if it falls in the sink.
How Does Our Teeth Whitening Kit Work?
Whitening is easy as 1-2-3 with NatruSmile. It starts with our whitening gel pen, which allows for an easy and precise application of the whitening gel. Once the gel is evenly applied to your teeth, insert the rechargeable LED light mouthpiece to accelerate the whitening process. Choose between Blue or Blue/Red modes based on your whitening preferences and sensitivity. After just a few treatments, your teeth will be ready for the world to see!
Advanced whitening technology
Carbamide peroxide and PAP are powerful whitening agents that break down stains on your teeth. They take effect on their own, but the LED light in our teeth whitening kit speeds up the process, leaving your teeth brighter and fresher, faster.
The ergonomic mouthpiece is designed according to human oral engineering principles, ensuring a snug and secure fit. That way, you can focus on getting that perfect smile without worrying about evenness in your application.
Tackles a range of stains
Different stains have different makeups underneath your teeth. NatruSmile's whitening gel and light technology are designed to break down the stains caused by coffee, tea, smoking, wine, and even some medications. Yellow, brown, and unevenly stained teeth from years of poor lifestyle habits or a lack of dental care are no match for dual-light and our whitening gel.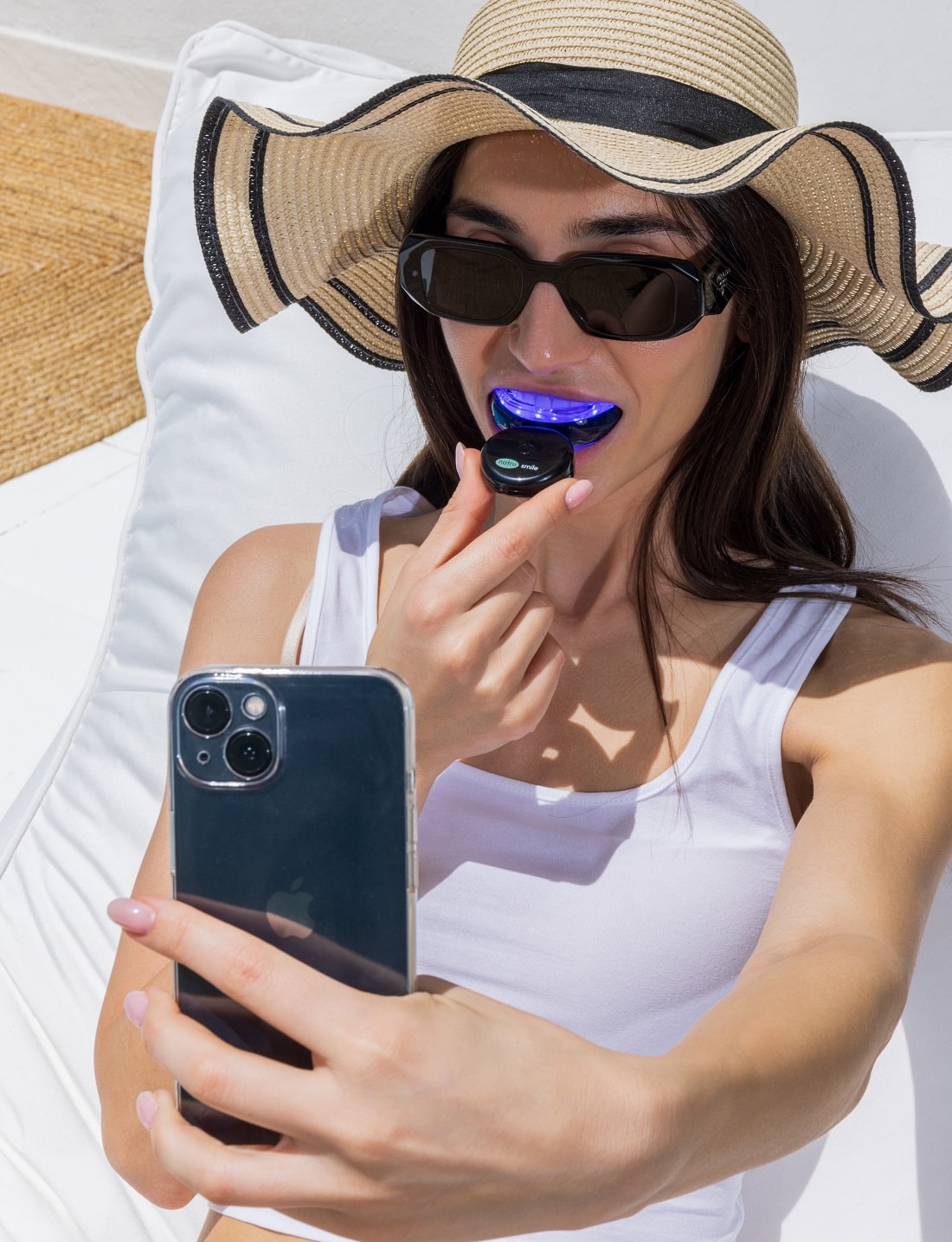 Common Ingredients in Teeth Whitening Kits
The biggest problem with some teeth whitening treatments is their reliance on harsh chemicals. Our Teeth Whitening Kit contains ingredients that have been clinically researched, tested for safety and effectiveness, and approved by the FDA.
Carbamide peroxide
Carbamide peroxide is a combination of hydrogen peroxide and urea, which breaks down into hydrogen peroxide and ammonia when exposed to water. The hydrogen peroxide in teeth whitening gel begins reacting with the stains on the teeth as soon as it is applied, breaking them down and making them easier to remove.
The effectiveness of carbamide peroxide depends on the concentration used in the product, as well as the duration and frequency of use. In the NatruSmile Teeth Whitening Kit, the carbamide hydroxide gel is formulated to be safe and effective for at-home use, and its concentration is meant to maximize effectiveness and minimize sensitivity.
Xylitol
A natural ally in promoting oral health, Xylitol is an integral part of the NatruSmile Teeth Whitening Kit. While not the active whitening ingredient, its role in the kit is nonetheless crucial. Consumed in small quantities, as in our whitening kits, Xylitol enhances the activity of white blood cells that fight plaque buildup and bacteria in your mouth. Plus, Xylitol's unique ability to naturally remineralize teeth not only improves dental health but also amplifies your whitening results.
The biggest problem with some teeth whitening treatments is their reliance on harsh chemicals. Our Teeth Whitening Kit contains ingredients that have been clinically researched, tested for safety and effectiveness, and proven to whiten without tooth sensitivity or gum irritation.
PAP (Phthalimido-peroxy-caproic acid)
As a non-invasive bleaching agent, PAP is safe on enamel and uniquely functions at the level of tooth oxidation. It works to dissolve stubborn stains that have accumulated on the tooth enamel's surface and even reaches behind the enamel for a thorough cleanse. The powerful action of PAP penetrates through all three layers of the teeth, disintegrating deeply set discoloration.
PAP doesn't just restore and whiten the surface of the teeth—it targets all layers, making it a comprehensive solution for teeth whitening. In the NatruSmile Teeth Whitening Kit, the PAP is of the highest quality, ensuring its safety, efficacy, and compliance with UK and EU regulations.
Titanium dioxide
Recognized as a safe and efficacious whitening agent, titanium dioxide is found in a wide array of toothpastes and whitening products. Its principal role lies in accelerating the oxidation reactions integral to the bleaching process, thereby amplifying the overall whitening effect. The titanium dioxide concentration our teeth whitening kit strictly adheres to Regulation No 1223/2009, ensuring the highest standards of safety and effectiveness are met.
Recommended by Real Dentists
We didn't just make up the science behind the NatruSmile Teeth Whitening Kit. Real dentists and clinical testing back our products.
Endorsed by Dr. Greg Grillo D.D.S
Dr. Greg Grillo, D.D.S., a US-based dental professional, brings 28 years of experience in all facets of the dental profession. Dr. Grillo verifies and endorses all NatruSmile products, including our whitening kit.
28 years serving patients
Experienced clinician
Dental Advisory board
Greg Grillo, D.D.S. earned his Doctor of Dental Surgery degree from the University of Washington School of Dentistry. He currently serves as an executive of Method Pro and sits on the advisory board for Quip.
Don't Just Take Our Word For It
Dental professionals across the country recommend the NatruSmile Teeth Whitening Kit as a safe and effective whitening solution.
Home whitening and oral care excellence!
As a trusted dentist, I highly recommend the NatruSmile home whitening kit for achieving a brighter, more radiant smile. With its safe and effective formula, you can whiten your teeth conveniently from the comfort of your own home. You can truly experience professional-quality results with NatruSmile and achieve your dream smile!
Dr. Andrés Arias
Serving patients since 2018
5-star home treatment products that work!
My recommendation as a orthodontics of dento-factor facial orthopaedic specialist is that NatruSmile products are 5-star home treatment products that are perfect for young adults to use safely and effectively at home to achieve an awesome smile. I would highly recommended NatruSmile to anyone looking to improve their daily oral care routine.

Dr. Mai Abdelsalam
Orthodontics of dento-factor facial orthopaedic specialist
Eliminates problems with home whitening!
I recommend NatruSmile products because so many others that exist in the market come with problems. Either it does not whiten the teeth enough or they bring a lot of sensitivity and the process is very slow. NatruSmile products eliminates these problems and delivers a smile you always dreamed of in a short time, without pain and at a very competitive cost.
Dr. Daniel Echeverry
7 years as a specialist in oral rehabilitation or prosthodontist
Effective products that will improve your smile!
NatruSmile is a game-changer for improving your oral health and smile. They offer teeth whitening solutions, electric toothbrushes, and tongue scrapers to create a winning combination for a brighter, healthier mouth. These products are safe and effective at removing plaque and stains on the surface of your teeth and I highly recommend NatruSmile's products.
Amber Lust
8 years of dental assisting
Who Recommends Us?
A few of our most loyal customers come from the beauty and wellness communities, including makeup artists, fitness instructors, nutritionists, and more.
Our Happy Customers
NatruSmile customers around the world have experienced powerful teeth whitening results with our LED-light kit. Read their stories and see how NatruSmile has helped them achieve a perfect smile.
Confidence booster in a box
I always felt self-conscious about my teeth. They were yellowish and I just didn't want to smile. Since I started using the NatruSmile Whitening Kit, I feel a new confidence. The dual LED technology and the comfortable fit make it so easy. My teeth are much whiter and I feel younger. This product is a confidence booster in a box.
Professional results AT HOME!
I'm a single mom with a busy work schedule. I have no time whatsoever for professional whitening treatments. But the NatruSmile kit has been a lifesaver. The results are comparable to professional treatments, and my teeth don't feel sensitive afterwards. Plus, my new smile makes me look years younger. I've already gotten a few friends on the bandwagon!
Melissa H
29 weeks ago
West Palm Beach
A safe bet for sensitive teeth!
I was skeptical about the NatruSmile whitening kit because my teeth are very sensitive and had yellow stains. But it really is gentle and highly effective. The LED technology really works and I've noticed a significant improvement in the color of my teeth. And the best part? No sensitivity issues at all. This kit is a safe bet for sensitive teeth.
A smile that turns heads!
I've always wanted a brilliant white Hollywood smile, and I never quite knew how they got it or had the budget! With NatruSmile, I got just that. The comfortable fit made it easy and professional-level results are impressive. I can't stop looking at my teeth in the mirror. My smile has never looked better and I've received so many compliments EVER!
Amazing, easy to use at home kit!
I was looking for something that could help me look younger. The NatruSmile Whitening Kit did just that. My teeth are now several shades whiter, and I love how it makes me look youthful and I feel amazing! It's quick and easy to use, and the dual whitening technology really works. Younger and brighter in minutes - I would highly recommend.
Amazing results. Minimal effort.
I'm a red wine lover, and my teeth were showing it. I really didn't want professional treatment, so the NatruSmile kit changed everything. I'm astounded by the results - the stubborn wine stains have noticeably faded. The dual LED technology does all the work with minimal effort on my part. I can now enjoy my wine without worrying about my smile.
Are Professional Teeth Whitening Kits Safe?
When used as directed, dozens of clinical studies from around the world find teeth whitening kits to be a safe way to whiten teeth and a viable alternative to pricier options. Carbamide peroxide is common in teeth whitening and easily penetrates the tooth's hard tissues. PAP is a newer alternative to peroxide whitening that is proven to be just as effective. There are, however, a few factors to consider.
Over-whitening and improper use
The chemicals used in any teeth whitening product, including at-home whitening kits, can cause potential damage to tooth enamel and gums if used incorrectly or for too long. Since they are strong compounds that break down the enamel, it is important to follow the instructions and use them for only a limited amount of time.
If you use NatruSmile whitening kits as directed, you can avoid these potential risks. To protect your enamel, you should only use whitening products (including whitening toothpaste and mouthwash) once every six months, at most.
Teeth sensitivity
Sensitivity is the most common side effect of whitening treatments. Approximately one-half of at-home teeth whitening users report mild tooth sensitivity after whitening. 10% claim their discomfort is moderate, and 4% experience severe pain. Our products are designed to be gentle on teeth, but if you notice any sensitivity or discomfort, apply less gel and use shorter whitening sessions.
Teeth Whitening Kit FAQs
Still not sure about the NatruSmile Teeth Whitening Kit? Here are answers to the questions our customers ask us the most.
Can you use teeth whitening kits while pregnant?
The American Pregnancy Association recommends that pregnant women avoid whitening products or treatments. Women who are nursing should also avoid all teeth whitening products.
The hormones that the body naturally produces during pregnancy are crucial for fetal development, but they can lead to tenderness in the gums. Pregnancy has significant implications for patients' overall oral health, including inflammation, heightened sensitivity, and a dramatically increased risk of gingivitis.
NatruSmile's US whitening kits contain carbamide peroxide, which is safe to use but can exacerbate gum sensitivity in pregnant and nursing mothers.
In the UK, our whitening kits contain PAP, but the same logic applies—you should not use PAP whitening while pregnant or breastfeeding.
For more information, read our comprehensive guide to pregnancy and oral health.
Is a Home Teeth Whitening Kit worth it?
There are several benefits of white teeth, including higher self-esteem, improved social relationships, and a healthier-looking smile. With the NatruSmile Home Teeth Whitening Kit, you can take control of your teeth whitening process and achieve results that rival professional treatments at a lower cost.
NatruSmile home whitening is also a convenient alternative to professional teeth whitening sessions, which require patients to take time out of their busy schedules (and book appointments with busy dentists).
Considering the personal benefits, cost-effectiveness, and convenience, almost all NatruSmile customers consider their experience with our teeth whitening kits to be "worth it."
Where can I buy teeth whitening kits and other whitening products?
You can find NatruSmile teeth whitening kits in our online store, in addition to our other whitening products. They are also available in select retail stores and online outlets.
Our other whitening products include whitening toothpaste (enhances the results of our whitening kits), whitening mouthwash, whitening gel as a standalone product, whitening strips (easiest to use), and whitening powder. All NatruSmile products are available for immediate shipping via the links above.
Does teeth whitening damage your enamel?
In general, teeth whitening is safe, especially in over-the-counter and at-home applications. The concentration of carbamide peroxide and PAP in NatruSmile's teeth whitening kit is regulated to be safe for home use, causing no damage to enamel or other tooth surfaces.
Some clinical research points to certain ingredients in the whitening formula, such as carbamide peroxide, being harmful to teeth. It is, however, inconclusive. Most of the time, damage is only prevalent in users who do not properly apply the gel or who over-whiten their teeth.
In the UK, similar clinical studies have been carried out on PAP—one 2023 study concluded that PAP whitened without causing any damage to the tooth enamel, even compared to abrasive whitening solutions.
Still, following the instructions on the box is critical. Misapplication can lead to heightened sensitivity and overuse of any teeth whitening product can result in damage to the dentin layer of your teeth.
Read our full guide to teeth whitening safety.
Do teeth whitening kits cause sensitivity?
The NatruSmile Home Teeth Whitening Kit offers an advantage over other branded teeth whitening kits. Blue and Red LED lights are used in combination with a low-concentration, and our gel is specially formulated to minimize sensitivity.
The LED mouthpiece is designed for optimal comfort and minimizes contact between the gel and tooth enamel, further limiting potential sensitivity.
However, the risk of discomfort depends on the individual's teeth and gums, their predisposition to sensitivity, and the frequency of use. We recommend using our whitening kit no more than once every 6-12 months to prevent overuse and sensitivity.
Read our guide on reducing sensitivity during whitening.
Are teeth whitening kits effective?
NatruSmile's teeth whitening kits are highly effective when used as directed. The proprietary cold-light technology, combined with the ergonomic mouthpiece and rigorously tested gel, provides an efficient and safe method for achieving a white smile at home.
In comparison to other whitening kits on the market, NatruSmile has been proven to give a dentist-level whitening effect with minimal sensitivity, making it the ideal choice for those looking to brighten their teeth without spending a fortune.
Can you use the Home Teeth Whitening Kit with braces?
You cannot whiten teeth with traditional braces, but you can if you use Invisalign trays or lingual braces.
Traditional braces (i.e., those with wires and brackets) cover the surface of the teeth and prevent whitening gel from making contact. This results in uneven whitening and noticeable color differences on the tooth surface once the braces are removed.
If you have Invisalign, lingual braces, or any other type of removable orthodontic appliance, please follow your dentist's instructions for cleaning it prior to applying the NatruSmile teeth whitening gel.
Read our full guide on teeth whitening with braces.
How often should you use a teeth whitening kit?
Oral health professionals recommend using a teeth whitening kit (or any other kind of teeth whitening) no more than once every 6 months as it can cause potential damage to tooth enamel.
With proper application and aftercare, results from NatruSmile teeth whitening kits can last far beyond this threshold. We recommend using our whitening kit once every 6-12 months to maintain a white and healthy smile.
Read our article on teeth whitening aftercare.
How long do teeth whitening kits last?
NatruSmile customers who follow the kit's instructions and take proper care of their teeth in the months following see results lasting anywhere from six months to one year.
It is ultimately up to each individual's oral care routine and lifestyle habits – including diet and smoking – that will determine how long the results last.
Taking proper care of your teeth and using NatruSmile's other products (such as our electric toothbrush) will help maintain a white smile for longer periods of time.
Do teeth whitening kits remove all stains?
Although teeth whitening kits remove most stains, including those from aging, smoking, and other hard-to-remove sources, it is important to note that they are not 100% effective at removing deeper, semi-permanent stains.
Some stains may be too deeply embedded in the teeth surface and will not be removed by teeth whitening kits or other whitening products. In these cases, a permanent restorative procedure is required to achieve your desired aesthetic results.
When will I see the results from my At-Home Teeth Whitening Kit?
It usually takes users the entire duration of the product (2 to 4 weeks) to see full results. But many NatruSmile customers report noticeable results after just one whitening session.
The main reason for this is that the whitening effect is gradual, rather than instantaneous. Even though each whitening session will have an immediate effect, it takes multiple applications for the gel to truly permeate the teeth and create long-lasting effects (i.e., more than six months).
Whether or not you see immediate results will depend on the severity of your tooth discoloration and how diligent you are in following the instructions. Those with more severe discoloration will see more noticeable differences right off the bat, but they will take longer to see their full results because of the time it takes for the gel to reach a deeper level of penetration.
Do teeth whitening kits expire?
The carbamide peroxide gel inside our US teeth whitening kits has an expiration date of about 12 months, depending on how you store your product. PAP—the whitening agent used in our UK products—also expires after about one year.
You can tell if the gel has expired and oxidized if it has a foggy color. After this happens, it will not have the desired whitening effect on your teeth.
To maximize your results potential, store your NatruSmile teeth whitening kit in a cool, dry place. And only purchase your teeth whitening kit when you plan on using it in the near future to avoid the risk of forgetting about it or holding it until expiration.