Strengthen your gums and protect your mouth the natural way with NatruSmile Dental Floss—a durable and effective floss that cleans your teeth without leaving nasty chemicals behind.
Activated charcoal cleaning
100% natural bamboo
Completely biodegradable
No harmful PFAs
Strengthen your gums and protect your mouth the natural way with NatruSmile Dental Floss—a durable and effective floss that cleans your teeth without leaving nasty chemicals behind.
Activated charcoal cleaning
100% natural bamboo
Completely biodegradable
No harmful PFAs
Regular price
Sale price
$17.99
Unit price
per
Sale
Sold out
Shipping calculated at checkout.
Bundle and Save
Split your payments up with
View full details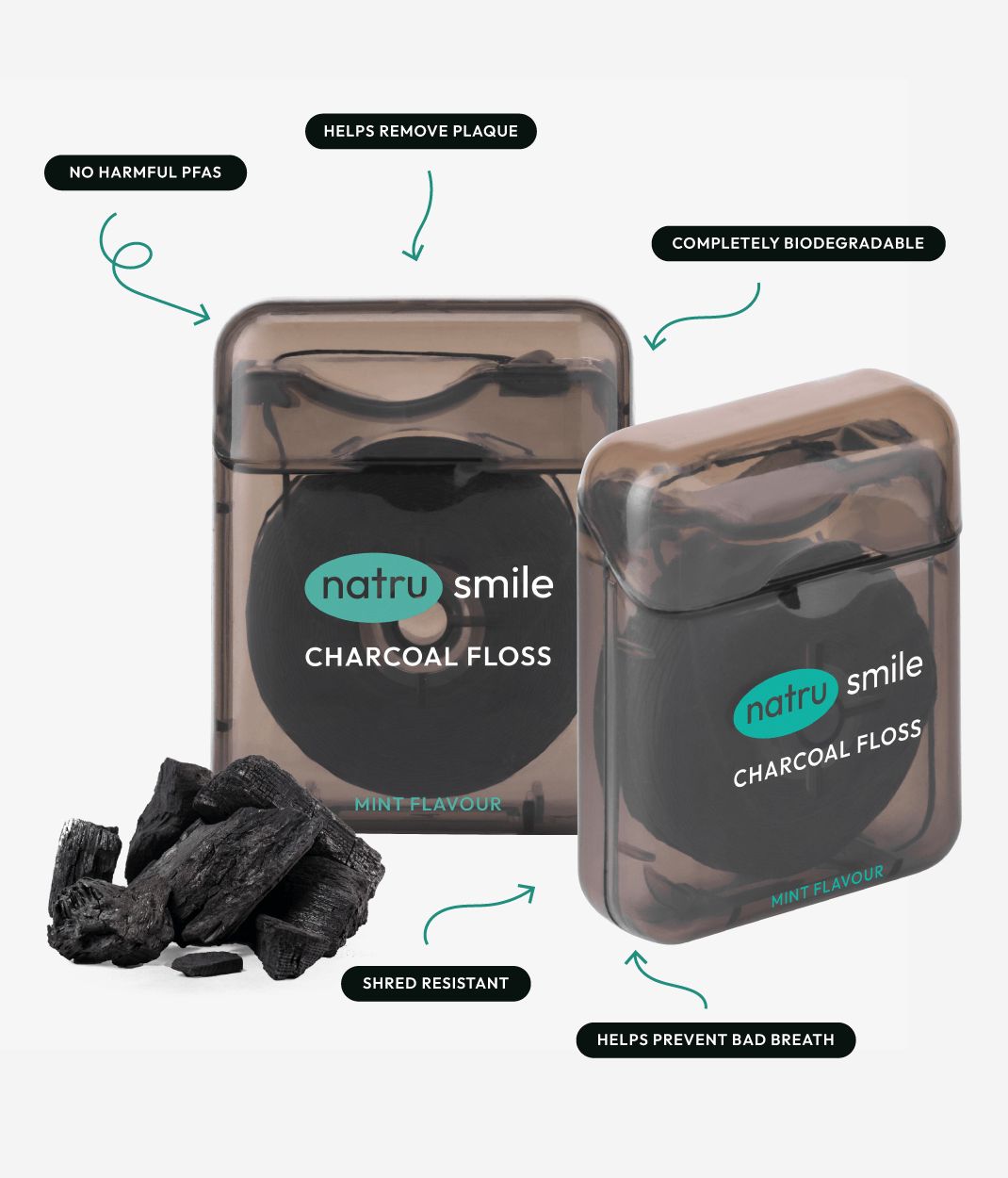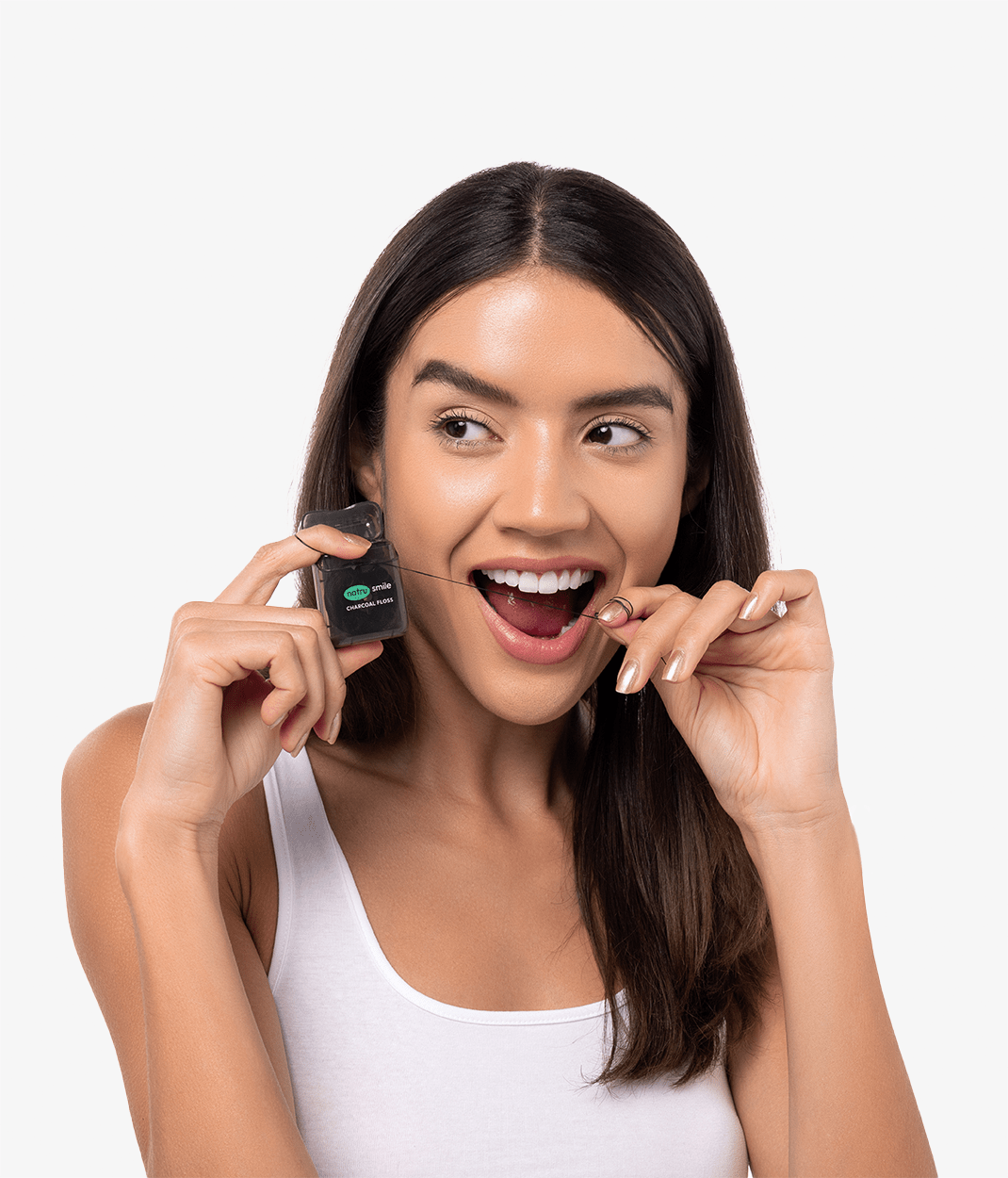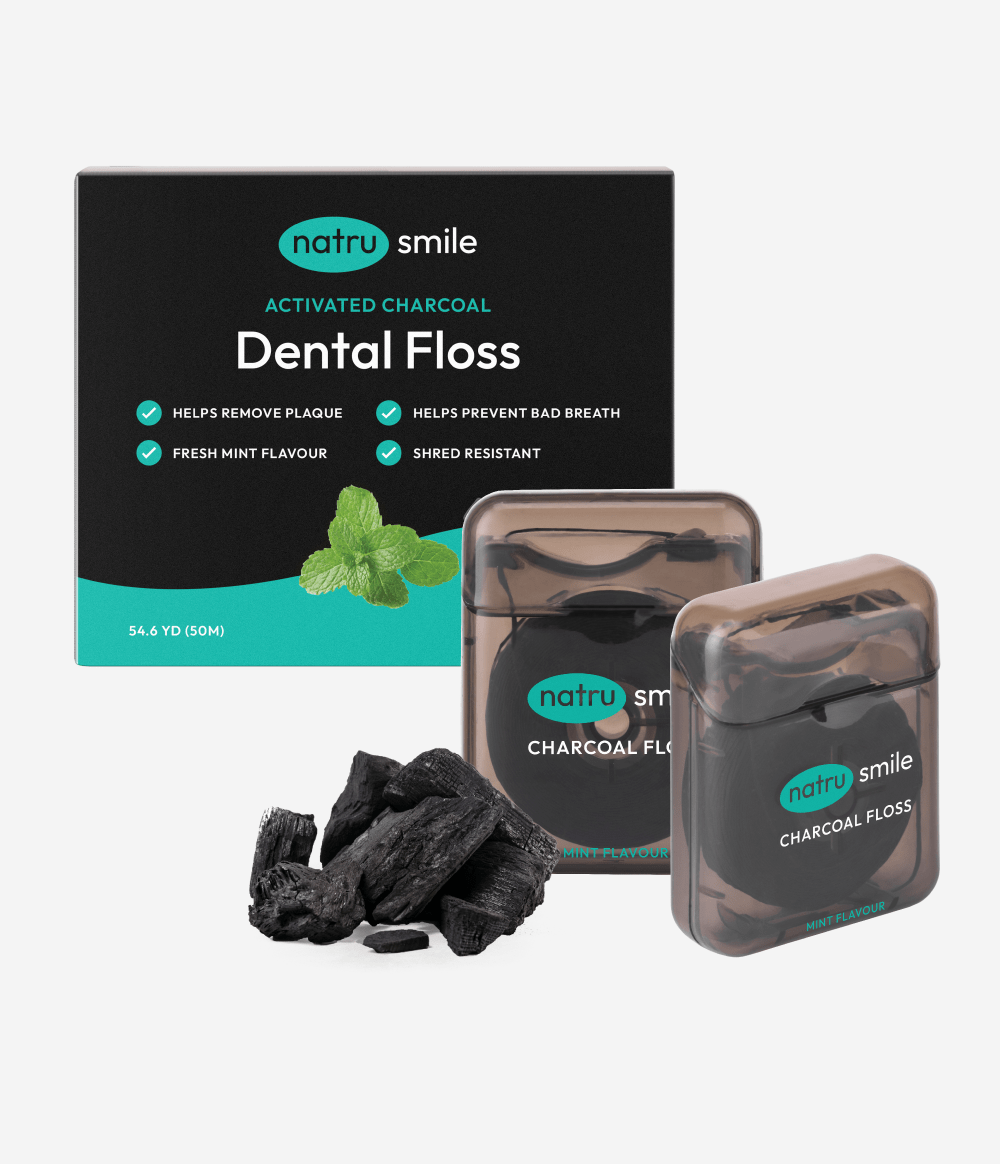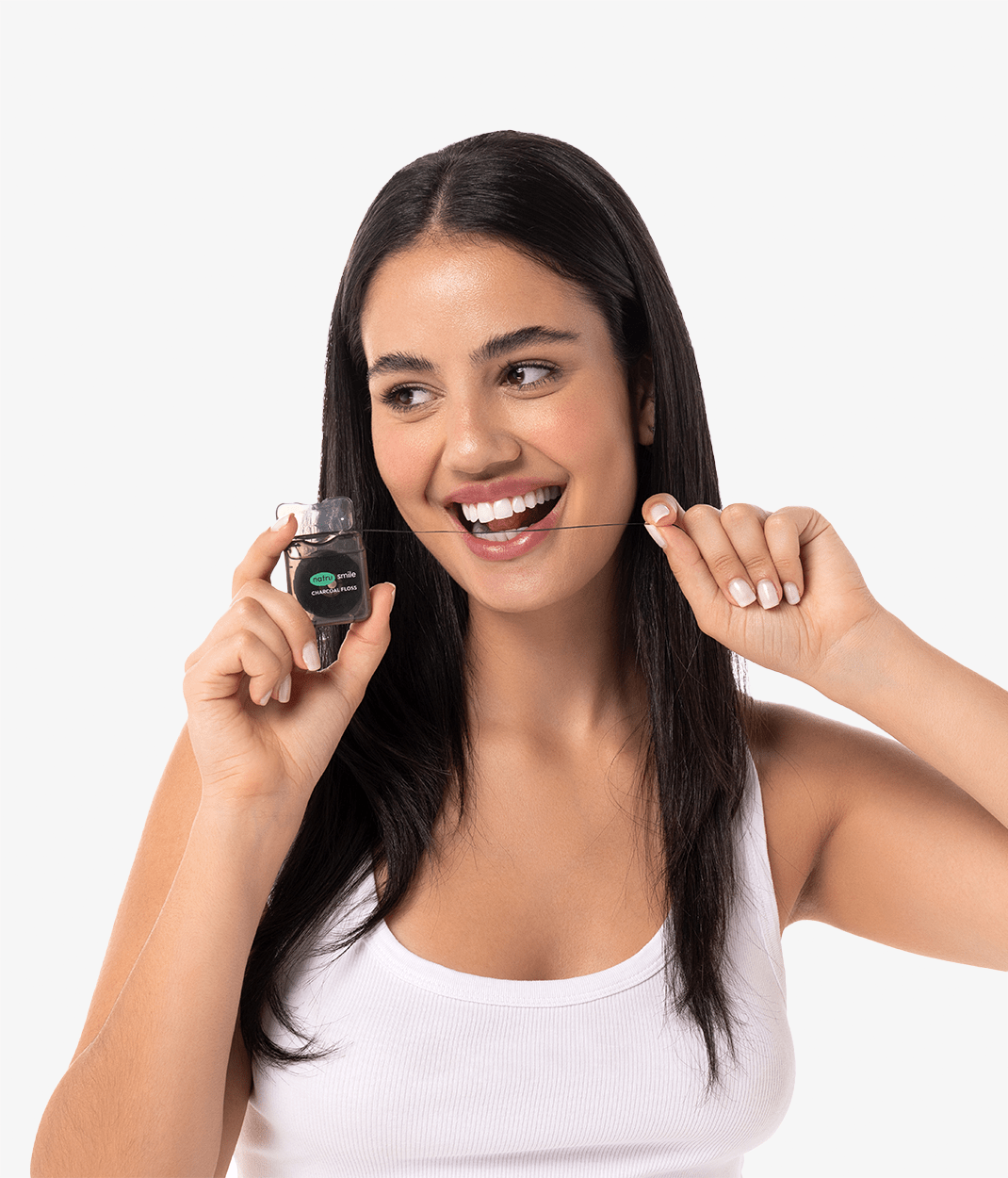 Benefits

Activated charcoal floss dislodges food and bacteria, cleaning even the tightest spaces between your teeth.

How to use

Wrap it around your fingers for a better grip, then gently floss between teeth using a simple gliding motion.

Shipping & returns

We happily ship worldwide and offer hassle-free returns. All products are available for immediate shipping.

Environment

Natural bamboo is durable and biodegradable. Activated charcoal attacks hard-to-reach debris regular floss misses.
Whiten your teeth, brighten your life.
How to use video
As featured in
How to Use Dental Floss
With NatruSmile Dental Floss, achieving a clean, healthy smile is a breeze. Follow these simple steps to ensure maximum cleaning within minutes.
Prepare your floss

Cut about 15-18 inches of floss, winding most of it around your middle fingers for easy positioning. Leave an inch or two between your fingers for flossing.

1

Position the floss

Grasp the floss tightly between your thumbs and forefingers, guiding it between your teeth using a gentle rubbing motion. Press gently to fit it between your teeth.

2

Floss properly

When the floss reaches the gum line, curve it into a C-shape against one tooth and gently slide it into the space between your gums and teeth.

3

Rinse after flossing

After flossing your teeth, rinse your mouth with water or anticavity mouthwash. That way, the food particles and bacteria and food particles can leave your mouth completely.

4
Before & After results
Dental floss does more than just remove food trapped between your teeth. Following up your brushing routine with our activated charcoal floss reduces plaque build-up, prevents bad breath, and strengthens your gums.
Before
Regular flossing removes plaque, reduces gum inflammation, and prevents cavities. Failing to floss can have dire consequences beyond just your oral health.
Unhealthy mouth
Standard brushing leaves behind food particles and plaque between teeth. Over time, this buildup can lead to tooth decay and gum disease.
Standard brushing leaves behind food particles and plaque between teeth. Over time, this buildup can lead to tooth decay and gum disease.
Neglected interdental spaces can become a hotbed for oral infections, leading to gum recession, tooth loss, and even systemic health issues.
Poor oral hygiene can have long-term health effects. Those who don't practice regular flossing are at higher risk of heart disease, cancer, and respiratory illnesses.
After
Each slide of NatruSmile Dental Floss brings you one step closer to optimal oral health. Show off your brightest smile and freshest breath yet — safely and naturally.
Glowing white teeth
Reach into every nook and cranny between your teeth, dislodging food particles and plaque that a toothbrush can't touch, for a healthier smile in minutes.
Confidence in every interaction is yours with a fresh, clean mouth. Make an impact in social and professional situations with your radiant smile and fresh breath.
Maintain healthy, white teeth and firm gums by removing interdental buildup before it causes infections or spreads, preserving your smile's integrity.
Protect your future health by investing in your current oral care. Regular flossing can reduce the risk of heart disease, diabetes, respiratory issues, and more.
Why use a dental floss
The ADA recommends flossing at least once daily as a critical part of your oral health routine. Dental floss is designed to reach the tight spaces between teeth, removing trapped food particles, plaque, and bacteria that brushing alone can't handle. Aesthetically, this contributes to a brighter smile and fresh breath, but the benefits go much deeper. Regular flossing dramatically reduces your risk of gum disease, tooth decay, and many of the systemic health issues linked to poor oral hygiene.
Enhance oral hygiene and health
Millions of bacteria thrive in the spaces between your teeth. While some are beneficial, many feed on food residues and produce harmful acids, causing tooth decay and gum disease over time. Flossing dislodges these unwelcome guests, thereby reducing plaque buildup, mitigating bad breath, and promoting a healthier oral environment. As you floss from one tooth to another, you'll experience a tangible difference in cleanliness and freshness.
Boost your smile's aesthetics and functionality
When plaque accumulates between teeth, it causes discoloration, cavities, and gum inflammation. These mar your smile's beauty and result in discomfort and functional issues. By flossing daily, you eliminate this problem while maintaining the natural whiteness of your teeth and the health of your gums. With the power of activated charcoal, NatruSmile Dental Floss works even harder to give you the radiant smile you deserve.
What's Included with our dental floss
Every order of NatruSmile Dental Floss includes all you need for a naturally clean, whitened, and freshened smile, promoting your oral health and the health of our planet.
Activated Charcoal Infusion

Activated charcoal, a natural teeth whitener, removes plaque while scrubbing the interdental spaces for a consistently white smile.

Durable Bamboo Fibers

Our durable floss material is engineered to withstand the rigors of daily flossing without shredding or snapping.

Minty Fresh Finish

Feel as fresh as you look when you floss. Invigorating mint coating leaves your mouth feeling cool and refreshed.

PFA-Free

Floss with confidence, knowing you're not exposing your body to Per- and Polyfluoroalkyl substances (PFAs).

Environmentally Friendly

Our floss is entirely biodegradable, so you don't have to worry about the environmental impact of your oral care routine.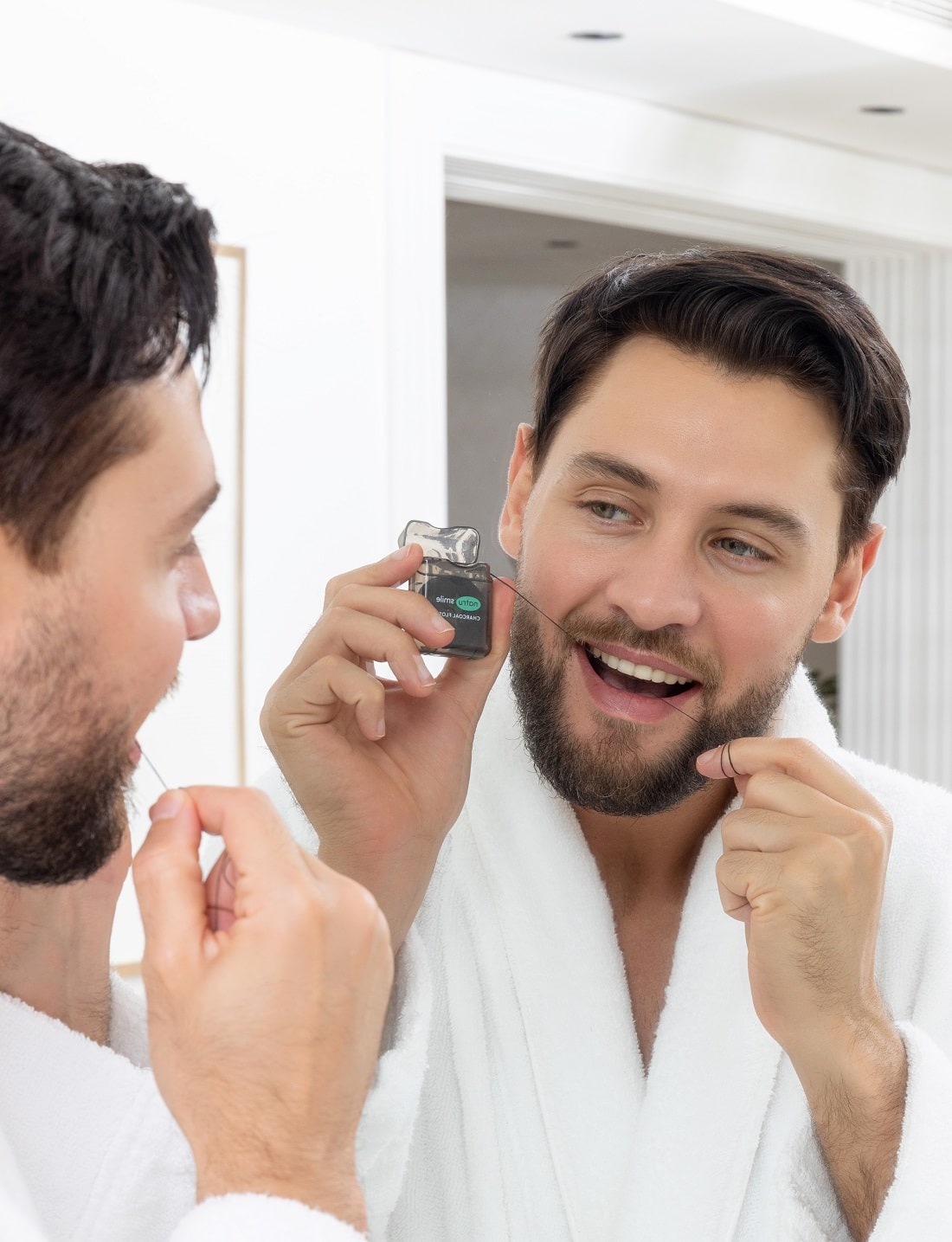 How does dental floss work?
Just like regular flossing, you simply glide the floss between your teeth, but with an added advantage: the activated charcoal's strong adsorption properties. This natural ingredient clings to plaque and stains, ensuring a thorough clean even in hard-to-reach spaces. With every use, you'll see and feel the difference as it enhances the whiteness of your teeth and the freshness of your breath.
The power of activated charcoal
Activated charcoal is a potent natural detoxifier. When used in our dental floss, it effectively binds to plaque and surface stains, removing them from places a toothbrush typically struggles to reach. Moreover, its natural whitening properties enhance the color of your teeth, not just the visible surfaces but also those hidden areas between teeth. If you're using a whitening treatment, our floss ensures a uniformly bright smile, making your teeth shine in all their glory.
Cleans deep between gums
Flossing is an essential part of oral hygiene precisely because it reaches those hard-to-access areas between the teeth and along the gum line. Our activated charcoal dental floss goes deep into these spaces, removing food particles, plaque, and bacteria. This comprehensive cleaning prevents gum disease and cavities, maintaining your gum health, and overall oral hygiene. Daily use of NatruSmile Dental Floss ensures a clean, healthy mouth, contributing to your overall health and well-being.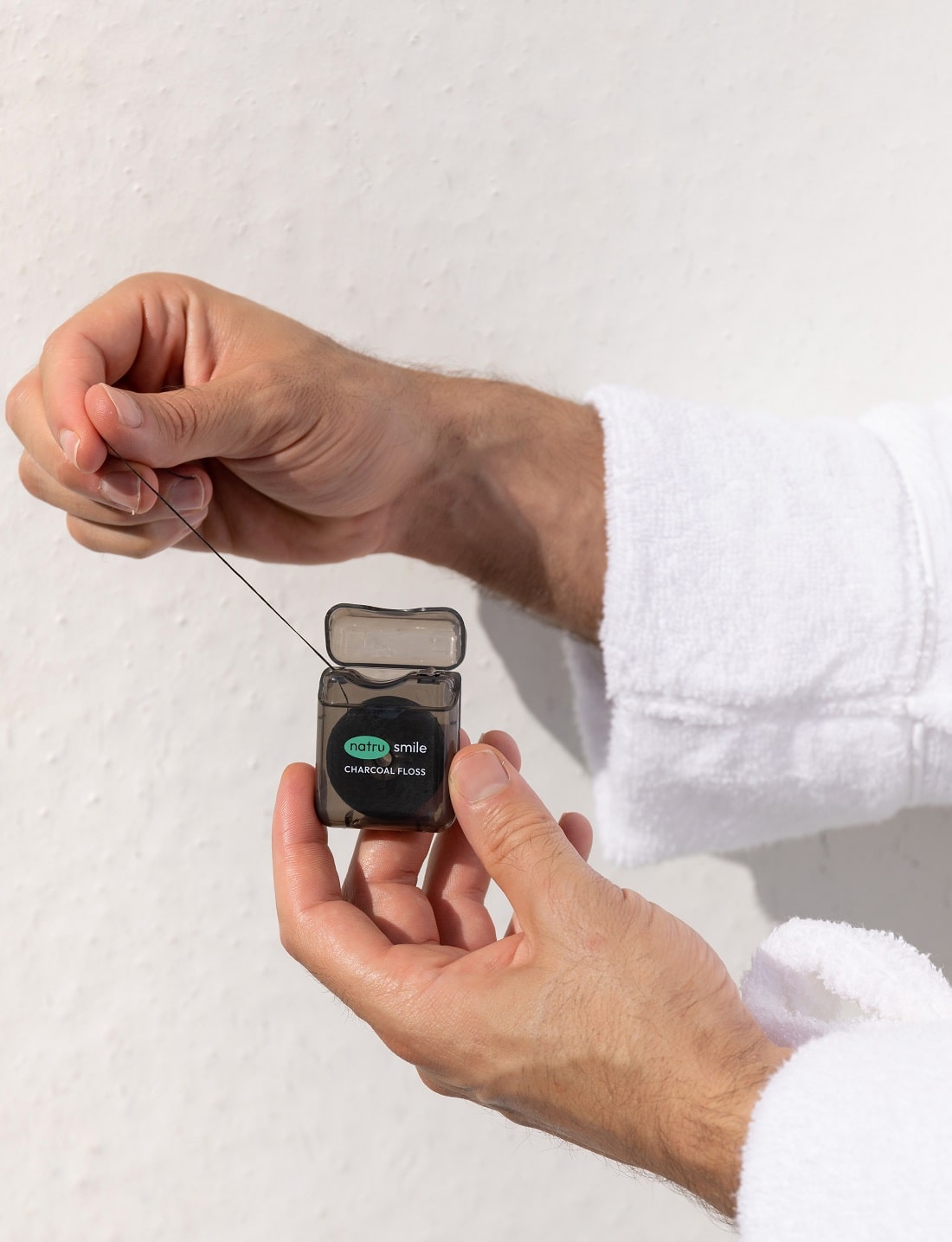 What makes activated charcoal dental floss different?
Using activated charcoal floss does more than just enhance the oral health benefits of flossing — charcoal granules also cling to plaque, surface stains, and harder-to-catch debris and remove them from the interdental spaces. Unlike regular floss, which is made of nylon fibers, NatruSmile activated charcoal floss is sustainable and chemical-free.
Visibly whiter teeth
Activated charcoal's textured surface lends itself to a more thorough clean, as it attaches to and removes more debris than traditional nylon floss. The distinct black color of charcoal floss provides another unexpected benefit: the ability to see precisely how much plaque and food residue you're eliminating from your mouth. If you're reluctant to flossing, seeing the difference can even motivate you to keep it up.
No harmful PFAS
Per-and polyfluoroalkyl substances (PFAS) are potent fluorinated chemicals. Their high toxicity makes them unwanted guests in your oral hygiene routine, posing potential health risks (such as cancer and hormonal disruption). We created our dental floss the natural way—no PFAS, no nasty chemicals, and no residue that stays in your mouth.
Smile sustainably
White teeth shouldn't cause a darker sky. Our floss is crafted with natural ingredients, making it a far superior and eco-friendly alternative to regular floss. By opting for NatruSmile activated charcoal floss, you're making a responsible choice for your oral health and our planet.
Recommended by Real Dentists
We're confident in the safety and effectiveness of our dental floss, and so are others. We always test and verify NatruSmile products with real dentists before we sell them to you.
Endorsed by Dr. Greg Grillo D.D.S
Dr. Greg Grillo, D.D.S., a US-based dental specialist, brings 28 years of experience in all facets of the dental profession. Dr. Grillo verifies and endorses all NatruSmile products, including our tongue scraper.
28 years serving patients
Experienced clinician
Dental Advisory board
Greg Grillo, D.D.S. earned his Doctor of Dental Surgery degree from the University of Washington School of Dentistry. He currently serves as an executive of Method Pro and sits on the advisory board for Quip.
Don't Just Take Our Word For It
Dozens of industry veterans recommend our dental floss as a better alternative to regular brushing that produces a whiter, healthier smile.
Home whitening and oral care excellence!
As a trusted dentist, I highly recommend the NatruSmile home whitening kit for achieving a brighter, more radiant smile. With its safe and effective formula, you can whiten your teeth conveniently from the comfort of your own home. You can truly experience professional-quality results with NatruSmile and achieve your dream smile!
Dr. Andrés Arias
Serving patients since 2018
5-star home treatment products that work!
My recommendation as a orthodontics of dento-factor facial orthopaedic specialist is that NatruSmile products are 5-star home treatment products that are perfect for young adults to use safely and effectively at home to achieve an awesome smile. I would highly recommended NatruSmile to anyone looking to improve their daily oral care routine.

Dr. Mai Abdelsalam
Orthodontics of dento-factor facial orthopaedic specialist
Eliminates problems with home whitening!
I recommend NatruSmile products because so many others that exist in the market come with problems. Either it does not whiten the teeth enough or they bring a lot of sensitivity and the process is very slow. NatruSmile products eliminates these problems and delivers a smile you always dreamed of in a short time, without pain and at a very competitive cost.
Dr. Daniel Echeverry
7 years as a specialist in oral rehabilitation or prosthodontist
Effective products that will improve your smile!
NatruSmile is a game-changer for improving your oral health and smile. They offer teeth whitening solutions, electric toothbrushes, and tongue scrapers to create a winning combination for a brighter, healthier mouth. These products are safe and effective at removing plaque and stains on the surface of your teeth and I highly recommend NatruSmile's products.
Amber Lust
8 years of dental assisting
Who Recommends Us?
From beauty and wellness to lifestyle and health, the people you trust the most use NatruSmile's tongue scraper to achieve their dazzling smiles.
Our Happy Customers
Our loyal customers are just like you. Hear what real people are saying about NatruSmile Dental Floss.
Epic Product... Can take anywhere!
I've always struggled with traditional dental floss because of the plastics and strange additives. NatruSmile's charcoal-infused floss changed the game for me. My teeth feel cleaner, and I love the fresh minty taste. It's perfect for midday after lunch before heading back to work, especially if I have client meetings.
Perfect for sensitive gums
My gums are super sensitive, and regular floss always leaves them irritated. Even when I changed my flossing approach, my gums were always hurting. NatruSmile's dental floss is gentle, yet effective. Cannot recommend this product enough and have to say working in advertising, great looking brand!
Noticeably Whiter Teeth
I was already using NatruSmile whitening strips, so I decided to give the dental floss a try. After using it, the tiny surface stains between my teeth and gums are gone, and it really brings out the rest of my whitening results. I definitely recommend this to anyone who wants to get the most out of their whitening procedure.
Fresh breath ALL DAY! Super cool product...
I love that NatruSmile's dental floss leaves my mouth feeling fresh and clean. I used to use regular floss, but it often left my breath feeling stale after about 30 minutes. The minty finish NatruSmile gave me is a total game-changer, especially before a date or a night out with friends. I'm never going back to my old floss.
Wow.. An eco-friendly product that works!
I'm a nut when it comes to eco-friendly products since I work in environmental advocacy. It's so hard to find eco-friendly products that actually work, but NatruSmile's dental floss is made of 100% compostable materials and it cleans my teeth really well. Highly recommended and reasonably good value!
A Staple for My Oral Care
NatruSmile's Dental Floss has become a staple in my oral care routine (and it will continue to be). I tried a gimmicky charcoal whitening product on Amazon and wasn't impressed, but I'm very conscious to always look for natural products to avoid harmful chemicals. The activated charcoal works wonders... Great product!
Is Dental Floss Safe?
Dental floss is not only safe—it's essential for your oral health according to the ADA's guidelines. NatruSmile's dental floss is made with 100% compostable materials, meaning it's not just safe for you, but for the environment too. As with all dental products, there are safety considerations to bear in mind when using our dental floss.
Proper flossing technique
It's crucial to floss correctly to avoid potential gum irritation or damage. Instead of snapping the floss between your teeth, gently slide it up and down, following the curve of each tooth. This method ensures effective cleaning while being kind to your gums. Also remember to slide side to side to dislodge food particles. Simple up-and-down movements won't be as effective at clearing your mouth of debris.
Regular replacement
You shouldn't even floss your entire mouth with the same piece. As you floss, move down the strand to ensure a fresh section of floss is being used. Some users have even reused their floss, which is certainly not hygienic.
Gum pain and bleeding
If you haven't flossed in a while, your gums will probably become sore or bleed slightly. This isn't a sign that your floss is unsafe; rather, it's a sign that your gums need to get used to the process of flossing again. It should lessen with regular use and proper technique.
Dental Floss FAQs
Still not sure about NatruSmile Dental Floss? Here are answers to the questions our customers ask us the most.
What is dental floss made of?
Traditional dental floss is typically made from nylon or polyester, which are petroleum-derived materials. These flosses may also be coated with a petroleum-derived wax for easier use. If you use a basic dental floss from any of the major brands in oral care, this is the type of floss you probably use.
NatruSmile floss is crafted from natural fibers that are strong and durable. We also infuse our floss with activated charcoal for its natural cleansing properties and add a hint of natural mint for a refreshing finish. This composition not only ensures effective cleaning but also aligns with our commitment to protecting the environment.
Is dental floss FSA and HSA eligible?
Despite the integral role dental floss plays in oral health maintenance, it typically isn't eligible for Flexible Spending Account (FSA) or Health Savings Account (HSA) reimbursement. This rule applies to general self-care items such as toothpaste, toothbrushes, and floss, even when these items are recommended by dental professionals for oral care.
Specialized or medicated toothpastes also fall into this category. As of now, these items are seen as "general health aids" rather than necessary medical supplies, which is the criteria for FSA and HSA eligibility.
Does all dental floss have PFAS?
Not all dental floss contains Per- and polyfluoroalkyl substances (PFAS), but some do. Certain brands of dental floss, including Oral-B Glide, could contribute to higher levels of PFAS in the body due to fluorine, a marker of PFAS chemicals.
However, PFAS are common in many household products, from non-stick cookware to stain-resistant fabrics, and as a result, most people already have some level of PFAS in their bodies. The focus should be on reducing future exposure to these chemicals where possible.
Plenty of floss brands, including NatruSmile dental floss, are PFAS-free products.
Are dental floss picks effective?
Dental floss picks might be more convenient due to their easy-to-handle design that helps you reach the back of your mouth, but they are not necessarily better than traditional dental floss.
Some dental professionals argue that floss picks might even have some drawbacks. If they aren't used with care, they cause damage to your gums, including bleeding, receding gum lines, and cuts.
Floss picks may not be as effective as traditional floss in removing plaque and food particles between the teeth. The design of floss picks doesn't allow for the same level of flexibility and adaptability that regular floss provides to clean the tight spaces between teeth and along the gum line. Since traditional dental floss allows users to slide between teeth and gums, it is often considered the practical choice when it comes to flossing.
Is dental floss good for your teeth?
The ADA recommends flossing as an essential element of your daily oral hygiene routine. Flossing at least once per day removes plaque and food particles from between teeth and along your gum line, where a toothbrush can't reach very well. This helps prevent tooth decay and gum disease, both of which can lead to more serious dental problems down the line. 
Flossing also helps stimulate healthy gums, promoting better circulation and improving the overall health of your mouth. It's important to floss correctly in order to make sure you're getting the full benefits of flossing.
Should I floss with toothpaste?
Toothpaste is not necessary to get the full benefits of flossing — all you need are some high-quality dental floss and a bit of patience. That said, applying a bit of toothpaste to the floss can help with plaque removal and improve the overall effectiveness of your flossing routine.
If you add a bit of NatruSmile Teeth Whitening Toothpaste to your dental floss, you'll benefit from slightly more pronounced whitening effects. If your goal is to remove the most plaque and bacteria possible, then toothpaste might be a good addition to your flossing routine.
Can flossing push food into gums?
It is possible for flossing to push food into the gums if a person has existing dental problems such as gingivitis or gum disease, aggressive or improper flossing techniques. If you're experiencing such problems, it's important to consult a dental professional to help guide your oral hygiene routine.
The best way to avoid this issue is to use gentle techniques and be mindful of how deeply you are flossing. It can help to slightly curve the floss around the tooth surface, so that the string lightly touches the gum line rather than forcefully pushing against it. It's also wise to floss before brushing and rinse with an antiseptic mouthwash afterwards, as this can help prevent additional plaque buildup and protect your gums from food particles.
Why do my gums hurt after flossing?
If your gums hurt after flossing, that means you haven't flossed enough in the past. Tenderness and sensitivity is generally a result of weakened gum tissue. When you floss, the impact against your gums toughens them over time, making them more resistant to plaque and tartar buildup.
Although flossing should not be a painful procedure, most beginners find that it is painful for the first few days while their gums build their initial strength back up.
How often should I floss?
You should floss at least once per day, per the ADA's general guidelines for a healthy oral care routine. Ideally, you should floss after every time you eat to ensure that any food particles left behind are removed from between your teeth.
By incorporating flossing into your daily routine, you can maintain optimal oral hygiene and reduce the risk of gum disease, cavities, and other dental issues. It's important to note that flossing in conjunction with regular brushing, along with regular dental check-ups, is key to achieving and maintaining good oral health.
Does dental floss ever not work?
While dental floss is an effective tool for removing plaque and debris from between your teeth and along the gum line, its effectiveness depends on how it is used. If you are only sliding the floss along the tooth surfaces without dipping beneath the gum line, it may not effectively remove plaque and tartar that can accumulate in those areas.
Dental floss also won't work to reverse cavities, tooth decay, or severely progressed gum disease or recession along the gum line. In these instances, it is best to take restorative measures to treat these problems with your dentist first.
How long does it take for flossing to work?
In the initial days of flossing, you will probably experience gum sensitivity, bleeding, and soreness. This is normal and can be attributed to the removal of plaque and buildup that has accumulated between the teeth and along the gum line. As you continue to floss regularly, typically within 3-10 days, your gum tissue will start to adapt and become less sensitive. Over time, the bleeding should diminish, indicating healthier gums.
The timeline for seeing results from regular flossing can vary from person to person. However, with consistent flossing, you can typically expect to see visual and physical improvements in your gum health within a few weeks.
Does dental floss expire?
In terms of its functionality, dental floss does not expire. Similar to toothbrushes, the actual flossing material can last indefinitely, regardless of when it was purchased. It will retain its ability to clean between your teeth effectively, even if it's been sitting in your medicine cabinet for a while. This longevity ensures that you can always have floss on hand when you need it.
If the dental floss is flavored, as is the case with NatruSmile's minty fresh dental floss, the flavoring may lose its potency over time. Typically, flavored floss will start to lose its taste about one year after its manufacture date. But even then, the floss itself will continue to function as intended, providing effective cleaning between your teeth and gums.
Dental floss is sterilized during manufacturing to ensure that it is safe to use in your mouth, which can be a breeding ground for decay and disease-causing bacteria. The sterilization process is important as the floss navigates through tight spaces between your teeth, areas that often harbor these bacteria.
If the floss is appropriately stored in a cool, dry place and its packaging remains intact, it will maintain its sterility. It's worth noting that handling the floss package with clean hands is essential to maintain its cleanliness once the floss package is opened.
Is dental floss recyclable?
Unfortunately, traditional waxed or unwaxed dental floss is not recyclable due to its small size and the fact that it's often made of a mix of materials, including nylon and polyester. After use, floss also becomes a potential biohazard, carrying bacteria and food particles that make it unsuitable for recycling. However, the containers in which dental floss is often packaged can be recycled, depending on the materials used.
Recycling centers are not equipped to process such small items, and they often end up in landfills anyway or contaminate other recyclable materials. That's why NatruSmile uses biodegradable dental floss made from silk and candelilla wax, which is a much more environmentally friendly option.
Is it normal to bleed when flossing?
Bleeding usually occurs when you first start flossing, especially if you haven't regularly maintained this practice. This is usually due to inflammation and sensitivity in the gums caused by plaque and bacteria buildup. If the bleeding continues after a week or so of regular flossing, it's advised to consult with a dentist as it could indicate a more serious issue such as gum disease.
Remember, consistent and correct flossing helps to reduce inflammation and bleeding over time. If you experience prolonged discomfort or pain while flossing, it might be a good idea to seek advice from a dental professional to ensure you're using the correct technique (and to rule out any other potential conditions).
Should I floss before or after brushing?
Flossing before brushing may be the most effective method for thoroughly removing dental plaque. According to the study, when participants flossed before brushing, there was a far more noticeable reduction in the amount of plaque present between their teeth and in their mouth.
In the study, 25 participants were first asked to brush and then floss (brush-floss). In the second phase, the same group was asked to floss first, then brush their teeth (floss-brush). 
The 'floss-brush' method proved to be more effective in overall plaque reduction, leading to the recommendation that flossing should precede brushing for the most beneficial oral hygiene routine.
Flossing isn't just about cleaning between the teeth—it's also about reaching under the gum line where plaque can accumulate. After sliding the floss between your teeth, it's recommended to curve it around the tooth in a C-shape. This allows the floss to enter the space between the tooth and the gum. Ideally, you should aim to gently slide the floss 2-3 millimeters beneath the gum line.
This method effectively disrupts and removes plaque buildup without causing harm to the gums. It's crucial to remember, though, that flossing should not be painful. If you experience discomfort, adjust your technique to accommodate.
Can dentists tell if you don't floss?
Dentists and dental hygienists can often tell if you have not been flossing regularly. During a dental exam, they will always observe the condition of your gums, including plaque and tartar buildup and the overall health of your oral tissues. As they gently probe your gums, they assess the sensitivity, bleeding, or inflammation that may indicate inadequate flossing.
The sensitivity of your gum tissue is a key indicator of your flossing habits. When the gums aren't used to flossing, they are weaker and more tender (which they can see regardless of whether you show pain). Sometimes, they will start bleeding or hurt you as soon as a dental instrument touches them.
Dental professionals are trained to recognize these signs—not because they want to "catch you" but because they want to help you keep your mouth healthy.
Is dental floss necessary for good oral health?
The short answer is yes. Flossing is an absolutely necessary part of any oral hygiene regimen. Brushing alone can't remove plaque and food particles from between the teeth, so it's important to use floss at least once per day to maintain healthy gums and prevent tooth decay.
Even if you brush twice a day, not flossing will leave your mouth vulnerable to plaque and bacteria buildup, which can lead to cavities, gum disease, and bad breath. Flossing helps keep your mouth clean, healthy, and fully functional by removing the debris that brushing alone can't reach.
Where can I buy dental floss?
Dental floss is available for purchase in nearly every convenience store, supermarket, and drug store. You can also find it in dental product stores, such as dentists' offices, and online from many different retailers. There are a wide variety of sizes, flavors, and materials available to choose from depending on your preference. Unfortunately, many of these contain PFAS, microplastics, and nasty residues you probably don't want on your teeth.
NatruSmile Dental Floss is available for immediate purchase and worldwide shipping at the top of this page. It's made from natural fibers and it is free of chemicals, toxins, and artificial flavors. It's perfect for those who want a safe and healthy flossing experience while helping to protect their teeth and gums.
What is the best dental floss?
Well, it's a bit like finding your perfect match—it's all about personal preference and what your mouth needs. When selecting the right dental floss, several factors should be taken into account, including the floss type, thickness and texture, waxed or unwaxed variations, as well as personal requirements and conditions.
There's a whole bunch of floss options out there such as nylon floss, PTFE floss (fancy name for glide floss), dental tape and even floss made of bamboo or even activated charcoal dental floss!
Floss is available in different thicknesses, ranging from thin to regular, and may have a smooth or textured surface.
Thinner floss is often recommended by dentists for closely spaced teeth, while textured floss can provide enhanced plaque removal. Experimenting with various thicknesses and textures can help individuals determine their preferred flossing experience.
Waxed floss is coated with wax, enabling smoother gliding between teeth, while unwaxed floss may have a thinner profile and different texture. It is always advisable to select the option that feels both comfortable and effective for you.
Additionally, it is crucial to consider any specific oral health concerns. For individuals with sensitive gums or braces, softer or specialized floss designed for these conditions may be suitable for your teeth and gums.
Consulting with a dentist or dental hygienist is highly recommended, as they can provide professional guidance in choosing the most suitable floss based on individual needs.

Should I floss in the morning or at night?
Both morning and night are suitable times for flossing, ultimately depending on personal preference and your oral hygiene routine. Flossing at night has its advantages as it helps remove plaque and debris that have accumulated throughout the day, leaving your teeth feeling cleaner and fresher when you wake up in the morning. It also keeps food particles from situating overnight, reducing the risk of plaque buildup and potential oral health issues.
Ideally, your oral hygiene routine should involve brushing and flossing twice a day—once in the morning and once at bedtime.