The NatruSmile Teeth Whitening Gel Pen is the portable solution for keeping your teeth white or achieving a few shades of improvement. Application is simple, and you can take it with you wherever you go.
Professional results fast
On-the-go whitening
Minimal sensitivity
Minty fresh finish
The NatruSmile Teeth Whitening Gel Pen is the portable solution for keeping your teeth white or achieving a few shades of improvement. Application is simple, and you can take it with you wherever you go.
Professional results fast
On-the-go whitening
Minimal sensitivity
Minty fresh finish
Regular price
Sale price
$29.99
Unit price
per
Sale
Sold out
Shipping calculated at checkout.
Bundle and Save
Split your payments up with
View full details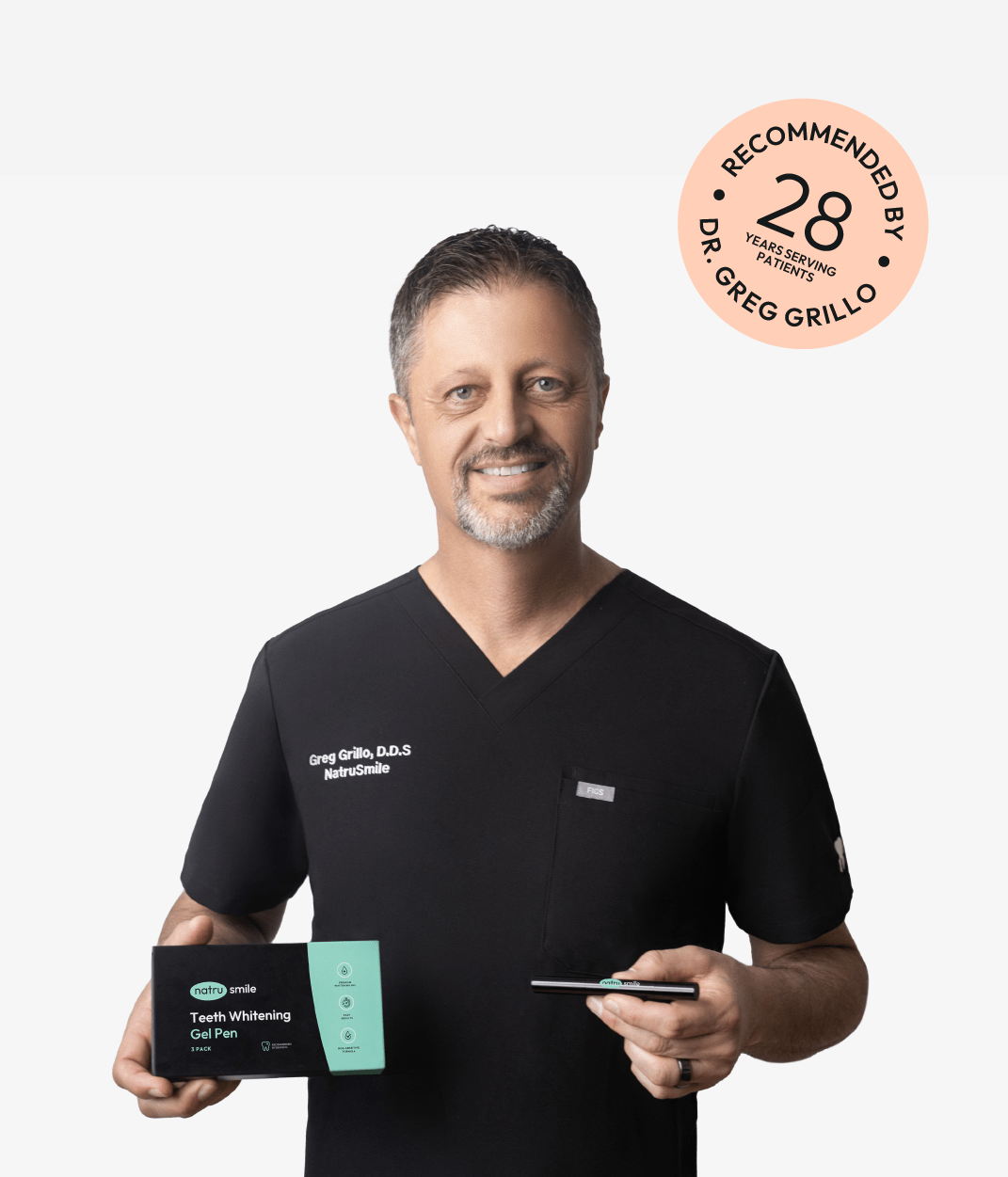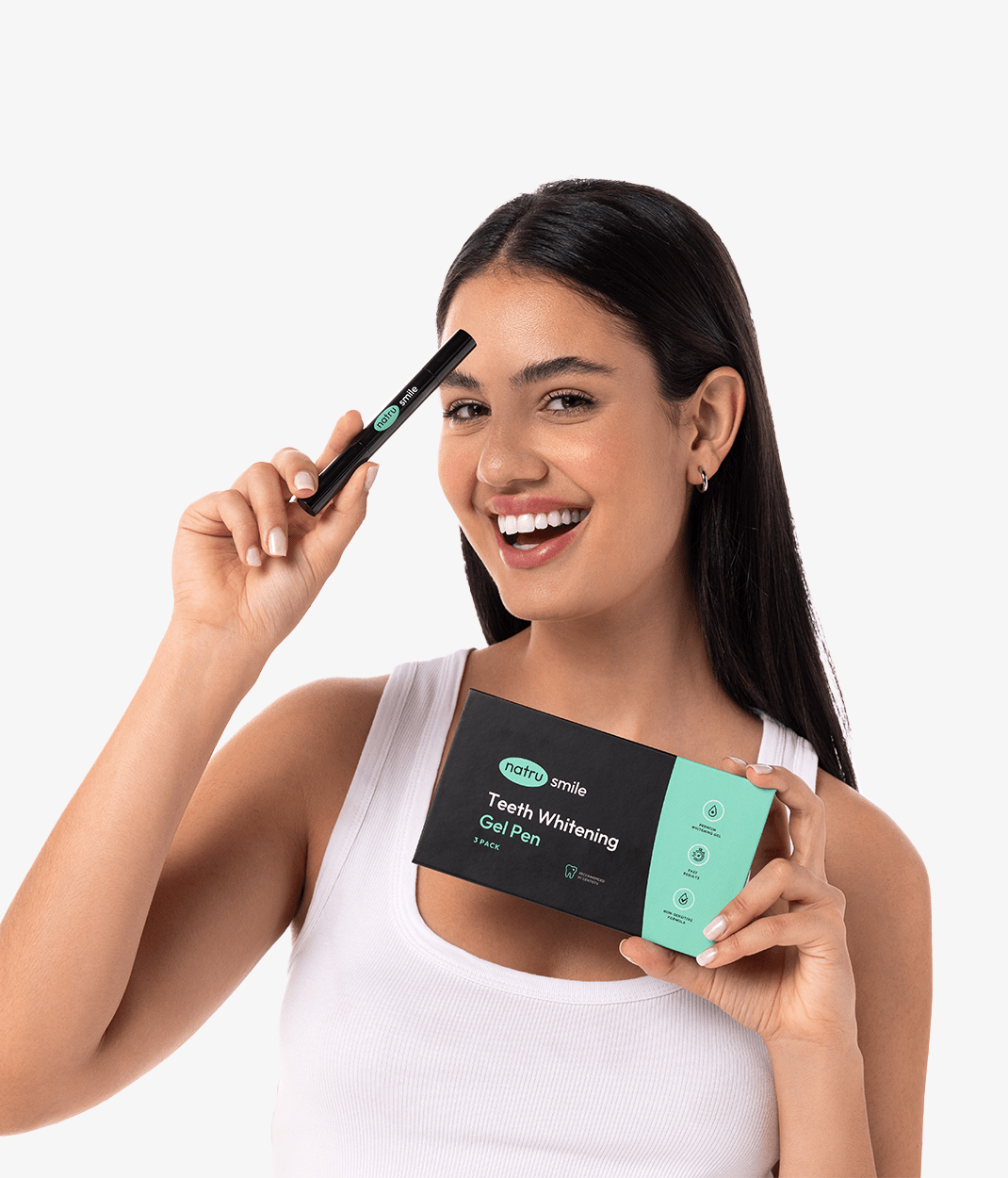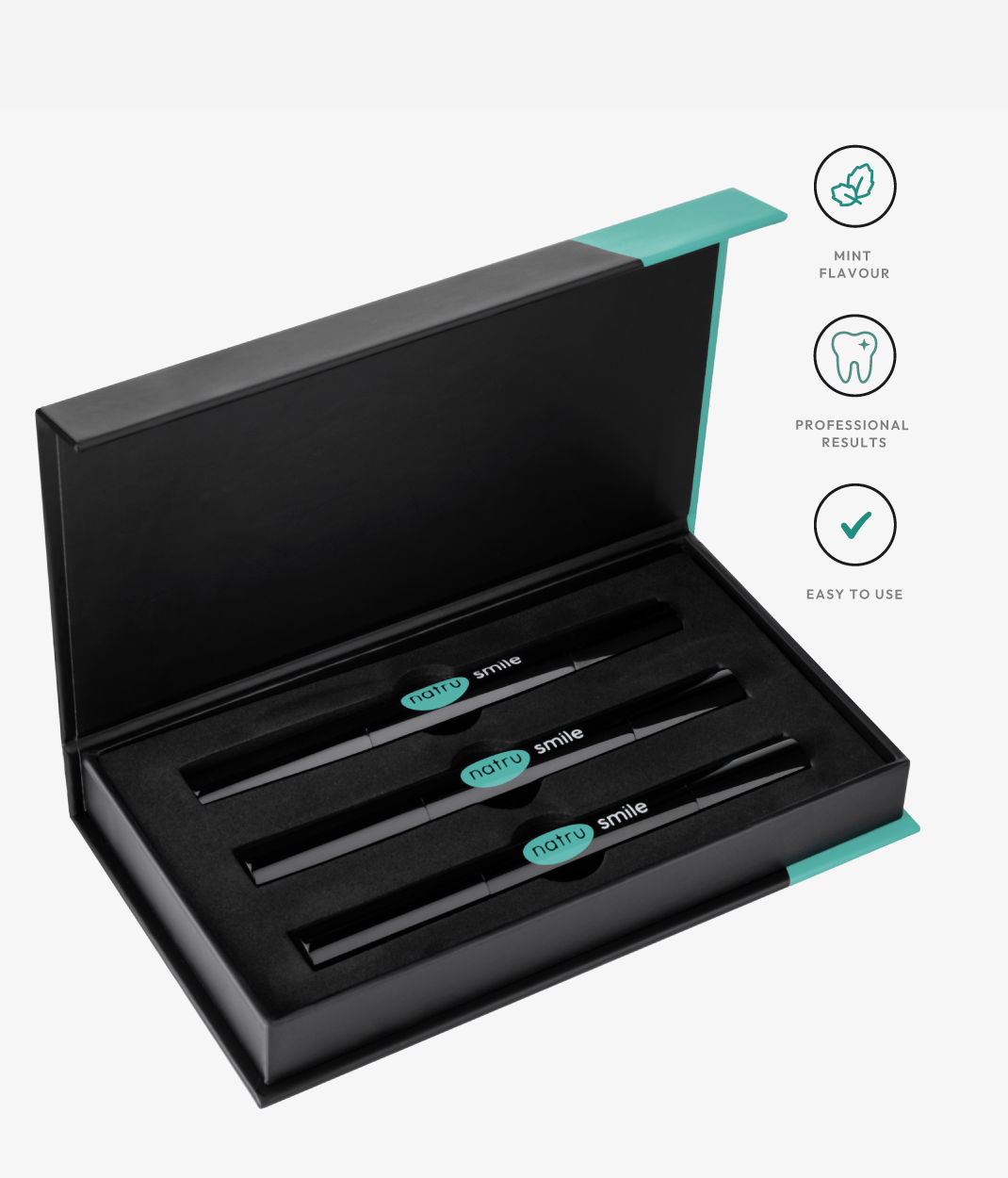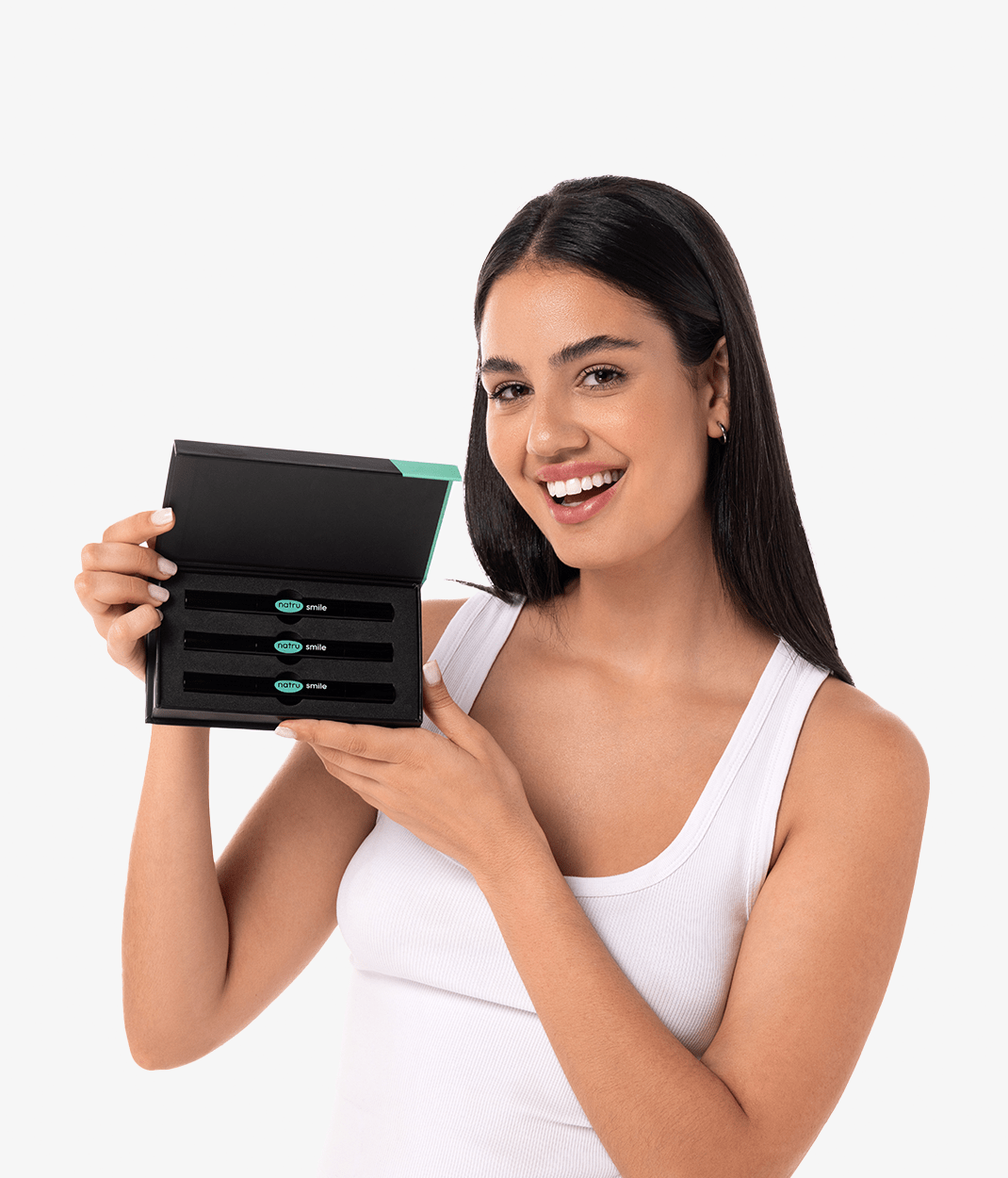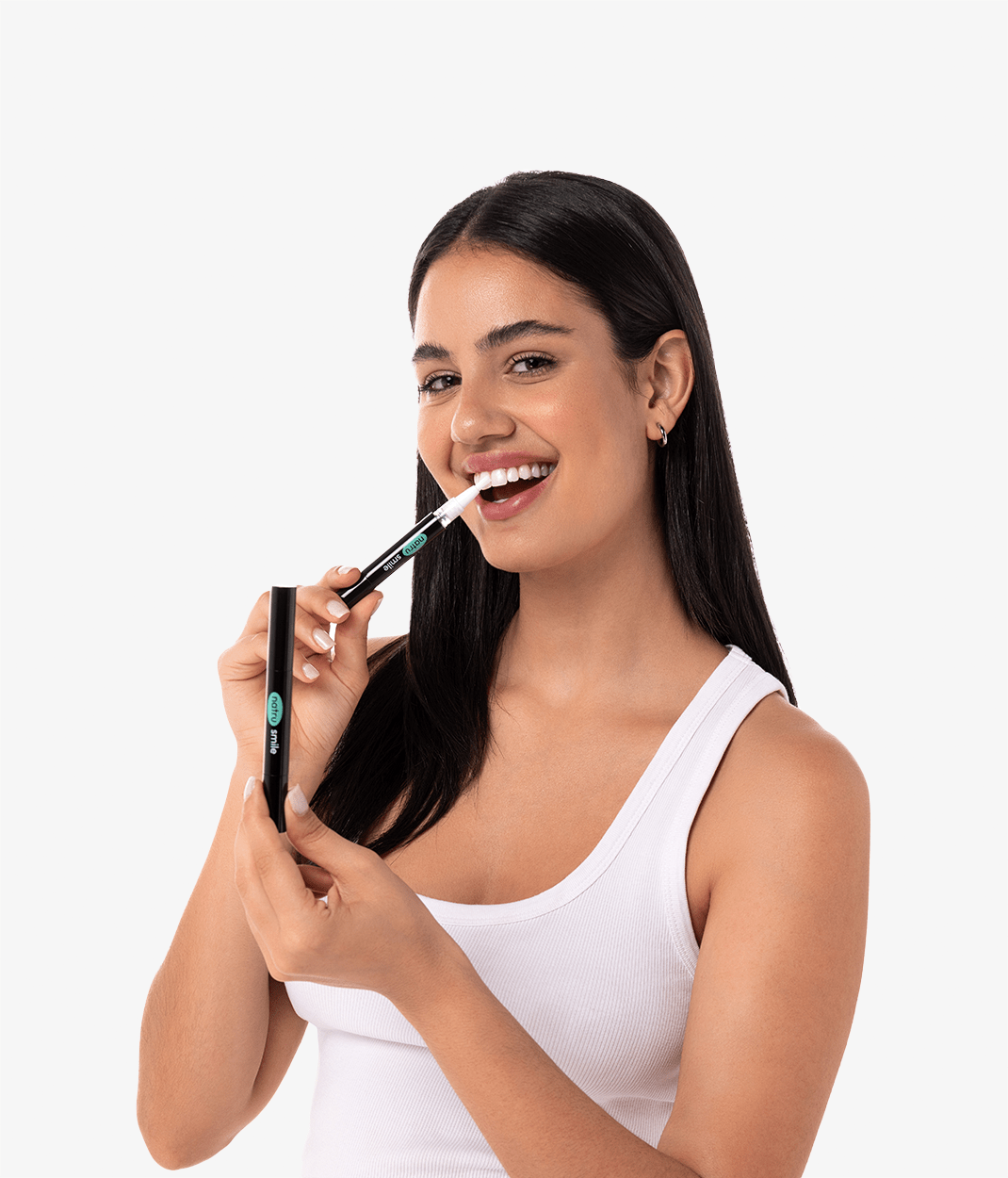 Benefits

Our non-sensitive formula and straightforward application ensure a pleasant whitening experience every time.

How to use

Simply brush a thin layer onto your teeth, wait to dry, and enjoy a pearly-white smile in as little as 60 seconds.

Shipping & returns

We happily ship worldwide and offer hassle-free returns. All products are available for immediate shipping.

Ingredients

Carbamide peroxide and PAP gel in whitening pens comply with US and UK regulatory guidelines, respectively.
Whiten your teeth, brighten your life.
How to use video
As featured in
How to a Teeth Whitening Gel Pen?
In 4 simple steps, the NatruSmile Teeth Whitening Gel gives you a noticeably brilliant smile.
Clean & dry your teeth

Brush as you normally would for two minutes. Then, dry your teeth with a towel or cloth to prepare them for the whitening gel application.

1

Dispense the gel

Twist the teeth whitening pen until the gel appears on the brush. Don't worry, your brush will automatically fill with the right amount of gel.

2

Brush onto teeth

Apply a thin, even layer of whitening gel across your upper and lower teeth by pressing it to them and brushing it in with the built-in brush.

3

Smile to dry

Let your teeth dry for 60 seconds with the teeth whitening gel on them. After that time is up, you can enjoy your new radiant smile.

4
Before & After results
The NatruSmile Teeth Whitening Gel Pen fixes tooth discoloration from coffee, tea, smoking, and more. See the results for yourself in just one minute.
Before
Yellow teeth from coffee staining make your smile look dull. Without treatment, these stains become increasingly difficult to remove.
Yellowed teeth
Yellow teeth make you look older, bringing out your wrinkles and dullening your complexion. Your teeth naturally yellow as you age, and this is a telltale sign, even if you aren't.
A dull smile makes you feel self-conscious in both your personal and professional life. This makes it hard for you to socialize, pursue new opportunities, and develop relationships.
Avoiding smiling while dating, networking, or speaking makes you seem less friendly and trustworthy. When you seem reserved, you'll have less success in your personal life and career.
Untreated teeth stains slowly work their way into the enamel, making them harder to remove. Eventually, they will be too deep to treat at home and you'll need to see a dentist.
After
The NatruSmile Teeth Whitening Gel Pen produces quick results for a beautiful smile you won't have to wait for.
Glowing white teeth
Look your age (or younger) with teeth whitening that instantly brightens your complexion. With your new radiant smile, bring the attention back to what makes you beautiful.
A white smile boosts confidence, making you feel more comfortable in any situation. Feel secure with your white teeth, and be your best self when you're around others.
Smiling with newly whitened teeth will create opportunities for personal and professional success. When others see you as more engaging, they'll want to be around you more.
Fighting stains when they appear saves you from costly and invasive future restorative procedures. Avoid veneers and in-office whitening, which cost thousands of dollars.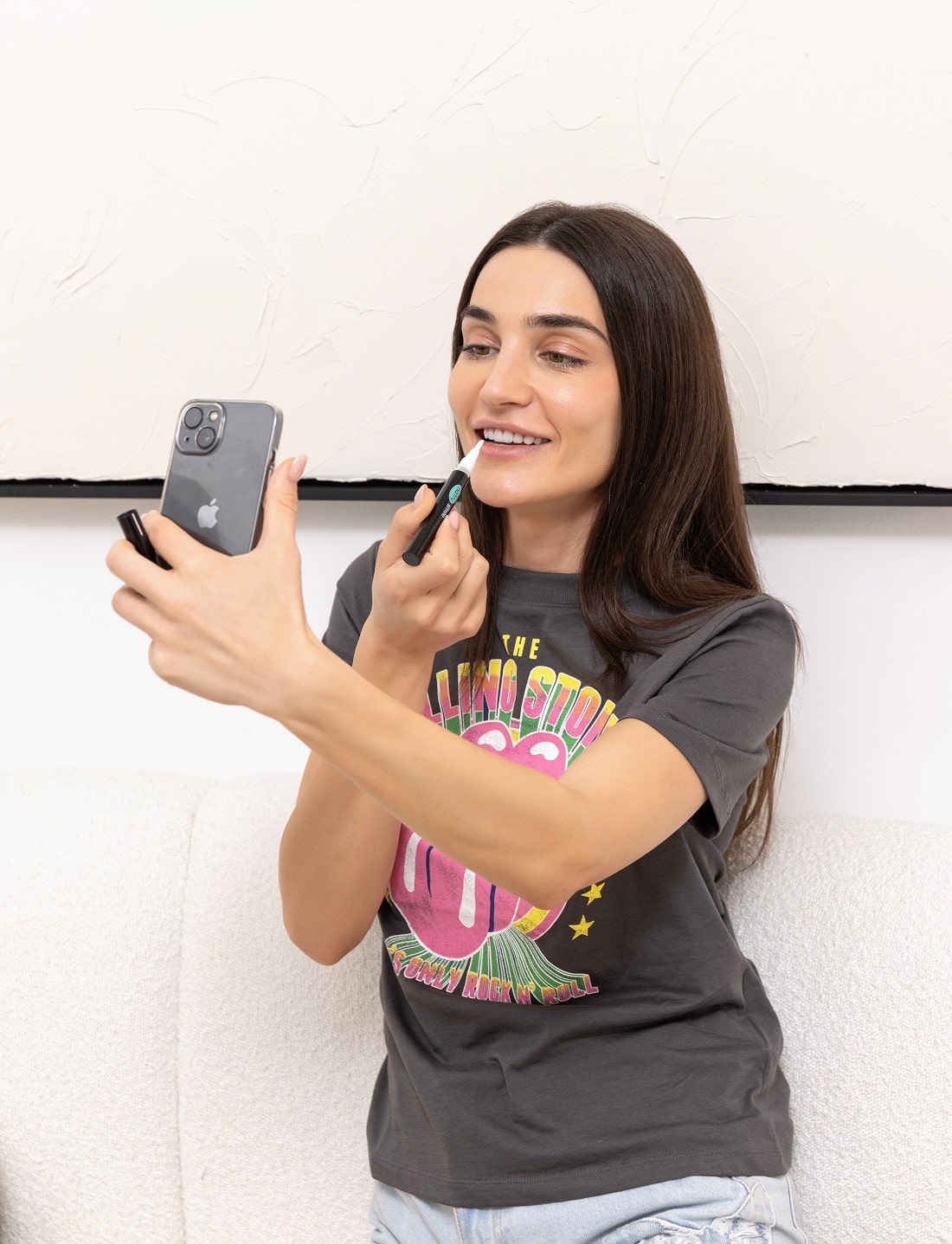 Why use a teeth whitening gel pen?
Teeth whitening gel pens are ideal for touch-ups, maintenance, and slight restorations without costly and time-consuming procedures. They're straightforward, hassle-free, and offer you the convenience to whiten your teeth anywhere. For people who want to whiten a few shades, there's no faster (or easier) solution.
Convenient and cost-effective
In-office treatments cost up to $1,000, or more—and unless you have severe, years-long discoloration, you probably don't need one. Plus, taking off work to drive to the dentist for each visit means spending even more to improve your smile. We use the same active ingredient as dentists, but with our straightforward application system and at a fraction of the cost. 
Whether you're in the car prepping for a job interview, at home before a date, or heading to class, NatruSmile makes it easy to perfect your smile anytime without any fuss. It's just what you need for quick and affordable teeth whitening that lasts.
Perfect for maintenance
If you do spend hundreds or thousands on an intensive whitening procedure, you'll want to get your money's worth. Whitening treatments are supposed to last between 2 and 3 years, but with teeth-staining habits like coffee and smoking, those results fade.
NatruSmile Teeth Whitening Gel Pen offers the perfect touch-up. When used with your regular routine (i.e., brushing and flossing), you'll keep your white smile longer.
What's Included In Our Teeth Whitening Gel Pens?
NatruSmile's teeth whitening gel pens have everything you need for safe teeth whitening in the convenience of your home.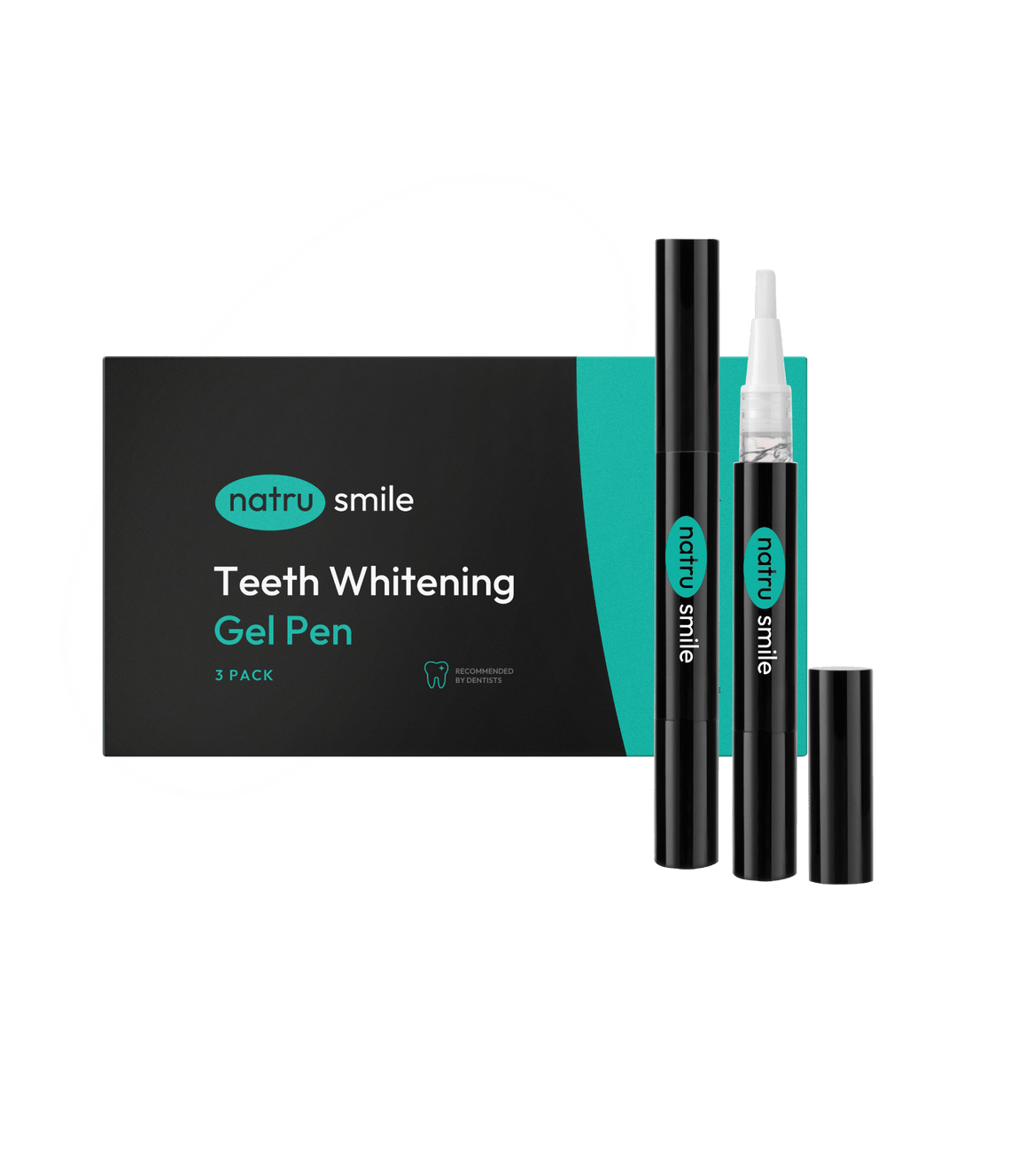 Improve your smile in 60 seconds

Instantly erase smoking, coffee, and wine stains with one of the fastest treatments on the market.

Portable whitening gel pens

A 3, 6, or 9-week supply of teeth whitening gel pens to last your whole whitening duration.

Easy brush applicator

Easy brush applicator makes it simple to apply the gel directly to your teeth and spread evenly.

Safe on sensitive teeth

Designed with sensitivity in mind, so you can painlessly achieve the results you deserve.

Vegan-friendly ingredients

We never test on animals, and no ingredients are derived from animals or animal byproducts.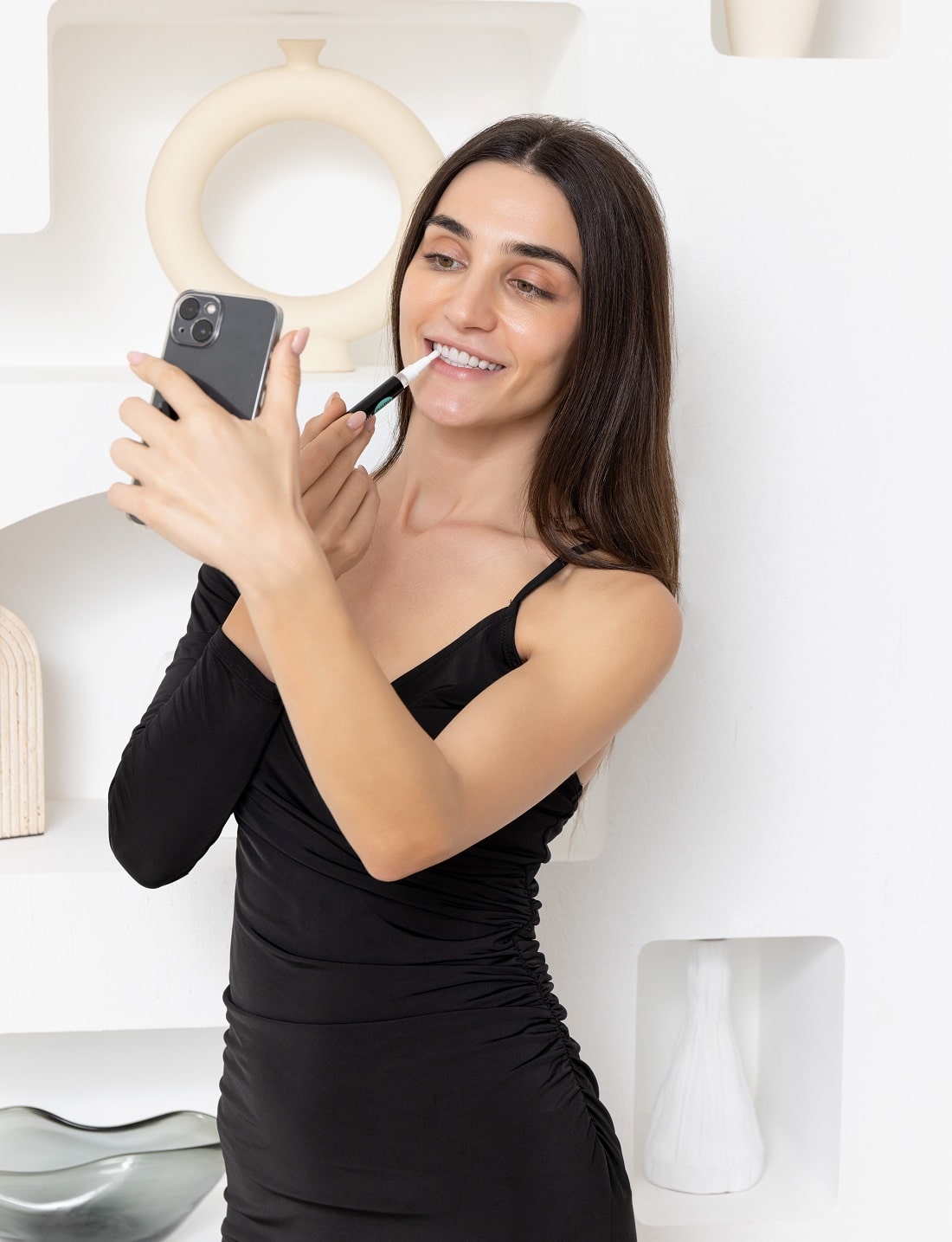 How Do Our Teeth Whitening Gel Pens Work?
Whiten smarter with the NatruSmile Teeth Whitening Gel Pen. It starts with our precision applicator, which allows for a meticulous gel spread. Once the gel is evenly applied to your teeth, it works its magic in just 60 seconds. In that short period of time, your teeth absorb the gel and begin to whiten. Our vegan-friendly ingredients are gentle on sensitive teeth, so even those with the most delicate enamel can enjoy a brighter smile.
Advanced whitening technology
Carbamide peroxide and PAP are powerful whitening agents dentists use to eradicate tooth discoloration. They start to take effect as soon as they're applied, and after just 60 seconds of use, you'll see the results. With regular usage (we suggest daily application after brushing and flossing), you can improve your smile by multiple shades or extend the longevity of a whitening treatment by several months.
Tackles a range of stains
On the surface of your enamel, different stains have different makeups. Tannins, smoke, food stains, and particulate matter all discolor your teeth differently. The NatruSmile Teeth Whitening Gel Pen tackles them before they seep into your teeth. 
Our gel breaks down the stains caused by coffee, tea, smoking, and wine (among others). Discolored teeth from poor lifestyle habits or a lack of dental care are no match for our whitening gel.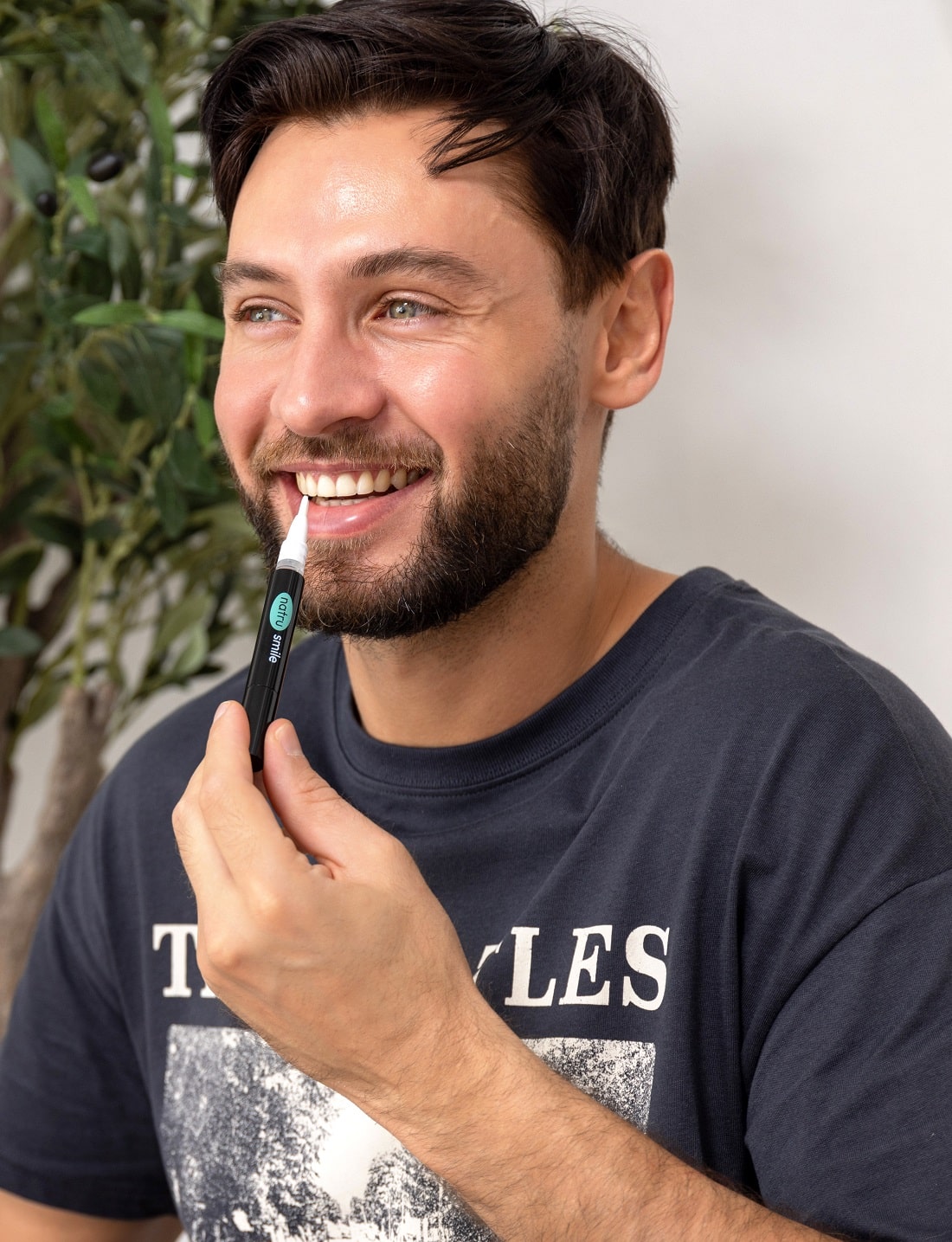 Common ingredients in teeth whitening gel pens
The biggest problem with most teeth whitening therapies is their dependence on high concentrations of chemicals to produce results. NatruSmile teeth whitening gel pens contain ingredients that have been clinically researched, tested for safety and effectiveness, and approved by the Food and Drug Administration (FDA). We are highly focused on delivering the best ingredients to customers.
Carbamide peroxide
Carbamide peroxide combines hydrogen peroxide and urea. It breaks down into hydrogen peroxide and ammonia when it comes in contact with your teeth. It reacts with the stains on your teeth as soon as it is applied, breaking them down and making them easier to remove.
The NatruSmile Teeth Whitening Gel Pen uses a safe concentration of carbamide peroxide gel for at-home use. It is designed to increase effectiveness and reduce teeth sensitivity, improving the likelihood of a comfortable whitening experience.
Xylitol
Xylitol is a natural, plant-based sugar alcohol that is well-known for its antibacterial properties. After you apply the gel, xylitol inhibits plaque formation and bacterial growth—two significant factors that can lessen your whitening results. By providing a cleaner oral environment, xylitol facilitates the whitening process and is an essential component of our gen pens.
Xylitol provides the added benefit of promoting enamel strength—it naturally remineralizes your tooth, which adds to our whitening gel pens' safety profile.
Our teeth whitening gels contain a special mix of ingredients that are selected for their specific benefits. In our UK product, we've combined Phthalimidoperoxycaproic acid (PAP) and titanium dioxide, both of which are safe and effective. These ingredients work together to remove surface stains, brighten your smile, and keep your at-home treatments safe.
PAP (Phthalimidoperoxycaproic acid)
PAP—a synthetic organic peroxy acid—is a non-abrasive bleaching agent that is beginning to garner significant recognition in the world of dentistry due to its effective whitening properties. Studies highlight that PAP matches the whitening potency of peroxide, presenting a compelling alternative for those desiring a powerful substitute.
Unlike many whitening agents, our PAP formula ensures the integrity of tooth structure, making it a preferred choice for those seeking a gentle (yet potent) whitening solution. Given the increased consciousness surrounding dental health and sensitivity, PAP emerges as an exceptional choice that harmoniously blends safety and efficacy.
Titanium dioxide
Titanium dioxide is commonly found in toothpaste and teeth whitening products. In ours, it plays an integral role in restoring your smile. It binds to the molecules in your rental tissue, binding the whitener to your teeth for the duration of your treatment.
In addition to helping the PAP work its magic on and underneath your enamel, it adds an extra layer of whitening and protection, enhancing the results of your treatment.
Recommended by Real Dentists
The science behind NatruSmile teeth whitening gel pens wasn't created yesterday. Real dentists and years of clinical testing back our products.
Endorsed by Dr. Greg Grillo D.D.S
Dr. Greg Grillo, D.D.S., a US-based dental professional, brings 28 years of experience in all facets of the dental profession. Dr. Grillo verifies and endorses all NatruSmile products, including our whitening gel pens.
28 years serving patients
Experienced clinician
Dental Advisory board
Greg Grillo, D.D.S. earned his Doctor of Dental Surgery degree from the University of Washington School of Dentistry. He currently serves as an executive of Method Pro and sits on the advisory board for Quip.
Don't Just Take Our Word For It
Dental professionals across the country recommend the NatruSmile Teeth Whitening Gel Pen as a fast, safe, effective whitening solution.
Home whitening and oral care excellence!
As a trusted dentist, I highly recommend the NatruSmile home whitening kit for achieving a brighter, more radiant smile. With its safe and effective formula, you can whiten your teeth conveniently from the comfort of your own home. You can truly experience professional-quality results with NatruSmile and achieve your dream smile!
Dr. Andrés Arias
Serving patients since 2018
5-star home treatment products that work!
My recommendation as a orthodontics of dento-factor facial orthopaedic specialist is that NatruSmile products are 5-star home treatment products that are perfect for young adults to use safely and effectively at home to achieve an awesome smile. I would highly recommended NatruSmile to anyone looking to improve their daily oral care routine.

Dr. Mai Abdelsalam
Orthodontics of dento-factor facial orthopaedic specialist
Eliminates problems with home whitening!
I recommend NatruSmile products because so many others that exist in the market come with problems. Either it does not whiten the teeth enough or they bring a lot of sensitivity and the process is very slow. NatruSmile products eliminates these problems and delivers a smile you always dreamed of in a short time, without pain and at a very competitive cost.
Dr. Daniel Echeverry
7 years as a specialist in oral rehabilitation or prosthodontist
Effective products that will improve your smile!
NatruSmile is a game-changer for improving your oral health and smile. They offer teeth whitening solutions, electric toothbrushes, and tongue scrapers to create a winning combination for a brighter, healthier mouth. These products are safe and effective at removing plaque and stains on the surface of your teeth and I highly recommend NatruSmile's products.
Amber Lust
8 years of dental assisting
Who Recommends Us?
From health and fitness to beauty and wellness, NatruSmile is one of the most trusted sources for at-home whitening products.
Our Happy Customers
NatruSmile customers globally have experienced powerful results with our teeth whitening gel pens. Read their stories and see how NatruSmile helps them achieve (and keep) a perfect smile.
Fast results, fabulous smile! 5 STARS!
I'm a busy woman, so I don't really have two hours to take out of my afternoon for a professional whitening treatment. I chose NatruSmile's whitening gel pen because it seemed like something I could do between meetings. It's safe to say it delivered! My teeth are noticeably whiter, and I love the minty fresh finish.
Whitening on-the-go? Yes please!
With a hectic schedule, I needed something for on-the-go whitening. The NatruSmile gel pen caught my attention because it's compact, so I can use it at work before meetings with my corporate partners. It really is as convenient as it sounds, it's easy to use, and I haven't had any problems with sensitivity. Plus, it's fixed my coffee-stained teeth.
Say goodbye to discoloration, for good
As a tea lover, my teeth had noticeable discoloration. The NatruSmile Teeth Whitening Gel Pen has been a game-changer. It's easy to apply and works great with my NatruSmile whitening toothpaste. Now, I can enjoy my tea without worrying about stains - all I do is apply it when I notice slight discoloration and it brings me right back to normal.
The best whitening pen and it's not even close
I seriously love the NatruSmile Teeth Whitening Gel Pen. It not only whitens my teeth but leaves a minty fresh finish. It's non-sensitive and doesn't require any other input from me — I just apply it to my teeth, let it dry, finish the process in a couple minutes, and get on with my day. Unlike any other product I've tried. A BIG thanks from Me!
PERFECT for maintaining my teeth!
I've spent thousands on whitening treatments, and I finally decided to use a gel pen after a few months for maintenance. It's straightforward to apply and doesn't cause any sensitivity, and it's SUPER convenient for on-the-go whitening. It's helped the results from my whitening treatment last several months longer, and made a big different to my confidence!
Fixed my smoking stained teeth :)
I used to smoke and my teeth were stained. I was always good about brushing my teeth, so the discoloration wasn't too bad, but there was definitely a brownish-yellow tint. I used the NatruSmile gel pen to help me whiten a few shades and buff out the surface stains, and my smile has transformed. Can't recommend enough.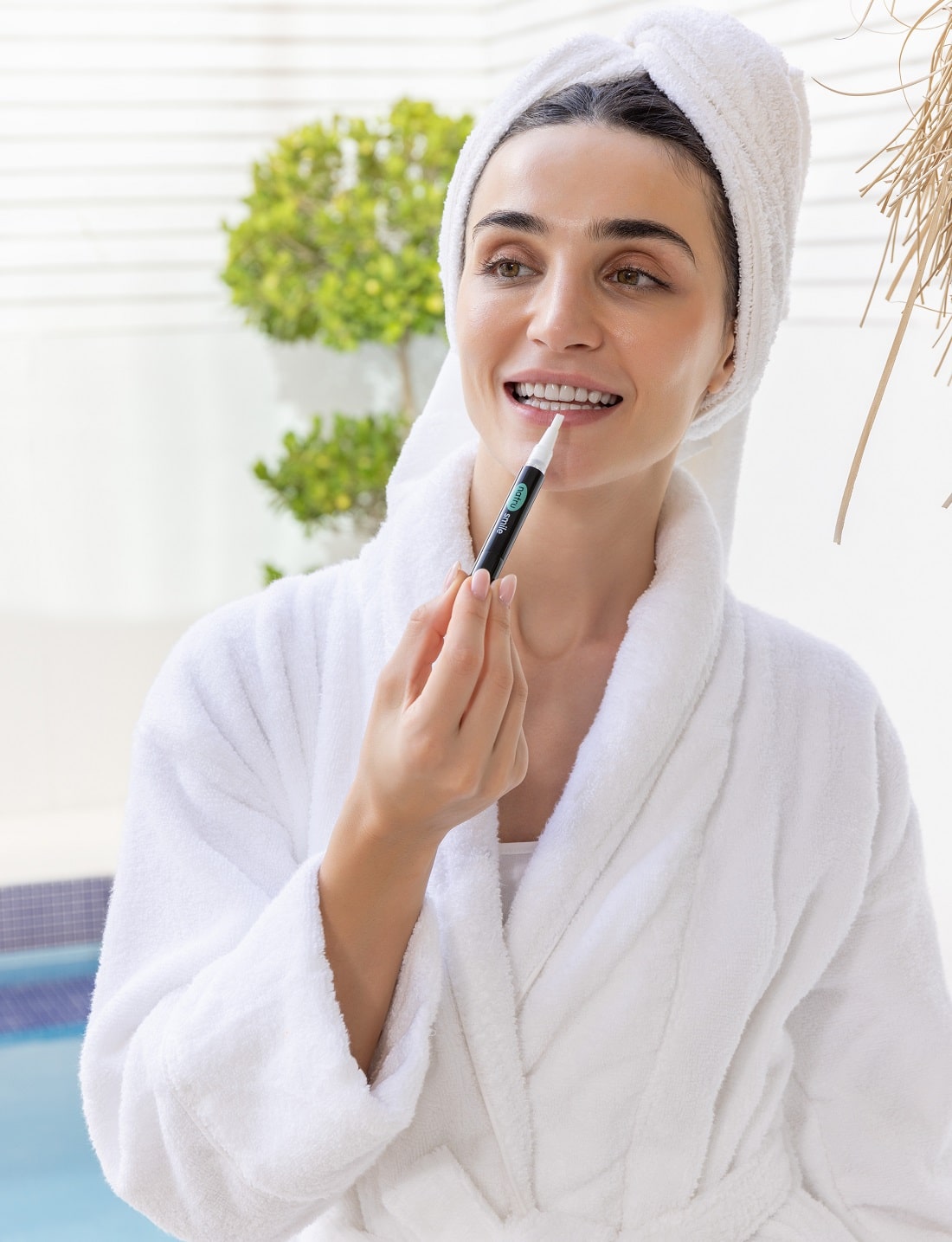 Are Professional Teeth Whitening Gel Pens Safe?
When carbamide peroxide and PAP whitening products are used as directed, dozens of worldwide clinical studies find their applications (including gel pens) to be safe for whitening and a viable alternative to expensive dental procedures. They are both commonly used for whitening and easily penetrate the tooth's hard tissues. There are, however, a few considerations for a safe experience.
Over-whitening and improper use
Whitening products (including gel pens) contain potent chemicals that erode your enamel if misused or used for extended periods. Since they are available over the counter, they are inherently error-prone. 
You can prevent these risks by following our instructions when using NatruSmile whitening gel pens. To keep your enamel safe, limit the use of any whitening products, including toothpaste and whitening mouthwash, to every six months at most.
Teeth sensitivity
Teeth sensitivity is a common side effect of whitening treatments. About 50% of those who use at-home whitening treatments report at least a mild form of sensitivity, while 10% experience moderate discomfort and 4% have severe pain. When considering the tens of millions who whiten their teeth, these figures are significant.
Our products are designed to be gentle on your teeth and gums. If you have sensitivity or discomfort, reduce the amount of gel used and shorten the duration of your whitening sessions.
Teeth Whitening Gel Pens FAQs
Still not sure about the NatruSmile Teeth Whitening Gel Pen? Here are answers to the questions our customers ask us the most.
Which teeth whitening pen is the best?
The "best teeth whitening gel pen" depends on your specific needs and preferences. Look at active ingredients, inactive ingredients, results from previous customers, and safety before making your selection. Avoid any whitening pens advertising a whiter smile through the use of disproven fads (such as turmeric or any type of acid).
NatruSmile customers often consider our whitening gel pens the best because they offer powerful, long-lasting results with minimal sensitivity, a natural strengthening boost from xylitol, and a minty fresh finish after using them. Our products contain clinically researched active ingredients and a professionally tested and endorsed formula, so our results are predictable.
Can you use a teeth whitening pen with braces?
You can sometimes whiten your teeth with braces, it just depends on what kind of braces you have.
Traditional metal braces, ceramic braces, and clear plastic braces cover the front of your mouth with brackets and wires. If you try to apply a whitening pen to the areas around your brackets, it won't penetrate the metal or ceramic. Instead, it will cause an uneven whitening result that will appear as small discolored squares in the center of your teeth once your braces come off.
Lingual braces and Invisalign trays are different. Since the trays are removable, you can apply our whitening pens directly to your teeth. Because lingual braces don't cover the surface of your teeth, you should be able to whiten them with our pens, as well.
Read our full article on whitening your teeth with braces.
Is Teeth Whitening Gel Pen effective?
NatruSmile customers from around the world have used our gel pens with success. Dental professionals, reputable influencers, and everyday users alike achieve and retain brilliant smiles with our easy-to-use pens.
That said, how effective they are depends on whether or not they are used as intended. We provide instructions in every box of whitening pens, which include instructions on proper timing, how to apply the gel, and how much to use. When used as instructed, NatruSmile customers achieve beautiful results with minimal sensitivity and very few (if any) other side effects.
Does Teeth Whitening Gel Pen cause sensitivity?
Compared to other teeth whitening gels, the NatruSmile Teeth Whitening Gel Pen is designed to minimize sensitivity or eliminate it altogether. 
Some users suffer from chronic dentin hypersensitivity, meaning they have an extreme sensitivity to cold, hot, or sweet sensations. Unfortunately, these users may still experience some level of pain while whitening their teeth, as they would with any whitening product.
Some tooth sensitivity while whitening is normal and is not an indicator of enamel damage. The sensitivity should last only as long as the procedure, and disappear shortly after you finish whitening your teeth. In some cases, it is possible to ease or eliminate sensitivity by reducing the number of applications per session or using a desensitizing product.
How much does a teeth whitening pen generally cost?
Teeth whitening pens usually cost between $10 and $50. The varying cost is based on numerous factors, including the brand, the included ingredients, and the concentration of peroxide. Generally speaking, higher-end pens with more features will cost more than lower-end versions. 
NatruSmile teeth whitening pens are available in a three-week supply for $27.99, a price that falls right in the middle in terms of affordability. Alternatively, you can bundle and save, purchasing a six or nine-week supply at a lower percentage cost.
Are teeth whitening pens bad for your teeth?
Generally speaking, whitening products (including whitening gel pens) are not bad for your teeth. There are, however, a few risk factors that make them potentially harmful.
Since teeth whitening pens are applied at home instead of under dental supervision, there is always the risk of misapplication—even if the user feels they are informed. If too much product is used or it is misapplied to the teeth, tooth and gum sensitivity can be heightened.
Over-whitening from using the product too long or using it in conjunction with too many other products is also a risk. To prevent these risks, NatruSmile recommends using our products as instructed and limiting your use of any whitening product to every six months at most.
Read our full article on teeth whitening safety.
Where can I buy a teeth-whitening pen?
Teeth whitening pens are available for purchase through specialized dental retailers and online shops. In larger cities, big-box retailers and drug stores that carry whitening products (e.g., kits, whitening strips, etc.) will also carry pens sometimes.
NatruSmile Teeth Whitening Pens are available for immediate purchase at the top of this page and through select third-party ecommerce retailers and brick-and-mortar stores. Our products are available for immediate shipping and ship internationally.
Does a Teeth Whitening Gel Pen damage your enamel?
When used as directed, teeth whitening pens containing peroxide or PAP don't damage your enamel. However, the risk of enamel damage is heightened when you use too much of a whitening product or you apply a gel that contains too high of a concentration (like many in-office bleaching treatments do).
NatruSmile products contain carbamide peroxide (US) or PAP (UK) gel in a low enough concentration that even users with sensitive teeth can use them without experiencing heightened sensitivity. 
The optimal concentration of whitening agents in our gel pens also makes them ideal for maintenance after a whitening treatment or amplification while going through a more intense whitening treatment (such as LED whitening).
It's also important to note that tooth sensitivity is merely a potential side effect of whitening and does not indicate permanent damage to your teeth. If you only use our whitening pens on an as-needed basis or complete a procedure once every six months or longer, you should have no problems regarding enamel safety.
Can I use a teeth whitening pen every day?
You can use a teeth whitening pen every day for the duration of treatment, but it is unwise to use it in excess. For instance, using a whitening pen every day for the rest of your life would make your enamel fragile and prone to additional staining.
Overexposure to peroxide also leads to enamel damage and intensified sensitivity. To avoid such issues, we always recommend using a whitening pen as needed, or only once every six months.
When can I expect results from a Teeth Whitening Gel Pen?
Whitening results from our teeth whitening gel pens are less intense because they only involve a surface-level application. Our whitening pens are designed for fast treatment and fast results, meaning you can expect a noticeably fresher and whiter smile in just 60 seconds. 
As you use our product (presumably every day), your smile will continually improve. After completing a three-week cycle, you can expect to see a significant improvement in your teeth's brightness—assuming you continue to brush your teeth and floss twice daily.