Give your smile a healthy boost with NatruSmile Teeth Whitening Powder, the perfect way to whiten your teeth without adding harsh chemicals to your routine.
Chemical-free charcoal
Kills bad breath
Gentle on enamel
Removes harmful plaque
Give your smile a healthy boost with NatruSmile Teeth Whitening Powder, the perfect way to whiten your teeth without adding harsh chemicals to your routine.
Chemical-free charcoal
Kills bad breath
Gentle on enamel
Removes harmful plaque
Regular price
Sale price
$24.99
Unit price
per
Sale
Sold out
Shipping calculated at checkout.
Bundle and Save
Split your payments up with
View full details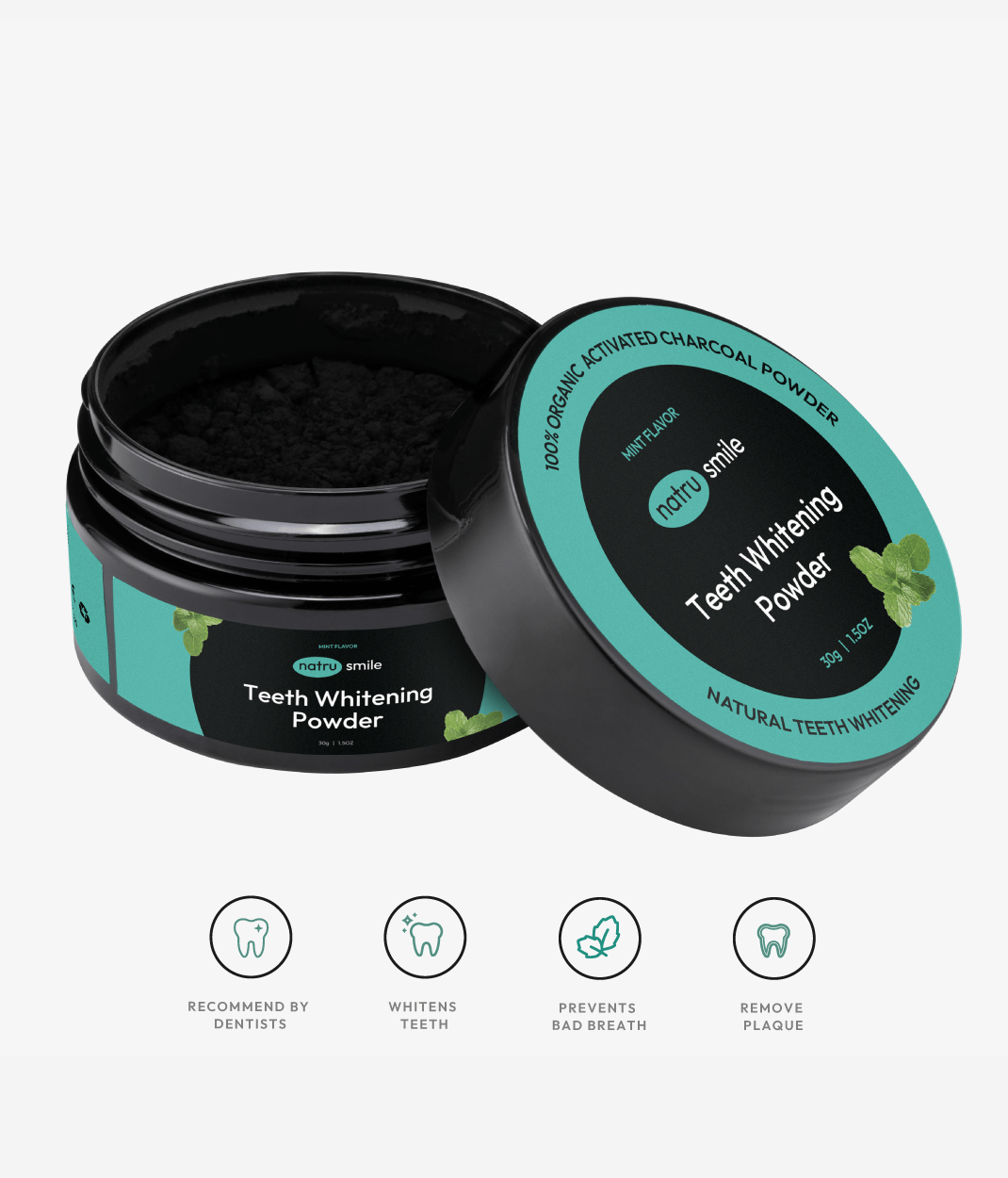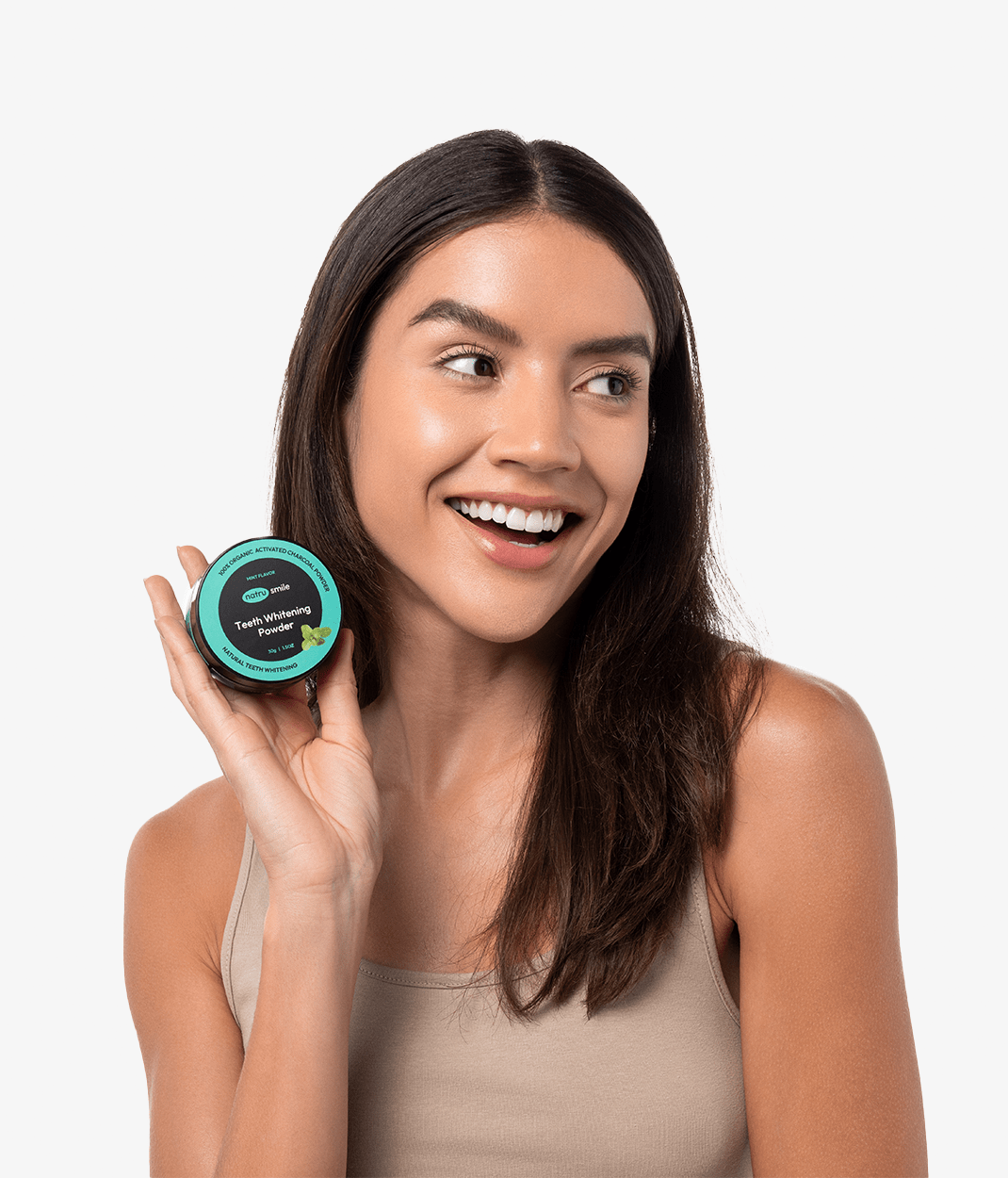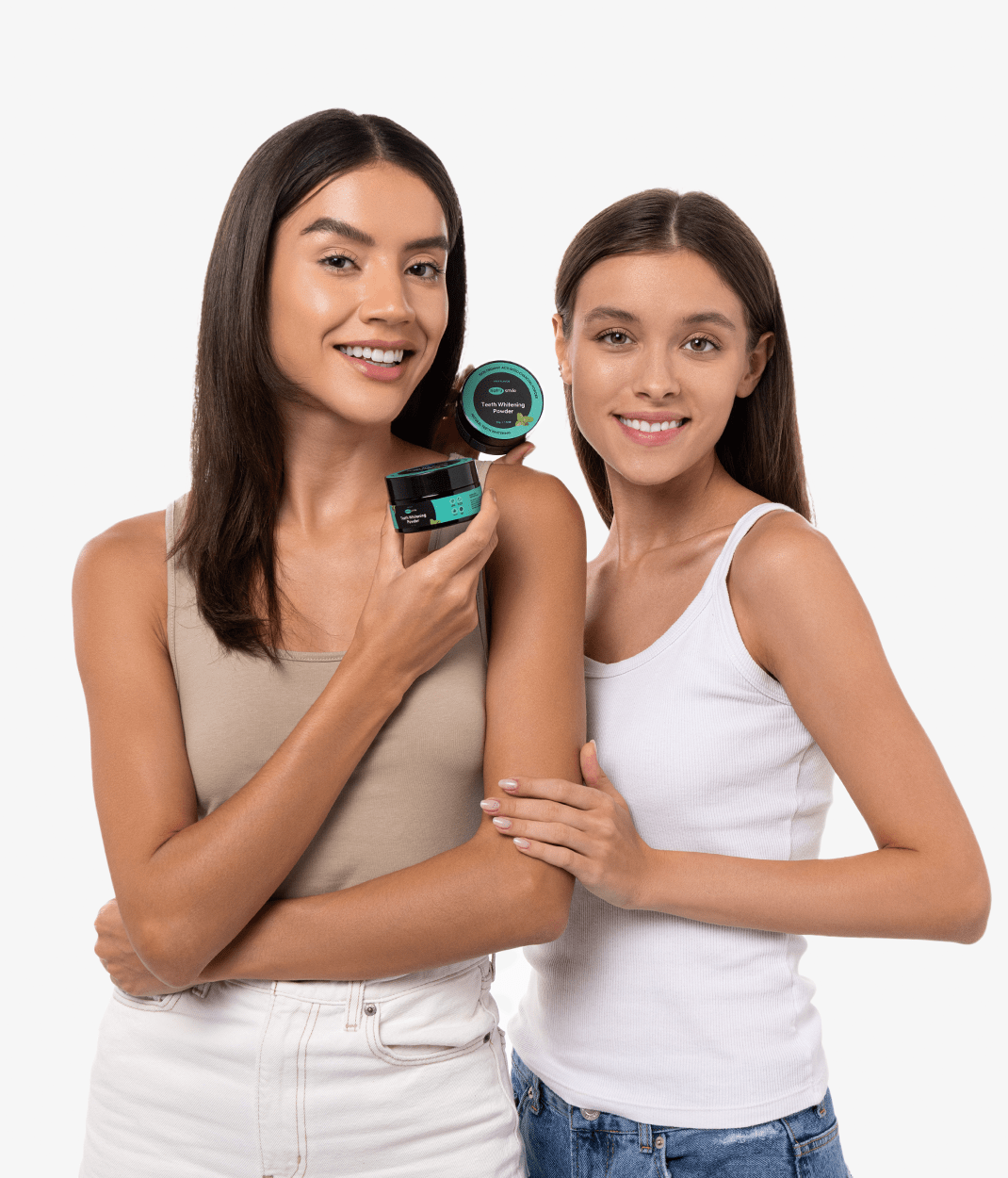 Benefits

In addition to surface stains, our natural whitening formula clears harmful plaque and eliminates bad breath.

How to use

Apply a small amount of powder to a damp soft-bristled toothbrush. Then, brush gently for 1-2 minutes.

Shipping & returns

We happily ship worldwide and offer hassle-free returns. All products are available for immediate shipping.

Ingredients

Activated charcoal safely and naturally whitens teeth, removing surface stains without damaging enamel.
Whiten your teeth, brighten your life.
How to use video
As featured in
How to Use Teeth Whitening Powder?
Add NatruSmile Teeth Whitening Powder to your everyday oral hygiene routine for an enduring radiant smile.
Brush normally

Start by brushing your teeth as you usually would. Clean your mouth with toothpaste and a soft-bristled toothbrush for two minutes for a thorough clean.

1

Prepare the powder

Dampen your toothbrush again and sprinkle some NatruSmile Teeth Whitening Powder onto the bristles. Alternatively, you can dip your toothbrush into the container of powder.

2

Polish your teeth

Polish your teeth by brushing gently for 1-2 minutes. The water and powder will form a paste. Don't scrub too hard, as the charcoal can cause abrasion.

3

Rinse thoroughly

Spit out the paste to reveal your shine. Don't eat or drink anything for 30 minutes after. Enjoy fresher breath, whiter teeth, and a cleaner mouth.

4
Before & After results
Enjoy whiter, stain-free teeth without harsh chemicals and additives. NatruSmile Teeth Whitening Powder delivers multiple shades of whitening without stripping your enamel.
Before
Everyday wear and tear cause surface stains to appear across your teeth, especially as you age. This negatively impacts your smile, self-confidence, and overall appearance.
Unhealthy mouth
Smiling, public speaking, and social interactions are difficult with yellow teeth and bad breath. When you hide your teeth and close your mouth, you come off as reserved and unfriendly.
Untreated buildup of plaque and debris leads to serious oral health complications later in life. It also increases your risk of other health problems, such as heart disease and cancer.
Without immediate treatment, dental health issues are harder and costlier to fix or reverse. Replacements for tooth loss and restorations for severe decay cost thousands of dollars.
Most teeth whitening products contain harsh chemicals that exacerbate tooth sensitivity. If you have sensitive teeth, you don't want to risk choosing a product with harsh chemicals.
After
NatruSmile Teeth Whitening Powder gives health-conscious consumers exactly what they need: An all-natural formula that freshens and whitens simultaneously.
Glowing white teeth
Seize the moment confidently and talk to others comfortably with a whiter, fresher mouth. Be yourself and others will see you as trustworthy, engaging, and energetic.
Protect your mouth from severe complications that worsen over time. With a healthier mouth, you'll also reduce your risk of heart disease, several cancers, osteoporosis, and more.
Save hours of your precious time and thousands of hard-earned dollars by fixing your oral health before it becomes costly. Avoid invasive treatments like dental fillings and implants.
Know your whitening product is made with just three ingredients, gently whitening your teeth. Activated charcoal and a minty aftertaste ensure freshness and cleanliness.
Why use teeth whitening powder?
Teeth whitening powder is unlike other whitening products. It's gentle on your enamel, and its powerful ingredients restore the natural color of your teeth. For the ethically and environmentally conscious, it's also the best natural teeth whitening option. And since it isn't made with harsh chemicals, those with sensitive teeth can use it without dealing with sharp pain.
Keep your teeth white and fresh
Teeth whitening can be expensive, with professional treatments costing over $1,000 and at-home solutions costing hundreds. If you choose to invest in a whiter smile, you want long-lasting results as advertised.
Everyday wear and tear on your teeth negatively affects the outcome of both at-home and in-office teeth whitening treatments, which should last 2-3 years. To maintain white teeth between treatments, you can use teeth whitening powder.
The natural way to whiten
Although chemicals like hydrogen and carbamide peroxide deliver fast and long-lasting results, not everyone can use them. Around 1 in 8 people suffer from tooth sensitivity, many of whom also want to whiten their teeth. Numerous studies show natural ingredients, such as activated charcoal, safely whiten teeth without the uncomfortable side effects bleaching agents entail. 
Many companies use harsh chemical formulas to test on animals to ensure their safety. Since NatruSmile Teeth Whitening Powder is made with 3 proven ingredients, we already know they're safe.
What's Included In Our Teeth Whitening Powder?
NatruSmile Teeth Whitening Powder has everything you need to achieve the beautiful, brilliant smile you've always wanted.
3-ingredient formula

Use our tooth polisher to achieve a brighter smile. With only three ingredients, it eliminates stains while freshening your breath.

Activated charcoal whitening

The porous nature of activated charcoal means it absorbs surface stains like no other natural whitening agent can.

Chemical-free charcoal

Charcoal powders used as teeth whiteners are often unregulated and leave behind harmful acid residue. Not ours.

Superior oral protection

Our whitening powder protects your gums and enamel from long-term damage by preventing harmful bacteria and plaque buildup.

Safe for sensitive teeth

Avoid the discomfort and damage from alcohol and harsh chemicals found in many other powders.
How Does Teeth Whitening Powder Work?
NatruSmile Teeth Whitening Powder can help freshen your breath, protect your mouth from harmful bacteria, and keep your teeth white after professional whitening. Activated charcoal is abrasive and effective in removing surface stains, making it ideal for maintaining the results of an at-home or professional whitening treatment. The NatruSmile activated charcoal powder includes peppermint oil, which adds a freshening element to the charcoal's benefits.
Activated charcoal whitens your teeth
Activated charcoal works by binding to the rough surfaces of your teeth, where stains, plaque, and bacteria tend to build up. As you brush back and forth, the small charcoal granules move with it, picking up and removing surface-level stains as it goes. 
As you brush, it isn't just stains that get the boot. The activated charcoal also binds to and removes plaque, food particles, and bacteria that can cause bad breath. Over the course of just a minute or two, you're transforming your entire mouth, not just the stains on the surface of your teeth.
Peppermint oil freshens your mouth
The taste of our teeth whitening powder is mild, minty, and refreshing, and that's how your mouth will feel after using it. Natural peppermint oil is one of the strongest breath fresheners available—it kills germs, gives you minty fresh breath, and leaves a smooth, clean mouth feeling throughout your mouth.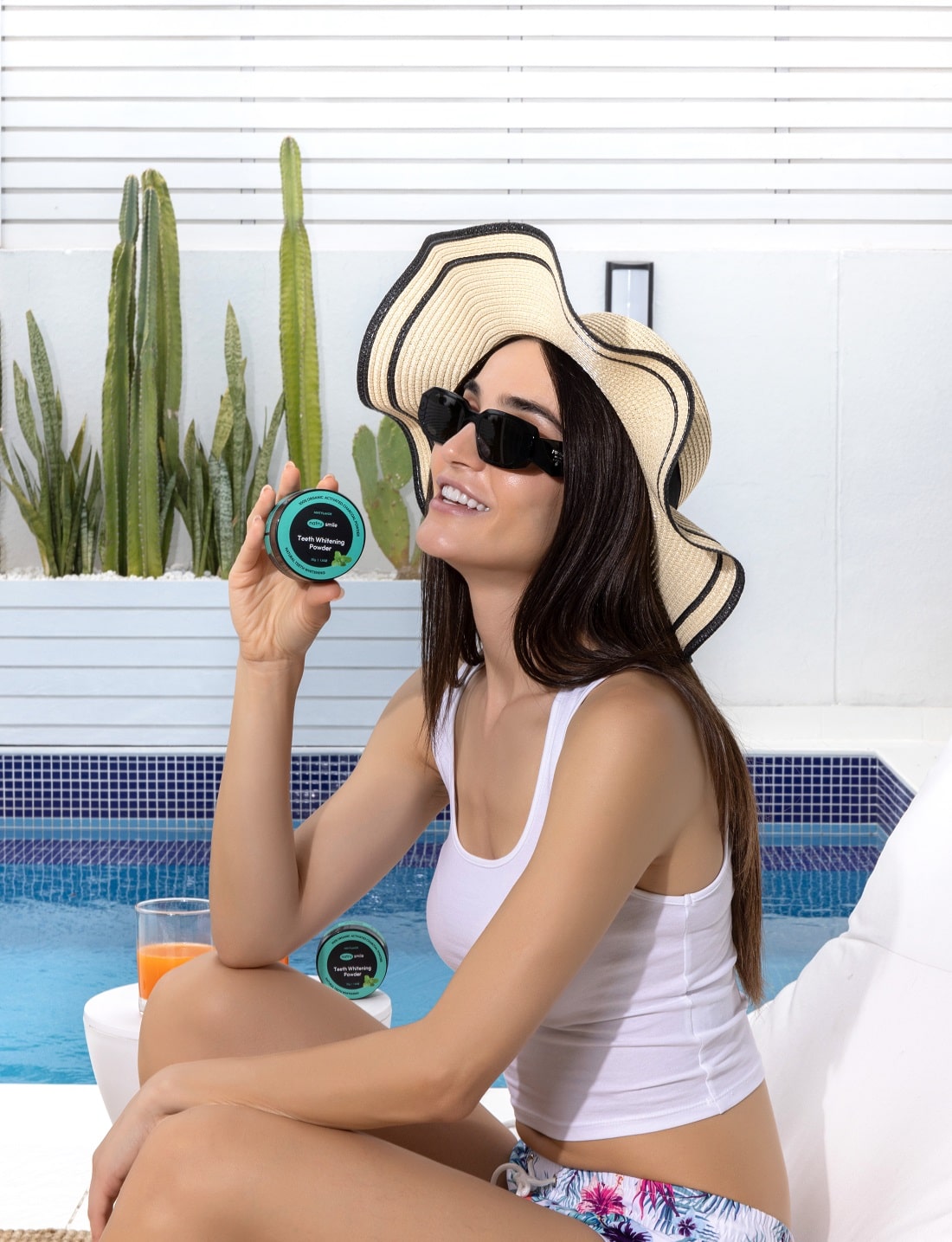 Common Ingredients in Teeth Whitening Powder
The biggest issue with plenty of other teeth whitening products is their high-concentration use of harsh chemicals and lack of regulation and clinical testing. NatruSmile Teeth Whitening Powder is free from destructive chemicals—even those sometimes found in charcoal whitening. What that means for you: Worry-free whitening and outstanding oral protection.
Activated charcoal
NatruSmile Teeth Whitening Powder contains activated charcoal as the active ingredient, which is a biological substance extracted from coconut shells, bamboo, and numerous other natural sources. Its porous particles adhere to the surface of your teeth and have a mild abrasive effect that helps remove tannins and other stains that build up over time.
The brushing movement that forces the granular pores of activated charcoal against your teeth also removes some of the microorganisms that cause bad breath and tooth decay, leaving you with a fresher and healthier mouth overall.
Bentonite clay
Bentonite is a natural clay that forms a paste when it comes into contact with water. It is frequently used for medical and cosmetic reasons, including teeth whitening. 
Bentonite clay works with our natural activated charcoal to remove plaque, get rid of bad breath, and remove toxins and bacteria that can harm your teeth while further restoring their whiteness. We use bentonite to further expand the benefits of using our whitening powder and strengthen your smile.
Recommended by Real Dentists
Unlike tons of other charcoal whitening products, ours is backed by real dental professionals. That way, you can use it safely and confidently.
Endorsed by Dr. Greg Grillo D.D.S
Dr. Greg Grillo, D.D.S., a US-based dental professional, brings 28 years of experience in all facets of the dental profession. Dr. Grillo verifies and endorses all of our NatruSmile teeth whitening range.
28 years serving patients
Experienced clinician
Dental Advisory board
Greg Grillo, D.D.S. earned his Doctor of Dental Surgery degree from the University of Washington School of Dentistry. He currently serves as an executive of Method Pro and sits on the advisory board for Quip.
Don't Just Take Our Word For It
Dental professionals nationwide recommend the NatruSmile Teeth Whitening Powder as a safe and effective whitening solution.
Home whitening and oral care excellence!
As a trusted dentist, I highly recommend the NatruSmile home whitening kit for achieving a brighter, more radiant smile. With its safe and effective formula, you can whiten your teeth conveniently from the comfort of your own home. You can truly experience professional-quality results with NatruSmile and achieve your dream smile!
Dr. Andrés Arias
Serving patients since 2018
5-star home treatment products that work!
My recommendation as a orthodontics of dento-factor facial orthopaedic specialist is that NatruSmile products are 5-star home treatment products that are perfect for young adults to use safely and effectively at home to achieve an awesome smile. I would highly recommended NatruSmile to anyone looking to improve their daily oral care routine.

Dr. Mai Abdelsalam
Orthodontics of dento-factor facial orthopaedic specialist
Eliminates problems with home whitening!
I recommend NatruSmile products because so many others that exist in the market come with problems. Either it does not whiten the teeth enough or they bring a lot of sensitivity and the process is very slow. NatruSmile products eliminates these problems and delivers a smile you always dreamed of in a short time, without pain and at a very competitive cost.
Dr. Daniel Echeverry
7 years as a specialist in oral rehabilitation or prosthodontist
Effective products that will improve your smile!
NatruSmile is a game-changer for improving your oral health and smile. They offer teeth whitening solutions, electric toothbrushes, and tongue scrapers to create a winning combination for a brighter, healthier mouth. These products are safe and effective at removing plaque and stains on the surface of your teeth and I highly recommend NatruSmile's products.
Amber Lust
8 years of dental assisting
Who Recommends Us?
A few of our most loyal customers come from the beauty and wellness communities, including makeup artists, fitness instructors, nutritionists, and more.
Our Happy Customers
NatruSmile customers around the world have experienced powerful teeth whitening results with our LED-light kit. Read their stories and see how NatruSmile has helped them achieve a perfect smile.
Natural Whitening. Unbelievable Results
I've always preferred natural products, so discovering NatruSmile's Teeth Whitening Powder was a blessing! It's gentle on the enamel and doesn't leave any residue, unlike some of the gimmicky Amazon charcoal products I tried. As someone who loves to whiten my teeth once per year, it's also perfect for maintaining my teeth's whiteness after professional treatments.
DAMN! I love these products...
I kept having issues with sensitivity, and my dentist told me that I was probably more sensitive to the bleaching agents than anything. NatruSmile's charcoal whitening powder was the alternative I decided on. It worked as advertised, and I didn't have the sensitivity I used to deal with. A fresh, white smile without harsh chemicals - that's what NatruSmile offers!
The Power of Charcoal!!!
There is tons of stuff on the internet that contradicts each other when it comes to activated charcoal and its uses, so I always approach new products with skepticism. I was blown away by how effectively a natural whitening product could improve my smile. I can confidently say, no more plaque or discoloration, just a show-stopping smile!
Audrey L
27 weeks ago
Loas Angeles
Gentle yet powerful! 5 stars from me...
I never wanted to try teeth whitening because I have terribly sensitive teeth that can't even handle regular toothpaste. I carefully applied a little bit less teeth whitening powder than the recommended amount to make up for this, and it worked like a charm. NOTICEABLY whiter smile without any sensitivity. I'm thrilled to say the least! Kudos NatruSmile!
No more bad breath embarrassment for me
I used to cringe at the thought of socializing with others because people would tell me about my bad breath. I learned that part of the problem was my oral hygiene routine, so I added NatruSmile charcoal powder for added freshness in the morning. It's chemical-free charcoal, so no nasty residue. Fresh breath, whiter teeth - all thanks to NatruSmile!
Everyone compliments me now…
As someone with sensitive teeth, I've struggled to find a whitening product that suits me since most contain harsh bleaching agents. NatruSmile's charcoal powder was perfect for me, since I only needed to whiten a few shades. It's natural (which I love), safe, and has a really nice aftertaste, so I felt fresher after using it, too. Will purchase again!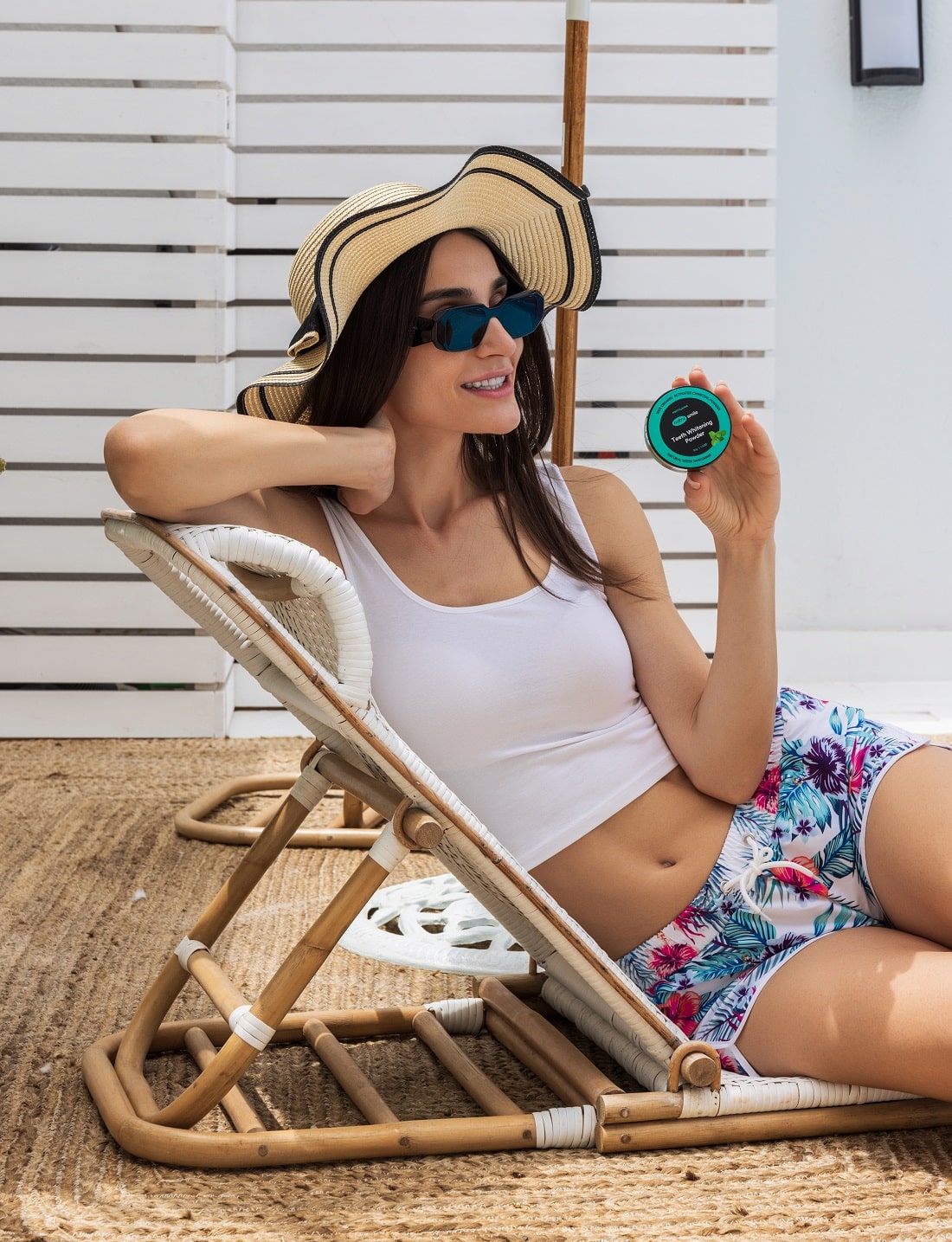 Is Teeth Whitening Powder Safe?
Teeth whitening powder is safe when the right ingredients are used. Ingredients to avoid include artificial dyes, bleaches, fad products that have been disproven, and unverified activated charcoal. According to clinical research and many dental and medical professionals, activated charcoal is safe to use on your teeth in specific applications. Still, buyers should be aware of the caveats associated with using it s a whitening agent.
Use as directed to prevent adverse effects
Regarding activated charcoal as a whitening agent, the ADA's main issue is its abrasive nature. Cleaning surface stains on your teeth may cause enamel abrasion, increasing tooth sensitivity and the risk of further staining.
Enamel erosion is mostly caused by excessive use. To use NatruSmile Teeth Whitening Powder correctly, brush gently with a soft-bristled toothbrush, and only do so for the recommended time, limiting usage to twice a day.
Limitations of activated charcoal
Although activated charcoal is good for removing surface stains and keeping the effects of other whitening products, NatruSmile customers must avoid having unrealistic expectations regarding the results they will get. Our teeth whitening kits or professional treatment will always yield better results by comparison.
For dramatic restorations that go deeper than your teeth's surface, we recommend using our teeth whitening kit. In the weeks following, use NatruSmile Teeth Whitening Powder to retain your white smile.
Teeth Whitening Powder FAQs
Still not sure about the NatruSmile Teeth Whitening Powder? Here are answers to the questions our customers ask us the most.
Which teeth whitening powder is the best?
On the hunt for the best teeth whitening powder, you'll find a lot of sketchy products that don't live up to their claims. To cut through the noise, having a proper vetting procedure is essential. 
Look for teeth whitening powder that doesn't oversell you on the results—it's great for quick whitening and freshening your mouth, but it won't give you the full, dramatic whitening you'd get from a professional service or an LED-activated whitening kit. 
Also avoid any whitening powder that contains turmeric or any other whitening fad that doesn't actually work. Even if the manufacturer claims otherwise, a quick internet search disproves them. 
As far as activated charcoal products go, make sure the charcoal itself is derived from natural sources and free from synthetic chemicals, which leave behind acid residue on your teeth. 
NatruSmile Teeth Whitening Powder is an excellent solution for those who want to whiten their teeth without spending a fortune. It's made with natural ingredients and helps you maintain a white smile. Plus, it comes at an affordable price that won't break the bank!
What is the difference between baking soda and baking powder for teeth whitening?
Although baking soda is the active ingredient in baking powder, baking powder also includes starch and acid. When it comes to teeth whitening, baking soda is the better option as it helps maintain a healthy pH level in the mouth.
It is unlikely that you will find any teeth whitening product with baking powder in it, but this is an important distinction to make for anyone planning to mix a homemade teeth whitening paste out of ingredients in their pantry.
Where can I buy teeth whitening powder?
Teeth whitening powder is less common than other products, such as teeth whitening strips. In larger cities, you can sometimes find them at drug stores and large retailers (e.g., Walmart). Specialty stores will also sell teeth whitening powder, but they won't always have the biggest selection.
The best place to shop for teeth whitening powder is online—you'll have the ability to do your own research, check product reviews, and see who backs each product. You'll also have a greater selection to choose from.
NatruSmile Teeth Whitening Powder is available in select online and brick-and-mortar retailers, as well as our website (at the top of this page). If you order it from us, it is available for immediate shipping worldwide.
Is activated charcoal teeth whitening powder effective?
Activated charcoal is effective at polishing the surface of your teeth. This makes its application ideal for maintenance and slight restorative purposes. It is not as effective at removing deep-set stains because it cannot penetrate the enamel as well as other products can.
However, if used regularly and consistently, activated charcoal teeth whitening powder can be a great way to keep your pearly whites looking their best. And it is certainly a way to ensure you get your money's worth out of costlier treatments.
Does teeth whitening powder cause sensitivity?
Sensitivity is often cited as a side effect of teeth whitening powder. Fortunately, this is only a temporary issue that should disappear after discontinuing use. For those with chronic tooth sensitivity, it is best to use our teeth whitening products with a desensitizing agent (such as a mouthwash formulated for sensitive teeth).
If you have underlying oral health problems that have gone untreated, this may contribute to your sensitivity as well. Tooth decay, gingivitis, and gum disease can all cause sensitivity. To reduce your risk of developing sensitivity, make sure to brush twice daily, floss regularly, and visit your dentist for regular checkups.
Can I use teeth whitening powder every day?
You can use activated charcoal teeth whitening powder as directed up to two times per day. It isn't a good idea to use it more than that. Applying the powder too often can cause sensitivity and damage to the enamel. 
That said, we advise against using teeth whitening powder every day indefinitely. A three or six-week whitening plan will help you achieve great results, but using it daily for an entire year might cause enamel microabrasion and create more problems than it solves.
How often can I use teeth whitening powder?
You can use teeth whitening powder every day, but only once or twice. The best times to use it are after breakfast and before bed. Overusing it can cause sensitivity, gum soreness, and damage to the enamel. Even occasional overuse can be problematic, so make sure you're following instructions. 
It's also important to note that brushing your teeth twice a day with regular toothpaste is still essential for maintaining good oral health. Teeth whitening powder won't do the job of brushing your teeth, so don't rely on it alone!
When will I see the results from NatruSmile Teeth Whitening Powder?
You will start seeing noticeable improvement in the shade of your teeth if you use the product regularly. It usually takes a few weeks of daily applications to see significant changes, but you should observe tangible results after one week of use. Some NatruSmile customers report perceptibly whiter teeth in just one or two uses, which means you might see small improvements after just one day.
Several factors, including the severity of your discoloration and the frequency of your use, can influence results.
Is Teeth Whitening Powder bad for your teeth?
The ADA cites enamel microabrasion as the leading risk factor when using teeth whitening powder. As previously mentioned, this is usually only an issue when teeth whitening and polishing powders are misapplied or overused.
NatruSmile Teeth Whitening Powder is formulated to reduce the risk of enamel erosion with its gentle yet effective formula. We provide detailed instructions in every package of NatruSmile whitening powder, so you can rest assured knowing you're using it correctly.
Does teeth whitening powder expire?
One of the best things about activated charcoal whitening powder is its (conditionally) indefinite shelf life. Although activated charcoal does not decay, its effectiveness can decrease if it is not stored correctly. This is due to its porous structure and absorbent properties. The whitening powder will not work as well if it has been exposed to air.
While your NatruSmile Teeth Whitening Powder is kept in its airtight container, it should last for as long as you need to use it. Once you open it, the air will start to degrade the powder, but you still have plenty of time before the environment renders it ineffective. Keep it in a cool, dry place to maximize the amount of time you'll be able to use it.
How long does teeth whitening powder last?
The outcomes you get from using this product may differ depending on various factors such as your habits and the kind of stains on your teeth's enamel. Longer-standing stains will take longer to remove than stains that recently occurred (e.g., from having a wine night with friends or drinking several cups of coffee that afternoon).
If you use it regularly, you should see significant changes within a week. Most NatruSmile customers see at least some results after one or two uses.
Does teeth whitening powder damage your enamel?
All whitening powders are inherently abrasive—that is, they use small particles to scrub away stains. Abrasive substances can damage the enamel if used too often or for too long, which is why we include specific instructions for how to use our product.
The risks of misusing teeth whitening powder include tooth sensitivity, soreness in the gums, and increased risks of decay. Tooth decay and longer-lasting effects won't happen immediately, though—you're more likely to experience heightened sensitivity first.
Can kids use NatruSmile Teeth Whitening Powder?
Children under the age of 12 should not use our whitening powder because their teeth are still developing, and too much abrasive scrubbing could damage them. After the age of 12, make sure your child knows how to use the powder correctly and sparingly. 
If your child wears braces, they should not use teeth whitening products as the scrubbing can damage their orthodontic appliances and produce an uneven whitening result. The best alternative for a child wearing braces is to brush and floss regularly and have regular professional teeth cleanings throughout their treatment.
How much does teeth whitening powder generally cost?
Teeth whitening powder costs vary wildly, with some as low as $5 for a container and others as high as $50 to $100. Activated charcoal in particular costs within the same range, and a major factor contributing to this variation is how it is sourced. 
Unnatural sources of charcoal, such as petroleum byproducts, may be cheaper than those derived from natural sources. But these products leave residue on the teeth, contain more toxins, and are not as effective. 
For best results every time, NatruSmile provides premium naturally-sourced activated charcoal that carries none of those risks. We also set our price at $24.99 for a 3-month supply and offer quantity discounts for 6 and 9-month supplies.
Can you use teeth whitening powder with braces?
You should not use teeth whitening powder (or any other whitening product, for that matter) if you wear traditional braces. The brackets and wires on regular braces will prevent the whitening powder from coming into contact with your teeth, so it won't be able to do its job. You also risk ruining the look and functionality of your braces if the powder gets stuck to them or underneath the wires.
You can use teeth whitening powder if you wear Invisalign, lingual braces, or teeth retainers that don't cover up your teeth.
How to apply teeth whitening powder?
To apply teeth whitening powder, follow these easy to use steps. First, start by brushing your teeth with regular toothpaste to remove any food particles, plaque or debris. Then, wet your toothbrush and shake off any excess water. Dip the damp toothbrush into the teeth whitening powder, making sure the bristles are coated. Next, gently brush your teeth using small circular motions for approximately two minutes, paying attention to all surfaces of your teeth. Afterward, rinse your mouth thoroughly with water to remove any residue. Finally, brush your teeth again with regular toothpaste to eliminate any remaining powder and leave your mouth feeling fresh. Repeat this process once or twice a week and you will notice gradual results.