Our powerful formula combines professional-grade ingredients with the convenience of at-home use, delivering a whitening experience that rivals any trip to the dentist.
Easy application
Non-sensitive formula
Professional results
No animal testing
Our powerful formula combines professional-grade ingredients with the convenience of at-home use, delivering a whitening experience that rivals any trip to the dentist.
Easy application
Non-sensitive formula
Professional results
No animal testing
Regular price
Sale price
$27.99
Unit price
per
Sale
Sold out
Shipping calculated at checkout.
Bundle and Save
Split your payments up with
View full details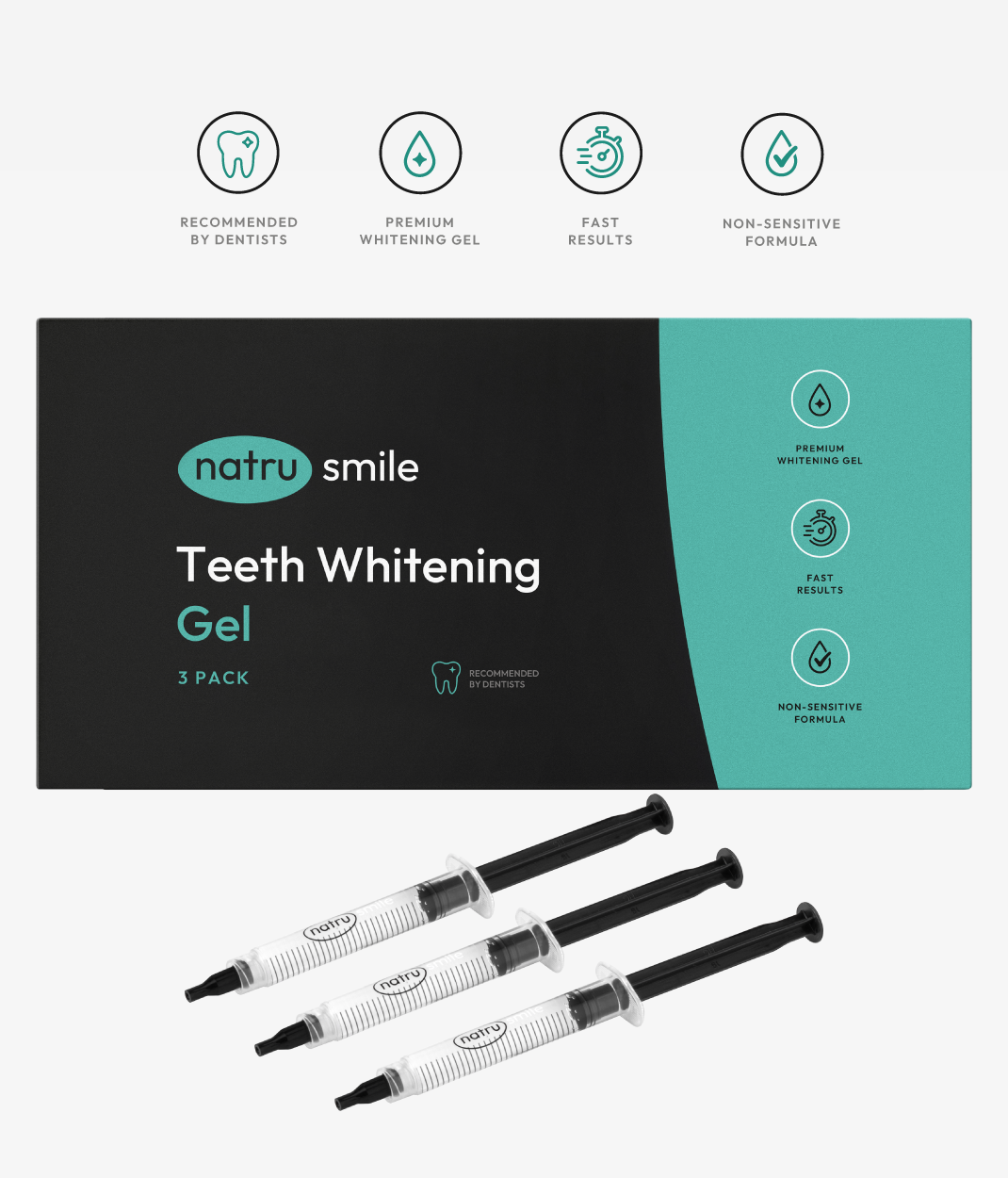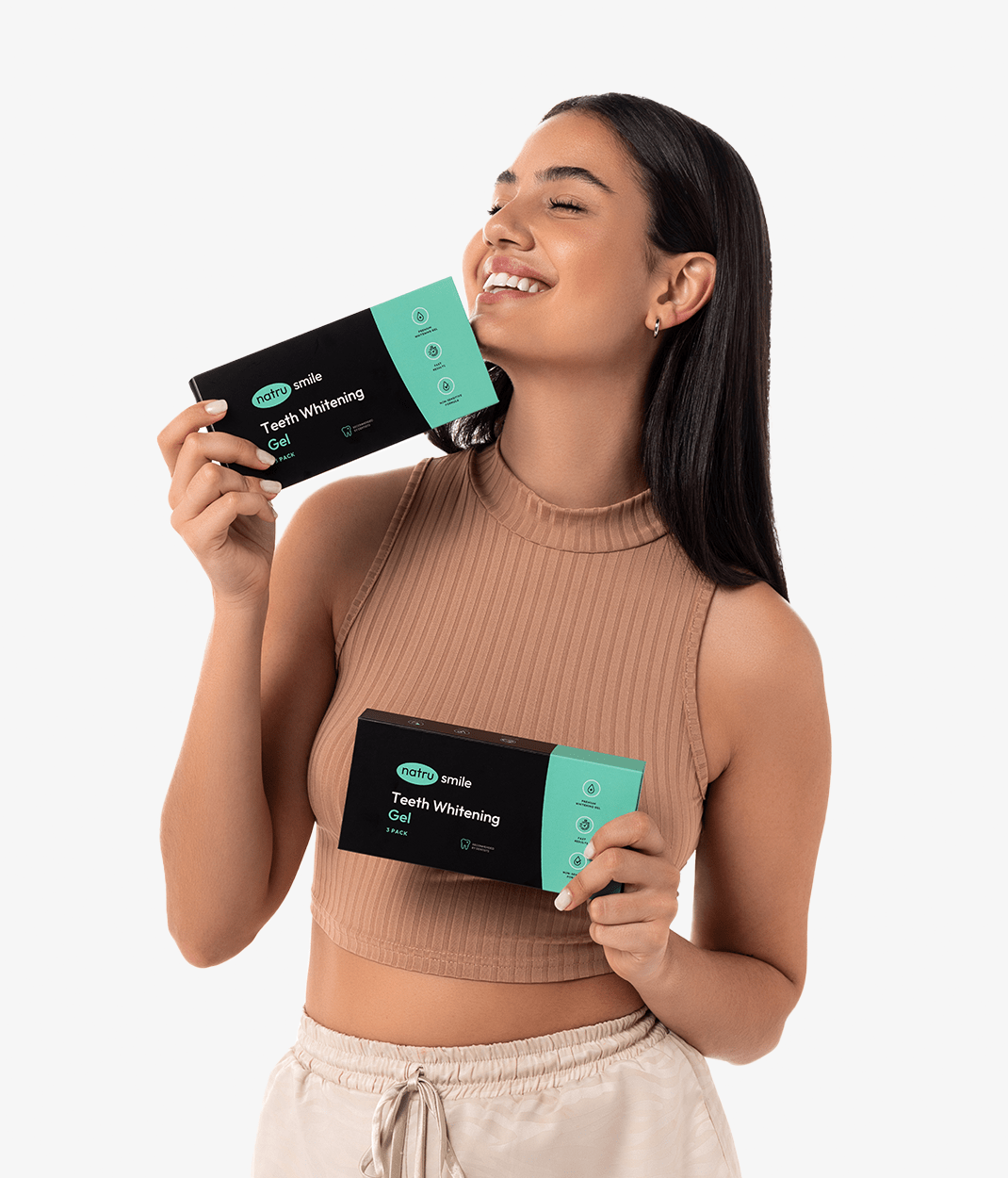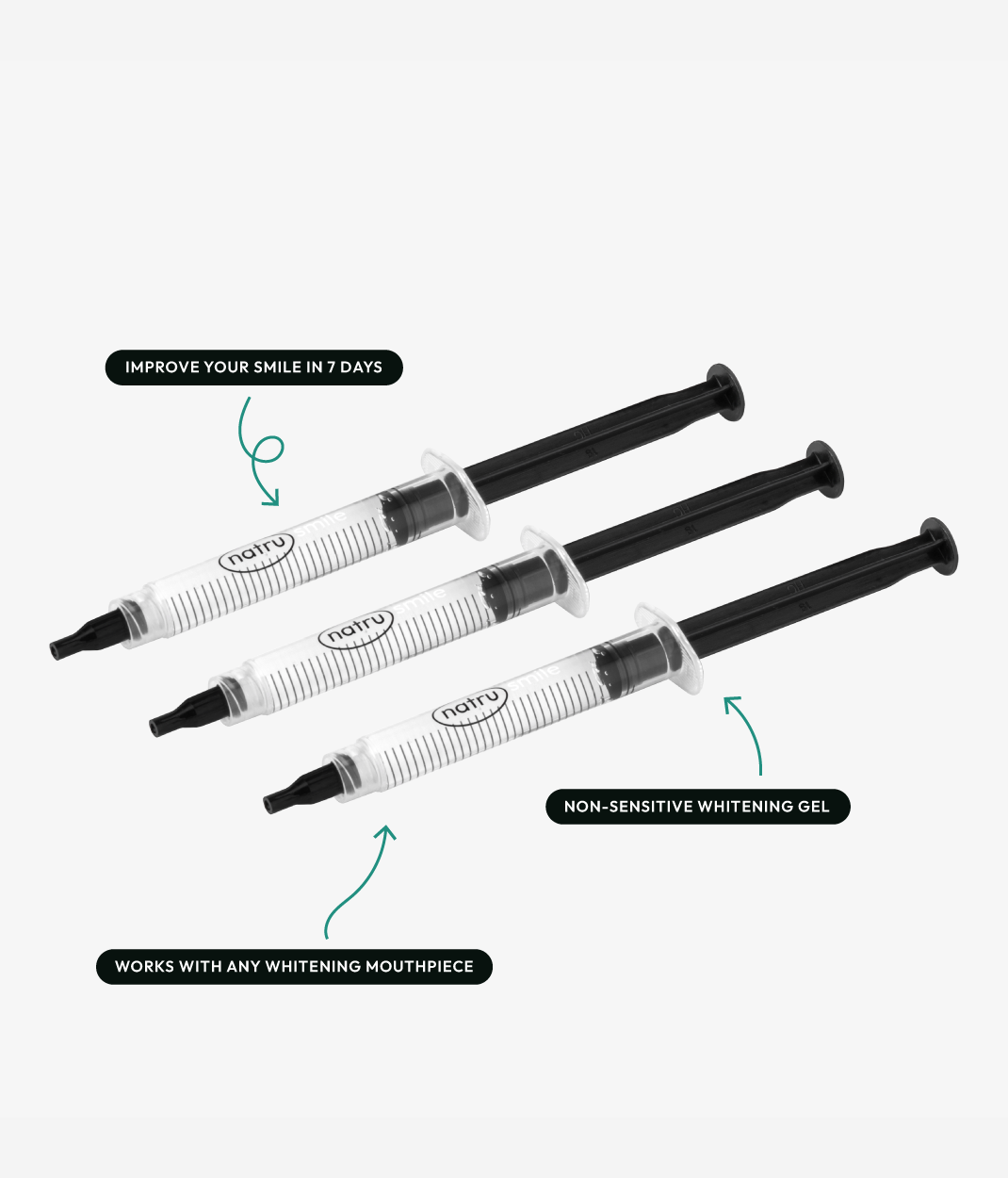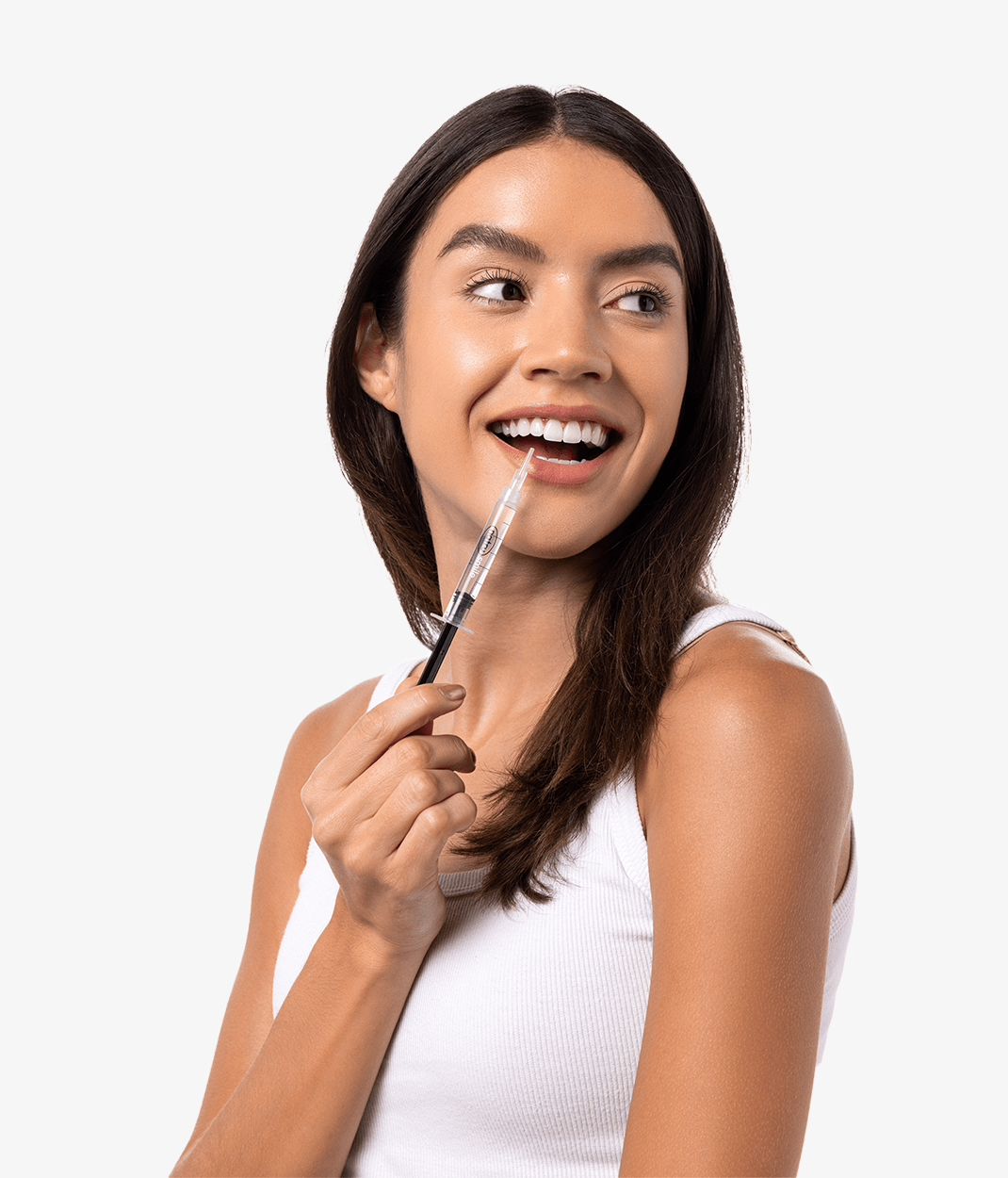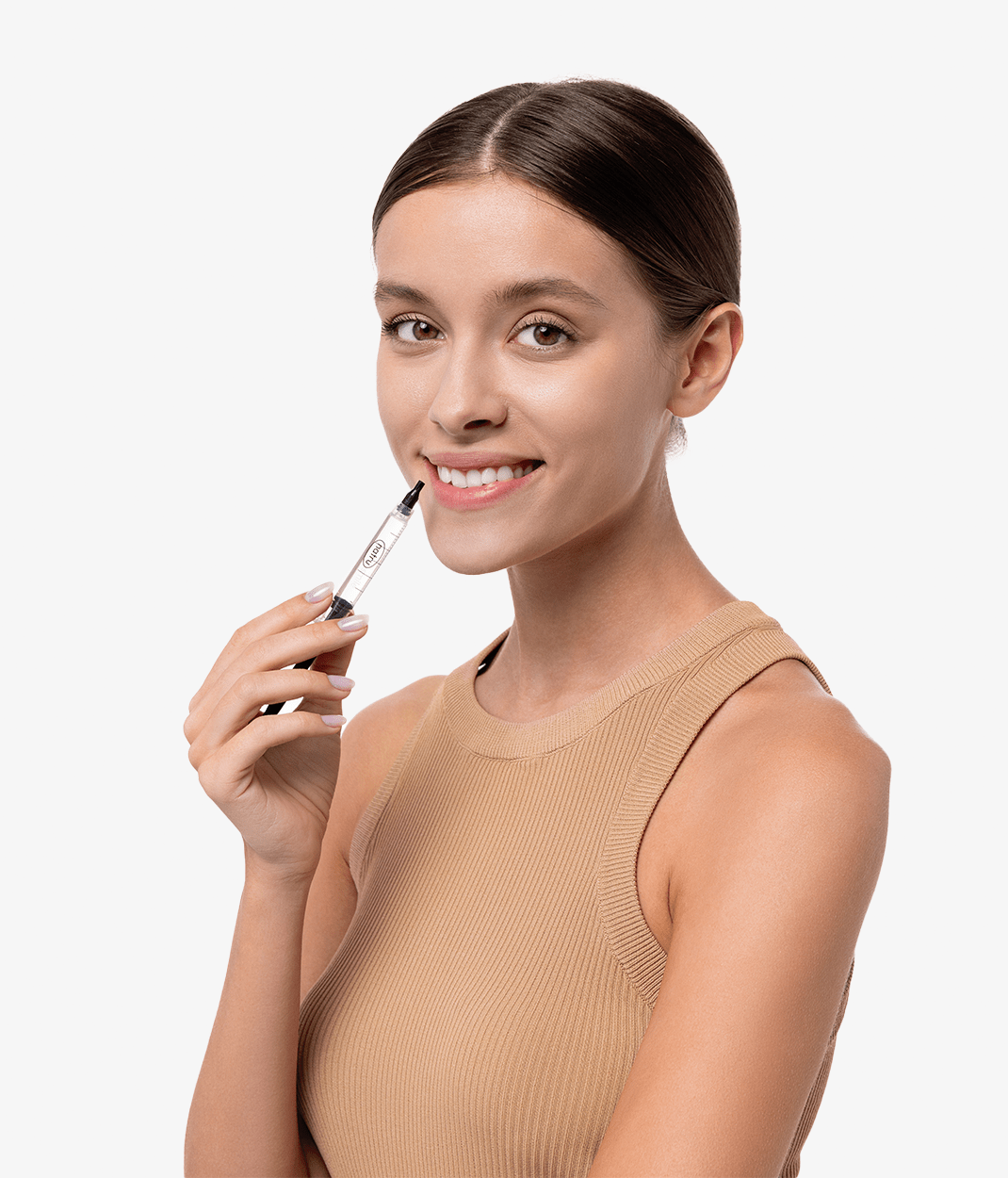 Benefits

Non-sensitive formula and easy application make for a gentle whitening experience with fast results.

How to use

Apply .25mL of gel on your upper and lower whitening trays for a complete whitening experience.

Shipping & returns

We happily ship worldwide and offer hassle-free returns. All products are available for immediate shipping.

Ingredients

Carbamide peroxide and PAP in whitening gel comply with US and UK regulatory guidelines, respectively.
Whiten your teeth, brighten your life.
How to use video
As featured in
How to Use Our Teeth Whitening Gel?
Whitening made easy: NatruSmile Teeth Whitening Gel is designed for a simple 4-step home application.
Brush your teeth

Brush normally, then rinse your mouth and whitening tray with water. Dry both off to remove excess water that could interfere with the whitening gel.

1

Apply gel

Using the syringe provided, evenly apply .25mL of gel to the upper and lower mouthpieces. Then, apply a dot to the walls of the trays.

2

Whiten your teeth

Insert both trays and whiten for 15 minutes (if using LED light) or 20 minutes (if using custom trays). If gel spills out, wipe with a Q-Tip.

3

Rinse and reveal

After the whitening session is over, remove the mouthpiece and rinse it and your mouth with water. Leave the tray out to dry for the next treatment.

4
Before & After results
NatruSmile Teeth Whitening Gel fixes tooth discoloration from coffee, tea, smoking, and more. See the results for yourself in 20 minutes or less.
Before
Yellow teeth make your smile look dull. The longer they go without treatment, the harder they are to remove.
Yellowed teeth
Yellow or dull teeth are a telltale sign of aging, even if you're still young. By bringing out your wrinkles and other unattractive features, they make you look older than you actually are.
Discolored teeth make you feel unattractive when smiling or talking in public. Insecurity about your smile hurts your ability to develop personal and professional connections.
Hiding your smile when working, dating or networking makes you seem less friendly. This can be off-putting to potential partners, potential employers, and new peers.
When surface stains permeate the tooth enamel, they become harder and more expensive to remove. Professional treatments and dental restorations can cost thousands of dollars.
After
NatruSmile Teeth Whitening Gel produces professional-grade results for a radiant, healthy-looking smile.
Glowing white teeth
Minimize your wrinkles and look five years younger with a brilliant white smile. Bring out your best and brightest features and shift the focus back to what makes you beautiful.
Feel like yourself again, act like yourself again, and most importantly, smile like yourself again. Be the life of the party and meet new people with confidence and comfortability.
Make a powerful first impression when dating, networking, and meeting others. With a radiant smile, your peers and potential partners will see you as friendly, engaging, and trustworthy.
Avoid costly repairs and restorations like professional bleaching and veneers. Save your hard-earned money and tackle stains before they become a huge problem.
Why use teeth whitening gel?
Teeth whitening gel is the ultimate low-cost alternative to pricey dentist visits and harsh over-the-counter whitening kits. They're safe, convenient, and fit right in with your daily oral care routine — no need for long whitening sessions or 30-minute drives to the dentist's office. The best part? Your dazzling smile cost $1,000 less.
Ingredients you can trust
Our teeth whitening gel formulas use safe, effective, high-quality whitening agents and natural boosters, which work together to break down stains and discolorations, revealing a whiter, more radiant smile. 
NatruSmile's unique formula also contains aloe leaf juice and pomegranate seed extract, which boost the whitening process and leave your teeth feeling refreshed and noticeably brighter. A hint of menthol provides a cool, refreshing sensation during the whitening process, leaving your mouth feeling fresh and clean after each treatment.
Customizable whitening treatment
Our teeth whitening gel is perfect for those with different whitening needs. The easy-to-use syringe applicator lets you control the amount of gel applied to your whitening tray, ensuring a personalized treatment tailored to your level of sensitivity and discoloration.
For those with sensitive teeth, we've specifically designed our gel to be gentle on teeth and gums, providing as pain-free an experience as possible. NatruSmile's combination of powerful whiteners and natural ingredients helps strengthen and protect enamel, reducing sensitivity and minimizing potential gum irritation.
What's Included In Our Teeth Whitening Gel?
Ordering a box of NatruSmile syringes means you'll have everything you need for safe at-home teeth whitening.
Improve your smile in 7 days

Erase years of smoking, coffee, and wine stains after less than a week and a half of use.

Non-sensitive whitening gel

Whiten with the most powerful FDA-approved teeth whitening agent out there, which has been developed to decrease sensitivity.

NatruSmile syringes

Choose between a three, six, or nine-week supply of pre-filled NatruSmile syringes.

Easy-to-use applicator

Our syringe's easy-to-control applicator makes it simple to apply the right amount of gel each time.

Works with any whitening tray

Custom-fitted trays or a NatruSmile LED Whitening Kit, our gel works with any mouthpiece.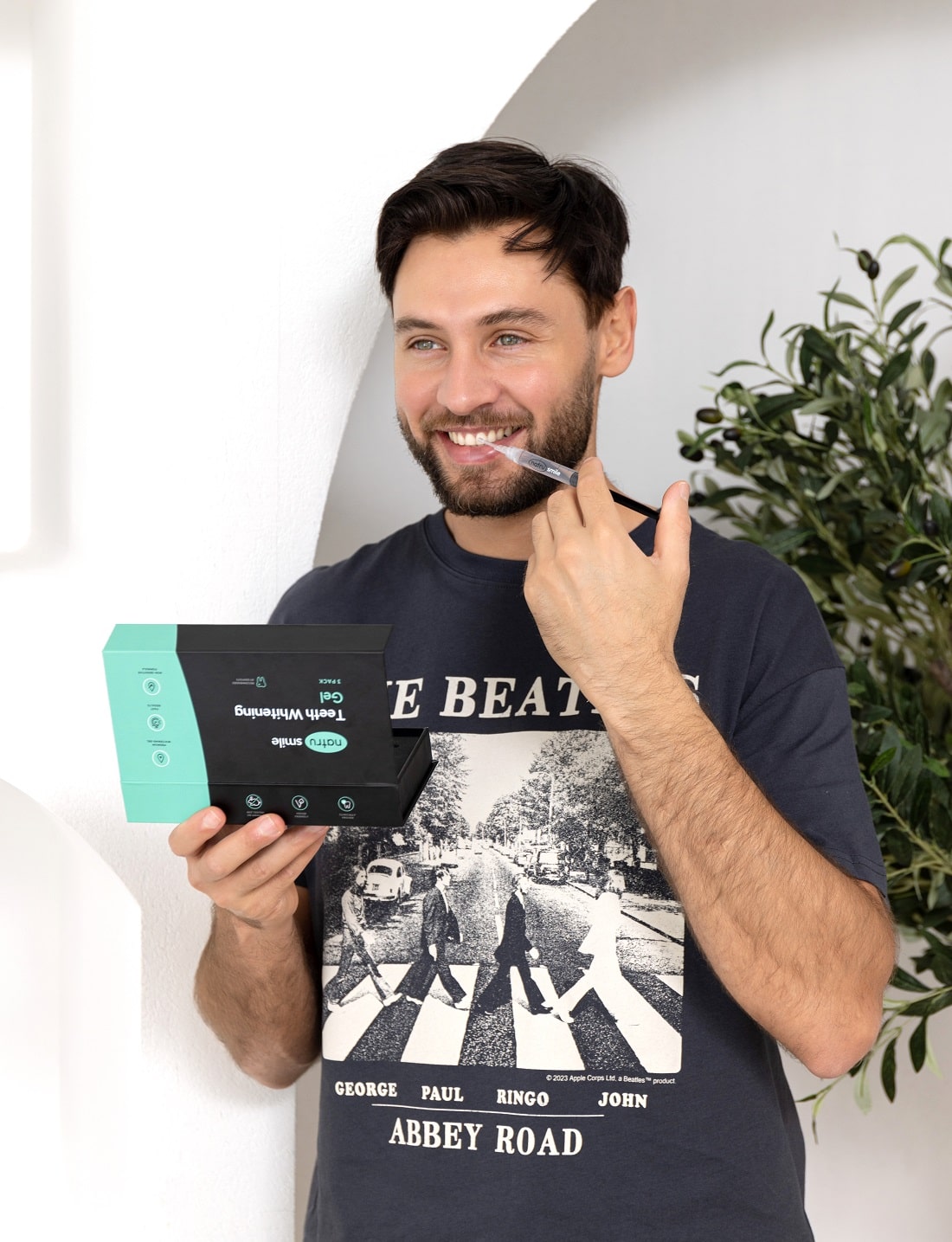 How Does Teeth Whitening Gel Work?
Anyone with mild to moderate discoloration from tobacco use, diet, coffee, and wine will benefit from NatruSmile Teeth Whitening Gel. Our advanced formula penetrates the enamel, breaking down stains at a molecular level for visibly whiter teeth. The combination of effective ingredients and an easy-to-use applicator ensures stunning results without the need for costly dental treatments, providing excellent whitening results in the comfort of your home.
Erases years' worth of stains
Our teeth whitening gel contains strong whitening agents and natural additives for a whitening experience that fully restores your smile. Our whitening agents work by going into the enamel, lifting surface stains, and neutralizing acids that can cause discoloration, erasing years' worth of stains. 
Combined with xylitol for a natural boost, this assures a remarkable transformation in the appearance of your teeth, revealing a brighter, more confident smile.
Optimal treatment duration
In just 15-30 minutes per session, you'll witness a noticeable improvement in your smile's brightness, making it simple to include in your everyday routine. To achieve optimal results, perform this process daily for nine consecutive days. 
If you experience sensitivity, discontinue use for 1-2 days. Begin with a conservative approach. If sensitivity or gum irritation occurs after the initial use, reduce the amount of gel and incrementally increase with each subsequent use. Enjoy a rejuvenated and dazzling smile that lasts!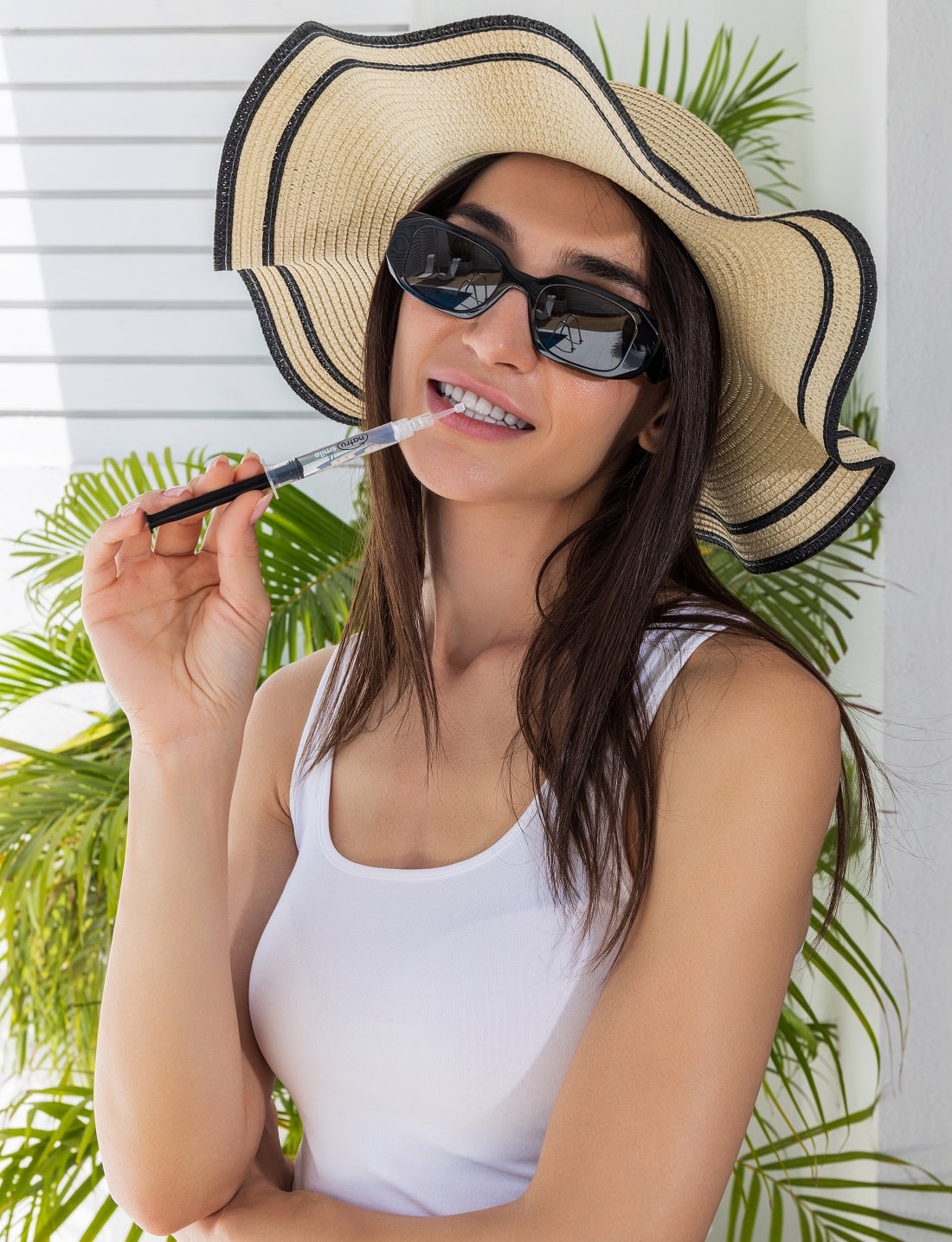 Common ingredients in teeth whitening gel
Teeth whitening gels often contain a variety of ingredients that work together to achieve optimal results. The combination of our FDA-approved carbamide peroxide gel and xylitol ensures surface stain removal while improving the overall brightness of your smile and maintaining the safety and comfort of at-home treatments.
Carbamide peroxide
Carbamide peroxide is a popular active ingredient in teeth whitening products, including our US product. It is a potent FDA-approved teeth whitener that breaks down and removes stains and discolorations at the surface of your teeth and beneath the enamel. 
As it penetrates the enamel, it releases oxygen molecules that eliminate stains for a noticeably whiter and brighter smile. These oxygen molecules work to lift even tough stains that are sitting just below the dentin layer of your teeth that would be out of reach for other whitening gels.
Xylitol
Xylitol fosters remineralization and exhibits antibacterial properties, making it instrumental to our formula. By inhibiting plaque formation and bacterial growth, xylitol promotes a cleaner oral environment, facilitating the whitening process, as both plaque and bacteria can hinder the action of whitening agents.
Xylitol promotes enamel strength and health, enhancing the safety profile of our whitening gel. This inclusion of xylitol in our teeth whitening gel is part of what sets it apart from others, amplifying whitening effects while also bolstering your oral health.
Teeth whitening gels are unique blends of various ingredients, each chosen for their specific benefits. For our UK product, we have synergized Phthalimidoperoxycaproic acid (PAP) and titanium dioxide — two safe and effective ingredients that ensure the removal of surface stains, enhance the brightness of your smile, and maintain the safety of at-home treatments.
PAP (Phthalimidoperoxycaproic acid)
PAP is a synthetic organic peroxy acid that bleaches teeth without abrasion. Recently, it has gained considerable attention in the dental sphere for its effective whitening capabilities. Scientific research shows its whitening power is on par with peroxide, making it an appealing choice for those who want a potent alternative.
PAP doesn't compromise the structure of the teeth, making it an increasingly popular choice for people looking for a non-aggressive whitening solution. With the rise in awareness about dental health and sensitivity, PAP offers an exemplary choice for those prioritizing both safety and effectiveness.
Titanium dioxide
Titanium dioxide plays a significant role in our whitening formulation by binding to the organic molecules of the dental tissue. This process traps the whitening solution within the dental matrix, letting our gel work its magic on your tooth's surface.
The ratio of PAP and titanium dioxide in our whitening gel is meticulously designed to combat tooth discoloration effectively. The duo works harmoniously to deliver a visibly whiter smile safely and comfortably.
Recommended by Real Dentists
The science behind our products is heavily researched and widely accepted. Real dentists and clinical testing back our ingredients and products.
Endorsed by Dr. Greg Grillo D.D.S
Dr. Greg Grillo, D.D.S., a US-based dental industry veteran, brings 28 years of experience in all facets of dentistry. Dr. Grillo approves and advocates for all NatruSmile products, including our whitening gel.
28 years serving patients
Experienced clinician
Dental Advisory board
Greg Grillo, D.D.S. earned his Doctor of Dental Surgery degree from the University of Washington School of Dentistry. He currently serves as an executive of Method Pro and sits on the advisory board for Quip.
Don't Just Take Our Word For It
Dental experts all over the country recommend NatruSmile Teeth Whitening Gel as a high-quality whitening solution.
Home whitening and oral care excellence!
As a trusted dentist, I highly recommend the NatruSmile home whitening kit for achieving a brighter, more radiant smile. With its safe and effective formula, you can whiten your teeth conveniently from the comfort of your own home. You can truly experience professional-quality results with NatruSmile and achieve your dream smile!
Dr. Andrés Arias
Serving patients since 2018
5-star home treatment products that work!
My recommendation as a orthodontics of dento-factor facial orthopaedic specialist is that NatruSmile products are 5-star home treatment products that are perfect for young adults to use safely and effectively at home to achieve an awesome smile. I would highly recommended NatruSmile to anyone looking to improve their daily oral care routine.

Dr. Mai Abdelsalam
Orthodontics of dento-factor facial orthopaedic specialist
Eliminates problems with home whitening!
I recommend NatruSmile products because so many others that exist in the market come with problems. Either it does not whiten the teeth enough or they bring a lot of sensitivity and the process is very slow. NatruSmile products eliminates these problems and delivers a smile you always dreamed of in a short time, without pain and at a very competitive cost.
Dr. Daniel Echeverry
7 years as a specialist in oral rehabilitation or prosthodontist
Effective products that will improve your smile!
NatruSmile is a game-changer for improving your oral health and smile. They offer teeth whitening solutions, electric toothbrushes, and tongue scrapers to create a winning combination for a brighter, healthier mouth. These products are safe and effective at removing plaque and stains on the surface of your teeth and I highly recommend NatruSmile's products.
Amber Lust
8 years of dental assisting
Who Recommends Us?
From beauty and wellness to lifestyle and health, the people you follow trust NatruSmile's whitening gel for a vibrant smile.
Our Happy Customers
NatruSmile customers around the world have experienced powerful teeth whitening results with our LED-light kit. Read their stories and see how NatruSmile has helped them achieve a perfect smile.
I'm SO much more secure in my smile
I've been hiding my smile for years because of my yellowing teeth. Since using NatruSmile's Teeth Whitening Gel, I feel like myself again. It's amazing how this non-sensitive formula gave me near-professional results from home. I feel like others have started to notice — I've gotten so many compliments in the last few weeks.
First Impressions Matter...ALOT!
Networking is a crucial part of my job. I use NatruSmile Teeth Whitening Gel for a few sessions every time I need to make a powerful first impression with a new client. It's easy to apply and erased years of stains from my teeth. With a radiant smile, I look cleaner and carry myself more professionally. Brilliant product!
No more sensitivity, just a bright smile!
I've tried several whitening products, but they always made my teeth sensitive (especially ones with bleaching agents). NatruSmile's gel really is different. It's a non-sensitive formula that really works. Plus, it's not tested on animals, which is a big plus for me as I work for an animal rights nonprofit. I can now smile with ease and comfort.
Maximum results, pain FREE!
The best thing about NatruSmile's Teeth Whitening Gel is the customizable treatment. I was able to adjust the usage to my needs (I have VERY sensitive teeth) and still got fantastic results. It's easy to apply and doesn't cause any sensitivity. Plus, it's helped me erase years' worth of coffee and tea stains. Couldn't be happier!
My secret weapon for dating!
I was sooo self-conscious about my yellow teeth, especially if I was going out on a date. NatruSmile's Teeth Whitening Gel has been my secret weapon. It's easy to use and gave me quick results. Now, I can smile confidently when meeting potential partners. Thanks soooooo MUCH!
I absolutely rate my new smile!
I've always been jealous of my friends with pearly white smiles and thought. I used to smoke and drink coffee, and I've tried fixing it with a few whitening products like Crest strips, but to no avail. After giving NatruSmile LED whitening a try, I've gotten so many compliments from friends and family, it's crazy!
Is Teeth Whitening Gel Safe?
Teeth whitening gels have become a popular option for those who want a brighter smile, but our customers frequently ask us about their safety. With proper use and carefully chosen ingredients, teeth whitening gels can provide a safe and effective method for improving your smile's appearance. Our ingredients are recognized as safe by the FDA (US) and Regulation No. 1223/2009 (UK). There are, however, a few considerations.
Sensitivity in your teeth and gums
Like all whitening products, sensitivity is still a concern during and after using teeth whitening gel. PAP and carbamide peroxide are not abrasive, but they can still affect highly sensitive individuals. If you use a whitening toothpaste (which is abrasive) alongside teeth whitening gel, your risk of sensitivity and potential enamel erosion increases significantly. 
Overuse is the main issue when it comes to sensitivity. To eliminate the potential for damage (and reduce possible sensitivity), only use whitening gel for the allotted duration, and only restart a cycle once every six months (at least).
Level of results
Some studies (and anecdotal accounts from NatruSmile customers) find that while it is perfect for removing surface-level stains, it won't always fix discoloration below the outer layer of the enamel. 
Severe cases of yellow teeth require more intensive whitening treatments like NatruSmile teeth whitening kits or professional whitening treatments at your dentist's office.
Teeth Whitening Gel FAQs
Still not sure about NatruSmile Teeth Whitening Gel? Here are answers to the questions our customers ask us the most.
Which whitening gel for teeth is best for teeth whitening?
There are numerous teeth whitening gel options available, and they all use different ingredients. The best gel for whitening depends on your exact needs, level of sensitivity, and desired whitening effect.
NatruSmile Teeth Whitening Gel is ideal for those who need their teeth a few shades whiter without the time commitment or sensitivity that may come with other gels.
For a brighter smile, consider using our teeth whitening kits, which come with a stronger carbamide peroxide-based gel.
Does Teeth Whitening Gel expire?
NatruSmile teeth whitening gel (PAP and peroxide) usually has a shelf life of about 12 months. When stored in a cool, dry place away from direct sunlight, it may last longer. If it isn't properly cared for, the gel may expire before then, so it's important to store it correctly.
If you've had your whitening gel for a few months, look for a foggy or cloudy appearance to the syringe and discard it if you find one. Expired gel will not work, so it will be a waste of whitening efforts.
To eliminate the risk of expiration, only purchase NatruSmile Teeth Whitening Gel shortly before you plan to use it for whitening treatment.
Where can I buy teeth whitening gel?
Teeth whitening gel is available online, in some stores, and through your dentist. The easiest and most cost-effective way to purchase teeth whitening gel is online through our store (at the top of this page).
In the USA, our whitening gel is carbamide peroxide-based. In the UK, it is PAP-based. No matter which option you choose, you can be sure that it's safe for your teeth and effective for whitening.
Is teeth whitening gel effective?
Teeth whitening gel is incredibly effective. Numerous international dental organizations have endorsed the use of teeth whitening gels as an effective and safe way to brighten your smile.
NatruSmile products take it a step further—we have our products tested and endorsed by real dentists, and we're partnered with Dr. Greg Grillo to answer any questions and concerns you have and give you the best customer experience possible.
That said, they are only effective when properly administered. At-home teeth whitening is inherently error-prone, meaning some users might not achieve their desired results.
Does teeth whitening gel cause sensitivity?
Sensitivity is the most common side effect of teeth whitening treatments, occurring in nearly all patients to at least some extent. Patients often report feelings of sensitivity and discomfort shortly after bleaching, but this usually subsides quickly.
For those with extreme sensitivity or allergies to certain ingredients, it is best to discuss the product you plan to use with your dentist before starting any whitening treatment.
Read our full guide on Best Ways to Whiten Sensitive Teeth.
How much does teeth whitening gel cost on average?
According to the most recent data from Dentaly, the average whitening gel package costs between $200 and $400. Patients who work with a dental professional to whiten their teeth often end up paying more than this for their gel, albeit for the added benefit of dental supervision. And some whitening products cost under $15. 
Remember: You get what you pay for (to an extent). The least expensive option is never going to be the most effective and you don't need to pay several hundred dollars for great results. As a relatively low-cost product with dental endorsement and strong whitening ingredients, NatruSmile offers customers the best possible deal when it comes to whitening gel.
Can I put teeth whitening gel directly on my teeth?
Even though whitening gel ends up making direct contact with your teeth, you should only apply it as directed. Using a tray or LED light is the safest and most effective way to apply teeth whitening gel. Applying it directly on your teeth without a tray can cause uneven bleaching, irritate your gum tissue, and exacerbate any preexisting sensitivity.
To avoid some of the possibility of applying the gel unevenly, complete that step of the whitening process in front of a mirror.
Is teeth whitening gel safe to swallow?
Teeth whitening gel and its byproducts are safe to swallow. Of course, avoiding this as much as possible is a good idea, but any small amounts of gel that get ingested will not be harmful and should pass through your system quickly and without issue.
Still, keep this product out of reach of children (who are at greater risk of a mishap) and avoid ingesting the gel as much as possible. You should also keep it out of the way of your pets (if you have any), as their bodies will react adversely to whitening agents.
How can I use teeth whitening gel without a tray?
If you don't have a custom-fitted or over-the-counter tray, you can still use whitening gel. It is best to apply the gel directly on your teeth using an applicator, such as a cotton swab or brush. This way you can ensure that the gel is evenly distributed and has maximum contact with your teeth. Remember, this is not the best approach and might not yield even results.
How long should I leave Teeth Whitening Gel on?
NatruSmile Teeth Whitening Gel is designed to whiten your teeth quickly. All you need is 15 to 20 minutes, depending on your chosen method (15 minutes for LED whitening, 20 minutes for trays). Leaving the gel on for longer will not produce a whiter effect.
You should whiten your teeth with the gel every day for at least nine consecutive days to maximize the effectiveness of your results and the time it takes to get there.
Is Teeth Whitening Gel bad for your teeth?
Teeth whitening gel often comes with an array of side effects, but isn't "bad" for your teeth. According to experts at the Dental Health Society, carbamide peroxide gel is safe when used properly. A 2021 study found the same to be true for PAP, which did not erode enamel or cause damage throughout multiple clinical trials.
There are, however, risks associated with whitening your teeth with any whitening product, including gels. Increased sensitivity is the most common, but some clinical research indicates that overuse of high-concentration chemical-based gels can cause permanent damage to the enamel and underlying dentin. 
Over-whitening is another common risk, regardless of the whitening agent you use. Only use NatruSmile whitening products as directed for as long as directed to eliminate this risk. 
It's important to note that while sensitivity may be unpleasant, it does not signify that the gel itself is unsafe to use. It may indicate an underlying oral health problem you need to take care of or it may be purely up to chance.
Can you use a teeth whitening gel with braces?
With traditional braces, you should never use teeth whitening agents of any kind (including whitening gels). Traditional braces have brackets and wires, which attach to the surface of your teeth. The whitening gel will not reach the space underneath the brackets and wires, creating a noticeable discoloration once they're removed.
Those straightening their teeth with Invisalign trays and lingual braces are safe to use whitening gels. Since these treatments do not include brackets and wires, they will be able to reach all areas of enamel for an even whitening result.
Read our full guide on whitening teeth with braces.
How long does teeth whitening gel last?
Once opened, whitening gel begins to lose its effectiveness after about 12 months. When it is exposed to the outside air, it begins to oxidize, which impacts its effectiveness over time.
To maximize the shelf life of NatruSmile Teeth Whitening Gel (and potentially extend it beyond the 12-month mark), users can refrigerate it between uses, which slows the oxidation process.
Does teeth whitening gel damage your enamel?
The short answer is no, teeth whitening gel does not damage your enamel when used properly according to the manufacturer's instructions. The gels contain a bleaching agent that will only affect stained or discolored areas of the tooth surface.
Some clinical research finds extensive damage in some applications while many other studies are inconclusive at best. According to the most trusted sources in modern dentistry, teeth whitening gels do not pose a threat to your enamel.
How Often Should You Use a Teeth Whitening Gel?
You should only use teeth whitening treatment packages once every six months (or less). Over-whitening puts your teeth at serious risk of long-term damage, and the ingredients in most teeth whitening agents (including PAP and peroxide) are not meant to be used on a regular basis.
Even though our whitening gels contain xylitol, a plant-based remineralizing compound, there will always be the risk of potential damage to your teeth with overuse.
Can You Leave Teeth Whitening Gel in Your Mouth Overnight?
Some whitening gels are designed to be applied before bed and whiten your teeth as you sleep. NatruSmile Teeth Whitening Gel is not one of them. You can apply our teeth whitening gel in 30-minute intervals (or less) for fast results and convenient whitening.
If you mistakenly leave your whitening gel in your mouth overnight one time, the only side effect you are likely to experience is prolonged sensitivity. If you repeatedly keep your trays in while you sleep, you risk doing significant damage to your teeth.
Can you use teeth whitening gel in removable retainers?
Putting whitening gel in between removable retainers is a bad idea because it can harm the retainer's material and weaken it. Although our teeth whitening gel formulas are non-abrasive, the whitening agents used in them can still wear away at the metal in your retainer, causing it to become more brittle.
If you want to whiten your teeth while wearing a retainer, it is possible—you just need to remove the retainer before administering your whitening gel and wait until it clears to put it back on.
Should I keep my teeth whitening gel in the fridge?
Keeping your whitening gel in the fridge will prolong its shelf life. Refrigerating whitening gels can prevent them from breaking down and protect them from heat damage that could occur during travel or storage in hot places. If stored at room temperature (73.4°F), whitening gels can become more than twice as acidic over time.
Customers should remember that the refrigerator is cold enough to prevent their whitening gel from expiring too fast.
Can you brush your teeth after a teeth whitening gel?
Although it is safe (and usually recommended) to brush your teeth after using teeth whitening gel, some NatruSmile customers avoid doing so because brushing too soon heightens tooth sensitivity. Whether or not you choose to brush after whitening is entirely up to you—if you don't mind the possible increase in sensitivity, you can go ahead and brush.
NatruSmile Teeth Whitening Gel is not a substitute for brushing your teeth normally—even if you choose not to brush your teeth right after your whitening session, remember to do so twice per day to maintain a healthy (and white) smile.
When will I see the results from a Teeth Whitening Gel?
Some NatruSmile customers see small results after their first whitening session. Most can expect to see nearly full results after 9 consecutive days of whitening (i.e., one 3-pack of syringes).
To achieve true noticeable results, our customers usually require between 2 and 3 weeks of using NatruSmile Teeth Whitening Gel. Depending on your starting shade, you may require more or less time to get the whiteness you're looking for.