Elevate your oral hygiene routine with NatruSmile Teeth Whitening Mouthwash, the perfect way to keep your teeth clean and white.
Protects teeth/gums
Kills bad breath
Whitens your teeth
Restores enamel
Elevate your oral hygiene routine with NatruSmile Teeth Whitening Mouthwash, the perfect way to keep your teeth clean and white.
Protects teeth/gums
Kills bad breath
Whitens your teeth
Restores enamel
Regular price
Sale price
$17.99
Unit price
per
Sale
Sold out
Shipping calculated at checkout.
Bundle and Save
Split your payments up with
View full details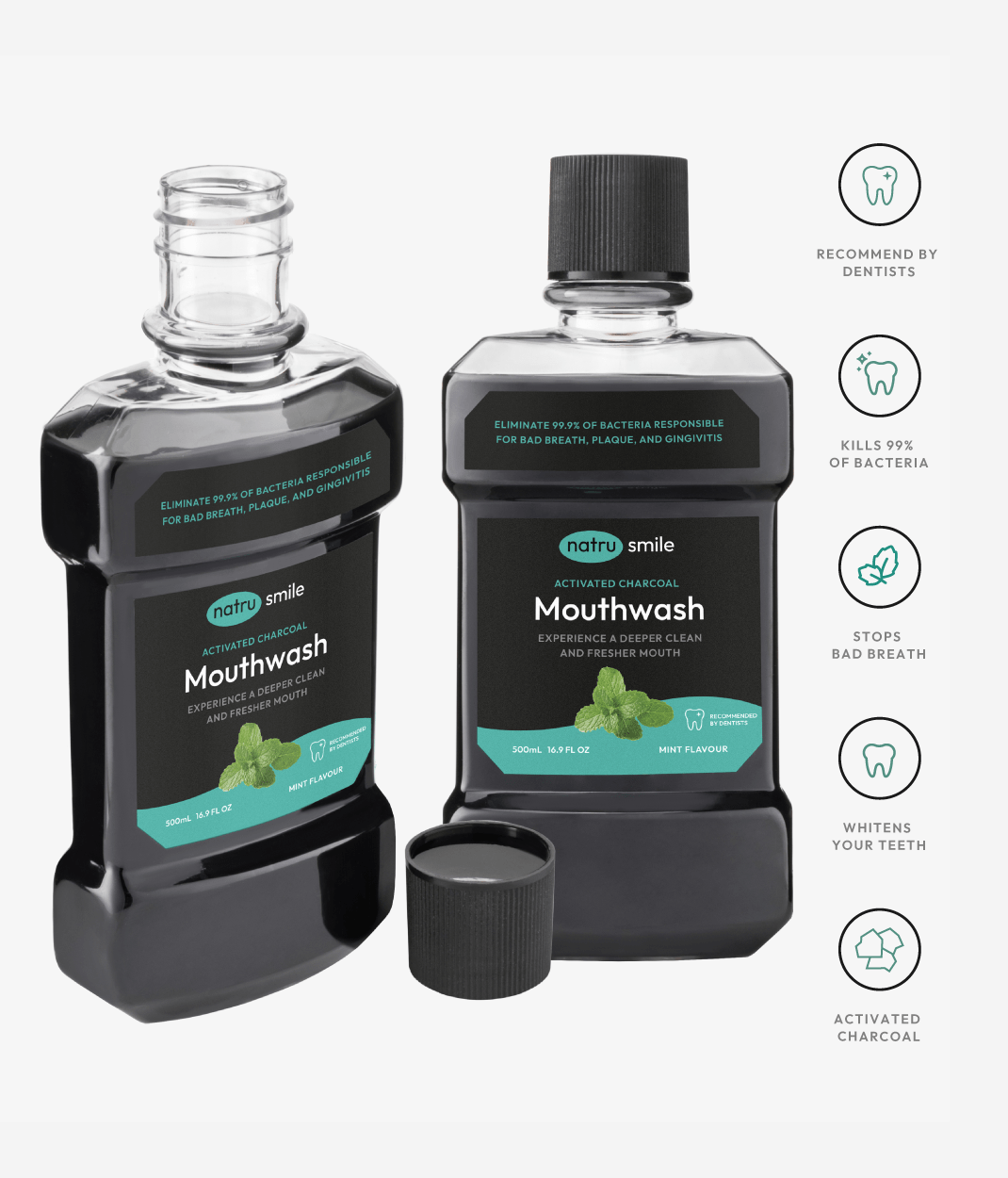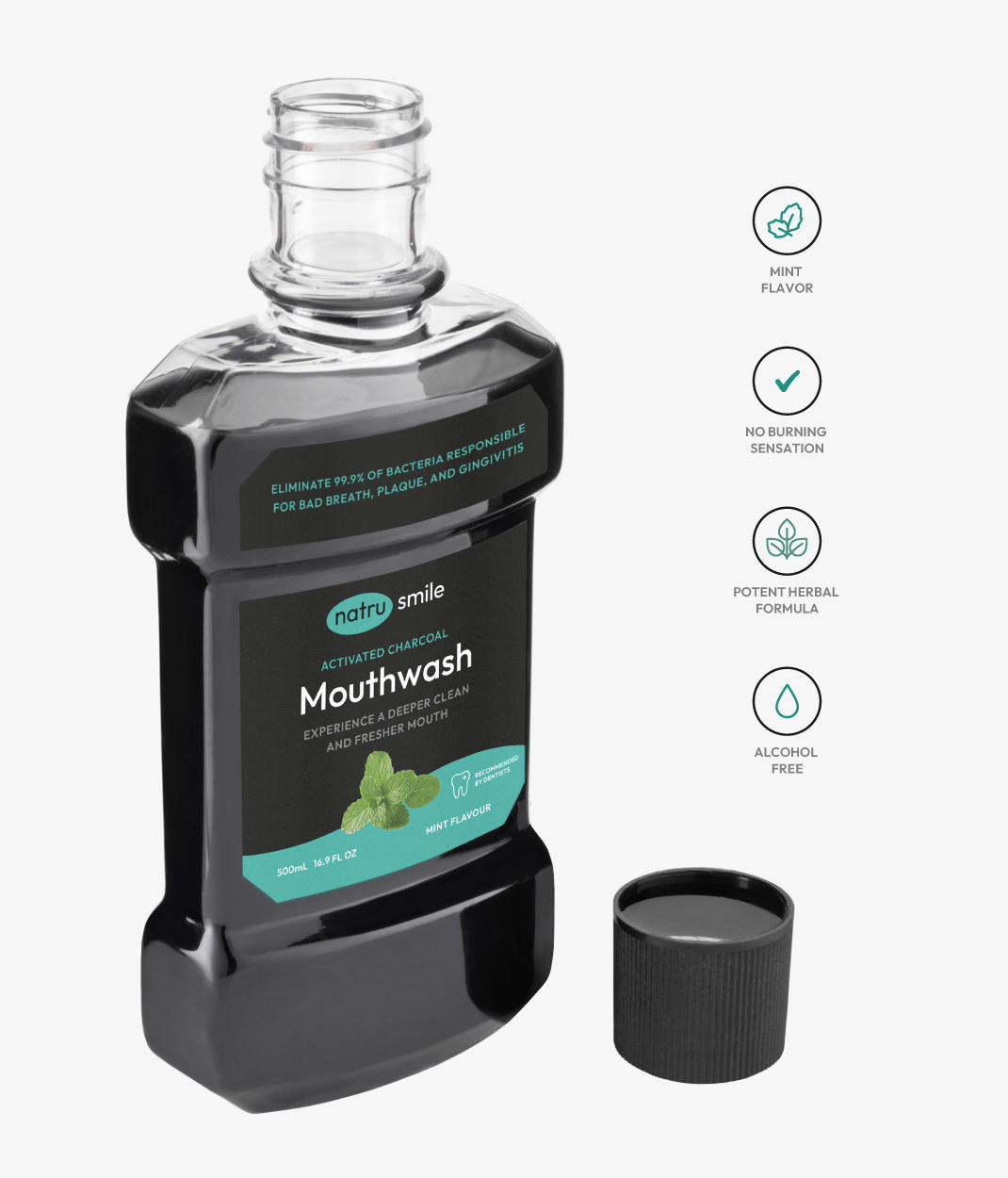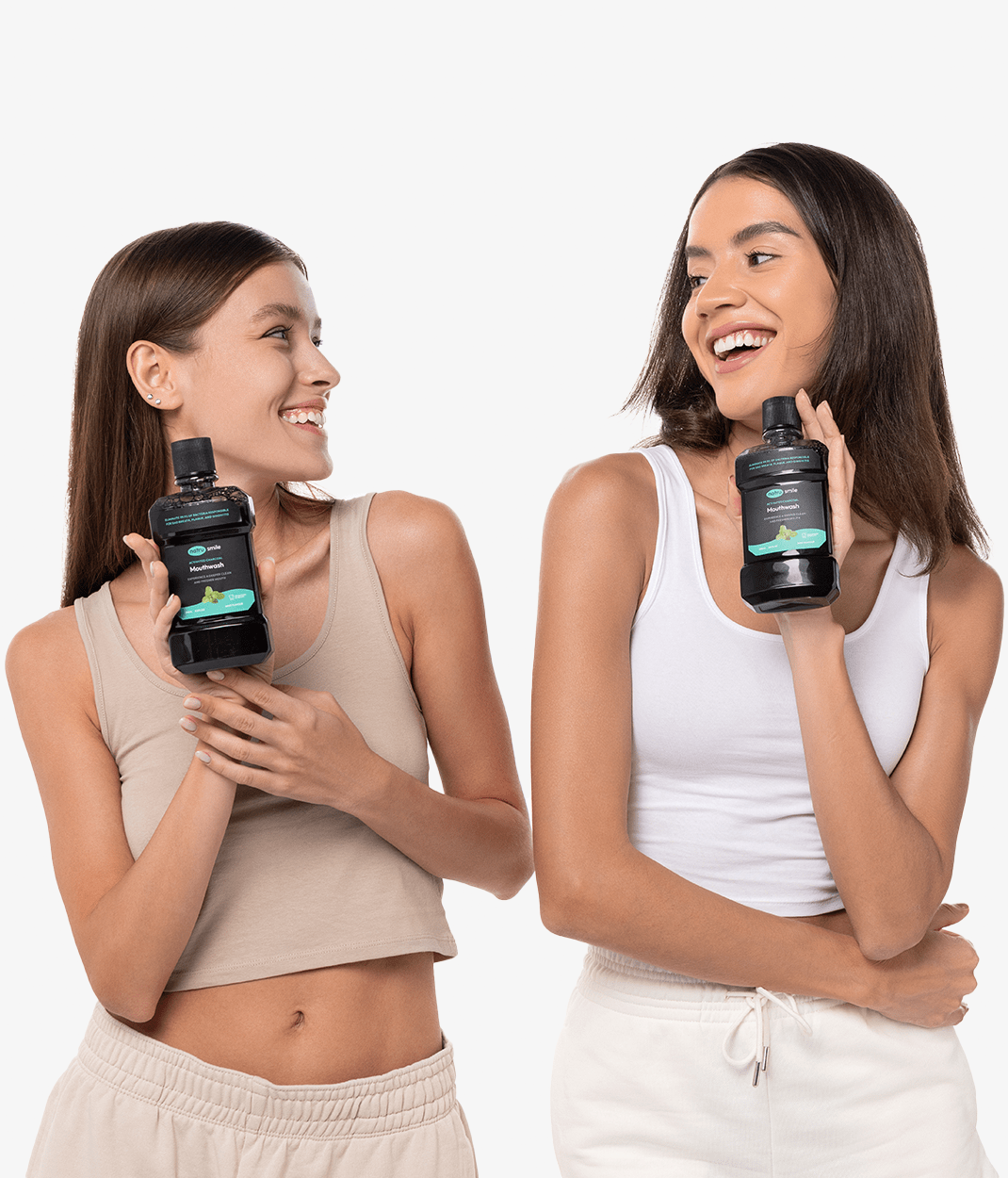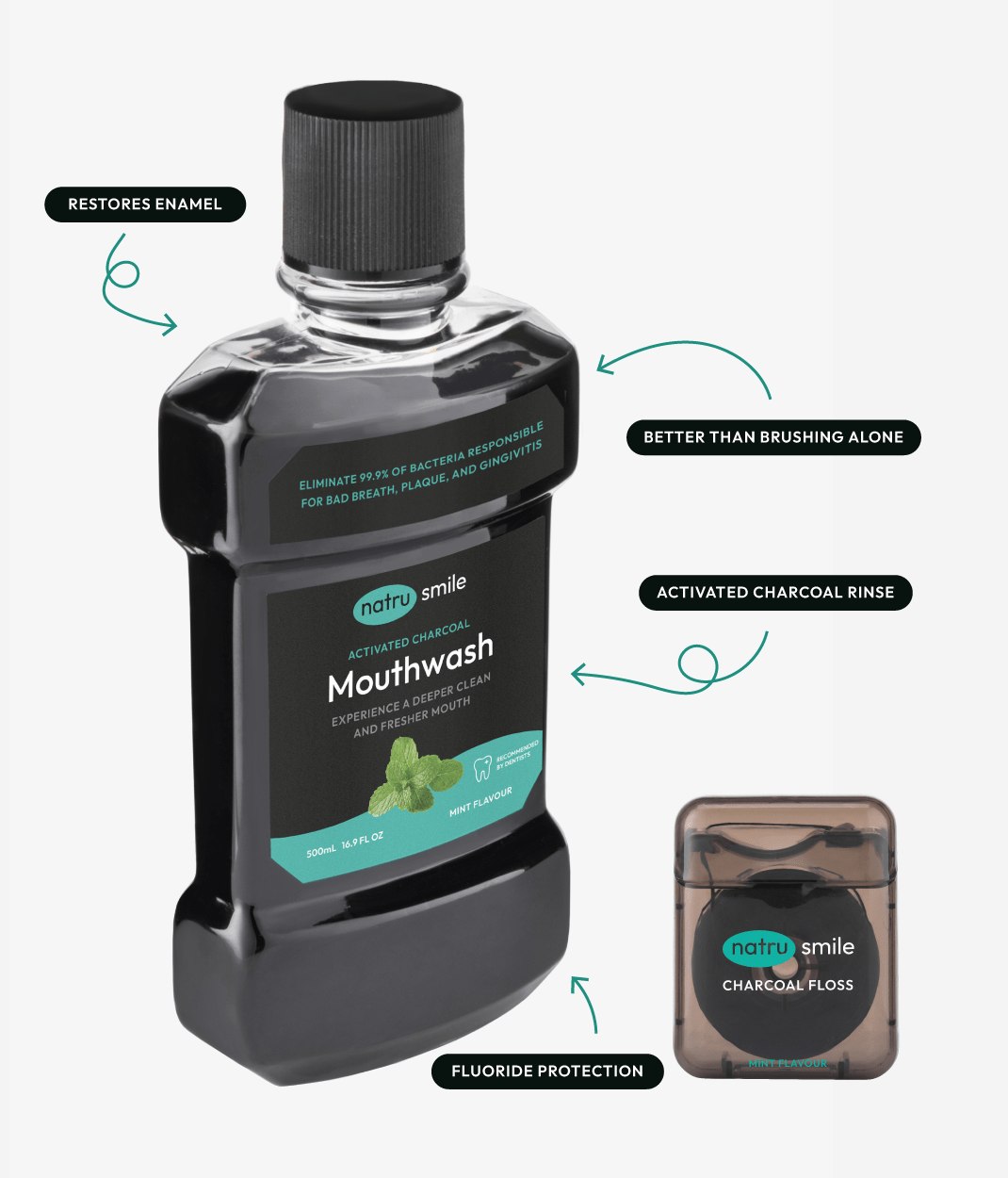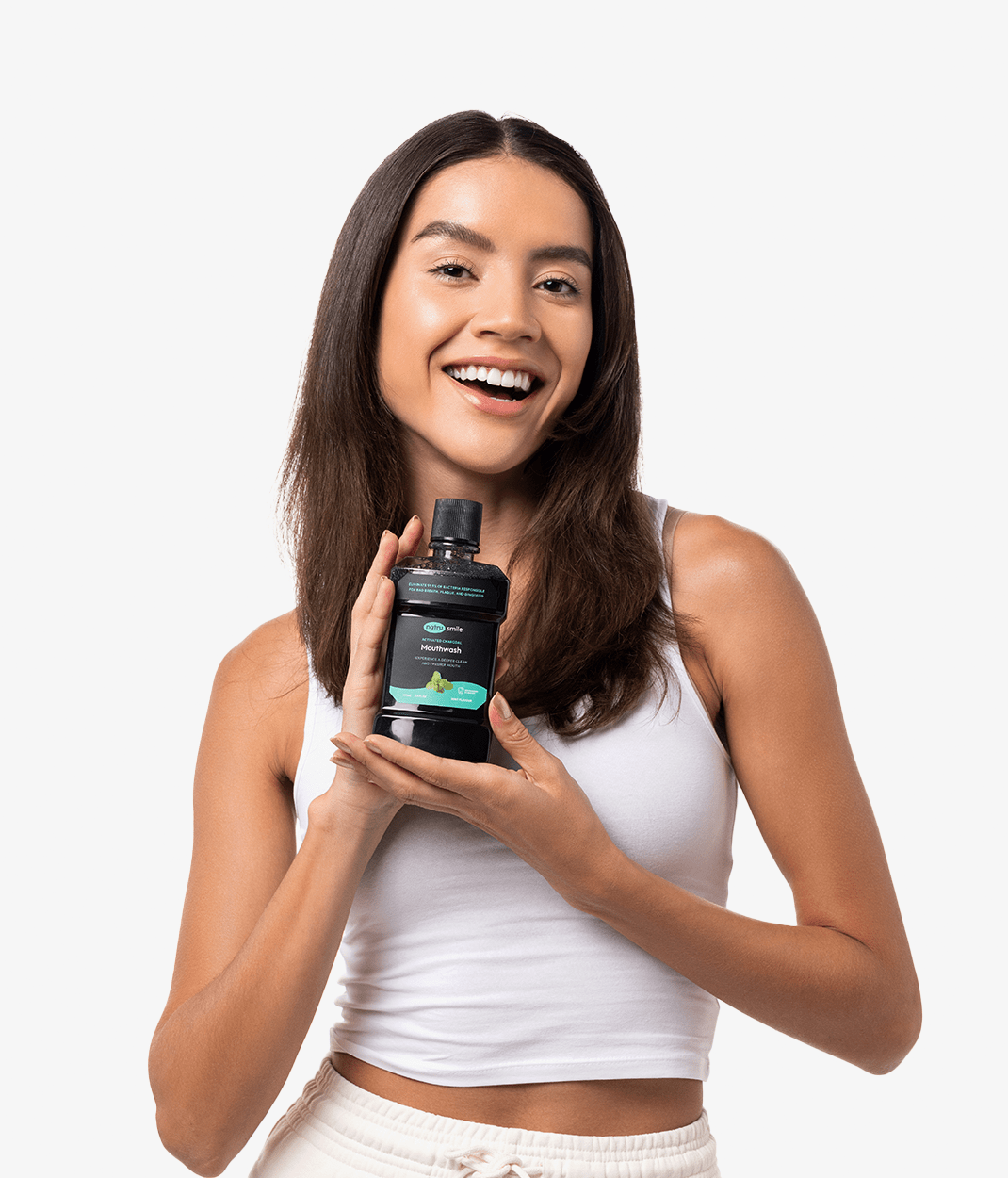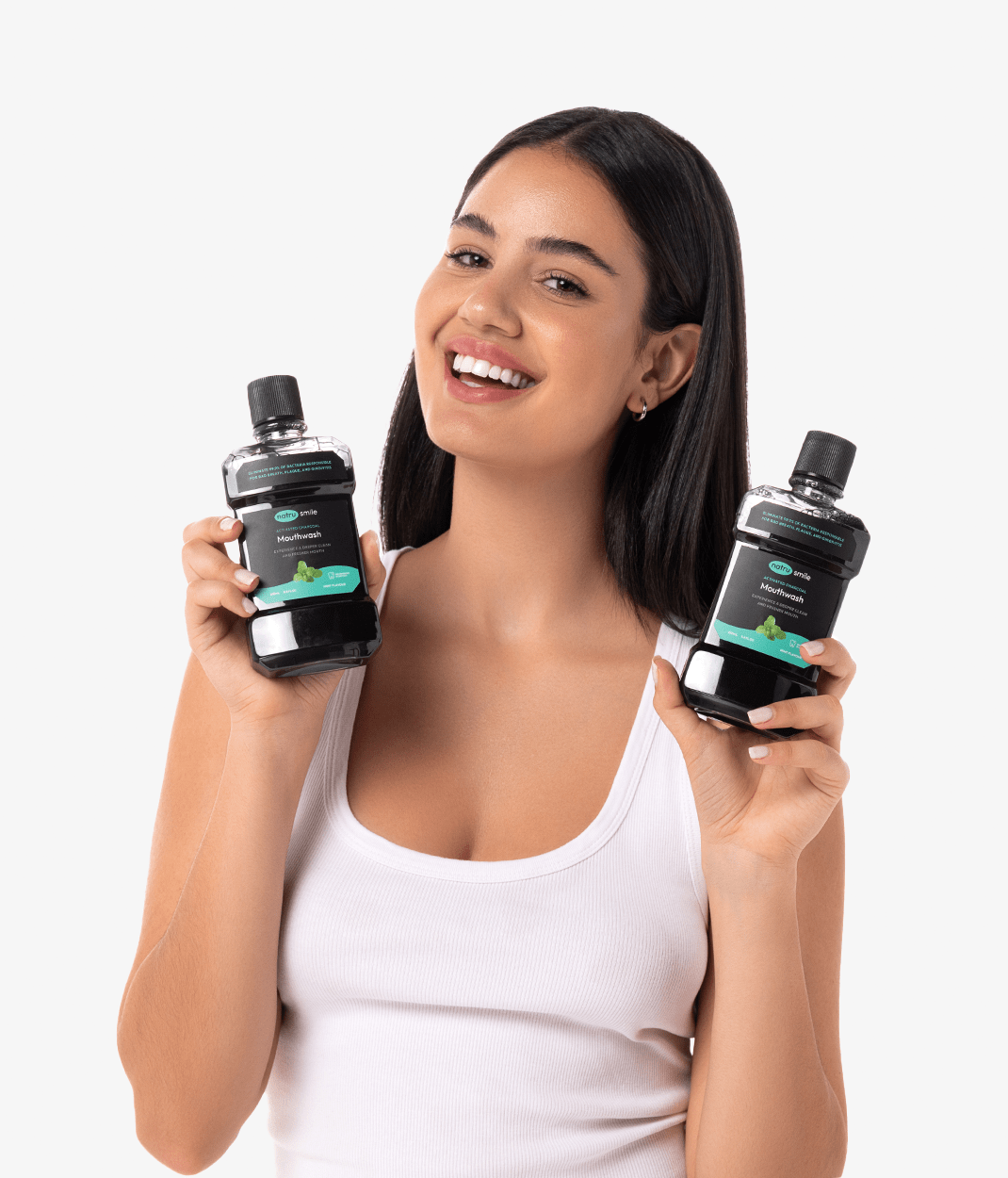 Benefits

Our alcohol-free formula kills 99.99% of germs that cause bad breath, plaque buildup, and gingivitis.

How to use

After brushing your teeth, swish 10mL between your teeth for 1 minute. Spit it out after you're finished.

Shipping & returns

We happily ship worldwide and offer hassle-free returns. All products are available for immediate shipping.

Ingredients

Activated charcoal safely and naturally whitens teeth, removing surface stains without damaging enamel.
Whiten your teeth, brighten your life.
How to use video
As featured in
How to Use Our Teeth Whitening Mouthwash?
Add NatruSmile Teeth Whitening Mouthwash to your regular morning and nightly oral care routine for a long-lasting glamorous smile.
Brush your teeth

Start by brushing as you normally would (2 minutes, 2x per day). For added whitening and protection, use our mouthwash with NatruSmile Teeth Whitening Toothpaste.

1

Fill the cap

Twist off the childproof cap using the instructions provided on the box. Pour 10mL of NatruSmile Teeth Whitening Mouthwash into the cap for a single use.

2

Swish it around

Hold the mouthwash in your mouth for one minute, swishing it around your teeth to let the formula work its magic. Do not swallow the rinse.

3

Spit it out

Spit out the mouthwash after rinsing for one minute. Don't eat or drink anything for 30 minutes after. Enjoy fresher breath, whiter teeth, and a cleaner mouth.

4
Before & After results
Keep your teeth white while protecting them from cavities, bad breath, and plaque. See the results for yourself after just a few uses.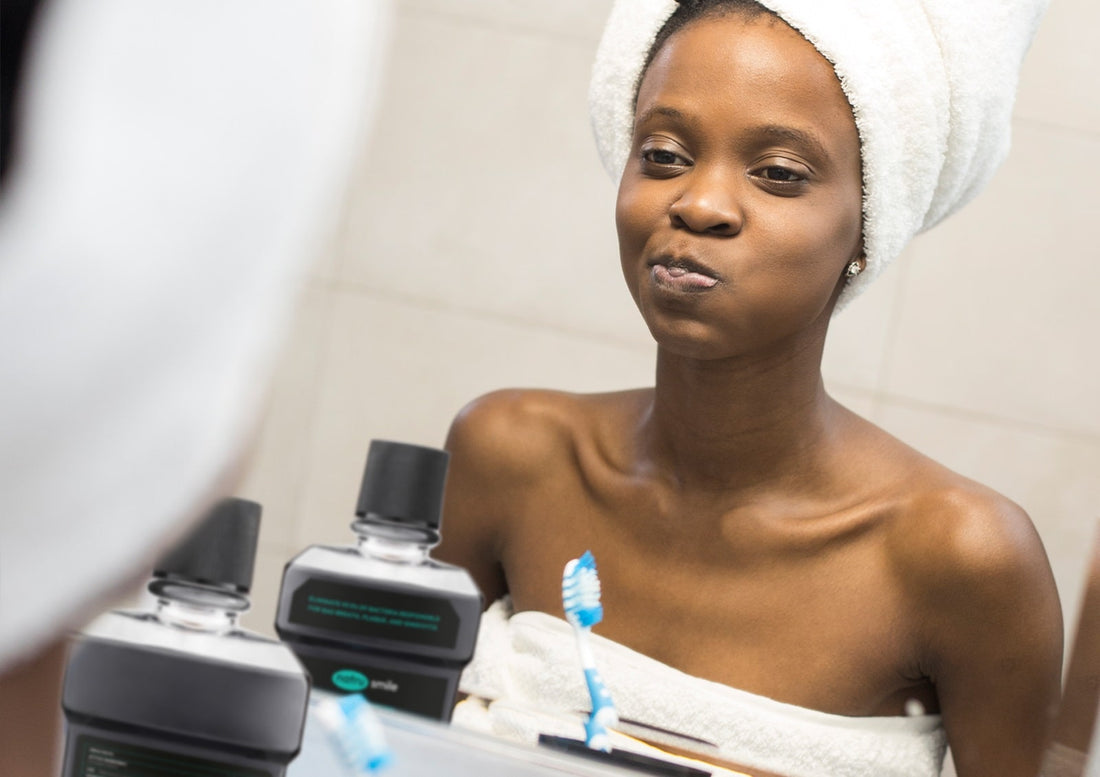 Before
As plaque builds up, it begins to yellow your teeth and make your breath smell bad. Bad breath and stained teeth causes self-consciousness and embarrassment.
Yellowed teeth
Stained teeth and bad breath make you feel less attractive when smiling or talking in public. When you can't be yourself, social interaction and networking are more difficult.
People with poor oral hygiene have trouble dating, networking, and engaging with their peers. When you don't show your teeth, others see you as less engaging and trustworthy.
Untreated plaque buildup leads to serious dental problems like tooth decay, cavities, and gingivitis. Poor oral health is linked to heart problems, cancer, osteoporosis, and other conditions.
As these oral health problems go untreated, they become harder and more costly to reverse. Invasive restorations and surgeries cost well into the thousands and take dozens of hours.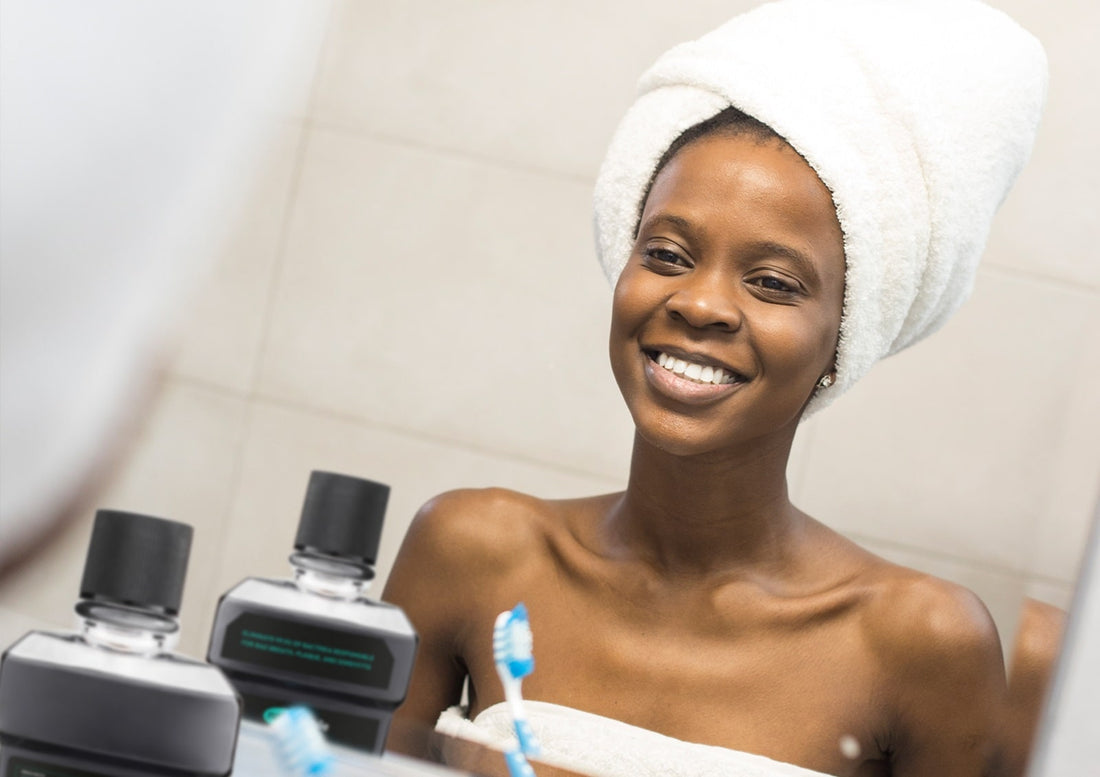 After
NatruSmile Teeth Whitening Mouthwash gives users the one thing they need to truly sieze the day: A brilliant, healthy smile they can wear with confidence.
Glowing healthy teeth
Boost your self-esteem by keeping your teeth white and fighting bad breath-causing bacteria. Smile confidently and be your best self when socializing with others.
With improved oral hygiene, you'll feel more comfortable and confident when smiling and talking. A radiant smile makes you perceptibly more friendly and attractive to others.
Save hours of time and thousands of dollars by fixing your oral health before it becomes a costly problem. Avoid invasive restoration procedures like veneers and tooth implants.
Enjoy a brighter, whiter smile without the damage from harsh chemicals or bleaching treatments. Our proprietary formula remineralizes your teeth and freshens your mouth.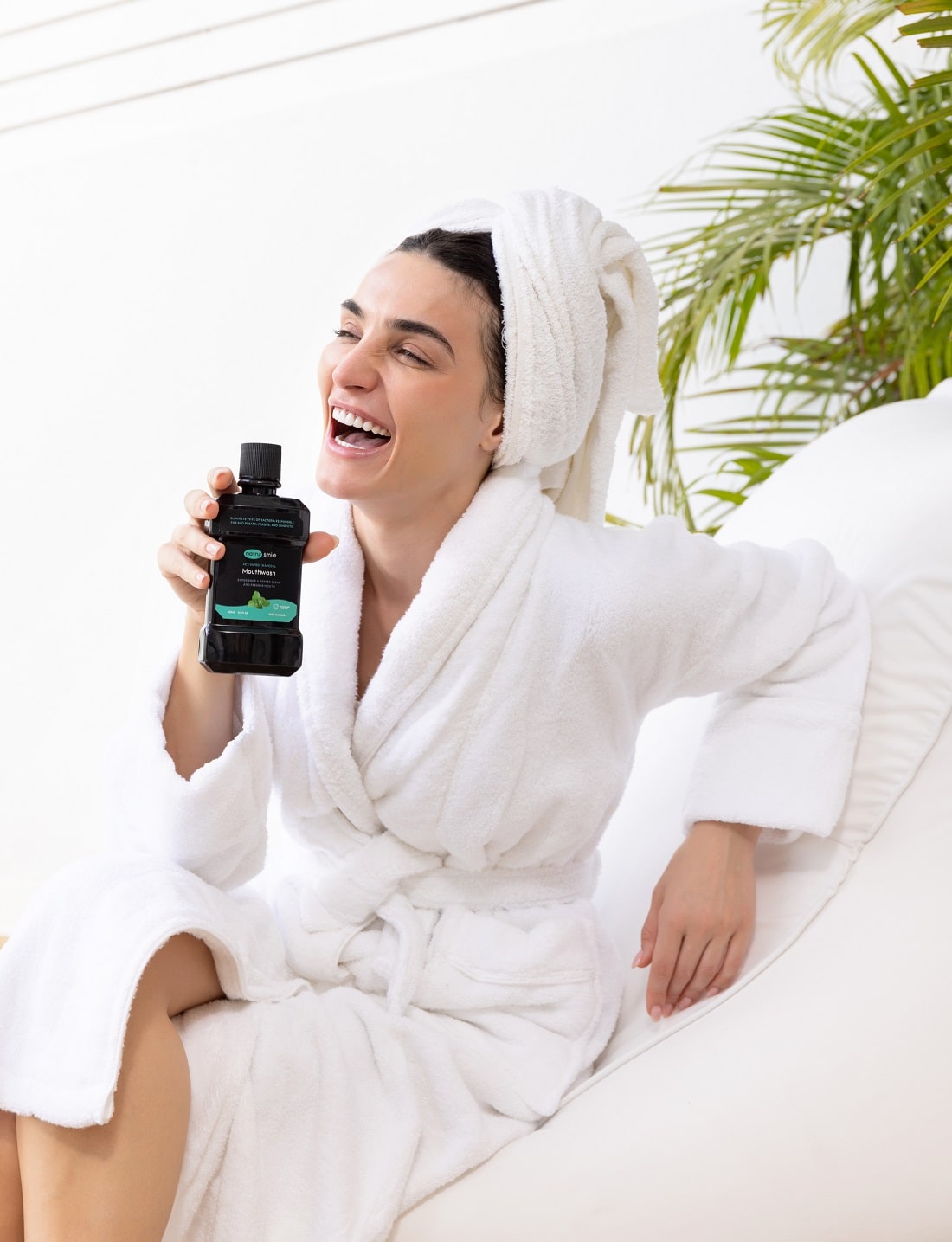 Why use teeth whitening mouthwash?
Teeth whitening mouthwash is a cheat code—it makes teeth whiter, faster and with less effort. Whether your goal is to maximize the results of a recent whitening treatment or freshen your breath, working teeth whitening mouthwash into your daily routine (or using it sometime in the middle of the day) is the quickest, easiest, and lowest-cost solution.
Better protection than brushing alone
According to CDC data, 1 out of every 4 adults currently has one or more cavities. The vast majority (70%) of adults have some degree of gingivitis. Most of the time, oral health issues can be prevented with a basic oral care routine.
NatruSmile's anticavity and antiplaque formula removes plaque-causing bacteria, lowering your risk of developing these problems. When you swish mouthwash around your mouth, it passes through hard-to-reach areas that a toothbrush normally can't, killing germs and removing even more debris.
Keep your teeth white and fresh
Professional teeth whitening can cost over $1,000. Even at-home solutions can cost in the hundreds. If you're going to invest in a whiter smile, you want to make sure it lasts as long as they say it will.
Daily wear and tear adversely impacts the results of at-home and in-office teeth whitening procedures. Using teeth whitening dentist-approved mouthwash keeps your teeth white between treatments, which should last between two and three years.
What's Included In Our Teeth Whitening Mouthwash?
Our whitening mouthwash has everything you need for convenient whitening that fits right in with your routine.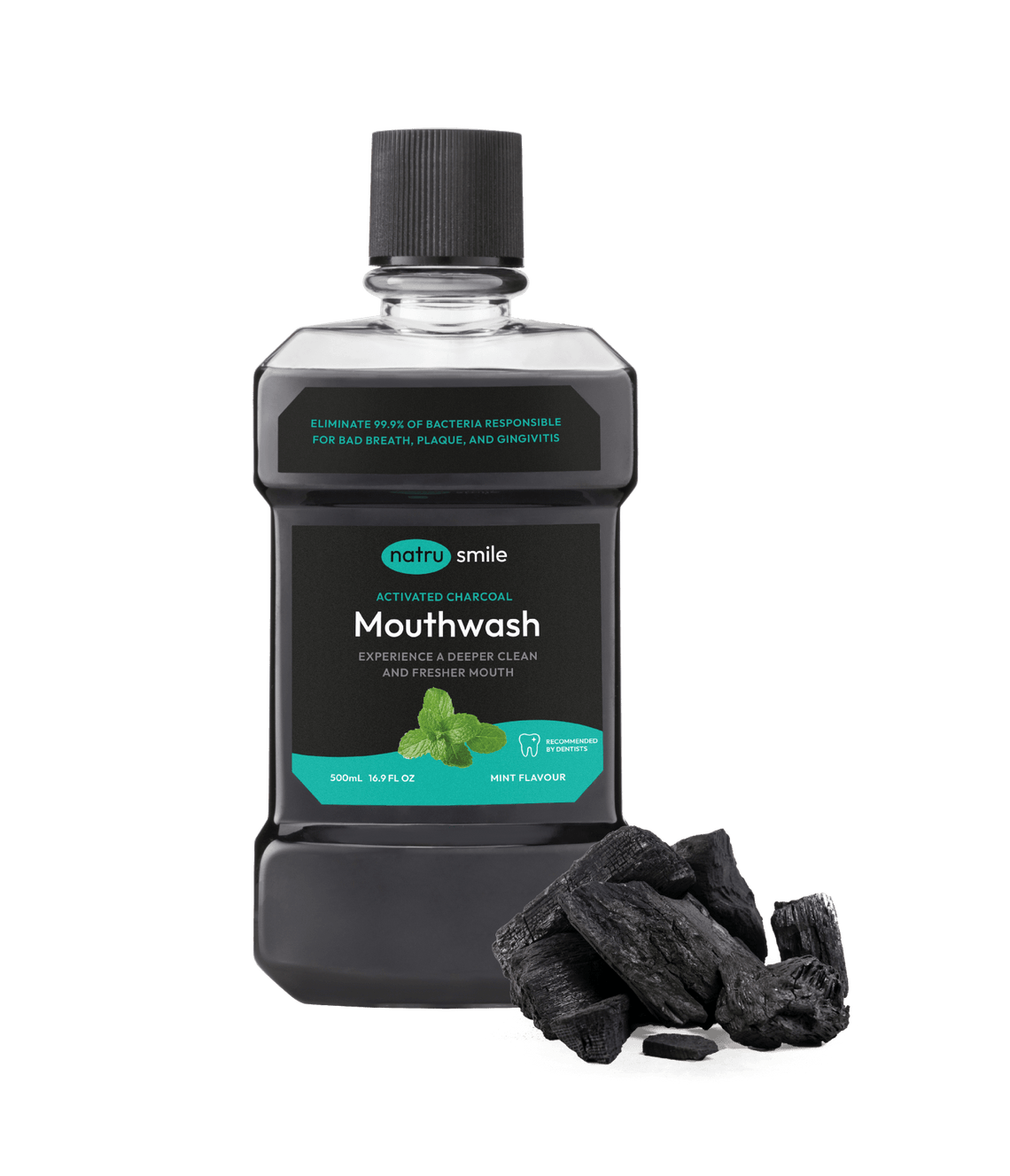 Better than brushing alone

Eliminate plaque and debris hiding in the nooks and crannies of your mouth that brushing can't reach.

Activated charcoal rinse

Leverage the power of activated charcoal to whiten your teeth, freshen your breath, and reduce the risk of cavities.

Fluoride protection

Fluoride and xylitol are an unstoppable team that erases bacteria, protects your mouth, and reinforces your enamel.

Potent herbal formula

Increase the chances for a brighter smile with our blend of natural ingredients like peppermint oil and menthol.

No burning sensation

Avoid the discomfort and damage from alcohol and harsh chemicals found in many other mouthwashes.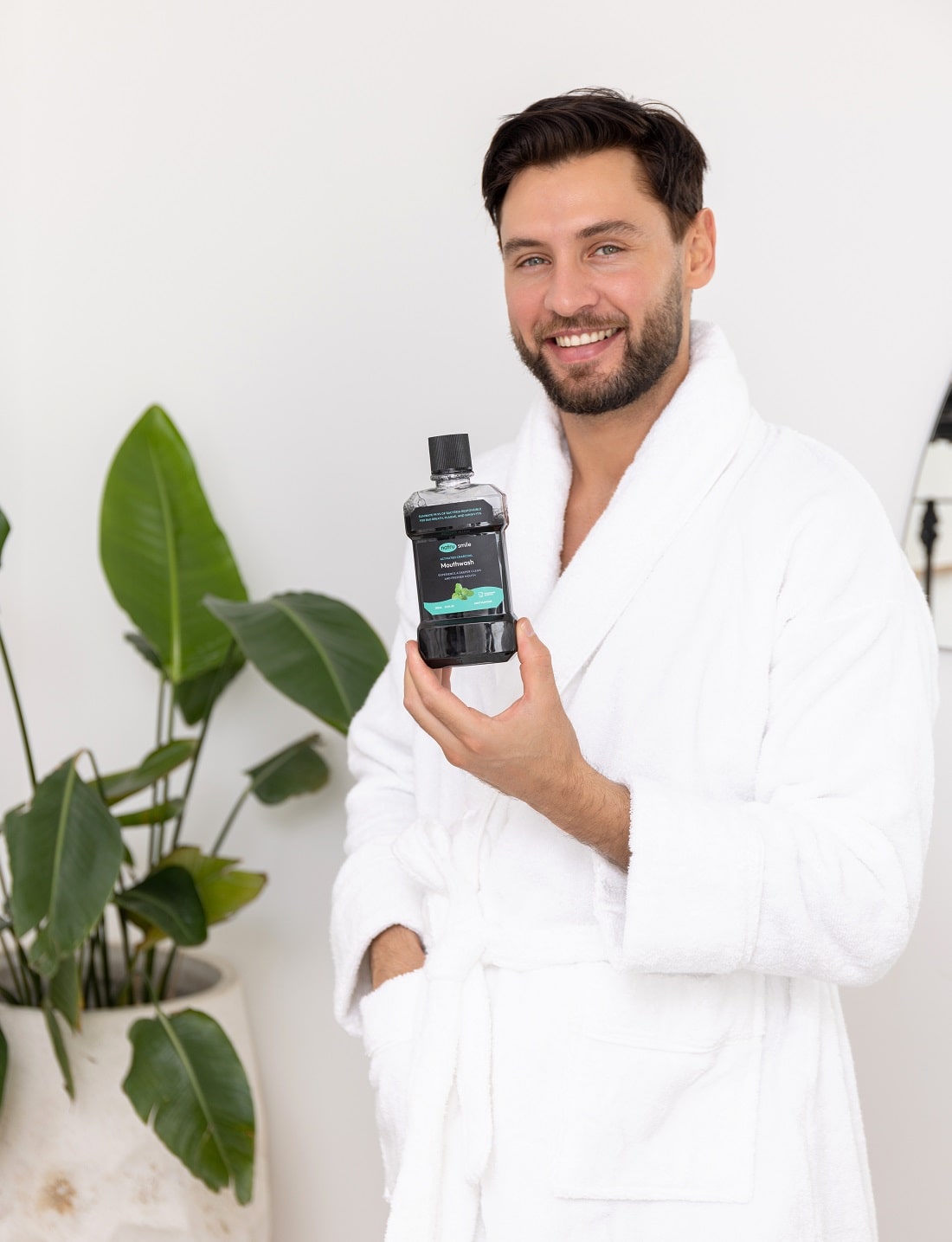 How Does Our Teeth Whitening Mouthwash Work?
NatruSmile Teeth Whitening Mouthwash protects your mouth from cavities while refreshing your breath and keeping your teeth white. Because of its abrasive nature, activated charcoal is perfect for removing surface stains and maintaining the results of an at-home or professional whitening treatment. With the added benefit of powerful menthol and peppermint, NatruSmile mouthwash also leaves you feeling refreshed. Since it contains fluoride, you have guaranteed oral protection.
Activated charcoal whitens your teeth
The pores in activated charcoal attach to the rough surfaces of your teeth, where stains, plaque, and bacteria usually accumulate. As you swish activated charcoal mouthwash in your mouth, it works to remove tannins, coffee, and other staining materials from the surface of your teeth.
Fluoride protects your mouth
Sodium fluorophosphate and xylitol work together in NatruSmile Teeth Whitening Mouthwash to give your mouth an extra layer of protection against cavities. The fluoride in our mouthwash fights the plaque and bacteria that can cause both cavities and gingivitis, while xylitol helps to remineralize your teeth.
Herbal formula freshens your breath
The taste of our teeth whitening mouthwash is mild and refreshing, and that's how your mouth will feel after using it. Peppermint oil, wintergreen oil, and menthol work together to kill germs, give you minty fresh breath, and leave a smooth, clean mouth feeling throughout your mouth.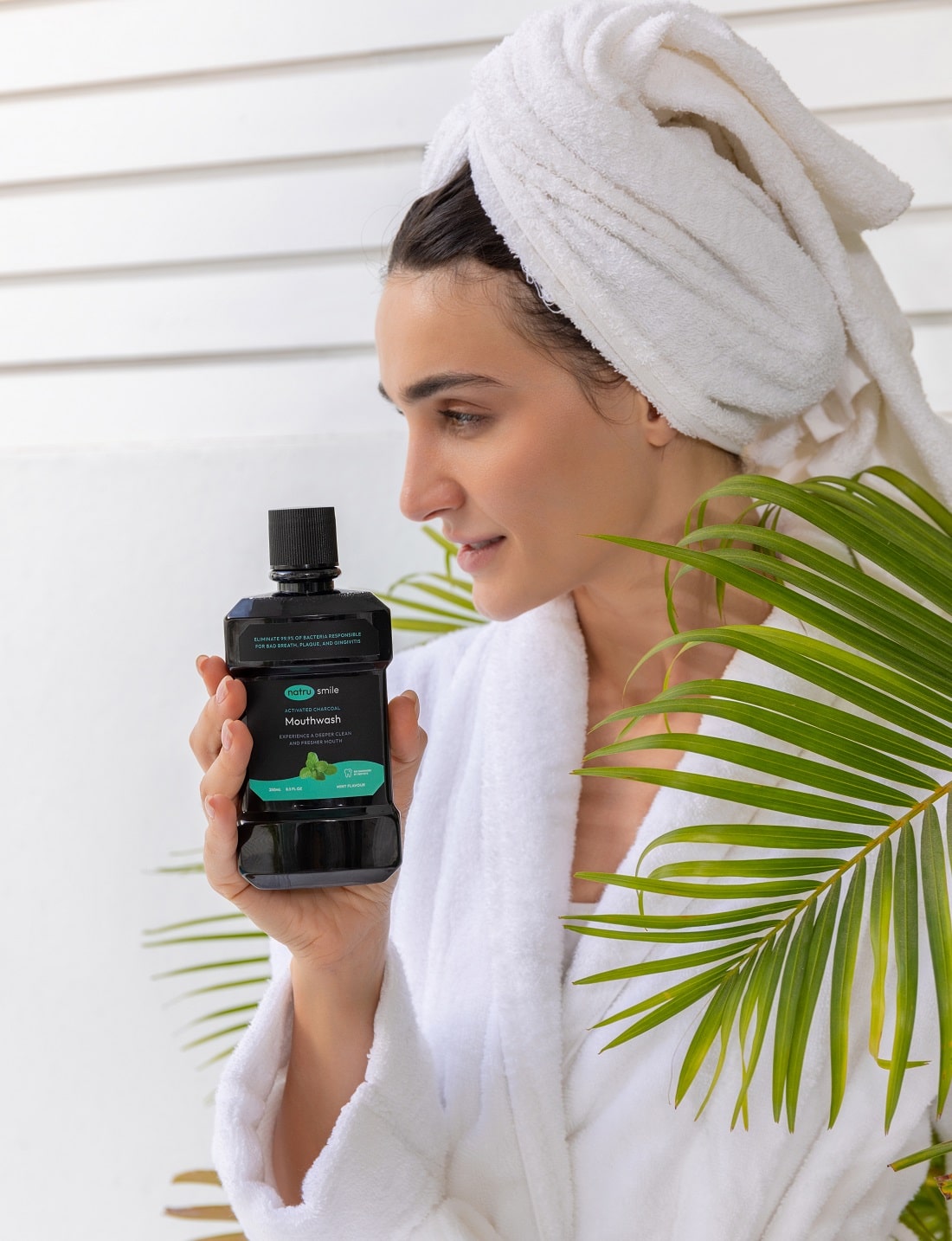 Common Ingredients in Teeth Whitening Mouthwash
The biggest issue with many other mouthwash products is they contain harsh ingredients like alcohol, which make for an unpleasant rinsing experience. Proponents of alcohol mouthwash say it kills germs and freshens breath, but clinical research shows that alcohol dries out your mouth—which can actually cause more bacteria to form over time.
Activated charcoal
The active ingredient in NatruSmile Teeth Whitening Mouthwash, activated charcoal is a natural product derived from coconut shells, bamboo, and many other sources. It sticks to the surface of your teeth and its mild abrasion helps remove tannins and other stains that accumulate over time.
The swishing movement that forces liquid mouthwash into the small areas inside your teeth and gums makes activated charcoal an ideal ingredient for whitening mouthwash. By enabling its effects to reach further into your mouth, you can get the whitening results you need to the fullest extent.
Hydrogen and carbamide peroxide
Peroxide-based solutions are the most common ingredients in whitening products (including some of ours). Unlike activated charcoal, hydrogen and carbamide peroxide work by releasing oxygen into your enamel, whitening your teeth.
Peroxide is the strongest whitening agent for teeth, but NatruSmile Teeth Whitening Toothpaste is the perfect companion. It promotes, amplifies, and extends the longevity of the results of these whitening treatments, so you can keep the smile you deserve for longer.
Recommended by Real Dentists
We didn't just conjure the science behind NatruSmile Teeth Whitening Mouthwash out of thin air. Real dentists and clinical testing back our products.
Endorsed by Dr. Greg Grillo D.D.S
Dr. Greg Grillo, D.D.S., a US-based dental professional, brings 28 years of experience in all facets of the dental profession. Dr. Grillo verifies and endorses all NatruSmile products, including our teeth whitening mouthwash.
28 years serving patients
Experienced clinician
Dental Advisory board
Greg Grillo, D.D.S. earned his Doctor of Dental Surgery degree from the University of Washington School of Dentistry. He currently serves as an executive of Method Pro and sits on the advisory board for Quip.
Don't Just Take Our Word For It
Dental professionals across the country recommend the NatruSmile Teeth Whitening Mouthwash as a safe and effective whitening solution.
Home whitening and oral care excellence!
As a trusted dentist, I highly recommend the NatruSmile home whitening kit for achieving a brighter, more radiant smile. With its safe and effective formula, you can whiten your teeth conveniently from the comfort of your own home. You can truly experience professional-quality results with NatruSmile and achieve your dream smile!
Dr. Andrés Arias
Serving patients since 2018
5-star home treatment products that work!
My recommendation as a orthodontics of dento-factor facial orthopaedic specialist is that NatruSmile products are 5-star home treatment products that are perfect for young adults to use safely and effectively at home to achieve an awesome smile. I would highly recommended NatruSmile to anyone looking to improve their daily oral care routine.

Dr. Mai Abdelsalam
Orthodontics of dento-factor facial orthopaedic specialist
Eliminates problems with home whitening!
I recommend NatruSmile products because so many others that exist in the market come with problems. Either it does not whiten the teeth enough or they bring a lot of sensitivity and the process is very slow. NatruSmile products eliminates these problems and delivers a smile you always dreamed of in a short time, without pain and at a very competitive cost.
Dr. Daniel Echeverry
7 years as a specialist in oral rehabilitation or prosthodontist
Effective products that will improve your smile!
NatruSmile is a game-changer for improving your oral health and smile. They offer teeth whitening solutions, electric toothbrushes, and tongue scrapers to create a winning combination for a brighter, healthier mouth. These products are safe and effective at removing plaque and stains on the surface of your teeth and I highly recommend NatruSmile's products.
Amber Lust
8 years of dental assisting
Who Recommends Us?
A few of our most loyal customers come from the beauty and wellness communities, including makeup artists, fitness instructors, nutritionists, and more.
Our Happy Customers
NatruSmile customers around the world have experienced confidence boosting results using our teeth whitening mouthwash. Read their stories and see how NatruSmile has helped them achieve a perfect smile.
The perfect finishing touch
I've spent a fortune on professional teeth whitening, and used other products with little success but NatruSmile's Teeth Whitening Mouthwash is the perfect tool to maintain the results. It just gives me all around better protection than just brushing them alone, keeping my teeth white and fresh. The perfect finishing touch to my morning dental routine!
My breath has never been fresher!
I've always struggled with bad breath and felt like there was no way to avoid it without constantly chewing gum and hiding my mouth. NatruSmile's Whitening Mouthwash not only helped to whiten my teeth, but it also effectively kills bad breath. I feel so much more confident in social situations now. My breath has never been fresher. THANKS!
Perfect before a night out with the girls
Fridays, I'm always in a rush, especially if I'm working late (always actually). When I don't have time to completely freshen up before heading out, I swish some teeth whitening mouthwash around in my mouth for 30 seconds and feel good as new. On a day-to-day basis, I LOVE using it after brushing to keep my teeth bright and healthy and of course MINTY fresh!
Smile brighter, every day!
I used to have a problem with bad breath and yellow teeth, which run in my family. Sometimes, others would comment on it. After using NatruSmile's Whitening Mouthwash, my smile has become noticeably brighter. I've gotten a bunch of unexpected compliments, which I love. I smile brighter and more confidently, every day - and it's all thanks to NatruSmile!
Seriously the key to long-lasting results
I spent over $1,000 on an in-office whitening treatment and my dentist recommended using NatruSmile whitening toothpaste and mouthwash to maintain the results. I love the toothpaste, but the mouthwash has been an absolute game-changer for quick freshness. It protects my teeth and gums, freshens my breath, and really enhances my whitening results.
Restored my enamel, boosted my confidence
I was worried about my teeth color and breath because I drink a pot of coffee every day before work. The NatruSmile Whitening Mouthwash gets rid of those surface stains from the coffee and freshens my breath. I feel more confident throughout the day and in myself. Restored my enamel, boosted my confidence - what more could I ask for?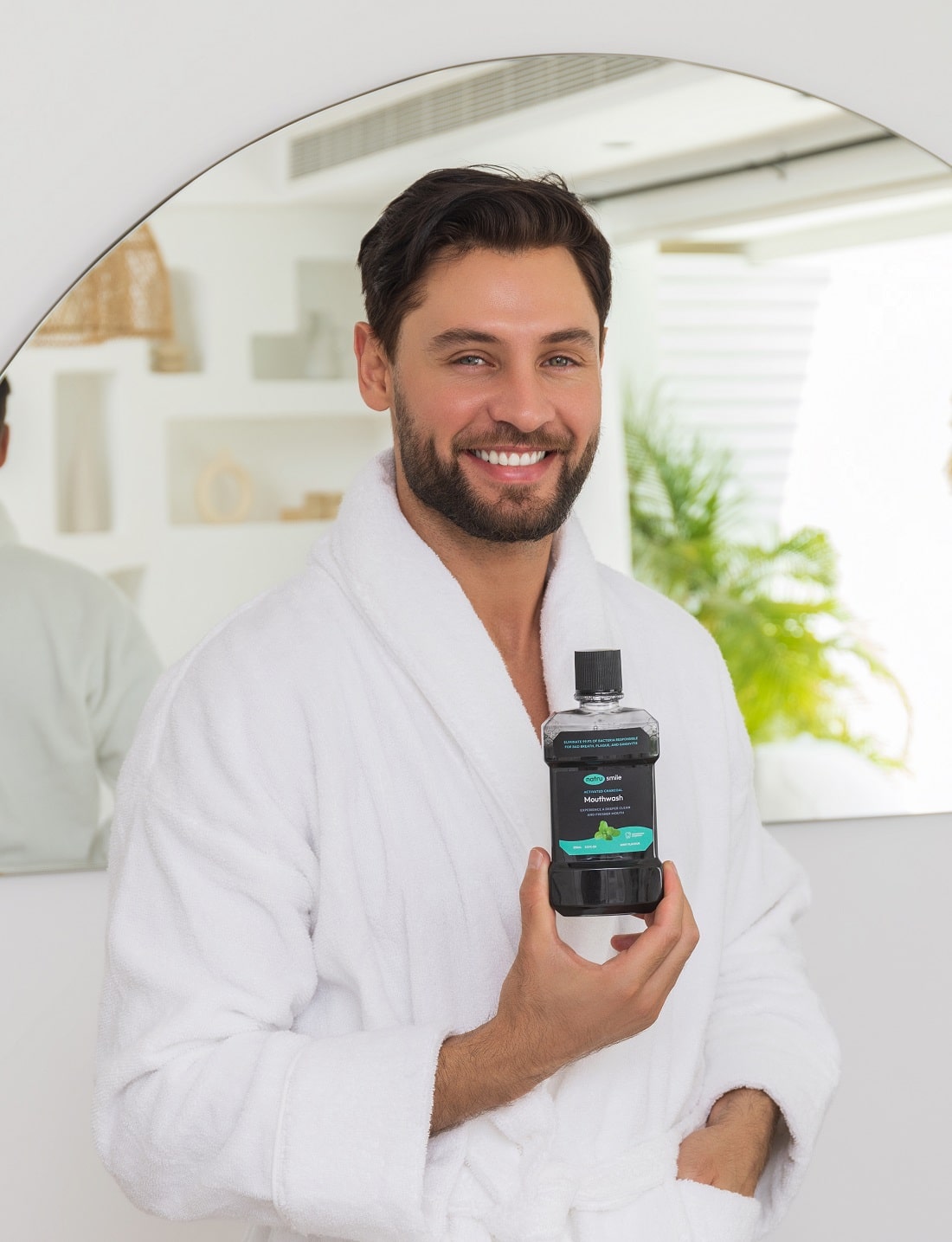 Is Teeth Whitening Mouthwash Safe?
Teeth whitening mouthwash is safe when the right ingredients are used. Ingredients to avoid include artificial dyes, bleaches, and alcohol. According to the ADA, clinical research, and a large body of dental and medical professionals, activated charcoal is safe to use on your teeth in specific applications. Still, there are a few precautionary measures you should take.
Use as directed to prevent adverse effects
When it comes to activated charcoal as a whitening agent, the main issue the ADA cites is its abrasive nature. As it cleans the surface stains on your teeth, it can potentially wear away the enamel, making your teeth more vulnerable to sensitivity (and even further staining).
Almost all instances of enamel erosion are the direct result of overuse. NatruSmile Teeth Whitening Mouthwash should only be used as directed. This means only rinsing for the allotted amount of time and only using it twice daily.

Limitations of activated charcoal
Activated charcoal is effective at removing surface stains and maintaining the effects of other whitening products. But NatruSmile customers should not expect the same results as they would from our teeth whitening kits or a professional treatment.
For anyone who needs a dramatically whiter smile, we recommend using the NatruSmile Teeth Whitening Kit to achieve the best possible results and backing it up with our mouthwash to preserve them.
Teeth Whitening Mouthwash FAQs
Still not sure about NatruSmile Teeth Whitening Mouthwash? Here are answers to the questions our customers ask us the most.
Which mouthwash is best for teeth whitening?
The best mouthwash for teeth whitening depends on your exact oral care needs. For those who want added protection from cavity-causing bacteria, fluoride toothpaste is the ideal option. If you are currently going or recently went through an intensive whitening procedure (such as LED whitening or professional teeth bleaching), you'll want to use a specially-formulated whitening mouthwash to retain the benefits of your whitening treatment. And if you suffer from sensitive teeth, you might want to look for a teeth sensitivity mouthwash that contains potassium citrate or nitrate.
NatruSmile Teeth Whitening Mouthwash gives you the best of both worlds, combining the whitening power of activated charcoal, the remineralizing capability of xylitol, the oral protection of fluoride, and the freshening benefits of peppermint oil—all without using harsh alcohols and bleaching agents.
Does Teeth Whitening Mouthwash expire?
All products, including mouthwash, come with an expiration date. If you keep mouthwash for too long, it will stop being effective entirely. Using expired mouthwash might not necessarily damage your teeth, but it won't serve them any benefit, either.
Mouthwash can be used for up to three years (at most) from its manufacturing date. To ensure you maximize the results of NatruSmile Teeth Whitening Mouthwash, always double-check the expiry date on the bottle. If it is past the date, throw it out and purchase a new bottle.
How long does teeth whitening mouthwash last?
Typically, the results of using teeth whitening mouthwash are temporary and can only address surface stains for about 24 hours. They are only meant to act as a maintenance solution to prevent future staining.
For more impactful whitening results and a complete experience, we recommend purchasing our complete teeth whitening kit, using our mouthwash in conjunction with NatruSmile Teeth Whitening Toothpaste, or filling in the gaps with whitening pens.
Does teeth whitening mouthwash damage your enamel?
Teeth whitening mouthwash does not damage your enamel when used as directed. When used too often, however, it can lead to enamel erosion and intensified tooth sensitivity.
To prevent this from happening, make sure you follow the instructions provided on the bottle of your mouthwash and only use as directed for a limited amount of time.
Do not use too many whitening products at once, either. For example, if you're already using a teeth whitening kit with an intense bleaching agent, don't follow it up with whitening strips, toothpaste, and mouthwash at the same time.
Can kids use teeth whitening mouthwash?
Kids can use NatruSmile Teeth Whitening Mouthwash conditionally. If your child is under 6 years of age, you should always consult a dentist before introducing any whitening products. If your child is between 6 and 11, they can use the product, but should only rinse using 10 mL of whitening mouthwash for 30 seconds, rather than one minute.
Regardless of their age, children should always be supervised when using mouthwash to minimize the risk of swallowing and misuse.
Can teeth whitening mouthwash cause dry mouth?
Teeth whitening mouthwash can cause dry mouth in two instances: when it is overused and when it contains alcohol.
When you use too much teeth whitening mouthwash or when it contains alcohol, it can make your mouth feel dry. Alcohol stops your body from producing enough saliva. Saliva helps keep our mouths moist, so without enough saliva, our mouths can get dry and sticky.
Overuse can cause the same problem. If you use too much teeth whitening mouthwash, it can cause your mouth to become dry and uncomfortable.
In both cases, the best solution is to carefully watch the amount of whitening mouthwash you're using and only choose an alcohol-free product.
Should I use a Teeth Whitening Mouthwash before or after whitening strips?
Unlike brushing your teeth (which should always be done before whitening), mouthwash can typically be used before or after your whitening session.
Using mouthwash after a teeth whitening procedure can prevent staining by rinsing away any leftover substances that could cause staining. Using it before a whitening procedure can help to reduce bacterial levels in the mouth, preventing potential irritation from bleaching agents.
Is teeth whitening mouthwash bad for your teeth?
Teeth whitening mouthwash is not bad for your teeth, per se. The ADA and many other reputable organizations consider whitening products—including mouthwash—and their ingredients to be safe and effective.
That said, overuse of whitening products, however, can lead to enamel erosion and heightened tooth sensitivity. To circumvent potential risks of using teeth whitening mouthwash, it's important to only use as directed and for a limited amount of time.
For the millions of people who suffer from tooth sensitivity, any level of teeth whitening might cause irritation. Unfortunately, there are only ways to minimize this effect, not eradicate it completely.
Where can I buy teeth whitening mouthwash?
Teeth whitening mouthwash is readily available just about anywhere you can purchase other whitening products (e.g., whitening strips, toothpaste, and kits).
NatruSmile Teeth Whitening Mouthwash is available for immediate purchase online (at the top of this page) and through select online and brick-and-mortar retailers.
Is teeth whitening mouthwash effective?
While experts agree that whitening mouthwash is effective, it has its limitations. Conclusive research and professional insights indicate whitening mouthwash works well for "extrinsic or outer tooth" discoloration caused by things like coffee, red wine, and smoking.
Unfortunately, it can't do much for intrinsic or inner tooth discoloration caused by factors like medications or excessive fluoride intake during childhood. It also can't erase years of deep stains from smoking, long-term neglect of oral hygiene, or poor dietary habits.
Teeth whitening mouthwash is effective for retaining the benefits of recent whitening treatments, accelerating the process for those currently whitening, and for removing surface stains that have just started to appear. It is also ideal for those looking for a quick way to freshen their breath before a job interview, date, or night out with friends.
Does teeth whitening mouthwash cause sensitivity?
The most common side effect of any teeth whitening product is tooth sensitivity. While teeth whitening mouthwash is naturally gentler than other products such as strips or bleaching trays, it can still cause some sensitivity.
To reduce the chances of experiencing any kind of sensitivity, start by using whitening mouthwash for a shorter duration or less frequently than recommended on the bottle.
If sensitivity persists, you may want to look into the underlying cause of your issue, as sensitivity can be a sign of poor oral hygiene or other dental issues.
Can I use teeth whitening mouthwash every day?
You can use NatruSmile whitening mouthwash every day, up to two times each day. In fact, using it this frequently is the best way to ensure complete and consistent whitening results.
If you're already using a bleaching product or other whitening treatments from NatruSmile, we recommend using our mouthwash no more than once per day as part of your oral hygiene routine (at least to start). That way, you can adjust your routine as needed and find the right balance to achieve whiter teeth without causing sensitivity.
How much does teeth whitening mouthwash generally cost?
Teeth whitening mouthwash can cost anywhere from $5 to $30, depending on the product and its ingredients. Generally, products that contain higher-grade ingredients cost more than those with cheaper alternatives.
NatruSmile Teeth Whitening Mouthwash is right in the middle—priced at $17.99. NatruSmile customers save 12.5% when they purchase a 90-day supply (three bottles) and 25% when they purchase a 180-day supply (six bottles). Now that's a deal you won't find in stores!
When will I see the results from a Teeth Whitening Mouthwash?
The results from our teeth whitening mouthwash are short-term and immediate. Enjoy the benefits of a whiter, brighter smile as soon as you spit out the mouthwash.
NatruSmile Teeth Whitening Mouthwash is designed to reduce and prevent staining, so the longer you use it, the more gradual and noticeable your whitening results will be. After using our whitening mouthwash for a few weeks, the difference in your smile will be much more noticeable.