Why choose one, when you can have both? With our newest LED whitening electric toothbrush, you'll have 2-in-1 cleaning and whitening capability.
LED² Technology
4 brushing modes
Memory function
Intelligent brushing
Why choose one, when you can have both? With our newest LED whitening electric toothbrush, you'll have 2-in-1 cleaning and whitening capability.
LED² Technology
4 brushing modes
Memory function
Intelligent brushing
Regular price
Sale price
$89.99
Unit price
per
Sale
Sold out
Shipping calculated at checkout.
Bundle and Save
Split your payments up with
View full details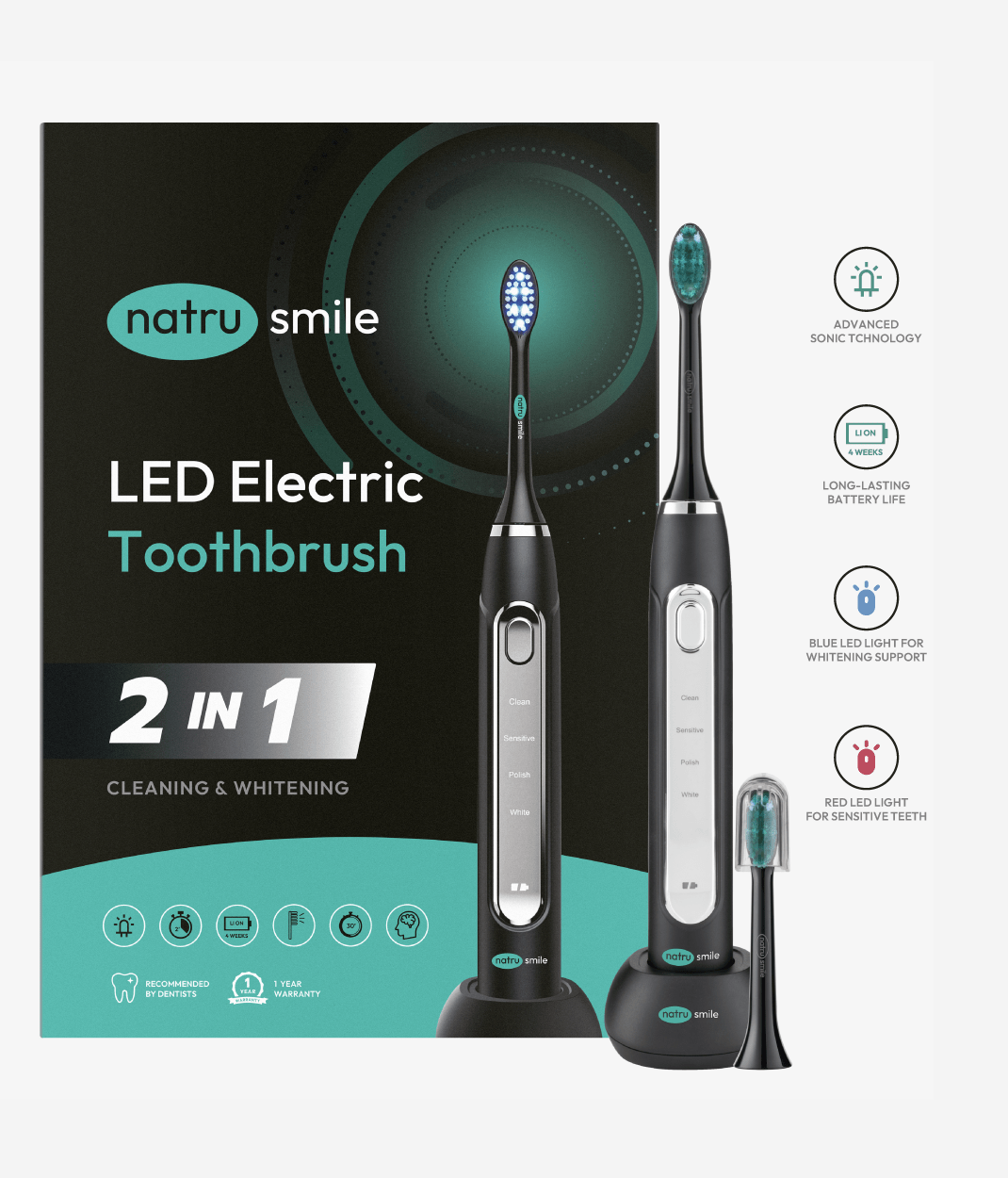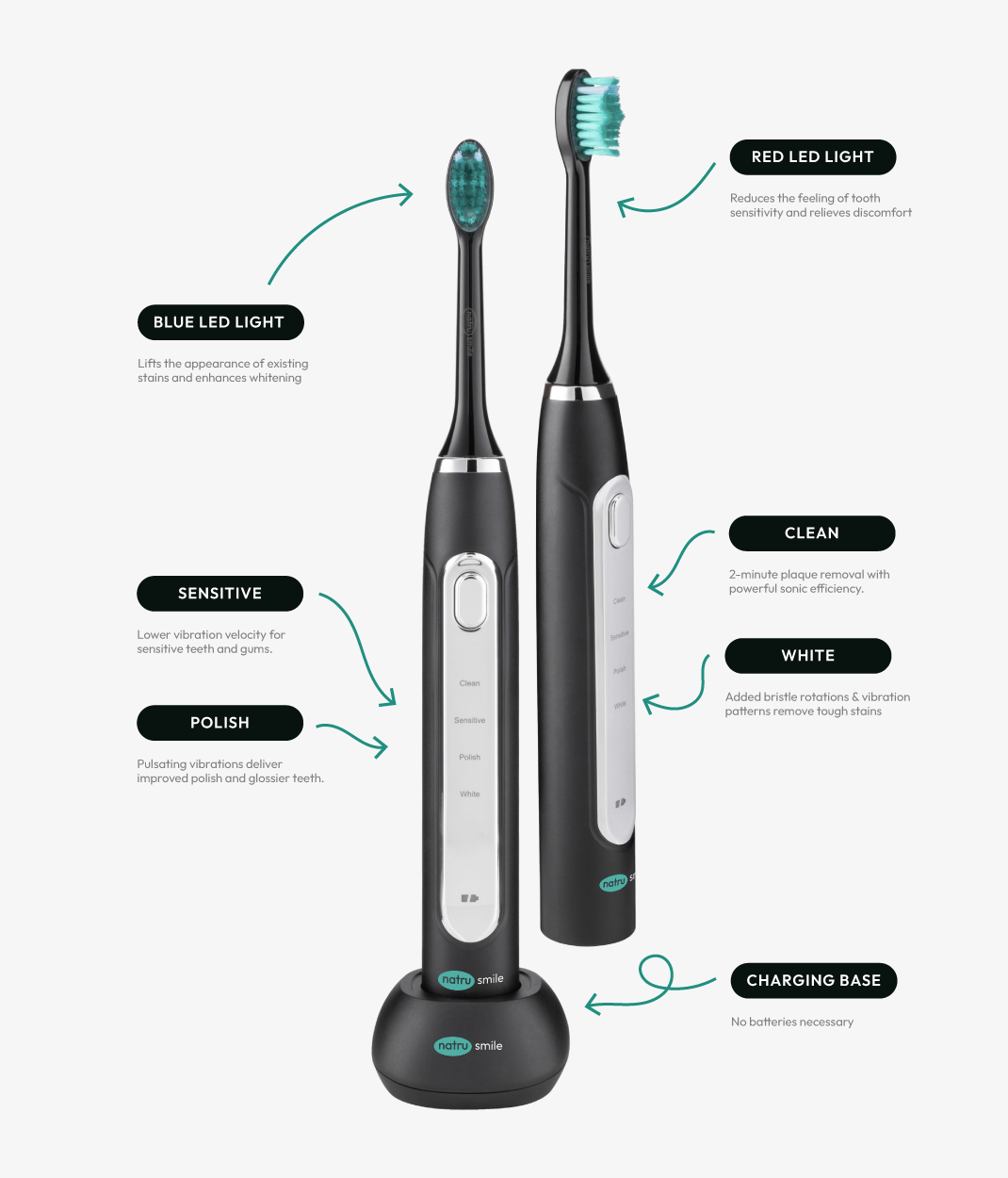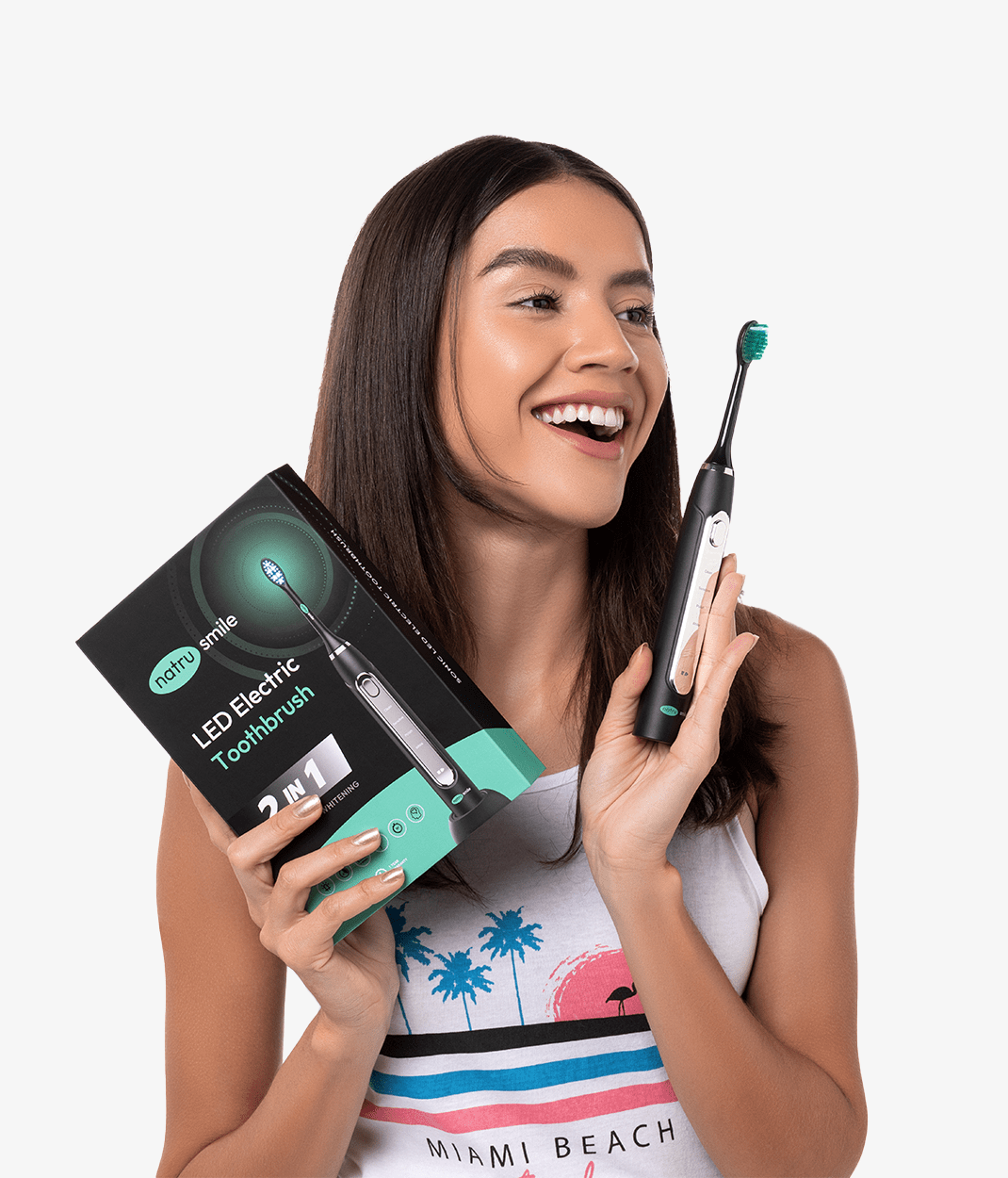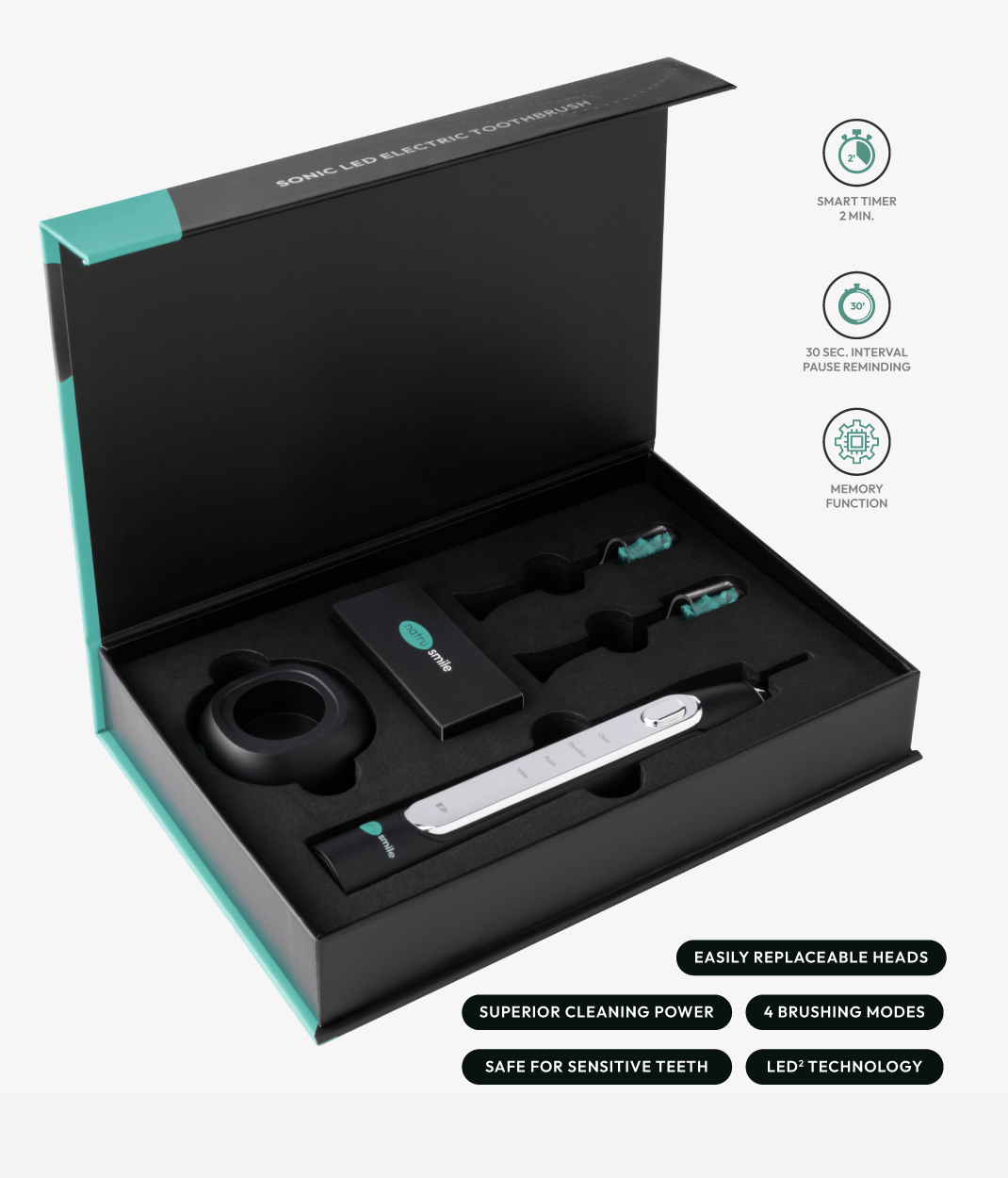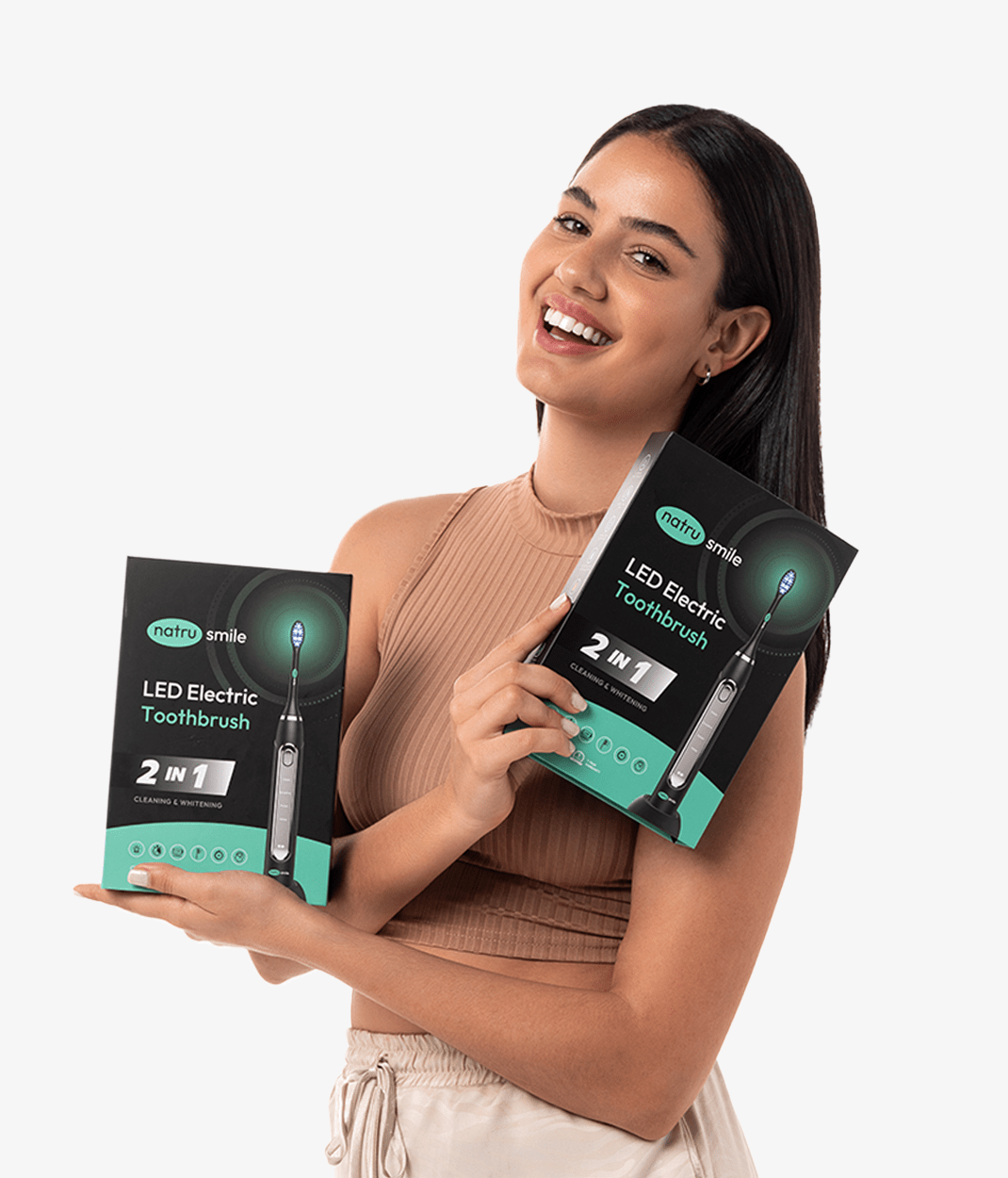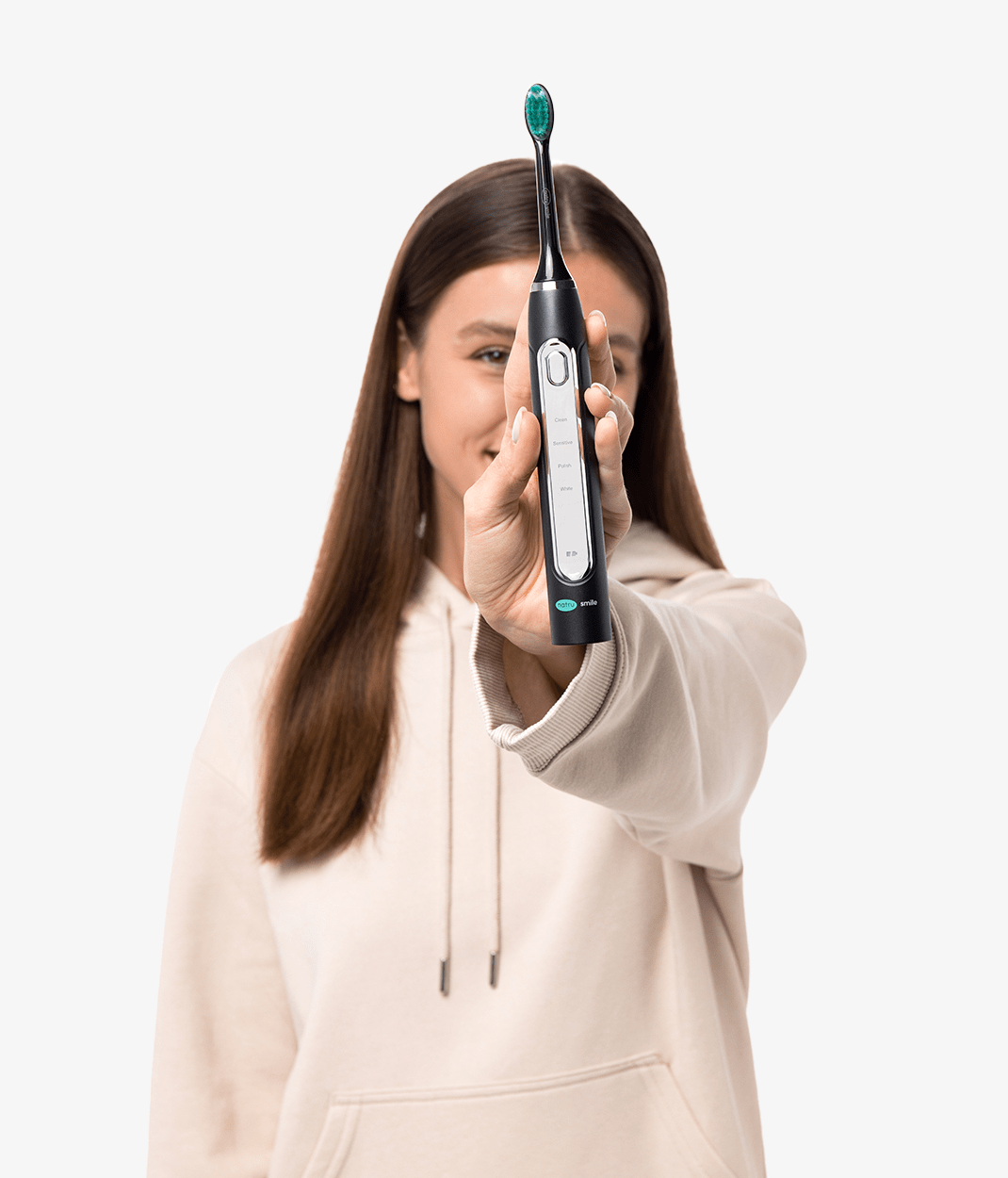 Benefits

Our LED electric toothbrush whitens and cleans your teeth simultaneously for efficiency and convenience.

How to use

Add toothpaste, power your toothbrush, choose your brushing mode, and let the toothbrush handle the rest.

Shipping & returns

We happily ship worldwide and offer hassle-free returns. All products are available for immediate shipping.

Technology

LED² Technology whitens teeth, stimulates your gums, and supports 4 whitening modes for a personalized experience.
Whiten your teeth, brighten your life.
How to use video
As featured in
How to Use Our LED Whitening Electric Toothbrush
Master your oral care routine with these four easy steps. All you need is whitening toothpaste and your new electric toothbrush for an unbeatable clean.
Apply whitening toothpaste

Align the brush head arrows with the base, click them into place, add a pea-sized dollop of toothpaste, and quickly wet it to prepare for brushing.

1

Choose your mode

Select the mode that's best for you (CLEAN, SENSITIVE, POLISH, or WHITE). Then, activate it and let LED² Technology and sonic vibrations work their magic.

2

Brush your teeth

Aim your toothbrush at a 45-degree angle to your gums for optimal plaque-fighting power. Listen for the 30-second reminder to switch sections for an even clean.

3

Rinse and smile

After two minutes of brushing, spit out the toothpaste. Rinse your mouth and bristles with clean water. Then, marvel in the mirror at your new pearly-white smile.

4
Before & After results
NatruSmile Whitening Electric Toothbrush eliminates plaque and discoloration better than regular brushing. That way, your mouth is fresher and your teeth are brighter with every use.
Before
Ineffective brushing and poor oral hygiene lead to plaque, stains, and discoloration. Regular toothbrushes don't reach every crevice, leaving your teeth dull and yellow.
Unhealthy teeth
Inadequate coverage during brushing leads to tooth decay, gingivitis, and bad breath. Over time, these conditions can worsen into gum disease, cavities, and even oral cancer.
An unhealthy smile affects your confidence and ability to form relationships with others. Putting yourself out there for peers, employers, and potential partners becomes a challenge.
Bad oral hygiene has been linked to several systemic health problems, including heart disease, several types of cancer, respiratory illnesses, osteoporosis, and even type 2 diabetes.
Expensive dental treatments for poor oral health can quickly become a financial burden. Thousands of dollars, hours of your time, and months of healing are the minimum for restorations.
After
With over 50,000 sonic vibrations per minute and Blue/Red LED light, our whitening electric toothbrush dislodges debris and activates the whitening agents in your toothpaste.
A healthy smile
Eliminating plaque and debris means your teeth are protected from damaging oral conditions. Avoid painful cavities and gum inflammation and the risks of having them.
Confidently network, socialize, and go on dates with fresher breath and a whiter smile. Chase your personal and professional aspirations with newfound confidence and beauty.
Reduce your risk of heart disease and other systemic health problems oral bacteria cause. Live a long, healthy, and fulfilled life with a clean mouth and gorgeous smile.
No more expensive dental bills—make every trip to the dentist as stress-free as possible. Save thousands of dollars and hours of your time when your oral health isn't an issue.
Why use a whitening electric toothbrush?
According to an extensive body of global clinical research, electric toothbrushes are up to 10 times more effective than their manual counterparts. Since teeth whitening is the most frequently requested dental procedure, combining the two just makes sense. Our toothbrush cleans and whitens simultaneously, reducing the amount of time needed for an at-home teeth whitening routine.
Customizable brushing experience
Equipped with a Quad Pacer, Smart Timer, and four distinct whitening modes, our whitening electric toothbrush makes it easy for everyone to brush exactly how they're supposed to. For users with sensitivity, the ability to configure lower-intensity vibrations makes brushing comfortable and safe. Those who want to focus on aesthetics can polish or whiten their teeth according to their individual needs.
Practical and affordable
Professional whitening treatments can cost upwards of $1,000. With the NatruSmile LED Whitening Electric Toothbrush, you get professional-grade whitening power at a fraction of the price. Light-activated whitening during brushing speeds up the whitening process while making it easy to incorporate into your daily brushing routine.
Every time you use it, the toothbrush will remember which mode you used and automatically apply it to future brushing sessions. It tells you when to switch quadrants and turns off after two minutes, so you can be sure you're properly cleaning and whitening your teeth every time you brush.
What's Included In Our LED Whitening Electric Toothbrush?
NatruSmile's whitening electric toothbrush has everything you need for safe brushing and whitening as part of your everyday routine.
Rechargeable Toothbrush Battery

The base of your brush, this handheld connects to the head to activate the LEDs and sonic vibrations.

2x Brush Heads

Soft-bristled brush heads offer advanced cleaning power and whitening capabilities without being too harsh.

Charger Base + USB

Conveniently charge at home or on the go with your travel-ready charger base. All you need is a plug-in or outlet.

Safe on sensitive teeth

Designed with sensitivity in mind, so you can painlessly achieve the results you deserve.

Dual Light Therapy

Blue LED light activates whitening agents in your toothpaste. Red LED light supports healthy gums.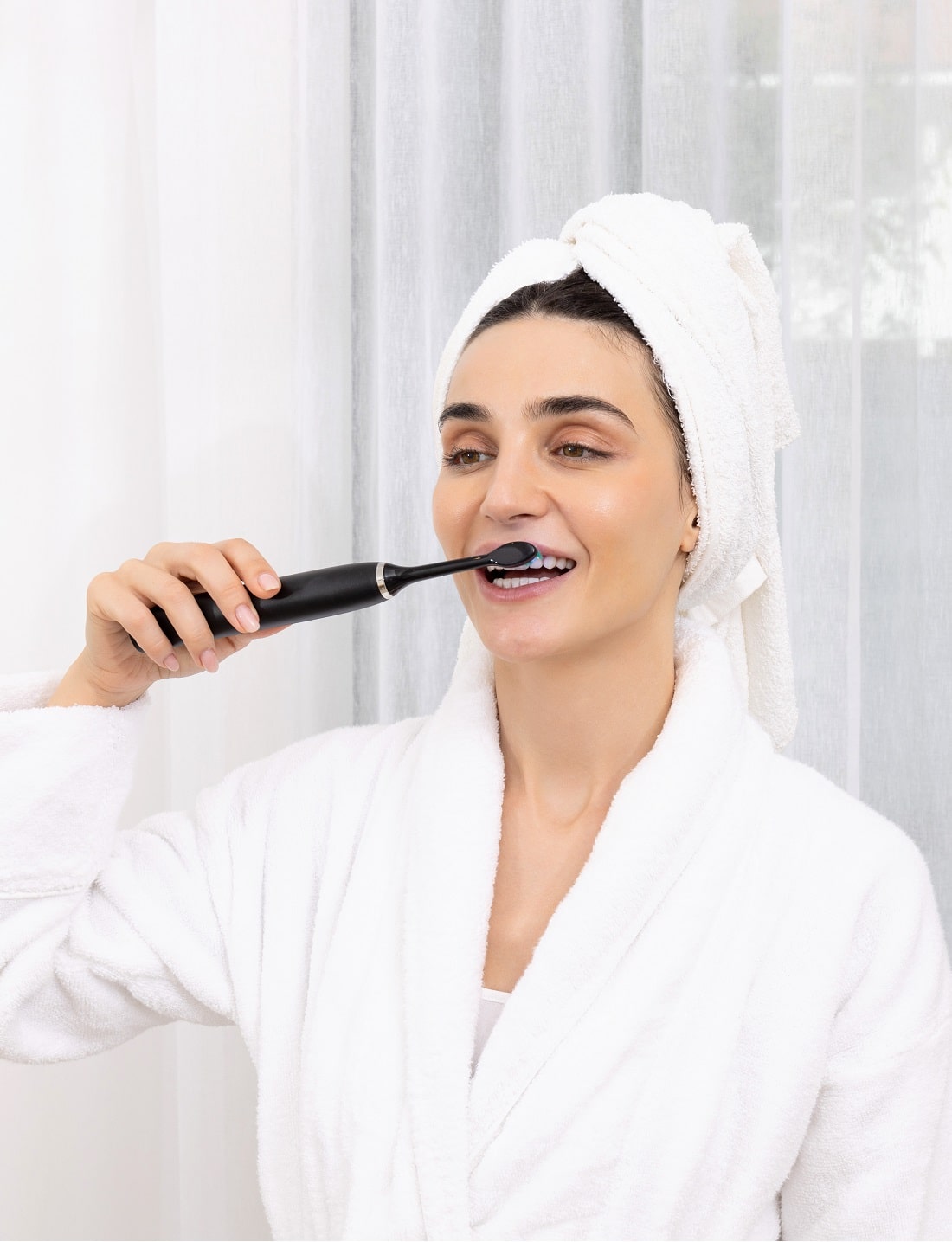 How Does Our Whitening Electric Toothbrush Work?
Once you squeeze the toothpaste onto the bristles, the toothbrush does most of the work for you. It uses over 50,000 sonic vibrations per minute to dislodge plaque and debris from your teeth.
Blue LED light boosts whitening while red LED light stimulates soft tissue, promoting overall oral health.
4 ways to shine
Get the most out of your NatruSmile LED Whitening Electric Toothbrush with four versatile whitening modes. Designed to cater to your unique oral care needs, each mode offers distinct benefits to elevate your brushing experience.
CLEAN mode diligently removes plaque with superior efficiency, thanks to its fast sonic vibrations. With lower-intensity vibrations, SENSITIVE offers a soothing brushing experience, minimizing discomfort while still providing a thorough clean. POLISH mode enhances your tooth surface's gloss using rapidly alternating vibration intensities within 0.1 seconds, focusing on the incisor area for a visibly whiter and brighter smile. Combat stubborn surface stains from coffee, tea, and more with WHITE mode.
Intelligent brushing
Achieve a thorough clean with the Quad Pacer and Smart Timer. The Quad Pacer's 30-second interval pause reminds you to switch sections, while the Smart Timer ensures you reach the dentist-recommended two minutes of brushing. Forgot which mode you need? Our smart toothbrush remembers your last used setting and automatically applies it the next time you brush.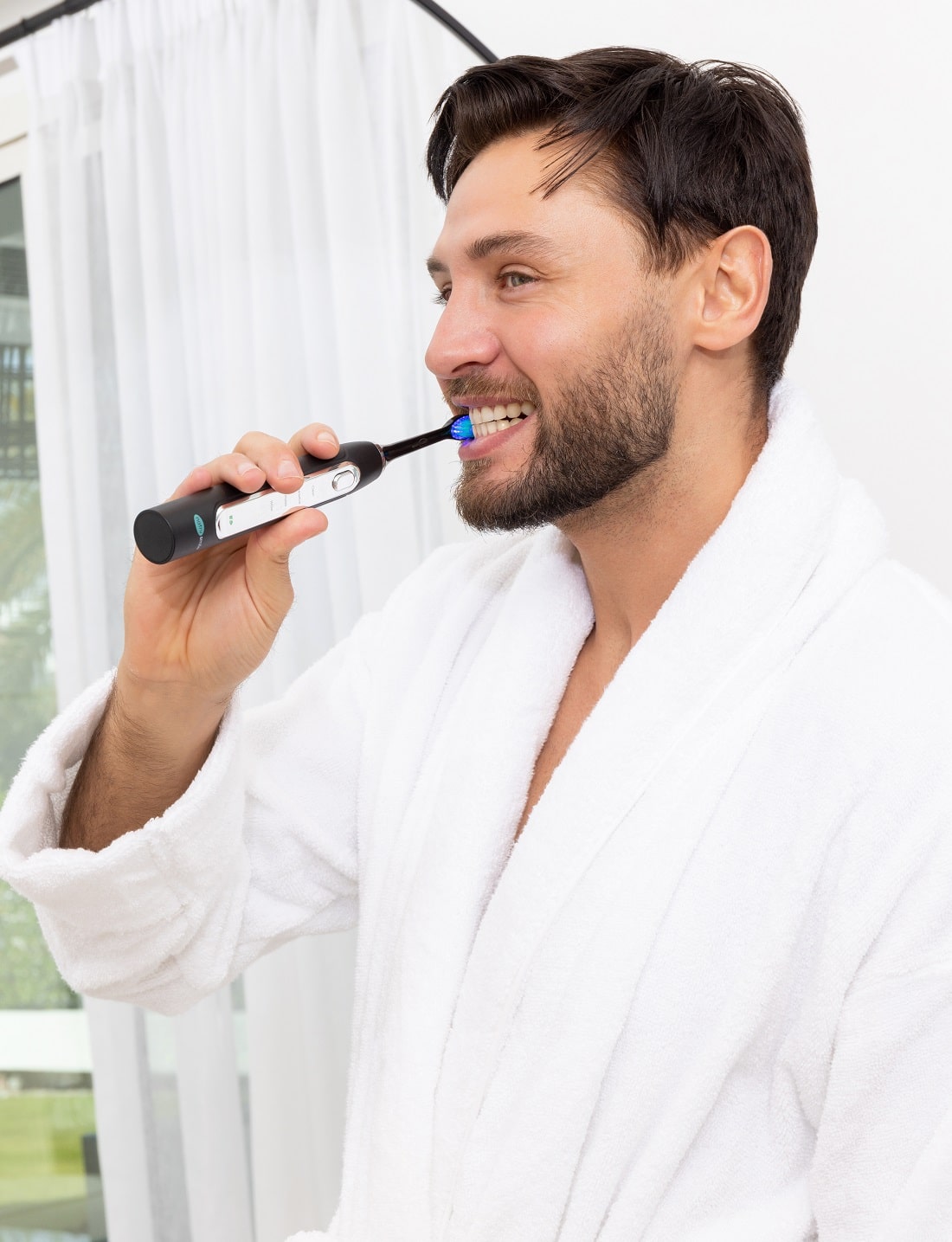 Do Electric Toothbrushes Whiten Teeth?
Not all electric toothbrushes are created equal. Although they are proven to clean your teeth better than regular toothbrushes, they cannot produce whitening effects on their own. That's why you need LED² Technology from the NatruSmile Whitening Electric Toothbrush and our whitening toothpaste for an added boost.
Sonic vibrations clean, LED whitens
The magic of electric toothbrushes lies in their ability to vibrate back and forth. As they move at high speeds, they make microscopic movements that dramatically increase the amount of plaque and bacteria they remove from your teeth and gums. 
The NatruSmile Toothbrush goes a step further, combining this with Red and Blue LED light technology. Red LED stimulates gums and adds an edge to cleaning while promoting overall gum health. Blue LED, on the other hand, activates the cleaning and whitening agents in your toothpaste, taking your oral care routine to a whole new level.
What to use with our Whitening Electric Toothbrush
To maximize the effectiveness of your NatruSmile Toothbrush, it's crucial to pair it with our specially formulated whitening toothpaste. Infused with PAP, a safe, non-abrasive, and peroxide-free whitening agent, our toothpaste gets a significant boost from the LED light in our toothbrush, catalyzing its whitening effects.
For an extra touch of brilliance, consider using our NatruSmile Whitening Mouthwash, designed to complement and enhance your brushing and whitening routine.
Recommended by Real Dentists
The science behind the NatruSmile LED Whitening Electric Toothbrush is proven. And we've got the endorsements to show for it.
Endorsed by Dr. Greg Grillo D.D.S
Dr. Greg Grillo, D.D.S., a US-based dental specialist, brings 28 years of experience in all facets of the dental profession. Dr. Grillo verifies and endorses all NatruSmile products, including our whitening electric toothbrush.
28 years serving patients
Experienced clinician
Dental Advisory board
Greg Grillo, D.D.S. earned his Doctor of Dental Surgery degree from the University of Washington School of Dentistry. He currently serves as an executive of Method Pro and sits on the advisory board for Quip.
Don't Just Take Our Word For It
Dozens of industry veterans recommend the NatruSmile LED Whitening Electric Toothbrush as an excellent way to achieve a whiter, healthier smile.
Home whitening and oral care excellence!
As a trusted dentist, I highly recommend the NatruSmile home whitening kit for achieving a brighter, more radiant smile. With its safe and effective formula, you can whiten your teeth conveniently from the comfort of your own home. You can truly experience professional-quality results with NatruSmile and achieve your dream smile!
Dr. Andrés Arias
Serving patients since 2018
5-star home treatment products that work!
My recommendation as a orthodontics of dento-factor facial orthopaedic specialist is that NatruSmile products are 5-star home treatment products that are perfect for young adults to use safely and effectively at home to achieve an awesome smile. I would highly recommended NatruSmile to anyone looking to improve their daily oral care routine.

Dr. Mai Abdelsalam
Orthodontics of dento-factor facial orthopaedic specialist
Eliminates problems with home whitening!
I recommend NatruSmile products because so many others that exist in the market come with problems. Either it does not whiten the teeth enough or they bring a lot of sensitivity and the process is very slow. NatruSmile products eliminates these problems and delivers a smile you always dreamed of in a short time, without pain and at a very competitive cost.
Dr. Daniel Echeverry
7 years as a specialist in oral rehabilitation or prosthodontist
Effective products that will improve your smile!
NatruSmile is a game-changer for improving your oral health and smile. They offer teeth whitening solutions, electric toothbrushes, and tongue scrapers to create a winning combination for a brighter, healthier mouth. These products are safe and effective at removing plaque and stains on the surface of your teeth and I highly recommend NatruSmile's products.
Amber Lust
8 years of dental assisting
Who Recommends Us?
From beauty and wellness to lifestyle and health, the people you follow trust NatruSmile's toothbrush for a brighter smile.
Our Happy Customers
Our most loyal customers are just like you. Hear what real people are saying about the NatruSmile LED Whitening Electric Toothbrush.
Better than retail branded ones!
I was skeptical at first about the whole LED technology, but after a few weeks of using the NatruSmile toothbrush along with NatruSmile whitening toothpaste, I've seen a noticeable difference. My teeth look visibly whiter and feel incredibly clean. Plus, I love how the toothbrush remembers my last setting so I don't have to configure it (seriously, what a smart feature).
Perfect for lazy people like me
I've always struggled with keeping a consistent oral care routine, but the NatruSmile toothbrush has changed that. The Intelligent Brushing feature is fantastic. It tells me when to switch sections, so I always brush for the recommended two minutes. And the battery life is nothing short of amazing — I usually get several weeks of use out of it.
I travel EVERYWHERE with this toothbrush…
I'm always on the go (I travel a lot for work), very stressful and the NatruSmile toothbrush has been an absolute lifesaver. The small charging base fits right into my toiletry bag or handbag, and the LED indicator takes the guesswork out of charging. On top of that, my teeth have never looked better. They're so much whiter and brighter now!
Safe on sensitivity, for real
I was a bit hesitant initially to try an electric toothbrush because my teeth and gums are quite sensitive. But the NatruSmile toothbrush has exceeded all my expectations. The SENSITIVE mode is gentle but effective, and the red LED light eases the pain on my surrounding gum tissue. I've noticed a considerable improvement in my oral health.
POLISH mode really shines my teeth!
Since I started using the NatruSmile toothbrush, my dentist has noticed a significant improvement in my oral health and ME too. The POLISH mode is my favorite - it gives my teeth that extra shine and leaves my mouth feeling super fresh each morning. I'm so glad I invested in this toothbrush and I seriously wish I knew about it sooner. LIFE saved!
A coffee drinker's best friend
I've been a coffee drinker for practically my whole life, so I had lots of stubborn stains on my teeth. I decided to try the NatruSmile toothbrush and I'm amazed at the results. The LED whitening works wonders and the WHITE mode has helped fade those tough coffee stains. I can confidently say this toothbrush is a game-changer.
Hayley S
28 weeks ago
Indianapolis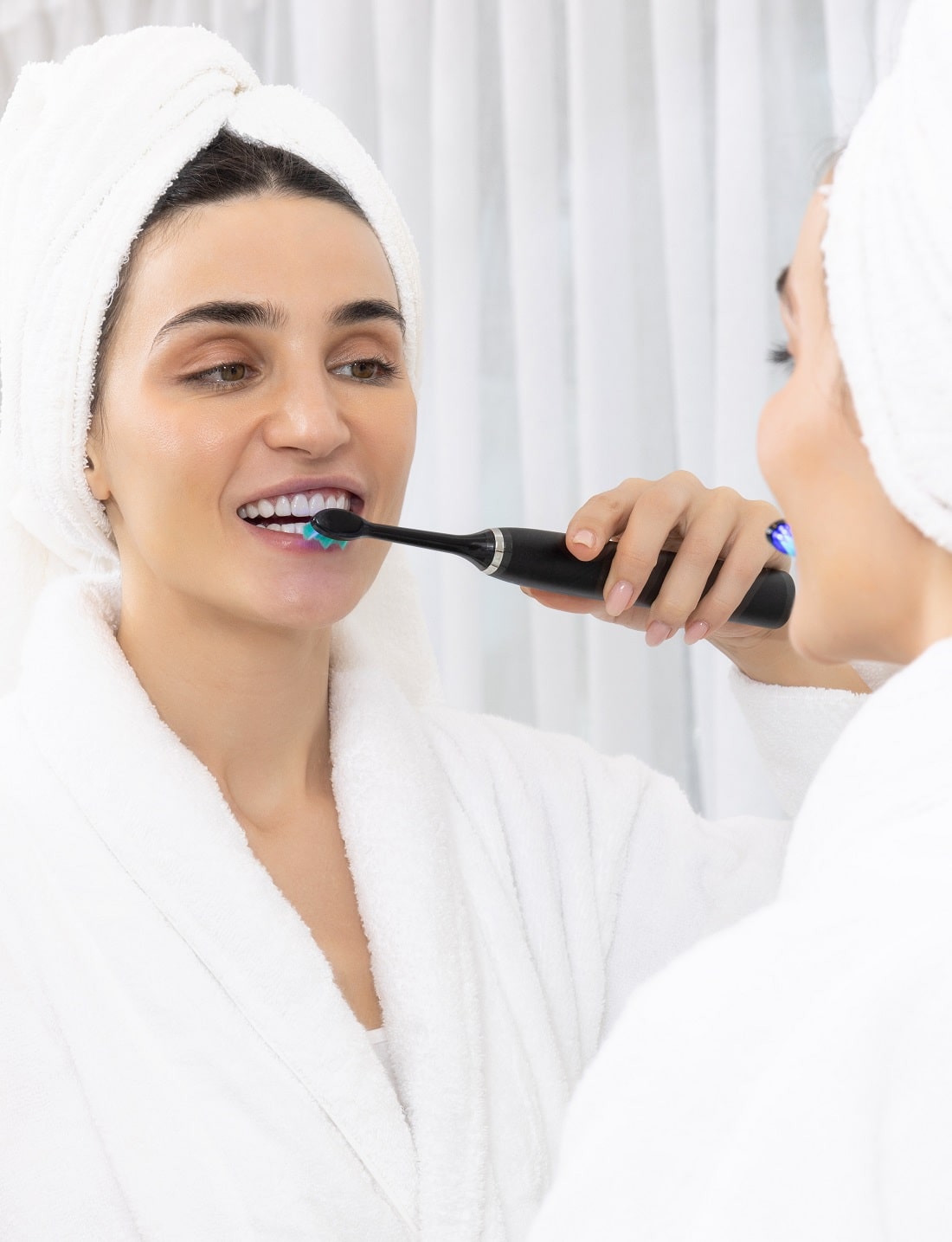 Are LED Whitening Electric Toothbrushes Safe?
Electric toothbrushes only receive the ADA Seal if the manufacturer proves their safety and effectiveness through research. When used correctly, electric brushing supports oral health without harming the gums or enamel. Most scientific studies show LED whitening as the best option for whitening teeth. There are, however, a few factors to consider before using either solution.
Brushing too hard or for too long
Brushing too hard can result in damage to tooth enamel and receding gums, both of which are irreversible. The high-frequency sonic vibrations are meant to make the process easier for you—if you apply the same amount of pressure you normally would, your gums may start to recede.
Brushing too long can also have more serious effects when using such a powerful toothbrush. That's why the NatruSmile LED Whitening Electric Toothbrush comes with a Quad Pacer and Smart Timer, to help you brush effectively while avoiding over brushing.
Over-whitening and sensitivity
Although NatruSmile products are safe for sensitive teeth, LED whitening is known for causing sensitivity in some users. When used as directed, LED technology helps keep sensitivity to a minimum. Like over-brushing, whitening for too long is also a major concern for those looking to use a whitening electric toothbrush. Only use a whitening toothpaste for 2 to 4 weeks once every six months to avoid potential enamel damage.
Whitening Electric Toothbrush FAQS
Still not sure about the NatruSmile Whitening Electric Toothbrush? Here are answers to the questions our customers ask us the most.
Is LED Electric Toothbrush safe for your teeth?
Like other electric toothbrushes, the NatruSmile LED Electric Toothbrush is safe for all adults to use. Its soft bristles ensure protection from gum recession and enamel erosion, even if users accidentally brush a little bit too hard. 
What makes our whitening electric toothbrush special is its safety for those with sensitive teeth as well. With both red and blue light brushing options, users with sensitive teeth can safely whiten their teeth as well.
Read our full article on teeth whitening safety.
Are teeth whitening electric toothbrushes bad for your teeth?
Teeth whitening electric toothbrushes are not bad for your teeth. The sonic motion of the brush, combined with its LED bulbs, actually helps to clean your teeth more thoroughly than a manual toothbrush.
Still, users should take caution not to whiten their teeth too often or for too long. Even though the NatruSmile toothbrush can be used every day, teeth whitening toothpaste should only be used for 2-4 weeks at a time to avoid overbleaching. Between whitening cycles, make sure to switch to a regular toothpaste to keep your teeth healthy and strong.
Another risk factor for electric toothbrushes is gum recession. Our electric toothbrush heads have soft bristles, but the movement can be hard on gums if brushing is done too hard. It's important to use medium and gentle brush strokes, allowing the LED bulbs and sonic motion to do the majority of the work.
Is an electric teeth-whitening toothbrush effective?
Reputable institutions have conducted definitive research that proves electric toothbrushes are more effective than their manually-operated counterparts at cleaning teeth and removing plaque buildup.
LED whitening has also been shown as effective in its own regard, with research demonstrating that LED lights can help break down the molecules responsible for teeth discoloration.
Like all at-home whitening products, the NatruSmile LED Electric Toothbrush will not yield as dramatic results as a professional treatment session. But, when accounting for its convenience, overall whitening ability, and cutting-edge technology, most NatruSmile customers consider it an effective option for healthy and brighter teeth.
Does the LED Electric Toothbrush cause sensitivity?
How much do electric teeth whitening toothbrushes cost on average?
Basic, battery-operated whitening electric toothbrushes can cost under $10. For rechargeable toothbrushes (like ours), the price can reach up to $300 for a complete set. Most products fall somewhere in the middle, and you don't need to buy the most expensive option to get the best results. 
The truth is, neither the most nor the least expensive electric toothbrush will always make the best choice. It all depends on what kind of features you're looking for and how often you plan to use it. The NatruSmile Whitening Electric Toothbrush is fairly priced at $89.99 (with heads included), making it the perfect balance between affordability and quality.
When will I see the results from my electric teeth whitening toothbrush?
Typically, a person with mildly stained teeth and no natural sensitivity can expect to see results after using the product for 7-14 applications. This, however, varies from person-to-person based on the severity of tooth discoloration or health deterioration.
Users with sensitive teeth may whiten fewer times or for a lesser amount of time, which can vary the results and timeline accordingly. Individuals who use their whitening toothbrush with regular toothpaste instead of whitening toothpaste will also see delayed or less spectacular results. Customers with progressed forms of tooth discoloration or underlying oral health problems will see more noticeable first-time results but generally take multiple weeks to realize the full benefit.
Which teeth-whitening electric toothbrush is the best?
To properly assess an electric toothbrush for effectiveness, prospective customers should evaluate it based on multiple criteria. Most importantly, shoppers should look for the ADA Seal of Acceptance. This seal indicates that the product has been rigorously tested in clinical and laboratory studies to verify its safety and effectiveness. 
Buyers should also look at the range of settings an electric toothbrush offers when evaluating whether it can meet their needs. Cleaning modes, settings, and different forms of oscillation or vibration (e.g., those built-in for sensitivity) should also be looked at.
In terms of value for the money, NatruSmile customers often find the low end to be too basic, the high end to be too expensive for the actual value they deliver. Look for a product that offers the most value at a reasonable price.
For more information, read our article, where we dive deep into each criteria and how to use it to gauge your toothbrush's effectiveness.
Take a look at the 14 Things to Consider When Buying an Electric Toothbrush.
Where can I buy an electric teeth-whitening toothbrush?
Whitening toothbrushes are less common in stores than teeth whitening strips and other whitening products. The best place to shop for an electric teeth whitening toothbrush is online. That way, you'll have the most options to compare between.
The NatruSmile LED whitening electric toothbrush is available for purchase here. NatruSmile teeth whitening electric toothbrushes are also available in select third-party brick-and-mortar and online retailers.
Does LED Electric Toothbrush damage your enamel?
When used as intended, the NatruSmile whitening electric toothbrush does not damage your enamel. Included with every purchase is a product manual that outlines the proper use of our toothbrush, such as brushing for two minutes twice a day and avoiding hard strokes on the gum.
How often do you use an electric teeth-whitening toothbrush?
Use your electric whitening toothbrush the same as you would any other toothbrush. Brush twice per day using gentle strokes, for two minutes each time. Make sure to brush every surface of your teeth, including the back and chewing surfaces.
You can use NatruSmile's whitening toothbrush every day or substitute it for your regular toothbrush whenever you need a brightening boost! With its four whitening modes, you'll always have options to choose from to get the perfect smile, even if you have sensitive teeth.
Large faq title here over a line