Your mouth deserves better. Clean and whiten your teeth sustainably with our teeth whitening toothbrush, designed for a healthier mouth and planet.
BPA-free
100% Moso bamboo
Biodegradable
Eco-friendly packaging
Your mouth deserves better. Clean and whiten your teeth sustainably with our teeth whitening toothbrush, designed for a healthier mouth and planet.
BPA-free
100% Moso bamboo
Biodegradable
Eco-friendly packaging
Regular price
Sale price
$21.99
Unit price
per
Sale
Sold out
Shipping calculated at checkout.
Bundle and Save
Split your payments up with
View full details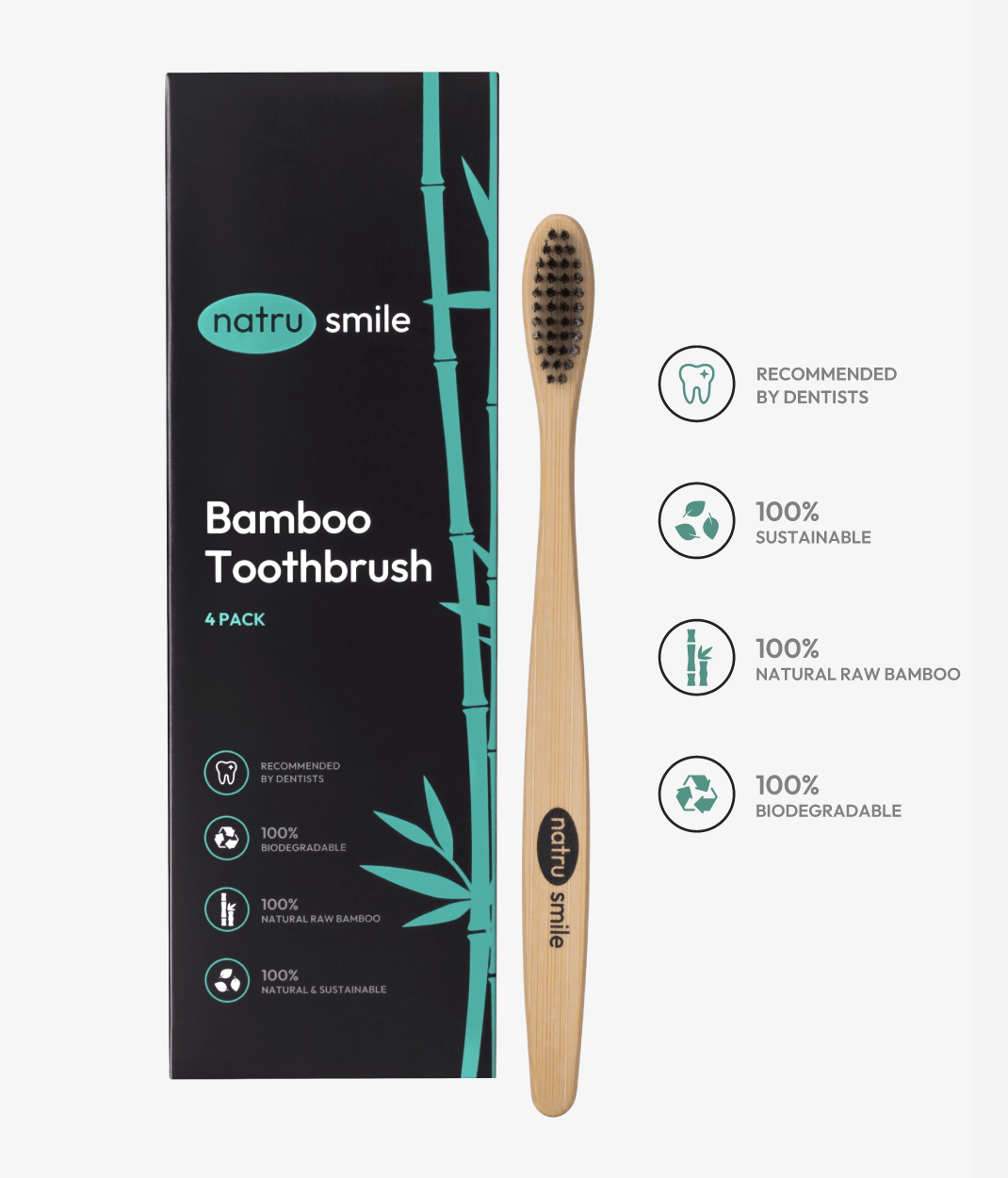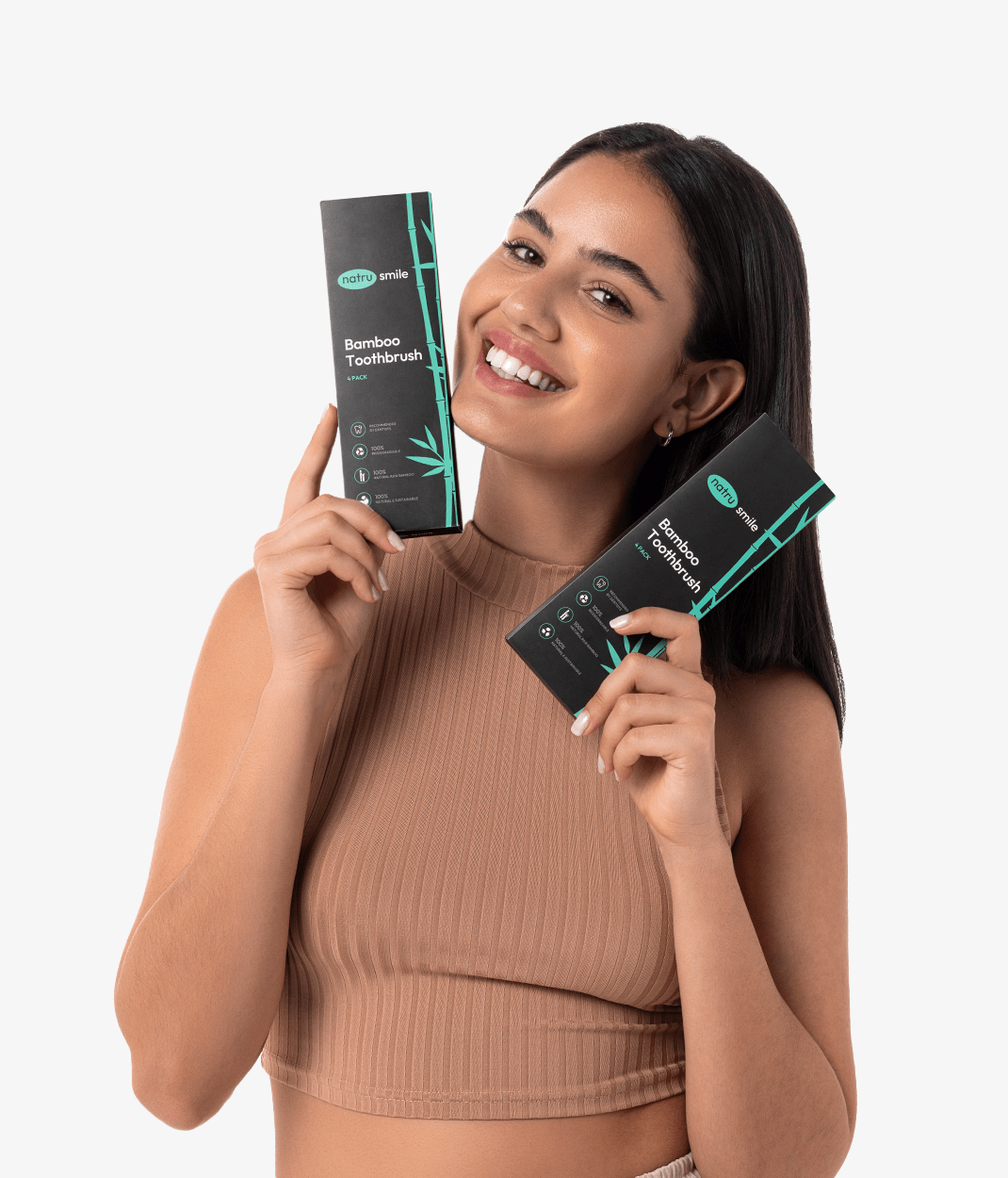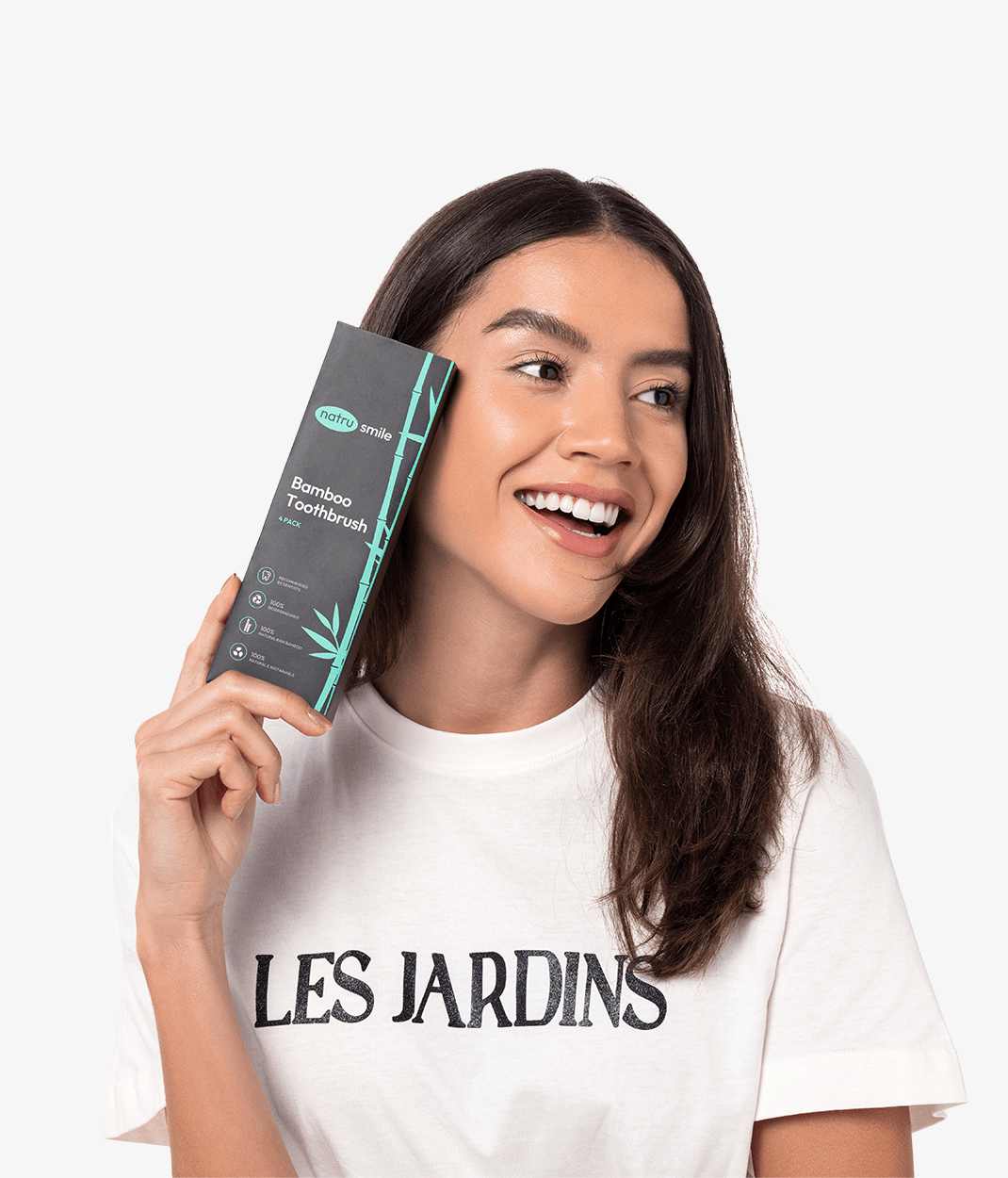 Benefits

Our natural and sustainable bamboo toothbrush whitens your teeth without putting nasty chemicals in your body.

How to use

Add toothpaste, brush for 2 minutes, and enjoy the benefits of a whiter, cleaner, and healthier smile.

Shipping & returns

We happily ship worldwide and offer hassle-free returns. All products are available for immediate shipping.

Ingredients

Antimicrobial bristles and 100% Moso bamboo work with your toothpaste for the most hygienic cleaning and whitening.
Whiten your teeth, brighten your life.
How to use video
As featured in
How to Use Our Teeth Whitening Toothbrush
Master your oral care routine with these four easy steps. All you need is whitening toothpaste and your new bamboo toothbrush for a sanitary and hygienic clean.
Apply whitening toothpaste

Add a pea-sized dollop of toothpaste and quickly wet it to prepare for brushing. Use NatruSmile Teeth Whitening Toothpaste to achieve the best possible results.

1

Brush your teeth

Aim your toothbrush at a 45-degree angle to your gums for optimal plaque-fighting power. Brush in circular motions to ensure all surfaces get a good scrub.

2

Rinse and smile

After two minutes of brushing, spit out the toothpaste. Rinse your mouth and bristles with clean water. Then, marvel in the mirror at your new pearly-white smile.

3

Air-dry your brush

Once finished, leave your toothbrush out to air-dry until the next time you use it. Replace the brush every 2-3 months for optimal scrubbing power.

4
Before & After results
Whether you realize it or not, your toothbrush's nylon bristles expose you to harmful toxins. When whitening your teeth, natural ingredients keep your enamel strong and whiten them faster.
Before
Poor brushing habits and everyday wear-and-tear lead to plaque, stains, and discoloration. Regular toothbrushes leave behind chemical residue that dulls your smile even more.
Unhealthy teeth
Tough nylon bristles cause gum recession and increased tooth sensitivity while brushing. Once your gumline recedes and your enamel is worn down, the damage is irreversible.
Oral bacteria growth is linked to several systemic health problems, including heart disease, respiratory diseases, osteoporosis, rheumatoid arthritis, and several types of cancer.
BPA exposure increases your risk of cancer, hormonal disruption, and reproductive disorders. It enters your body through the pores of your teeth and gums, putting you at risk.
Whitening treatments put additional strain on your mouth, amplifying the risks of harsh materials. If you use the wrong toothbrush, you'll experience far more sensitivity during the process.
After
Without BPAs, microplastics, and nasty chemical byproducts in the way, your toothpaste is able to do what it does best: clean your mouth and brighten your smile.
A healthy smile
Soft-bristled toothbrush is gentle on sensitive teeth and protects the delicate gum tissue. When you brush properly, you won't irreversibly erode your gumline or cause enamel microabrasion.
Antibacterial materials reduce the risk of systemic health problems oral bacteria cause. Lower bacteria count in your oral cavity reduces your risk for many serious health conditions.
Keep cancer-causing chemicals from seeping into your bloodstream through your mouth. The mouth is one of the fastest entry points for toxins, and avoiding them is a critical protective measure.
Get the most out of your whitening with the toothbrush that protects your teeth and gums. Minimize sensitivity by using a toothbrush that's specifically made for teeth whitening.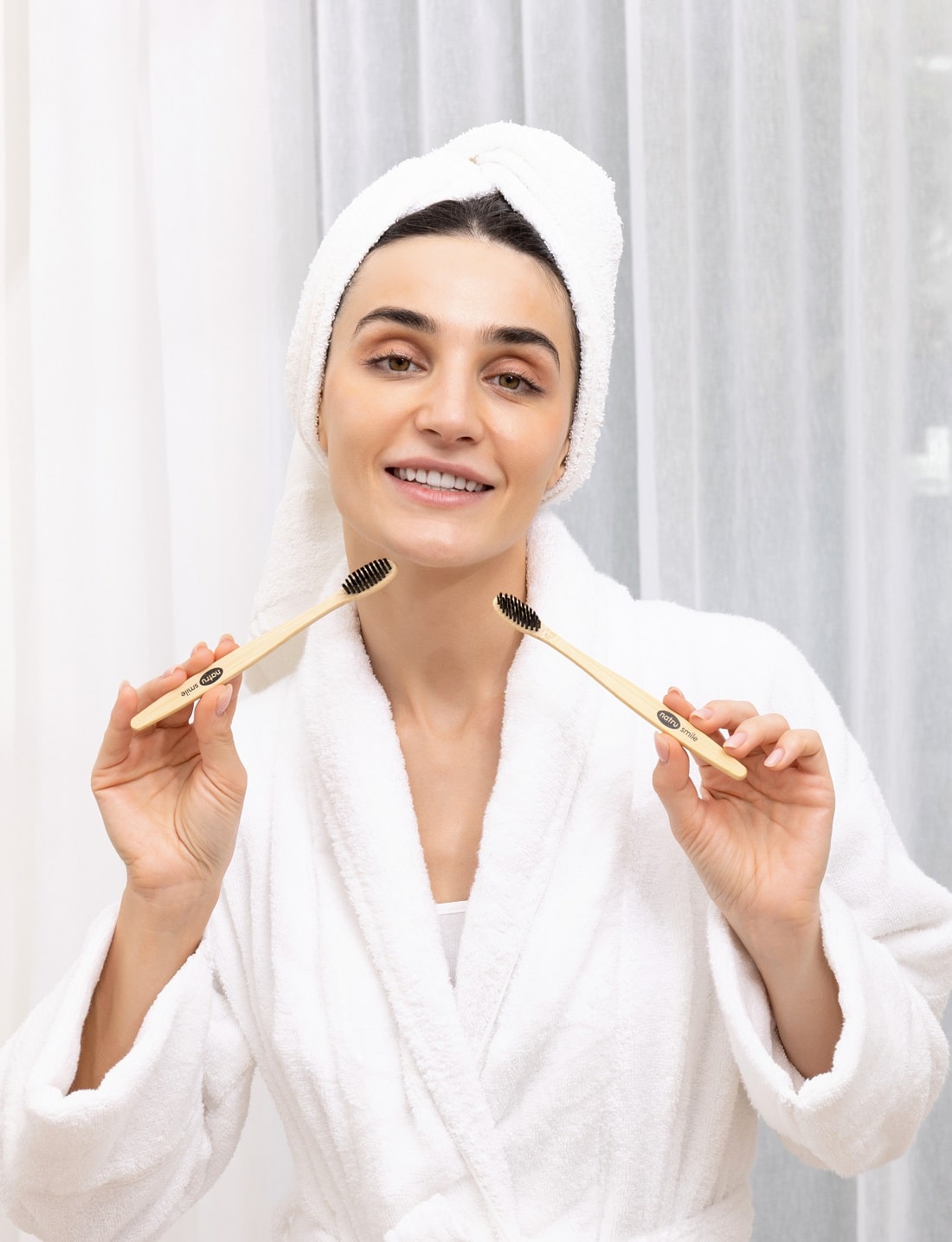 Why use a teeth whitening toothbrush?
BPA, PVC, phthalates, and microplastics are found in everything from canned foods to toys, and they're also hiding in your toothbrush. When you brush your teeth with a traditional nylon toothbrush, these toxins leach into your bloodstream, risking your future health. While you're whitening, your teeth are even more vulnerable to these harmful materials. Our 100% Moso bamboo toothbrush is chemical-free, biodegradable, and eco-friendly, so you can whiten your teeth safely and protect the environment at the same time.
No plastics and chemicals
Numerous studies have linked the plastics in synthetically-manufactured toothbrushes to cancers, reproductive harm, high blood pressure, type 2 diabetes, heart disease, and other severe complications when they seep into your bloodstream.
When you brush your teeth, these chemicals enter your body through your gums, enamel pores, tongue, and cheeks. When you use an all-natural toothbrush, you won't have to worry about these particles entering your system.
Hygienic cleaning and whitening
When your teeth are going through a whitening treatment, they need a little extra TLC. Soft-bristled natural toothbrushes are gentle on sensitive teeth and gums, protecting them from additional strain during whitening. Using the NatruSmile teeth whitening Toothbrush ensures optimal plaque removal while giving you whiter teeth safely and naturally. Since it's made from 100% Moso bamboo and antibacterial bristles, it'll ward off even more harmful plaque.
What's included in our teeth whitening toothbrush?
NatruSmile's Moso bamboo teeth whitening toothbrush includes everything you need for a safe oral hygiene routine.
Antibacterial bristles

Soft-bristled brush heads offer advanced cleaning power and whitening capabilities by eliminating harmful oral bacteria.

Moso bamboo handle

Moso bamboo is lightweight, sustainable, and 100% natural, so you can brush without exposing yourself to BPA and phthalates.

100% biodegradable

When you throw away your toothbrush, it won't take up landfill space. Sustainable materials ensure nothing goes to waste.

Eco-friendly packaging

Our recyclable packaging keeps your toothbrush away from dyes and plastics and contributes to a greener planet.

Ideal for sensitive teeth

The millions with tooth sensitivity find relief with NatruSmile, thanks to its soft bristles that protect the soft gum tissue.
How does a teeth whitening toothbrush work?
Once you squeeze your toothpaste on the bristles, you're ready to start brushing.
Gently brush your teeth with the soft bristles and circular motions for at least 2 minutes.
Focus on each section of your mouth, paying special attention to any existing stains or discoloration.
Deep cleaning capabilities
When you brush your teeth with our whitening toothbrush, you're in for a deep clean. Bamboo fibers and our toothbrush bristles are naturally antibacterial, meaning that they amplify the benefits of anticavity toothpaste to eliminate even more of the bacteria that cause cavities, bad breath, and staining.
Safer whitening solution
When you use our toothbrush together with your chosen whitening product, you'll get the most out of your whitening experience. Whether you're brushing with a hydrogen peroxide solution or using an abrasive, our gentle bristles are designed to minimize the side effects of teeth whitening. Since it's free from toxic chemicals, you can rest assured that the only residue on your teeth is meant to whiten and strengthen them.
Best results with NatruSmile Whitening Toothpaste
Our non-abrasive hydrogen peroxide teeth whitening toothpaste is one of the best ways to achieve whiter teeth. It's proven safe, FDA-approved, and has everything your teeth need to strengthen and whiten. Replacing your toothbrush and toothpaste adds nothing more to your current routine—it just improves your results.
Why a bamboo toothbrush is better for our planet
Your regular toothbrush does more harm than you think. Manufactured using a combination of petroleum-based plastic and rubber, they create detrimental by-products that emit hazardous chemicals into the atmosphere. A considerable number of plastic toothbrushes ultimately find their way to landfills and oceans. Bamboo toothbrushes offer a solution to this detrimental problem.
Bamboo toothbrushes are biodegradable
In the UK alone, approximately 264 million toothbrushes are discarded annually. In the US, that figure is around 1 billion. The plastics in these break down into harmful microplastics, which pollute our oceans, rivers, and beaches. Over time, they infiltrate our food chain. Now, the average person ingests as much as 5 grams of plastic per week (equivalent to one credit card).
Plastic toothbrushes also accumulate in landfills, causing further ecological issues. Our bamboo toothbrush is biodegradable—after its 2-3 month lifespan, it will not adversely affect the environment for millions of years.
Bamboo is a renewable resource
Bamboo is a renewable and eco-friendly resource, characterized by its rapid growth rate and minimal dependence on detrimental pesticides or fertilizers. And since it grows from the ground, it doesn't create any nasty chemicals (like BPA) during production.
Our organic bamboo toothbrush also doesn't require a carbon-intensive manufacturing process like plastic brushes do. Since it's made from a material that already exists, manufacturing is much faster and less complex.
Recommended by Real Dentists
The protection the NatruSmile Teeth Whitening Toothbrush provides is heavily researched. And we've got the endorsements to show for it.
Endorsed by Dr. Greg Grillo D.D.S
Dr. Greg Grillo, D.D.S., a US-based dental specialist, brings 28 years of experience in all facets of the dental profession. Dr. Grillo verifies and endorses all NatruSmile products, including our natural and sustainable whitening toothbrush.
28 years serving patients
Experienced clinician
Dental Advisory board
Greg Grillo, D.D.S. earned his Doctor of Dental Surgery degree from the University of Washington School of Dentistry. He currently serves as an executive of Method Pro and sits on the advisory board for Quip.
Don't Just Take Our Word For It
Dozens of industry veterans recommend the NatruSmile Teeth Whitening Toothbrush as a safer and more sustainable alternative to traditional brushing.
Home whitening and oral care excellence!
As a trusted dentist, I highly recommend the NatruSmile home whitening kit for achieving a brighter, more radiant smile. With its safe and effective formula, you can whiten your teeth conveniently from the comfort of your own home. You can truly experience professional-quality results with NatruSmile and achieve your dream smile!
Dr. Andrés Arias
Serving patients since 2018
5-star home treatment products that work!
My recommendation as a orthodontics of dento-factor facial orthopaedic specialist is that NatruSmile products are 5-star home treatment products that are perfect for young adults to use safely and effectively at home to achieve an awesome smile. I would highly recommended NatruSmile to anyone looking to improve their daily oral care routine.

Dr. Mai Abdelsalam
Orthodontics of dento-factor facial orthopaedic specialist
Eliminates problems with home whitening!
I recommend NatruSmile products because so many others that exist in the market come with problems. Either it does not whiten the teeth enough or they bring a lot of sensitivity and the process is very slow. NatruSmile products eliminates these problems and delivers a smile you always dreamed of in a short time, without pain and at a very competitive cost.
Dr. Daniel Echeverry
7 years as a specialist in oral rehabilitation or prosthodontist
Effective products that will improve your smile!
NatruSmile is a game-changer for improving your oral health and smile. They offer teeth whitening solutions, electric toothbrushes, and tongue scrapers to create a winning combination for a brighter, healthier mouth. These products are safe and effective at removing plaque and stains on the surface of your teeth and I highly recommend NatruSmile's products.
Amber Lust
8 years of dental assisting
Who Recommends Us?
From beauty and wellness to lifestyle and health, the people you follow trust NatruSmile's whitening toothbrush to achieve brilliant results without nasty toxins.
Our Happy Customers
Just like you, our loyal customers came here for a healthy and vibrant new look. Hear what they have to say about the NatruSmile Teeth Whitening Toothbrush.
I'm all for sustainable products!
The NatruSmile Whitening Toothbrush is everything I look for in an eco-friendly product - it's eco-friendly, made from organic materials, and the packaging is biodegradable. Plus, it's safe on my sensitive teeth and the bristles provide hygienic cleaning. For me, that's far better than a plastic toothbrush.
I made the switch, and I love them!
I'm a big fan of NatruSmile's whitening toothpaste, so I researched the materials that make up their toothbrush and gave it a try. It's made from Moso bamboo, with no plastics or chemicals involved. Using this with the NatruSmile whitening toothpaste seems to be the perfect combo.
A solid choice for eco-conscious customers
I consider myself to be very eco-conscious - I constantly track my carbon footprint and take active measures to put my money where my mouth is. NatruSmile is a brand I can happily support knowing they mean what they say on their packaging and still manage to deliver on the results and great products!
Highly durable, great-value for money.
One of my biggest problems with bamboo products is their tendency to split down the middle after a relatively short period. The NatruSmile bamboo toothbrush is as durable as everyone else says it is - a 4-pack lasted me for over a year. To me, $20 for a year's worth of all-natrual, reliable toothbrushes is a great deal.
Perfect for my sensitive teeth!
I have sensitive teeth and was worried about using a whitening toothbrush, but I knew I needed to hunt for one that wouldn't leach toxic BPA into my system. The antimicrobial bristles have made my mouth noticeably cleaner, and I have peace of mind knowing I'm doing something good for my whole body, not just my teeth.
Nice design for easy brushing
Mechanical toothbrushes tend to be clunky, but the NatruSmile bamboo toothbrush is nimble enough to get in the very back of my mouth. For the first time in a while, I feel like I'm able to get complete coverage and antiplaque protection when I brush my teeth. It works well with NatruSmile whitening toothpaste as well.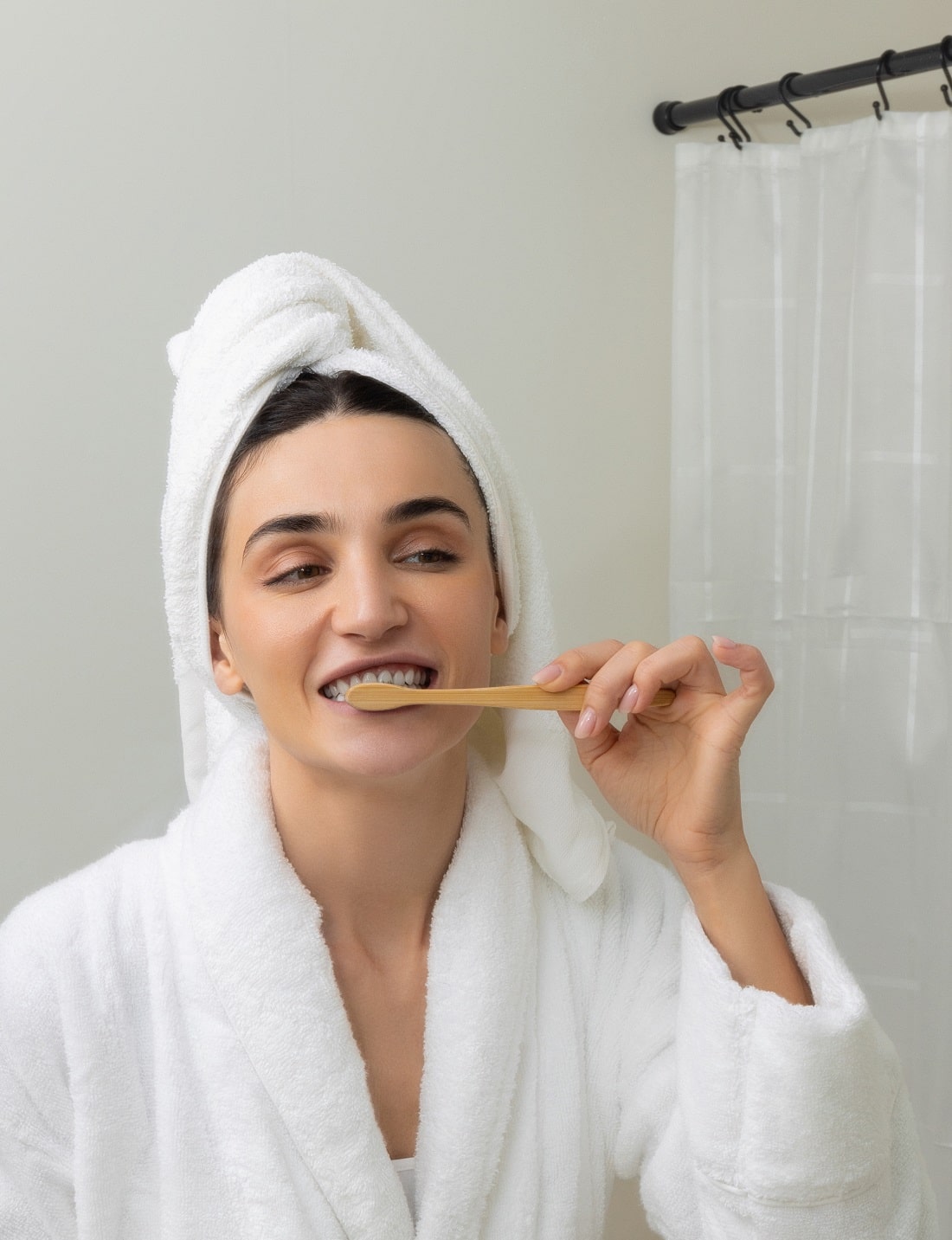 Are teeth whitening toothbrushes safe?
The ADA recommends using a soft-bristled toothbrush to avoid damaging your teeth and gums. But the organization offers its Seal of Acceptance based on whether or not a brush safely removes plaque from the surface of your teeth, neglecting chemical safety. That's why we're on a mission to deliver the safest, most natural, and most sustainable whitening toothbrush out there. But even when using our safe products, there are a few safety concerns to account for.
Brushing too hard or too long
Brushing too hard or long can damage tooth enamel and promote gum recession, both of which are irreversible. The soft bristles on our toothbrush negate some of this risk, but you should always brush gently for the correct amount of time.
Using abrasive whitening products
Using abrasive toothpastes with your whitening toothbrush can actually cause more harm than good. We don't just recommend our whitening toothpaste for promotional purposes—we recommend it because it's made with hydrogen peroxide, an effective and non-abrasive whitening agent that deeply penetrates the enamel.
Over-whitening and sensitivity
Although NatruSmile products are safe for sensitive teeth, some customers are tempted to whiten more than they should. Overuse of any whitening product is harmful. Our whitening toothbrush and toothpaste are meant to provide great results without adding effort to the traditional oral care routine.
Whitening Toothbrush FAQs
Still not sure about the NatruSmile Teeth Whitening Toothbrush? Here are answers to the questions our customers ask us the most.
Which toothbrush is the best for teeth whitening?
There are hundreds of different toothbrushes out there, which makes it hard to pick the right one. When going through a whitening treatment, there are a few additional considerations before making a purchase.
Most importantly, remember your teeth will be increasingly sensitive during whitening. The ADA always recommends using a soft-bristled toothbrush, but using one is even more critical during whitening treatment. Even if you aren't prone to sensitivity, whitening treatments are designed to penetrate your enamel pores to lift stains, and an overly-abrasive toothbrush will cause discomfort and irritate your gums (which also come in contact with the whitening agent).
After whitening, your main concern will be maintaining the results of your treatment. Proper oral care goes a long way—to maximize your whitening results, you need to brush twice daily. Plastic toothbrushes are the most common, but they leave behind harmful residues that linger on your teeth and enter your bloodstream.
We proudly stand behind our bamboo toothbrush as one of the best, and so do verified dental professionals and numerous NatruSmile customers. Our antibacterial bristles eliminate more bacteria than toothpaste alone and our chemical-free bamboo handle won't release harmful toxins.
Where can I buy a teeth whitening toothbrush?
Your new pack of NatruSmile teeth whitening toothbrushes is available for immediate purchase at the top of this page. We happily ship worldwide, so your location won't be a barrier to a brighter and healthier smile. Alternatively, you can find our toothbrushes at select online outlets and retail stores.
Other NatruSmile products including our teeth whitening toothpaste (works best with our toothbrush), at-home LED whitening kits (perfect for professional-level whitening), and whitening mouthwash (ideal for ongoing maintenance and surface stains) are available for international shipping via the links above.
Does a teeth whitening toothbrush damage your enamel?
Teeth whitening toothbrushes only damage your enamel if their bristles are too rough. NatruSmile's toothbrush bristles are made of soft, biodegradable materials designed to ease the sensitivity and discomfort that may accompany your teeth whitneing treatment. This eliminates the risk of enamel erosion, gum recession, and other dental issues while improving the overall whitening effects of your treatment.
When combined with NatruSmile Teeth Whitening Toothpaste and NatruSmile Teeth Whitening Mouthwash, our whitening toothbrush plays a critical role in scrubbing, strengthening, and protecting your teeth and gums.
How often can you use a teeth whitening toothbrush?
You should use your teeth whitening toothbrush just as you would a regular toothbrush. Brushing your teeth twice per day (ideally, once in the morning and once at night) is the general consensus among oral health professionals.
Avoid overusing your teeth whitening toothbrush. Using it more frequently than recommended won't produce a higher degree of whitening—it will only damage your enamel and increase the chance of developing sensitivity.
Are teeth whitening toothbrushes bad for your teeth?
Some teeth whitening toothbrushes are bad for your teeth and can potentially compromise your overall health. Any toothbrush that claims to whiten your teeth through abrasion from hard bristles is unsafe.
Toothbrushes that contains bisphenol A (BPA), polyvinyl chloride (PVC), nylon-6, or other synthetic materials might not cause direct harm to your teeth, but toxins and microplastics from these products leach into your bloodstream and increase your risk of serious health conditions like cancer, endocrine disruption, reproductive toxicity, and immune system damage.
Alternatively, the NatruSmile Teeth Whitening Toothbrush is good for your teeth. Since it has the power to eradicate plaque-causing bacteria, it actually works together with your anticavity toothpaste to strengthen and protect your enamel.
Are teeth whitening toothbrushes effective?
Teeth whitening toothbrushes that use bamboo instead of synthetic plastics are equally effective at cleaning the surfaces of your mouth, according to clinical research. One comparative study even found its retention of Candida—the bacteria that primarily causes chronic bad breath—was slightly better than a conventional plastic toothbrush.
Since bamboo is antimicrobial, antibacterial, and antifungal, those who use a teeth whitening toothbrush made from natural bamboo have the added benefit of killing off a greater number of microbes. This enhances both the current results and longevity of the whitening treatment.
Will a teeth whitening toothbrush cause sensitivity?
Unfortunately, sensitivity is a common side effect of teeth whitening. Even for those who don't use whitening products, sensitivity affects millions of people. Since whitening toothbrushes don't contain the actual bleaching agents, they aren't the cause of sensitivity.
Instead, using a teeth whitening toothbrush with soft bristles can help improve your overall dental hygiene and prevent sensitivity from occurring in the first place. The NatruSmile Teeth Whitening Toothbrush is designed to be gentle on your enamel and gums, so it won't worsen any existing sensitivity issues or create new ones.
How much does a teeth whitening toothbrush cost on average?
How much your teeth whitening toothbrush costs depends on whether you purchase an electric LED toothbrush or a traditional one. Electric whitening toothbrushes can cost up to $300, but most cost between $50 and $150.
Regular toothbrushes are much less expensive, ranging between $5 and $30. A 4-pack (year-long supply) of our bamboo toothbrushes costs just $21.96 on our website. If you choose to purchase whitening toothbrushes for your whole family, we offer volume discounts for packs of 8 and 12.