Smile like a celebrity without the price tag. NatruSmile Teeth Whitening Strips safely lift stains from your teeth, leaving you with a bright, confident smile.
Professional-level whitening
Removes years of stains
Enamel-safe formula
Organic ingredients
Smile like a celebrity without the price tag. NatruSmile Teeth Whitening Strips safely lift stains from your teeth, leaving you with a bright, confident smile.
Professional-level whitening
Removes years of stains
Enamel-safe formula
Organic ingredients
Regular price
Sale price
$27.99
Unit price
per
Sale
Sold out
Shipping calculated at checkout.
Bundle and Save
Split your payments up with
View full details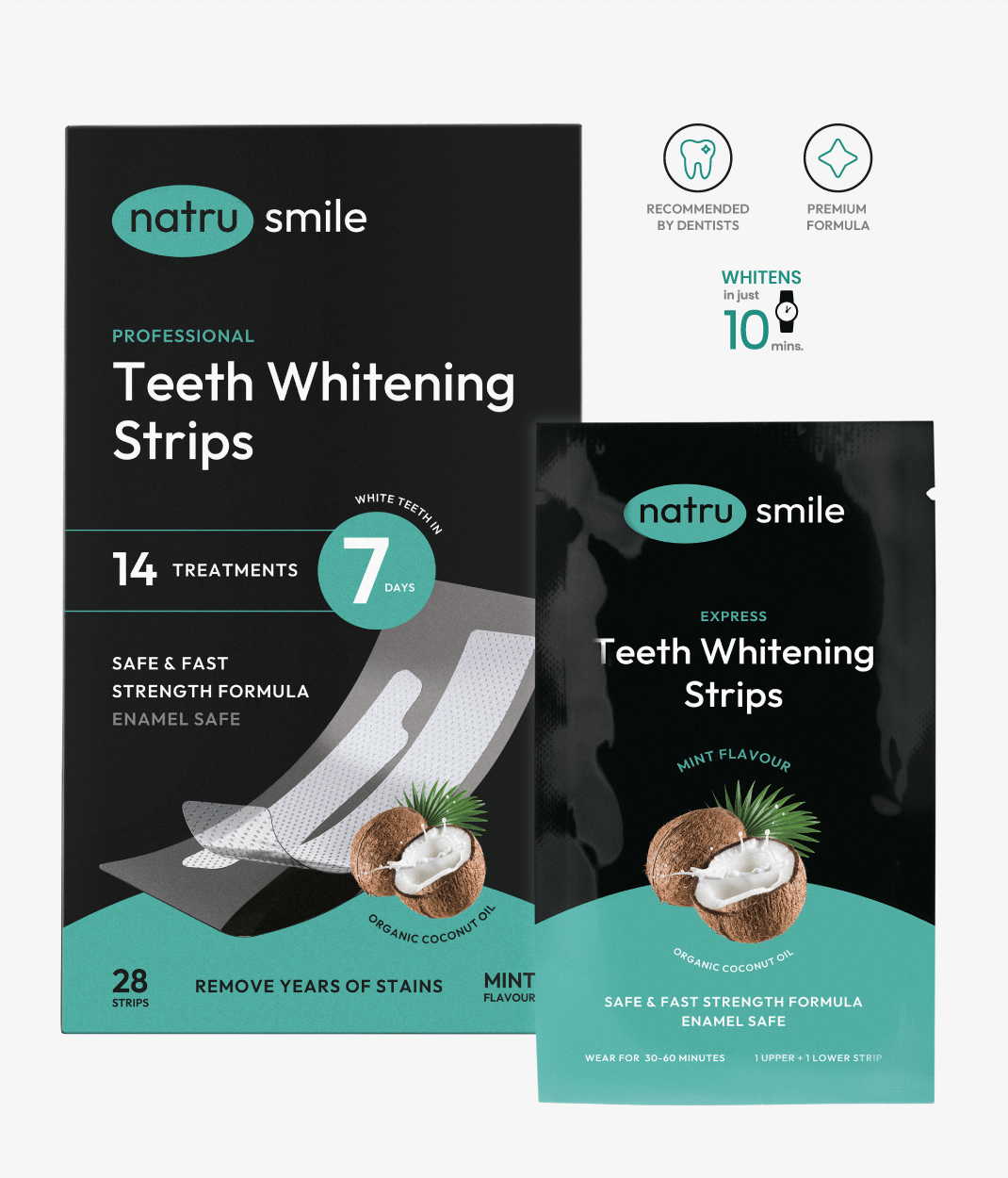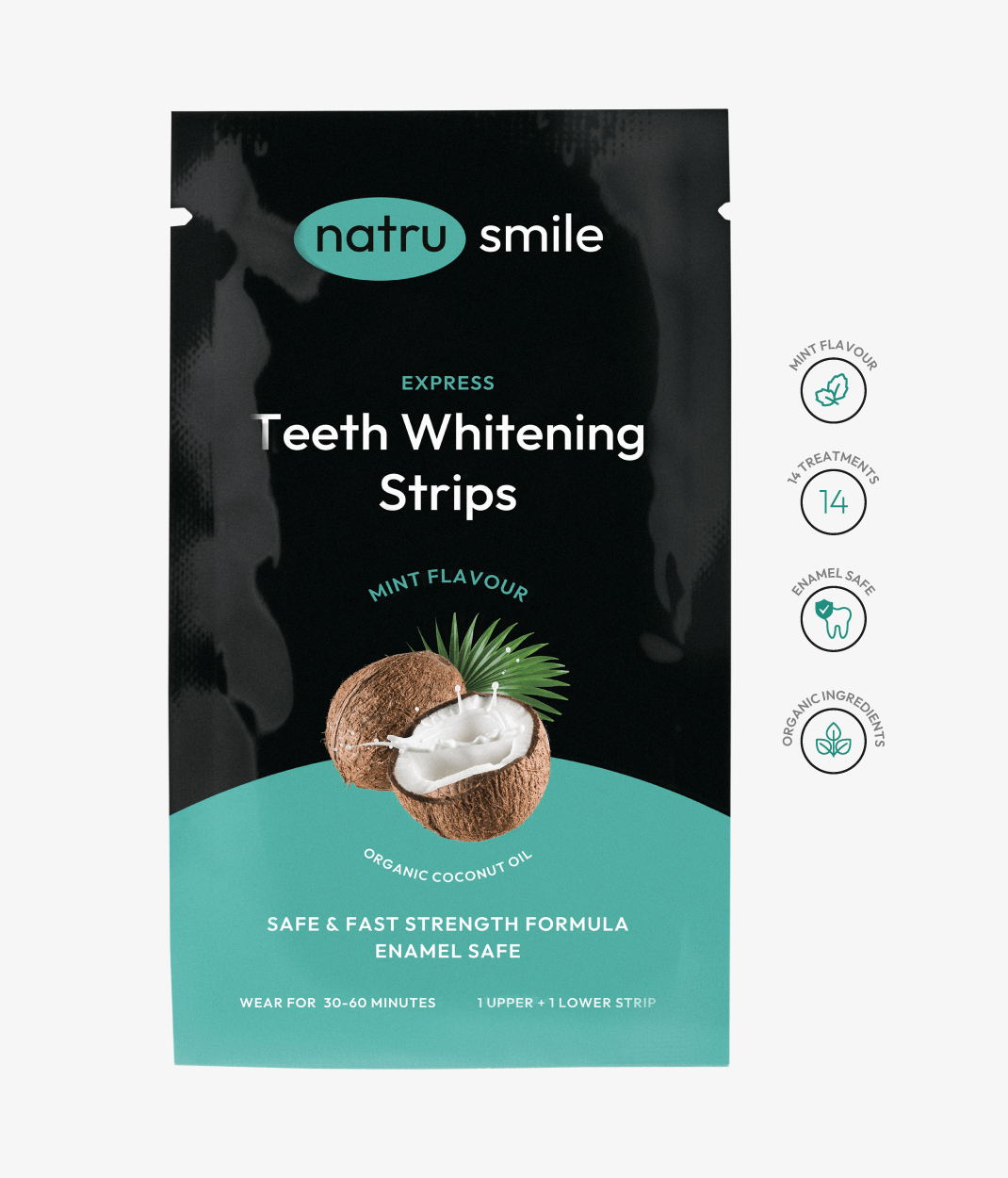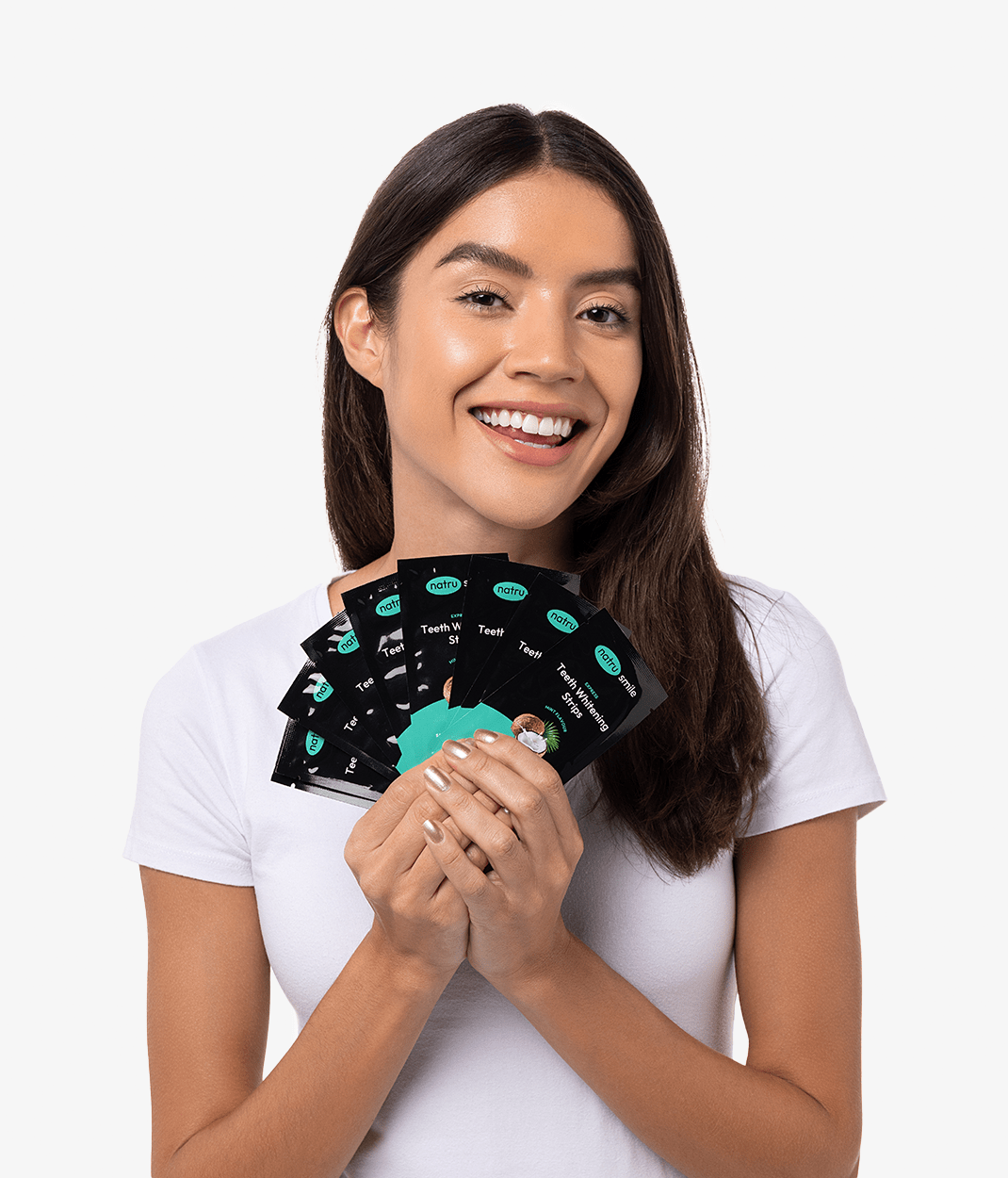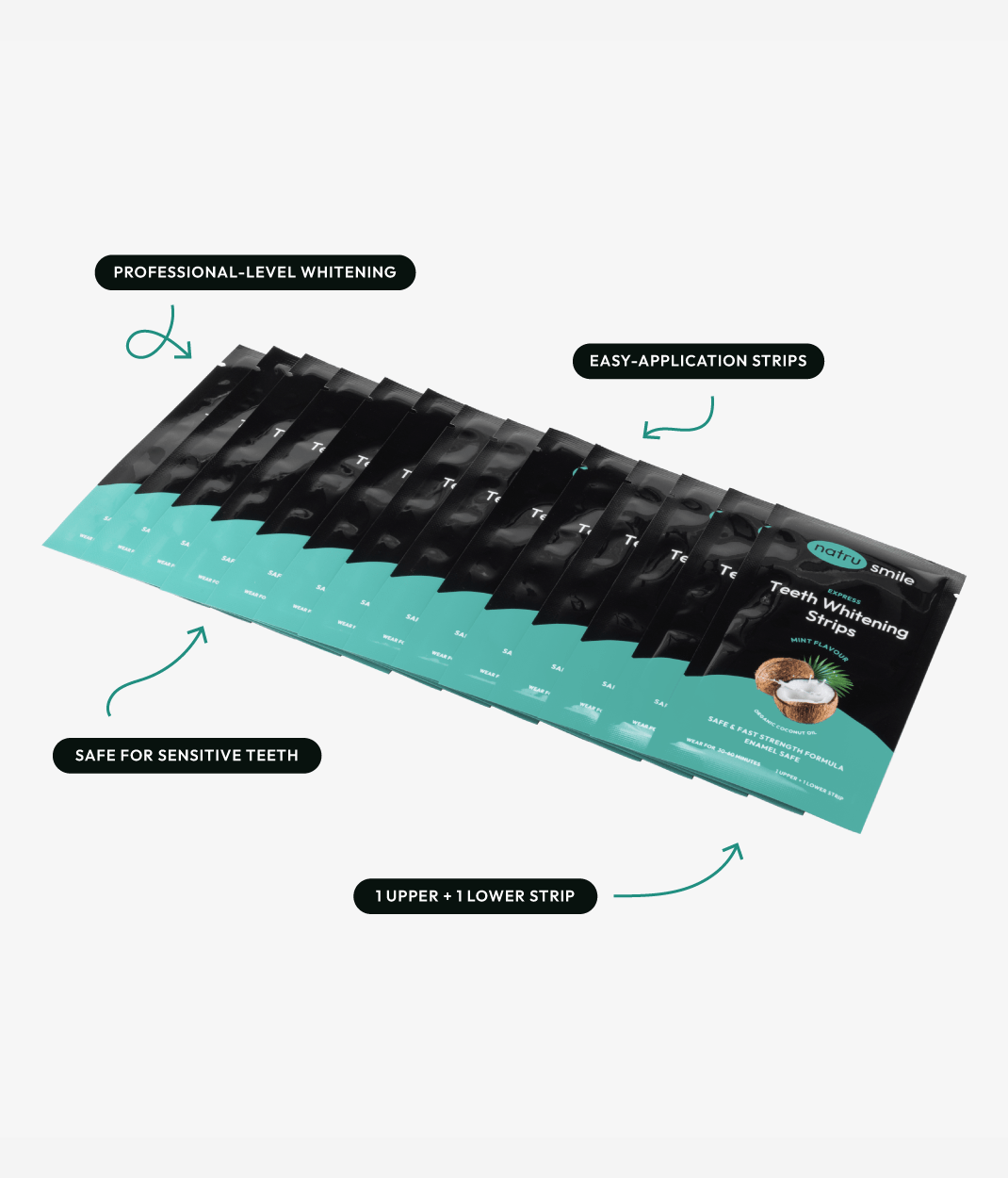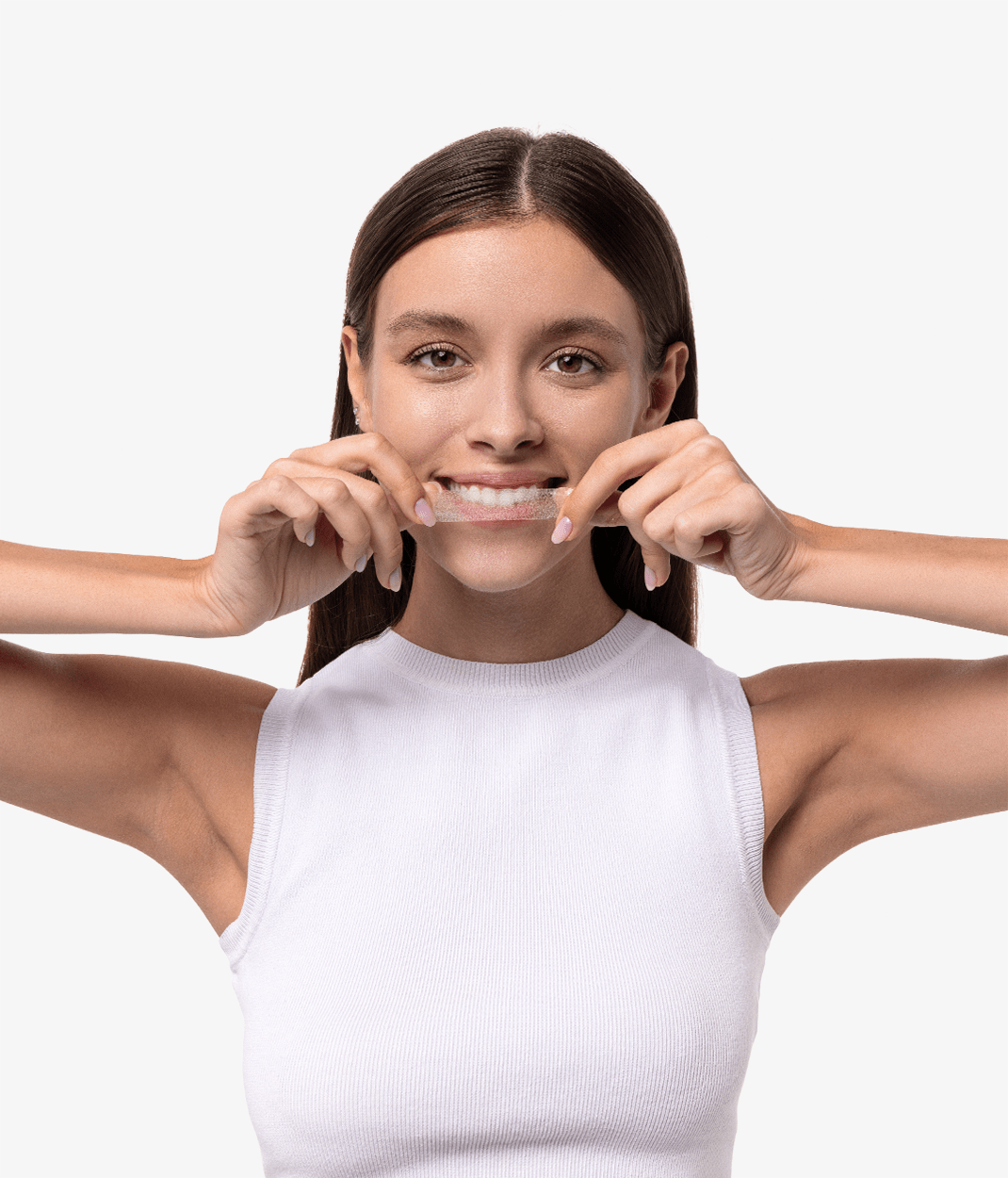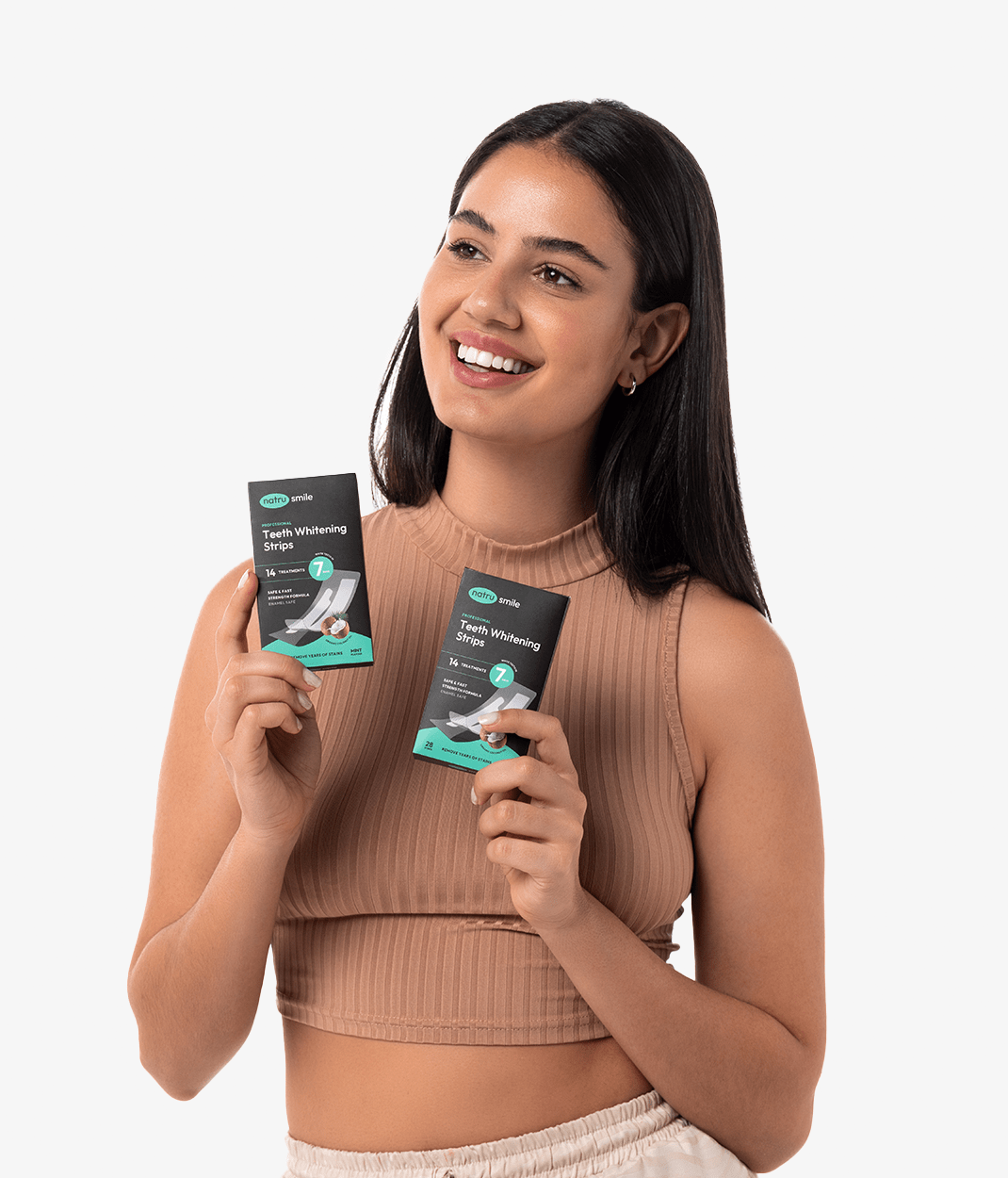 Benefits

Thin, flexible strips whiten just like the dentist. They're enamel-safe and effective, even on sensitive teeth.

How to use

Peel off the strips, apply them to your teeth, and wait 30-60 minutes for the whitening to take full effect.

Shipping & returns

We happily ship worldwide and offer hassle-free returns. All products are available for immediate shipping.

Ingredients

Hydrogen peroxide/PAP erases years of staining and discoloration. Organic coconut oil removes additional plaque.
Whiten your teeth, brighten your life.
How to use video
As featured in
How to Use Teeth Whitening Strips?
Whitening is easier than ever with NatruSmile. Our thin whitening strips seamlessly attach to your teeth for stress-free whitening.
Peel off

Peel back the protective layer to expose the application side of your strips. This is where our special whitening formula will absorb into your teeth.

1

Stretch and apply

Stretch our flexible whitening strips to fit the shape of your mouth. Make sure to press them into the surface of your teeth for a secure fit.

2

Wait 30-60 minutes

Your whitening strips need up to an hour to thoroughly attack tooth stains. Try wearing them during a relaxing activity, like watching TV or reading a book.

3

Reveal your smile

Carefully remove your whitening strips and reveal your beautiful smile! Optimal whiteness takes a few days to achieve, so you'll see increased whiteness with consistency.

4
Before & After results
NatruSmile customers remove years of staining and deep discoloration after just a few days of treatment. See the results for yourself.
Before
Poor habits, lifestyle choices, and everyday wear and tear you just can't help are constantly staining your teeth. Over time, your smile will become dull and discolored.
Yellowed teeth
Tooth discoloration brings out your wrinkles and unattractive features, making you look older than you feel. Your teeth naturally yellow and dullen as you age, making this a telltale sign.
A stained smile makes you self-conscious and reserved during personal and professional interactions. Developing relationships with others is challenging when you can't be your true self.
If you don't smile, peers, partners, and professionals see you as less engaging, friendly, and trustworthy. This makes it more difficult to network, date, and interview for jobs.
Untreated discoloration becomes increasingly hard to treat, requiring serious restorations. In many cases, intensive procedures like veneers are required to achieve the same aesthetic results.
After
NatruSmile Teeth Whitening Strips restore the brilliance in your smile, so you can walk through life confidently and be your best self.
Glowing white teeth
Look your age (or younger!) with a glowing smile, and turn the focus back to what makes you beautiful. You'll love the way you naturally look, and others will take notice.
Seize the moment confidently and talk to others comfortably with a whiter, healthier-looking mouth. Build relationships with others and be exactly who you want to be.
Create personal and professional opportunities when you come off as positive, energetic, and responsible. Your peers and colleagues will be more receptive to your radiant, engaging smile.
Treat your whitening before it's too late—save yourself from veneers and pricey in-office bleaching procedures. Rather than spend thousands, you can whiten at home much more quickly.
Why use Teeth Whitening Strips?
Teeth whitening strips aren't the most popular at-home teeth whitening treatment for no reason. Their convenience, relative affordability, and proven effectiveness make them an attractive option for many. NatruSmile Teeth Whitening strips take it a step further. They're specially formulated to be safe on sensitive teeth and fortified with organic coconut oil for an added whitening and plaque-removing boost.
Safely whiten teeth in 7 days
Our strong whitening formula is specially designed for quick absorption and maximum tooth-whitening efficacy. Instead of rough abrasion that only removes surface stains, our non-abrasive whitening agents penetrate deep into the tooth enamel to erase years of staining. 
Over the course of an hour (or less), the whitening strips lift stains from underneath your teeth, making them visibly brighter and whiter. And if you whiten for 7 days straight, you'll see beautiful results that can last years. That's less time than it takes to make an appointment with your dentist!
Premium results, not premium prices
In the past, teeth whitening has always been expensive. Professional treatments cost over $1,000 and restorations cost even more. Many factors that stain your teeth are out of your control, like aging and medications. You shouldn't have to pay an arm and a leg to get your smile back. NatruSmile Teeth Whitening Strips bring you premium results at a fraction of the cost.
What's Included In Our Teeth Whitening Strips?
NatruSmile Teeth Whitening Strips come with everything you need to get the smile you deserve. And they do it with the same ingredients your dentist would use.
Easy-application strips

Our flexible whitening strips are designed to form to your mouth and its contours. That way, you won't miss any spots.

Strength and consistency

Coconut oil naturally enhances whitening, and xylitol remineralizes your teeth to strengthen and rebuild your enamel.

Non-abrasive whitening

Our whitening formula dissolves years of yellowing and deep discoloration without resorting to damaging enamel abrasion.

Minty fresh finish

You won't just look fresher, you'll feel fresher. Unlike most mouthwash, ours gives you a fresh menthol aftertaste.

Safe for sensitive teeth

Avoid discomfort and damage from other bleaching products. Our peroxide/PAP concentration is safe on all teeth and gums.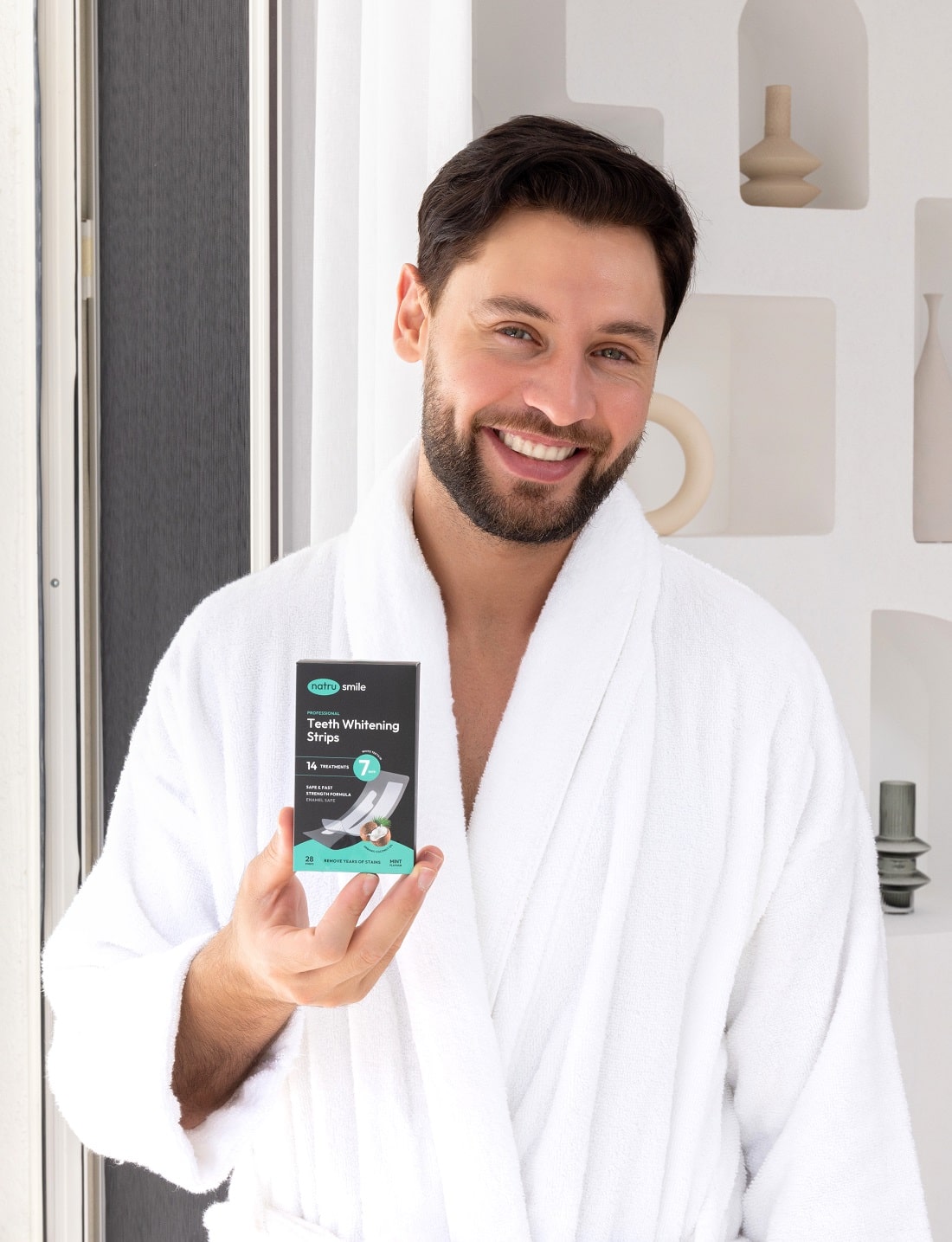 How Do Teeth Whitening Strips Work?
NatruSmile Teeth Whitening Strips are about more than just whitening. Our unique mixture of hydrogen peroxide, xylitol, coconut oil, and menthol strengthens your mouth, remineralizes your teeth, and leaves you feeling fresh. Your smile will outshine everyone else's, but it will also be much healthier and stronger under the surface.
The power of peroxide
Dentists use hydrogen peroxide and PAP in their $1,000+ treatments. Why? Because they're the most powerful whitening agents around. Unlike abrasives, which typically only work for surface-level stains, the ingredients in our formula work their way deep into the microscopic pores of your enamel.
When you leave your strips in for 30-60 minutes, the gel sinks in, settles, and lifts years of stubborn discoloration from smoking, wine, coffee, poor oral hygiene, and even certain medications and health conditions. As you repeat the process each day, you'll start to see the results of deeper and longer-lasting teeth whitening.
Amplify your whitening
Coconut oil is a natural cleansing agent that enhances your teeth's whiteness. As it penetrates tooth enamel, its antimicrobial properties dissolve plaque buildup and lift surface stains—all while being gentle enough on your gums. 
Xylitol is heavily researched and proven to naturally remineralize your teeth, promoting calcium and phosphate to rebuild enamel strength. This helps protect your teeth against further staining, so your results last longer.
COMMON INGREDIENTS IN TEETH WHITENING STRIPS
Most teeth whitening strips resort to using bleaching agents in such high concentrations that they become dangerous. Our whitening strips use a proprietary blend of FDA-approved hydrogen peroxide and organic coconut oil. Since the two work together to fight bacteria, whiten your teeth, and freshen your mouth, they do so much more gently.
Hydrogen peroxide
Hydrogen peroxide is a familiar ingredient found in many homes that works by oxidizing when it penetrates the porous surface of your enamel, thereby lifting stains. Let's delve deeper into the science behind hydrogen peroxide: it effectively eradicates stains beneath the enamel's surface without resorting to abrasive tactics. 
Teeth whitening strips are typically worn for 30-60 minutes, allowing sufficient time for the hydrogen peroxide to deeply penetrate the teeth and reveal a sparkling sheen.
Organic coconut oil
Coconut oil is a natural teeth whitener with antibacterial properties. As the peroxide works its way into your enamel, coconut oil removes the bacteria that build up on the surface of your teeth and lessen the effects of your whitening treatment. And since hydrogen peroxide primarily focuses on stain removal, coconut oil addresses critical issues that peroxide doesn't target.
The combination of these two ingredients ensures not just a whiter set of teeth, but a healthier mouth free of bacteria. That way, you know for sure you have maximum results.
Several brands of teeth whitening strips resort to using dangerously high bleaching agent quantities or only targeting surface stains with abrasion. Our whitening strips use a proprietary blend of PAP and organic coconut oil to attack surface bacteria and stubborn stains underneath. Since the two work together, they whiten your teeth faster and more completely.
PAP (Phthalimidoperoxycaproic acid)
PAP (Phthalimidoperoxycaproic acid) is a newer whitening agent that has gained recognition and popularity as a practical alternative to traditional peroxide whitening. It works in a similar, non-aggressive way, breaking down and removing stains from within the tooth enamel while releasing oxygen molecules to eliminate discoloration. 
Unlike many other whiteners, PAP is not abrasive, making it suitable for regular use without damaging your tooth enamel, so you can achieve professional-level whitening results safely and comfortably at home.
Organic coconut oil
Coconut oil has natural teeth whitening abilities and acts as an antibacterial agent. When you apply PAP strips to your teeth, coconut oil eliminates the bacteria that accumulate on the surface, enhancing the effects of the whitening treatment. Since PAP mainly focuses on removing stains, coconut oil can address vital concerns that peroxide cannot specifically target.
By using these two ingredients, you can have both a brighter smile and a healthier mouth. Best of all, coconut oil is all-natural.
Recommended by Real Dentists
Unlike tons of other teeth whitening strips, ours are backed by real dental professionals. That way, you can use them safely and confidently.
Endorsed by Dr. Greg Grillo D.D.S
Dr. Greg Grillo, D.D.S., a US-based dental professional, brings 28 years of experience in all facets of the dental profession. Dr. Grillo verifies and endorses all NatruSmile products, including our whitening strips.
28 years serving patients
Experienced clinician
Dental Advisory board
Greg Grillo, D.D.S. earned his Doctor of Dental Surgery degree from the University of Washington School of Dentistry. He currently serves as an executive of Method Pro and sits on the advisory board for Quip.
Don't Just Take Our Word For It
Dental professionals nationwide recommend NatruSmile Teeth Whitening Strips as a safe and effective whitening solution.
Home whitening and oral care excellence!
As a trusted dentist, I highly recommend the NatruSmile home whitening kit for achieving a brighter, more radiant smile. With its safe and effective formula, you can whiten your teeth conveniently from the comfort of your own home. You can truly experience professional-quality results with NatruSmile and achieve your dream smile!
Dr. Andrés Arias
Serving patients since 2018
5-star home treatment products that work!
My recommendation as a orthodontics of dento-factor facial orthopaedic specialist is that NatruSmile products are 5-star home treatment products that are perfect for young adults to use safely and effectively at home to achieve an awesome smile. I would highly recommended NatruSmile to anyone looking to improve their daily oral care routine.

Dr. Mai Abdelsalam
Orthodontics of dento-factor facial orthopaedic specialist
Eliminates problems with home whitening!
I recommend NatruSmile products because so many others that exist in the market come with problems. Either it does not whiten the teeth enough or they bring a lot of sensitivity and the process is very slow. NatruSmile products eliminates these problems and delivers a smile you always dreamed of in a short time, without pain and at a very competitive cost.
Dr. Daniel Echeverry
7 years as a specialist in oral rehabilitation or prosthodontist
Effective products that will improve your smile!
NatruSmile is a game-changer for improving your oral health and smile. They offer teeth whitening solutions, electric toothbrushes, and tongue scrapers to create a winning combination for a brighter, healthier mouth. These products are safe and effective at removing plaque and stains on the surface of your teeth and I highly recommend NatruSmile's products.
Amber Lust
8 years of dental assisting
Who Recommends Us?
A few of our most loyal customers come from the beauty and wellness communities, including makeup artists, fitness instructors, nutritionists, and more.
Our Happy Customers
NatruSmile customers from all over see powerful results with our teeth whitening strips. Read their stories and see how NatruSmile helps them achieve and maintain their perfect smiles.
Whiter teeth for less than $30
I never thought I could get professional-level whitening at home at a fraction of the cost until I tried NatruSmile's Teeth Whitening Strips. They're easy to apply, and the 7-day, twice-daily whitening program included in the box seriously whitened my smile and got out some of the surface stains I had from years of drinking coffee.
FINALLY my smoking past is behind me!
I was a smoker for years and still had my yellow teeth to show for it. I couldn't budget for professional treatments, so I worried my years of poor lifestyle choices would cause a lifetime of nasty brown teeth. I used NatruSmile Whitening Strips, added mouthwash into the mix, and began flossing. Now, my teeth look good as new. Woooo!
I actually couldn't believe the results…
Aging was starting to make my smile look dull, and it was making me feel self-conscious about my appearance. With NatruSmile's whitening strips, I restored my glowing smile and others started to take notice. The strips were easy to apply, and I was shocked that something so simple could deliver such fantastic results. I couldn't recommend NatruSmile more.
Save Your Teeth Before It's Too Late
I'm only getting older, unfortunately. I noticed my teeth were starting to turn yellow, and I wanted to eliminate the problem before it got worse. All it took was NatruSmile's teeth whitneing strips to save myself from pricey restorations or bleaching procedures, which I seriously dreaded. And the best part? It only took 7 days and I'm super happy with the results!
Peter R
27 weeks ago
San Francisco
Easy, Effective, Enamel-Safe
My main concern with teeth whitening is sensitivity. I've tried Crest 3D strips before, and they caused sharp pains in my front teeth. NatruSmile's strips are straightforward, provide professional whitening, and the formula is certainly safe for enamel. I used them for 30 minutes as directed and had no problems. Easy, effective, and great value for money!
Wow... is all I have to say
I'm amazed by NatruSmile's Teeth Whitening Strips. Im' extremely conscious of what I put in my body, so seeing an ingredients label full of organic ingredients I could pronounce had me sold immediately. Upon using them, it's clear: NatruSmile knows what they're doing, and they're doing it well. I couldn't be happier with my whitening results.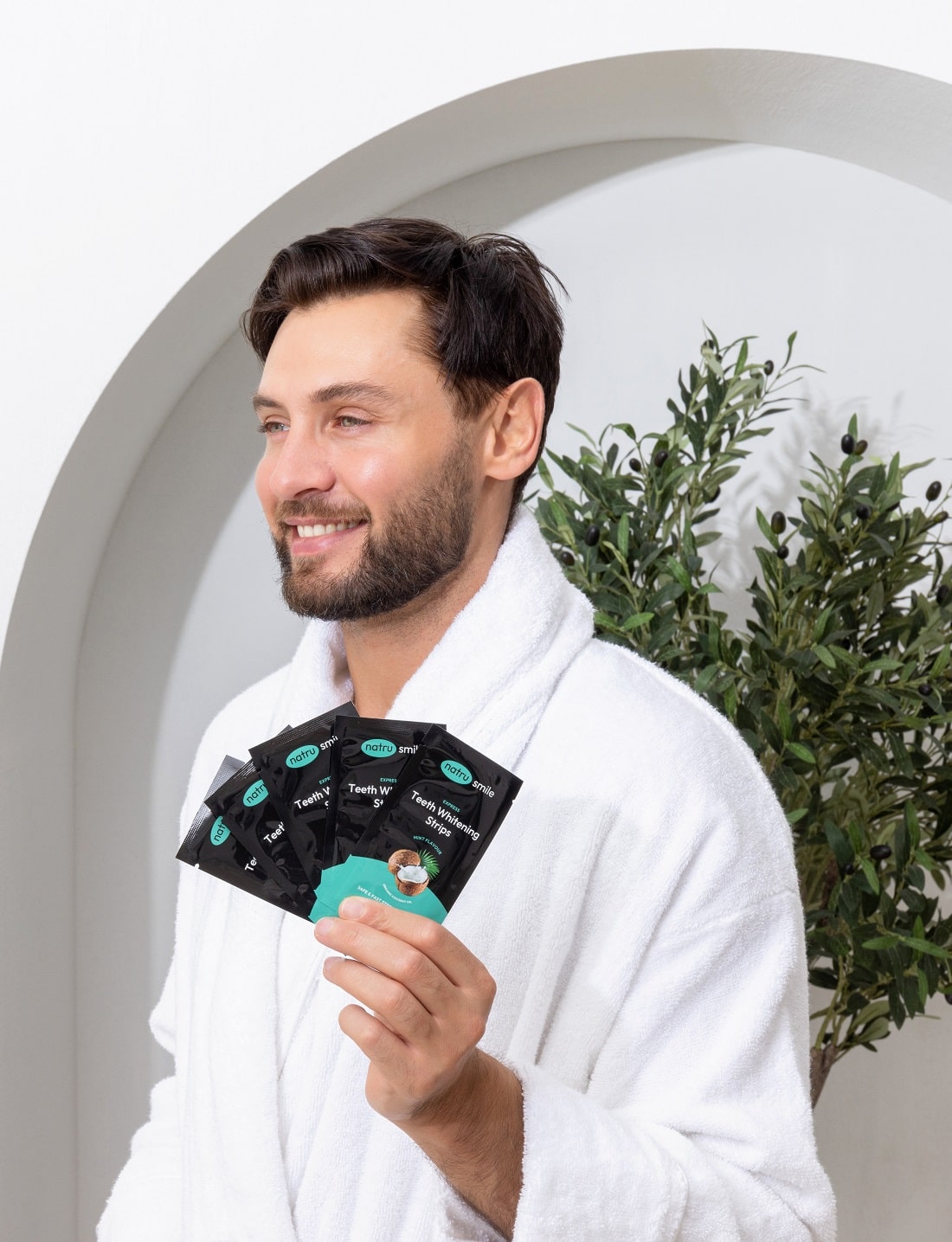 Are Teeth Whitening Strips Safe?
Dental professionals and organizations around the world consider teeth whitening strips safe when used as intended, for as long as directed, and in moderation. You should also avoid teeth whitening products (including whitening strips) while pregnant or nursing or if you have problems with your oral health, such as cavities, gingivitis, or gum disease.
Use as directed to prevent adverse effects
The biggest issues with most teeth whitening strips are over-application and misuse. Too much of a whitening agent or leaving the strips on your teeth too long, can cause irritation and even damage your enamel. In some cases, slight sensitivity is unavoidable. But most of the side effects of teeth whitening are completely preventable.
NatruSmile Teeth Whitening Strips are meant to replace an in-office procedure, meaning the concentration of peroxide is enough to whiten your teeth. If you use them in conjunction with another high-intensity treatment, you risk damaging your enamel.
Consider your current health
For pregnant and nursing women, gingivitis and teeth sensitivity are practically guaranteed. Whitening products should be avoided during this time. Additionally, if you have a history of gum disease or cavities, whitening treatments may aggravate your condition and cause further complications. 
Teeth whitening strips are effective and safe for whitening, but prospective customers must prioritize their other oral health needs before using them.
Teeth Whitening Mouthwash FAQs
Still not sure about the NatruSmile Teeth Whitening Strips? Here are answers to the questions our customers ask us the most.
Which teeth whitening strips are best for teeth whitening?
When doing your research, you'll come across dozens of whitening strips, many of which will claim to be "the best." Of course, they can't all be. Since most of the real benefits and risk factors are hidden in the fine print, figuring out which ones are better than the rest is challenging for shoppers.
The best teeth whitening strips will have a low enough concentration of peroxide that sensitivity won't be an issue. Clinical research has shown up to 15% peroxide to work for this, but most studies point to 10% as the "sweet spot." 
Since PAP is newer, there are fewer clinical studies available. Still, a 2021 study is among the several that have been published in the last few years pointing to PAP's effectiveness as a whitening agent.
Your teeth whitening strips should also have fortifying ingredients that add to the whitening process. Coconut oil is an excellent ingredient to look for that won't always be advertised on the front page of a product. Since it works to kill the plaque-causing bacteria on your teeth, it can enhance your whitening and strengthen your teeth overall.
NatruSmile Teeth Whitening Strips are ideal for teeth whitening because they're developed with sensitivity in mind, contain natural additives (organic coconut oil) that amplify the impact of your whitening treatment, and ensure you achieve your long-lasting smile as quickly as possible.
Do teeth whitening strips expire?
Teeth whitening strips do expire. Like most whitening gels and bleaching products, their shelf life is usually about 12 months (for PAP and hydrogen peroxide strips).
Using expired teeth whitening strips won't necessarily damage your teeth, but it won't yield any results, either. Medical and dental professionals strongly advise against using them for this reason.
If your whitening strips expire, you should order or purchase new ones. To maximize the value you get from whitening strips, only purchase them when you plan on whitening shortly after. Otherwise, you might forget about them or need to replace them.
How long do the effects of Teeth Whitening Strips last?
When used properly, effects from NatruSmile Teeth Whitening Strips last for at least six months. Some NatruSmile customers see glowing results for over a year after their initial treatment.
To ensure your results last, we strongly advise you to maintain a solid oral health routine, including brushing your teeth twice per day and flossing at least once. If you can, avoid drinks like coffee and wine, which can stain your teeth and detract from the smile you worked so hard to get.
To get the most out of your whitening treatment and amplify your results for a longer period of time, use NatruSmile Teeth Whitening Toothpaste or NatruSmile Teeth Whitening Mouthwash, which have lower concentrations of whitening agents designed for maintenance and touch-ups for surface stains that will inevitably appear.
Do Teeth Whitening Strips damage your enamel?
NatruSmile Teeth Whitening Strips do not damage your enamel when used properly. We've rigorously tested our products to ensure they contain safe concentrations of ingredients, and take extra precautions to ensure our products are gentle on your teeth.
If you follow the instructions included with NatruSmile Teeth Whitening Strips, including limiting usage time to two weeks (or one package), then you can rest assured that your enamel will be safe.
Can Kids Use Teeth Whitening Strips?
Teeth whitening strips are not intended for use by anyone under the age of 18. Since children's teeth and gums are still developing, we recommend they see a dentist before attempting any at-home whitening products. 
Furthermore, whitening treatments are designed only to work on natural teeth, so they won't have any effect on children's dentures or other prostheses. They also won't help if your child wears traditional braces, which cover most of the visible surface of their teeth.
How much do teeth whitening strips generally cost?
Some whitening strips cost as low as $10, while others go for upwards of $100. In reality, the best whitening products are somewhere in the middle—the lowest-cost option probably won't yield great results, and you don't need to spend that much to get the best possible whitening that strips can offer.
NatruSmile Teeth Whitening Strips are priced at $27.99 per pack, making them one of the most reasonably priced products on the market. To sweeten the deal, we also offer quantity discounts. If your whole family or friend group wants to get whiter teeth, order in bulk and save!
How often can I use teeth whitening strips?
You can use teeth whitening strips up to twice every day for the duration of your whitening period. If you whiten once per day, your treatment will last two weeks. If you whiten twice per day, your treatment will last one week.
Whitening any longer than this two-week period will not result in any further whitening, but it might irritate your teeth and gums and cause irreversible damage to your mouth. 
After a full 7- or 14-day treatment, you should wait at least six months before using teeth whitening strips again.
Should I brush my teeth before or after using whitening strips?
You can brush your teeth before or after your whitening procedure, depending on your personal preference. Do not brush your teeth immediately before or after whitening. This will negate some of the positive effects of your whitening strips and potentially cause greater sensitivity. 
It's best to brush your teeth before you apply the strips, especially since our teeth whitening strips leave a minty feeling in your mouth anyways. In either case, wait at least 30 minutes between brushing and whitening in order to ensure effective results.
Can you use teeth whitening strips with braces?
Whether or not you can use whitening strips while wearing braces depends on the type of braces you have.
If you have metal, ceramic, or clear plastic braces, using whitening strips on the areas around the brackets won't work because it won't be able to reach the spaces under the brackets. This could result in an uneven whitening effect that will show up as small discolored squares on your teeth after your braces are removed.
Lingual braces and Invisalign trays are different. You can use our whitening strips directly on your teeth because the Invisalign trays are removable. For the same reason, you should be able to use whitening strips with lingual braces since they do not cover the surface of your teeth.
Read our full guide to teeth whitening with braces.
Can you use teeth whitening strips while pregnant?
Pregnant and nursing women should always avoid teeth whitening treatments, including whitening strips. Pregnancy gingivitis, the term used to describe the gum inflammation and irritation directly resulting from hormonal changes throughout pregnancy, affects up to 75% of women. In the context of teeth whitening, this means that products that use bleaching agents may cause further irritation or damage. 
For these reasons, it's best to wait until after giving birth before whitening your teeth. This will help prevent any potential risks of increased sensitivity, gum tissue damage, or oral infection.
Read our full guide to teeth whitening while pregnant.
When will I see the results from Teeth Whitening Strips?
Plenty of NatruSmile customers see some results after one or two whitening sessions, especially if their teeth were extremely yellow before. As you progress through your pack of whitening strips, you'll gradually see your smile begin to whiten multiple shades. After you complete your treatment (7 days, twice daily), you will see vibrant results that look dramatically different from where you started.
The amount of time it takes to see results and the extent to which they appear depends on the initial color of your teeth, the type of staining underneath the surface, and how you alter your habits to accommodate the whitening process.
Are teeth whitening strips bad for your teeth?
Teeth whitening products, such as strips, can safely and effectively eliminate both internal and external teeth stains. But there are some caveats to be aware of. 
Overexposure to peroxide (and other teeth whitening agents) can result in hypersensitivity and demineralization of your enamel. If you use teeth whitening strips for too long (e.g., several weeks or months), leave them in your mouth for longer than 30-60 minutes, or couple them with too many other whitening products and treatments, you run the risk of doing damage to your teeth. 
In some cases, tooth sensitivity is unavoidable. This doesn't necessarily mean the product is unsafe or that your teeth have an underlying problem. Tooth sensitivity is a common problem that affects tens of millions of people, and powerful whitening agents sometimes exacerbate that.
To help you avoid causing permanent damage to your teeth or experiencing short-term pain, we include a detailed guide to using our whitening strips. It's important to read this guide and familiarize yourself with proper usage before you begin to whiten.
Read our full guide on teeth whitening safety.
Where can I buy teeth-whitening strips?
Teeth whitening strips are the most popular at-home whitening treatment, so they are available online and in-store at most major retailers.
We recommend shopping online for teeth whitening strips. Online, you'll have the freedom to do all the research you need and there will be more options available.
NatruSmile Teeth Whitening Strips are available for immediate worldwide shipping at the top of this page. Alternatively, you can find them at select specialty online and brick-and-mortar retailers.
Are Teeth Whitening Strips effective?
Our teeth whitening strips are highly effective and help customers achieve multiple shades of whiteness in as little as one week.
Numerous clinical studies and thousands of dental professionals around the world recognize teeth whitening strips as a safe and effective whitening treatment, and we went the extra mile and achieved professional approval for our own products.
It is worth noting that due to the lack of professional oversight, all at-home teeth whitening products are at least somewhat less effective than their in-office counterparts. Still, teeth whitening strips help customers save lots of money while whitening their teeth to an extent they never thought possible.
Do Teeth Whitening Strips cause sensitivity?
Some NatruSmile customers report a low degree of sensitivity when using our products, including whitening strips. The sensitivity generally lasts less than 24 hours, but may persist for a day or two after whitening. This side effect is not unique to NatruSmile products and occurs in every whitening treatment across the board.
Approximately 1 in 8 people suffer from hypersensitivity in their tooth enamel, and many more find that whitening agents cause this, even if they don't otherwise have any problems. In one recent study, teeth sensitivity was observed in just about every case, across multiple different whitening methods. It also found that sensitivity is at its worst when whitening products have a 30% to 40% concentration of the bleaching agent.
NatruSmile Teeth Whitening Strips are nowhere near that high of a concentration (in either of our whitening strips offerings), which helps prevent an uncomfortable whitening experience and quell any fear that our products will irritate your teeth and gums. Some sensitivity is also preventable with the use of desensitizing agents.
Will teeth whitening strips dry my mouth?
Using whitening strips can cause dry mouth or teeth dehydration as a rare side effect. This occurs because the substances can penetrate the enamel since our teeth are porous. Although the side effect usually subsides within a few hours of use, it could be a concern if it persists.
To prevent dehydration after you whiten, there are certain measures you can take to rehydrate your teeth. The best way to do this is to stimulate saliva production by drinking plenty of water and chewing sugarless gum. You can also reduce dehydration by drinking more water throughout the day and reducing your intake of caffeine and alcohol.
How can I stop teeth sensitivity after whitening strips?
There are several steps you can take to stop teeth sensitivity that results from whitening strip treatment. The best way to reduce sensitivity is to find a desensitizing mouthwash or topical gel that you can apply before your whitening sessions. They are usually readily available at most stores and won't cost much to buy.
You could also try reducing the amount of time that the whitening strips are on your teeth. If you wear them for too long, it could increase the risk of sensitivity or other side effects. NatruSmile Teeth Whitening Strips only need to be worn for 30 minutes a day, but reducing the duration beyond that will still yield some results.
Can I eat after teeth whitening strips?
You should avoid eating and drinking for at least 30 minutes after using whitening strips. The substances used in the strips will still be present on your teeth during this time. If you eat or drink during this window, the substances may react with the food or beverage, which could lead to staining or discoloration, negating the effects of your whitening treatment.
It's also important to avoid certain foods and beverages throughout your entire treatment, including coffee, soda, wine, and any foods that are highly pigmented or acidic.
How long do you leave teeth whitening strips on?
Leave your whitening strips on your teeth for 30 to 60 minutes, depending on your sensitivity level and tolerance and your level of staining. Those with deeper stains will benefit from an hour-long whitening session, while lesser surface stains can be addressed with a shorter duration. 
Removing the strips earlier than 30 minutes will not yield the best results because the gel needs more time to work its way into the enamel. Consistently using our product for over one hour will heighten your sensitivity and potentially damage your teeth.
How long after brushing my teeth can I use whitening strips?
Your whitening treatment should occur at least 30 minutes before or after brushing your teeth. Brushing your teeth immediately before or after whitening strips can disrupt the effectiveness of the gel in the strips and cause greater sensitivity. Waiting at least 30 minutes between brushing and whitening ensures that you will get the most from your treatment. 
That said, brushing shortly before applying whitening strips ensures there is no plaque buildup that could negate the effects of the treatment.
Why do my teeth hurt after Teeth Whitening Strips?
If your teeth hurt after using teeth whitening strips, there are three potential reasons.
Most often, sensitivity is nothing more than a side effect of the whitening treatment. Since hydrogen peroxide and PAP are bleaching agents, some customers experience lingering sensitivity even though the concentration is comparatively low and they applied the product correctly.
Sensitivity is also a result of misapplication. When our whitening strips aren't used as intended, they can cause pain and discomfort due to overbleaching. The same is true for overuse of whitening products—if you use our strips and professionally whiten your teeth simultaneously, for example, you will almost certainly have some degree of discomfort or pain.
If you whiten your teeth while you have untreated tooth decay, cavities, gingivitis, or gum disease, you will also experience a heightened level of sensitivity after your treatment. If you were previously unaware of these problems, pain after whitening could be a telltale sign of something more serious.