Our LED-powered replacement heads for electric toothbrushes are compatible with NatruSmile oral care products, making them the best in the market.
Easily replaceable heads
LED² Technology
Superior cleaning power
Safe for sensitive teeth
Our LED-powered replacement heads for electric toothbrushes are compatible with NatruSmile oral care products, making them the best in the market.
Easily replaceable heads
LED² Technology
Superior cleaning power
Safe for sensitive teeth
Regular price
Sale price
$22.99
Unit price
per
Sale
Sold out
Shipping calculated at checkout.
Bundle and Save
Split your payments up with
View full details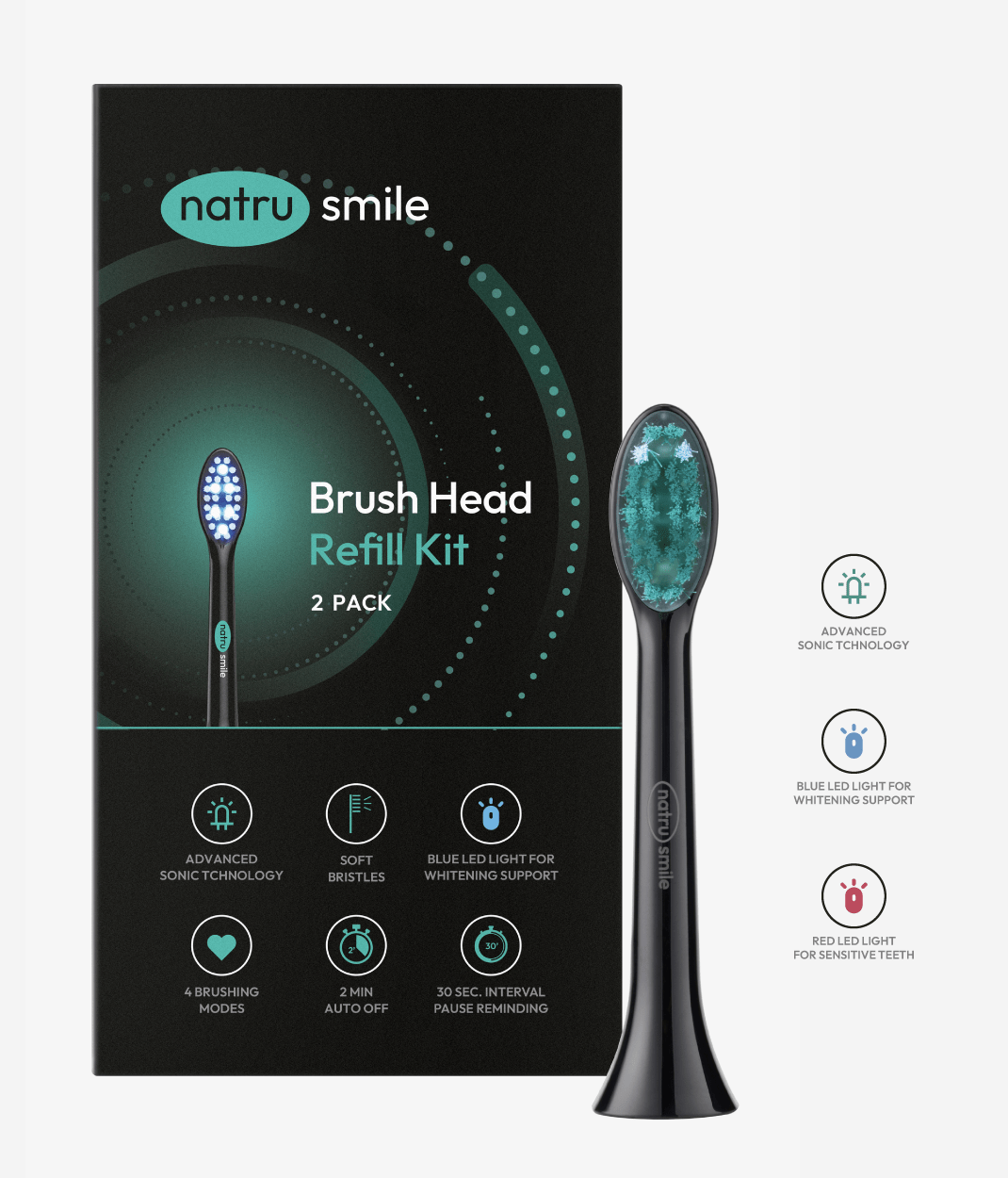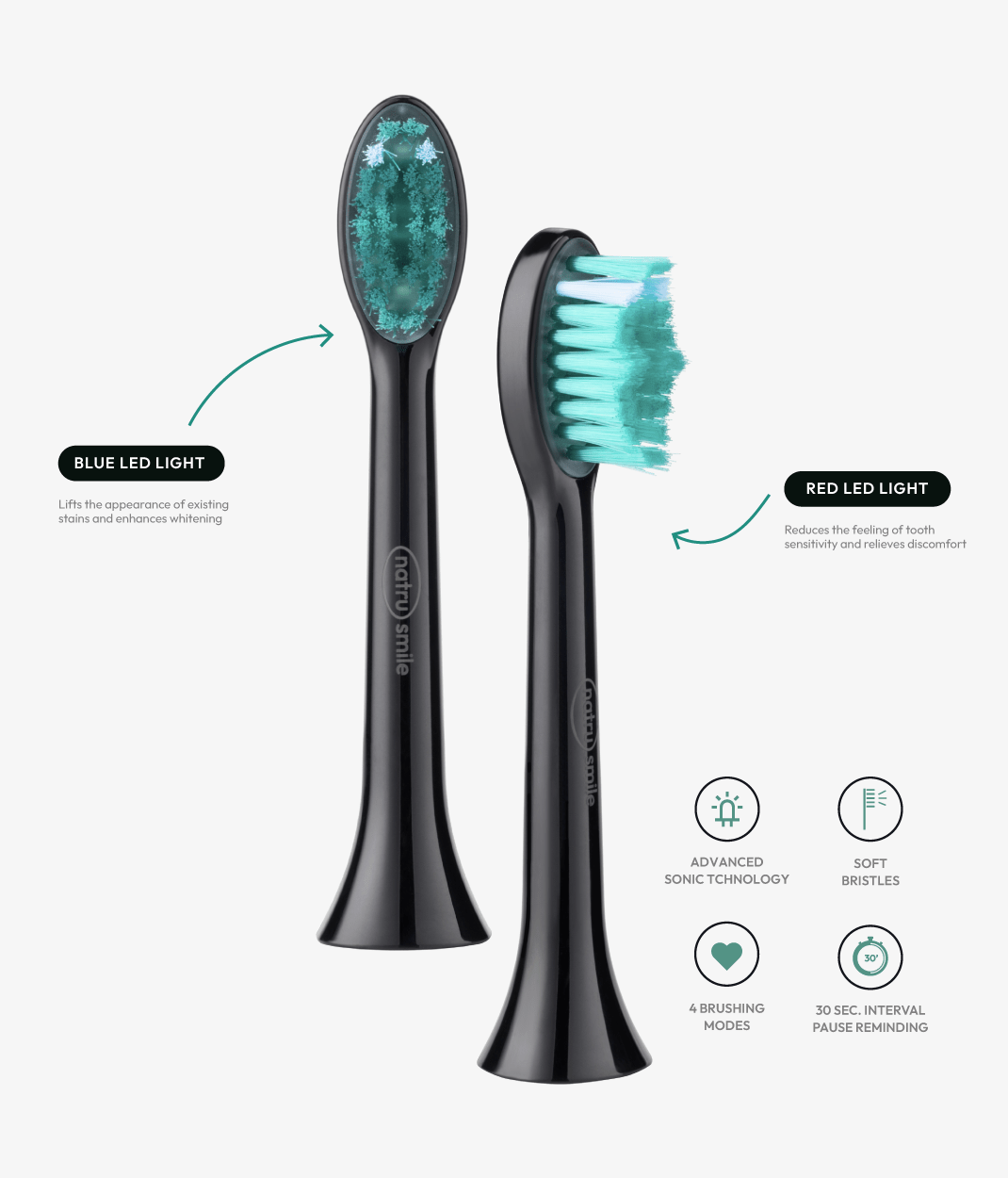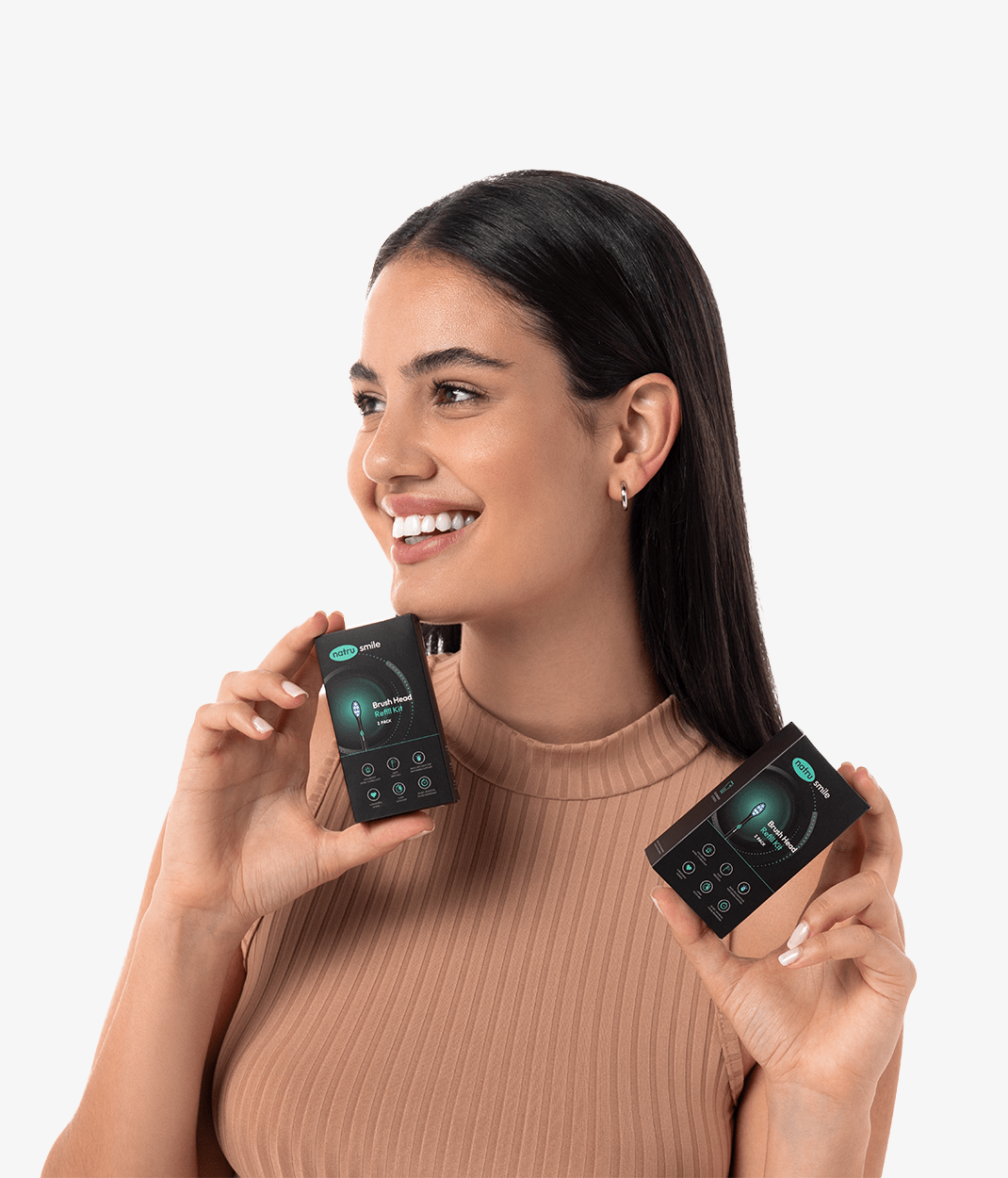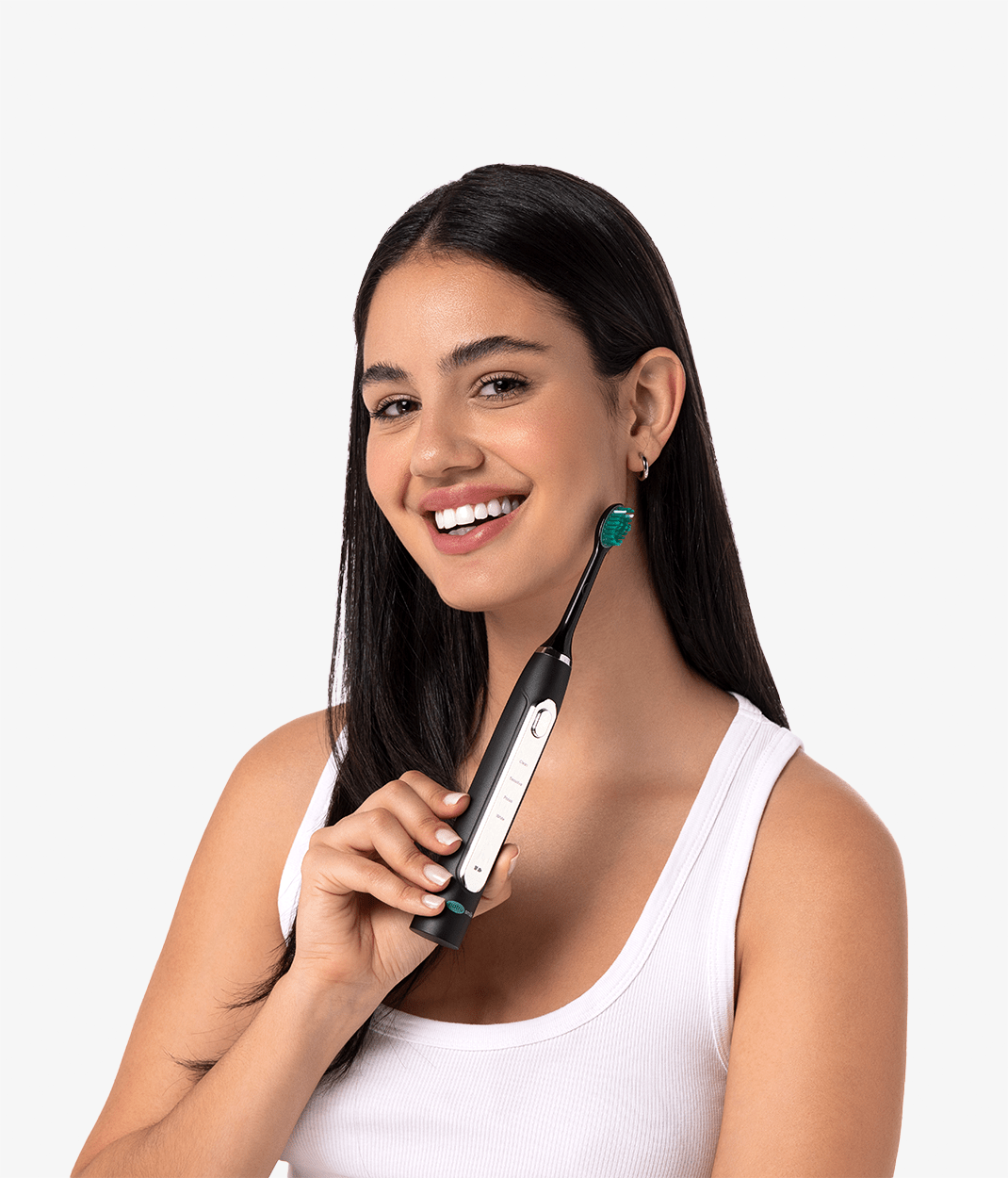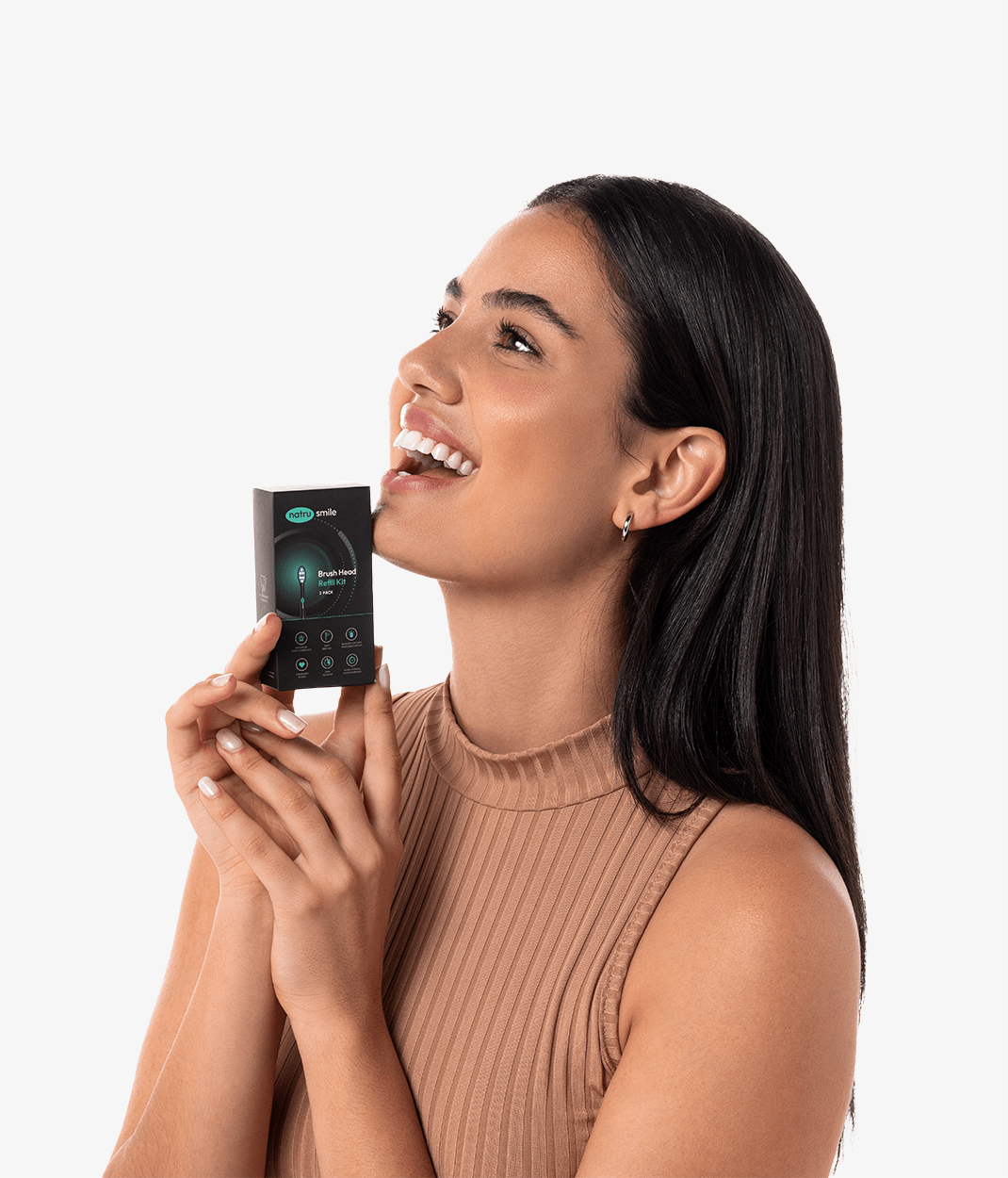 Benefits

Sonic vibrating electric brush heads disrupt the plaque biofilm and massage your gums for better cleaning than regular brushing.

How to use

Insert your new brush head, add toothpaste, choose your brushing mode, and let the toothbrush handle the rest.

Shipping & returns

We happily ship worldwide and offer hassle-free returns. All products are available for immediate shipping.

Technology

With LED² Technology, our toothbrush heads whiten and clean your teeth simultaneously for a bright, healthy smile.
Whiten your teeth, brighten your life.
How to use video
As featured in
How to Use Electric Toothbrush Heads
With LED² Technology, our toothbrush heads whiten and clean your teeth simultaneously for a bright, healthy smile.
Remove the old head

Gently twist your brush head to align the arrows with the base of your toothbrush. Then, pull the brush head until it separates from the base.

1

Install your new brush

Align the brush head arrows with the base, then click them into place. The LED lights should turn on to indicate that it's securely in place.

2

Power up!

Press the power button to turn on your toothbrush. Select your mode (CLEAN, SENSITIVE, POLISH, or WHITE) and get ready for a brighter, whiter smile.

3

Brush as normal

Brush at a 45-degree angle to your gums for optimal plaque-fighting power. Listen for the 30-second reminder to switch sections, and let LED² technology work its magic.

4
Before & After results
The soft bristles on our electric toothbrush heads are safe on your gums and teeth, while LED² technology works with your toothpaste to restore and enhance your natural color.
Before
Ineffective brushing and poor oral hygiene lead to plaque, stains, and discoloration. Harsh bristles can make matters worse, eroding your enamel and receding your gums.
Unhealthy teeth
An unhealthy mouth results in several aesthetic problems and health complications. These lead to self-consciousness, difficulty socializing, and costly restorations later in life.
Whitening treatments can brighten your smile, but they don't improve the health of your mouth. Plus, they require lots of your time and hard-earned money.
Your normal toothbrush can't reach all the crevices of your mouth. Between your teeth and behind your mouth, plaque and debris are building up where you can't see them.
Electric toothbrushes remove plaque faster, but brushing with them requires more care. If your bristles are too rough, the fast vibrations will weaken your enamel and irritate your gums.
After
NatruSmile Electric Toothbrush Heads are specially designed to fight plaque, stains, and discoloration — all while protecting your enamel and gums.
A healthier smile
Save money, avoid invasive dental procedures, and carry yourself with confidence by elevating your oral care routine and proactively maintaining your smile.
Our electric toothbrush heads whiten and clean your mouth at the same time. Achieve the smile you've always wanted without spending additional time and money.
LED² technology works with your toothpaste for maximum stain-fighting power, while sonic vibrations remove more plaque than your old toothbrush ever could.
Soft bristles remove stains and bacteria, but not your enamel and gumline. Red LED light promotes gum health while reducing sensitivity, inflammation, and irritation.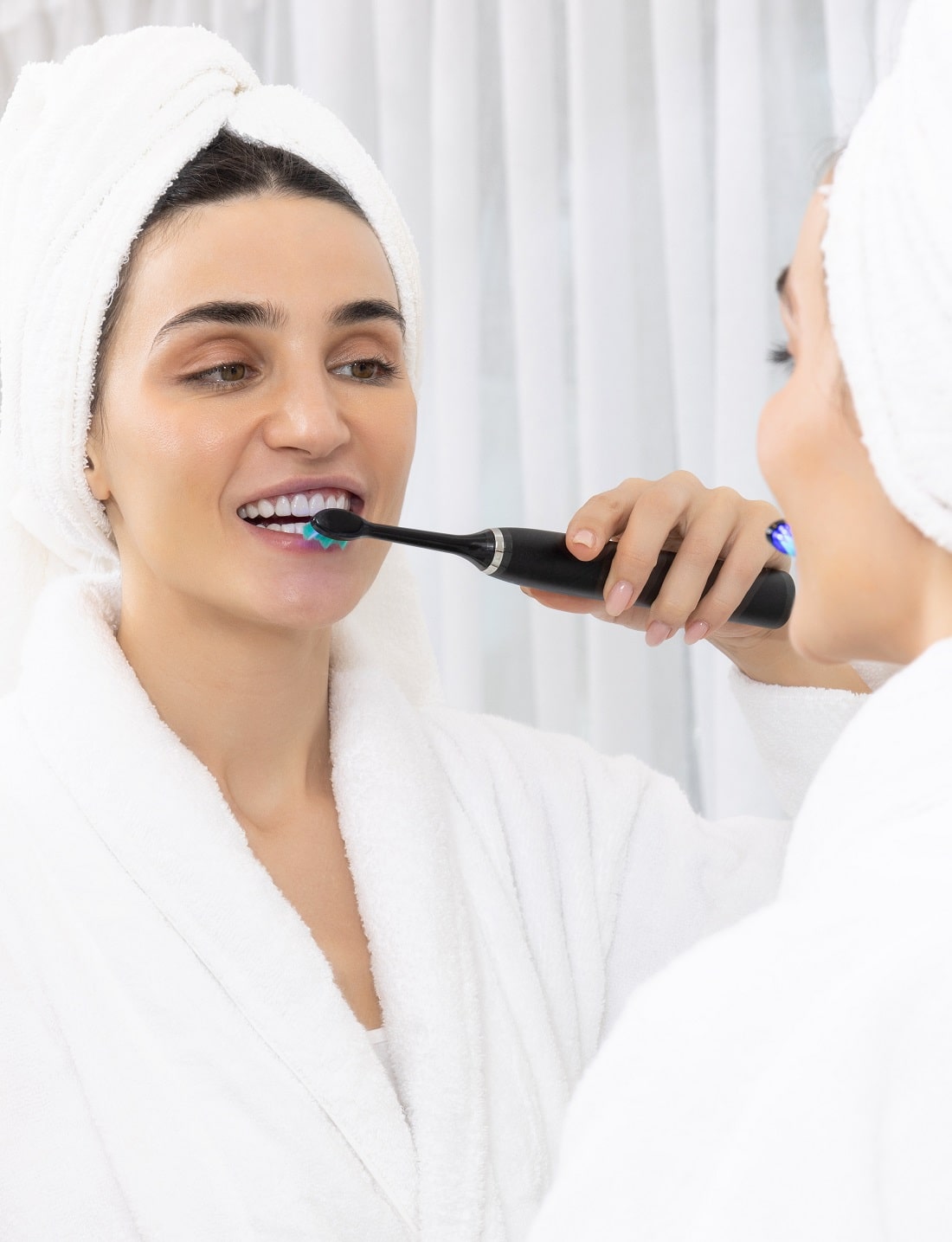 Why use our electric toothbrush heads?
Over decades of research have proven that electric toothbrushes clean your mouth better than mechanical brushing. The sonic vibrations in electric toothbrushes dislodge debris that would otherwise remain on your teeth, for unmatched cleaning power. Our toothbrush heads take it a step further with LED whitening and gum stimulation.
Improved oral care results
When you brush with an electric toothbrush, you're removing up to 100% more plaque, according to clinical research. Removing additional plaque from hard-to-reach areas won't just improve your whitening results, it'll help you get more out of your oral care routine. Since plaque buildup can lead to tooth decay, cavities, and gingivitis, switching to an electric toothbrush can save you from unwanted trips to the dentist (and make your bi-annual ones a lot less stressful).
Whitening and therapeutic benefits
Our replacement electric toothbrush heads are equipped with LED² technology, which whitens your teeth and stimulates your gums. When you use our electric toothbrush heads with our teeth whitening toothpaste, Blue LED light activates PAP (the active whitening ingredient in our toothpaste) and allows it to penetrate your tooth enamel to lift years' worth of difficult stains.
Red LED light stimulates blood circulation in your oral cavity, which reduces sensitivity around your gums while you brush and prevents tissue damage, inflammation, and any other negative symptoms you might have from everyday brushing.
What's included with our electric toothbrush heads?
A pack of our whitening electric toothbrush heads includes everything you need for safe brushing and whitening as part of your everyday routine.
Dual Light Therapy

Blue LED light activates whitening agents in your toothpaste. Red LED light supports healthy gums.

2x Brush Heads

Soft-bristled brush heads offer advanced cleaning power and whitening capabilities without being too harsh.

Advanced Sonic Technology

Sonic vibrations move plaque and debris out of hard-to-reach places and lift stains right out of your teeth.

Soft Bristles

Our soft-bristled toothbrush is designed to lift stains and plaque without putting strain on your teeth and gums.

4 Brushing Modes

Your toothbrush heads are designed to support 4 brushing modes: CLEAN, SENSITIVE, POLISH, and WHITE.
How do electric toothbrush heads work?
After clicking your toothbrush head into place, activating the rechargeable base, and adding a dollop of toothpaste, our brush heads do most of the work for you. Using 50.000+ vibrations per minute, the soft bristles work to dislodge plaque, stubborn stains, and oral bacteria. Blue LED light boosts whitening, while red LED light stimulates soft tissue.
Superior cleaning and whitening
Ultra-fast sonic vibrations remove up to 4 times more plaque than manual brushes. Blue LED light activates the ingredients in whitening toothpaste to whiten your teeth with less effort, while red LED light heals your gum tissue. Our brush heads support 4 brushing modes, ensuring the most personalized brushing experience.
Quick and easy replacement
After 2-3 months of twice-daily use, it's time to replace your brush head. Our toothbrush heads are conveniently designed to snap in place with ease, making it simple to switch them out when needed. Each pack comes with two brush heads, so you only need to replace them twice a year.
Works best with teeth whitening toothpaste
To amplify the effect of your electric toothbrush head, use our teeth whitening toothpaste. LED light activates peroxide, the active ingredient in our formula, which helps it penetrate deep into your enamel to lift stubborn stains and discoloration. It's the perfect combo for superior whitening and cleaning with minimal effort.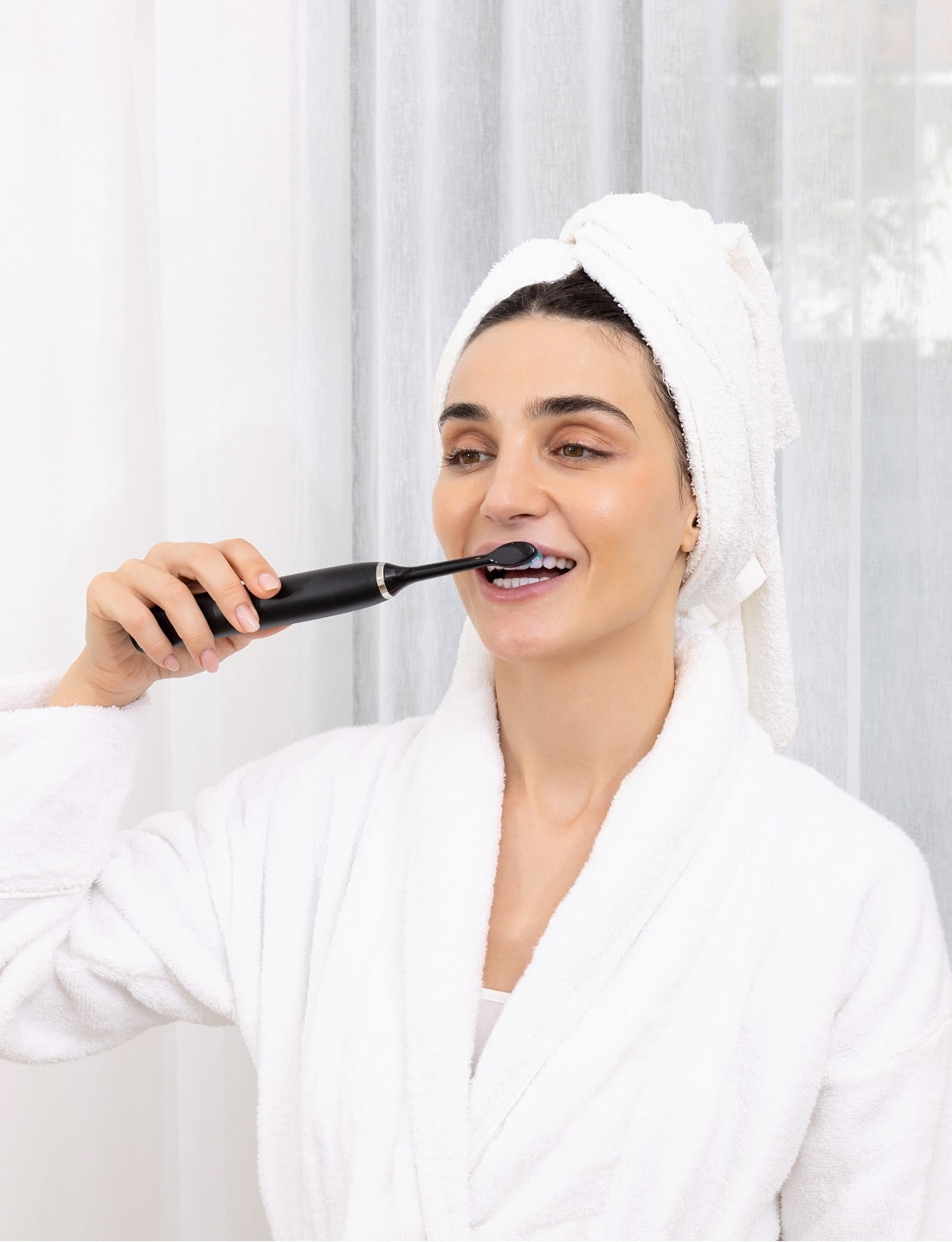 The benefits of using replacement electric toothbrush heads
Electric toothbrush heads are smaller, easier to maneuver, and have superior cleaning power thanks to their battery-powered base. And in the case of ours, they have added whitening and stimulating capabilities that you just can't get with a regular toothbrush.
Better than regular brushing
Since electric toothbrush heads vibrate at speeds up to 40,000 strokes per minute, they remove harmful plaque and bacteria much more effectively than regular toothbrushes, which rely on mechanical force and motion to pick up debris. Electric toothbrush heads are also smaller, meaning they can reach into the far corners of your mouth that a regular toothbrush often misses (especially if you still have your wisdom teeth).
Whitens your teeth, stimulates your gums
Most electric toothbrush heads offer more cleaning power, but the buck stops there. Our replacement toothbrush heads use LED² Technology—a huge step up from your run-of-the-mill toothbrush. Blue LED light activates the whitening agents in your toothpaste and amplifies your results from using it. Red LED light stimulates circulation and nourishes your gums.
What to use with our replacement electric toothbrush heads
Use our replacement toothbrush heads with NatruSmile Whitening Toothpaste for a complete cleaning and whitening solution like you've never seen before. To achieve full potential whitening and dental health benefits, add NatruSmile Dental Floss to your everyday oral care routine.
Recommended by Real Dentists
We work hard to ensure our products work as effectively, safely, and gently as possible. Before selling our electric toothbrush heads to you, we got approval from real dentists.
Endorsed by Dr. Greg Grillo D.D.S
Greg Grillo, D.D.S., a US-based dental specialist, brings 28 years of experience in all facets of the dental profession. Dr. Grillo verifies and endorses all NatruSmile products, including our toothbrush heads.
28 years serving patients
Experienced clinician
Dental Advisory board
Dr. Greg Grillo, D.D.S. earned his Doctor of Dental Surgery degree from the University of Washington School of Dentistry. He currently serves as an executive of Method Pro and sits on the advisory board for Quip.
Don't Just Take Our Word For It
Dozens of industry veterans recommend our electric toothbrush heads as a better alternative to regular brushing that produces a whiter, healthier smile.
Home whitening and oral care excellence!
As a trusted dentist, I highly recommend the NatruSmile home whitening kit for achieving a brighter, more radiant smile. With its safe and effective formula, you can whiten your teeth conveniently from the comfort of your own home. You can truly experience professional-quality results with NatruSmile and achieve your dream smile!
Dr. Andrés Arias
Serving patients since 2018
5-star home treatment products that work!
My recommendation as a orthodontics of dento-factor facial orthopaedic specialist is that NatruSmile products are 5-star home treatment products that are perfect for young adults to use safely and effectively at home to achieve an awesome smile. I would highly recommended NatruSmile to anyone looking to improve their daily oral care routine.

Dr. Mai Abdelsalam
Orthodontics of dento-factor facial orthopaedic specialist
Eliminates problems with home whitening!
I recommend NatruSmile products because so many others that exist in the market come with problems. Either it does not whiten the teeth enough or they bring a lot of sensitivity and the process is very slow. NatruSmile products eliminates these problems and delivers a smile you always dreamed of in a short time, without pain and at a very competitive cost.
Dr. Daniel Echeverry
7 years as a specialist in oral rehabilitation or prosthodontist
Effective products that will improve your smile!
NatruSmile is a game-changer for improving your oral health and smile. They offer teeth whitening solutions, electric toothbrushes, and tongue scrapers to create a winning combination for a brighter, healthier mouth. These products are safe and effective at removing plaque and stains on the surface of your teeth and I highly recommend NatruSmile's products.
Amber Lust
8 years of dental assisting
Who Recommends Us?
From beauty and wellness to lifestyle and health, the people you trust the most use NatruSmile's electric toothbrush heads to achieve their dazzling smiles.
Our Happy Customers
Our loyal customers are just like you. Hear what real people are saying about NatruSmile Electric Toothbrush Heads.
A seamless replacement!
I'm so happy with the easily replaceable heads on my NatruSmile Electric Toothbrush. I still have my wisdom teeth, and the precision brush and advanced sonic technology really helps me get to those hard-to-reach places in the back of my mouth. Plus, the LED² Technology is a game-changer - I'm whitening my teeth for the first time ever!
Superior cleaning, FOR REAL
The replacement heads for the NatruSmile Electric Toothbrush offer superior cleaning power, yet they're gentle on my sensitive teeth. The soft bristles remove stains and bacteria but not my enamel and gumline (a problem I've previously had with sonic electric toothbrushes). Speaking of which… The sonic vibration brings a whole new level of clean!
Perfect for my whitening routine!
I use the LED electric toothbrush and brush heads with the NatruSmile whitening toothpaste, and it's a perfect combo. The blue light activates the peroxide whitener in the toothpaste, and I'm seeing results! I brush with the SENSITIVE setting, and it is noticeably better than my old electric toothbrush. Happy to recommend this product to anyone and everyone.
Saves me so much MONEY!
I can only imagine what I would've spent on professional bleaching to achieve the whitening results I did with these LED brush heads. The sonic cleaning power and LED² Technology have helped me avoid the alternative: thousands of dollars in professional bleaching treatments. I've successfully achieved a few shades of whitening, and I LOVE the way I look.
Jessie G
27 weeks ago
Jacksonville
Supports Gum Health While Whitening
The replacement heads for the NatruSmile Electric Toothbrush are phenomenal. I use the red LED light to stimulate my gum tissue, which is still sensitive from a recent surgery I had on my mouth. When it's time to whiten, I use NatruSmile whitening toothpaste, the WHITEN mode, and blue LED light for a fast and effortless whitening treatment.
My old toothbrush could never…
I thought I had it all with my Sonicare, but I was missing out big time. With four brushing modes, a timer, and LED light whitens my teeth were all features I didn't know I needed and now cannot live without. I can't recommend these LED toothbrush heads enough to anyone in the market for a new toothbrush… Believe me thy actually work!!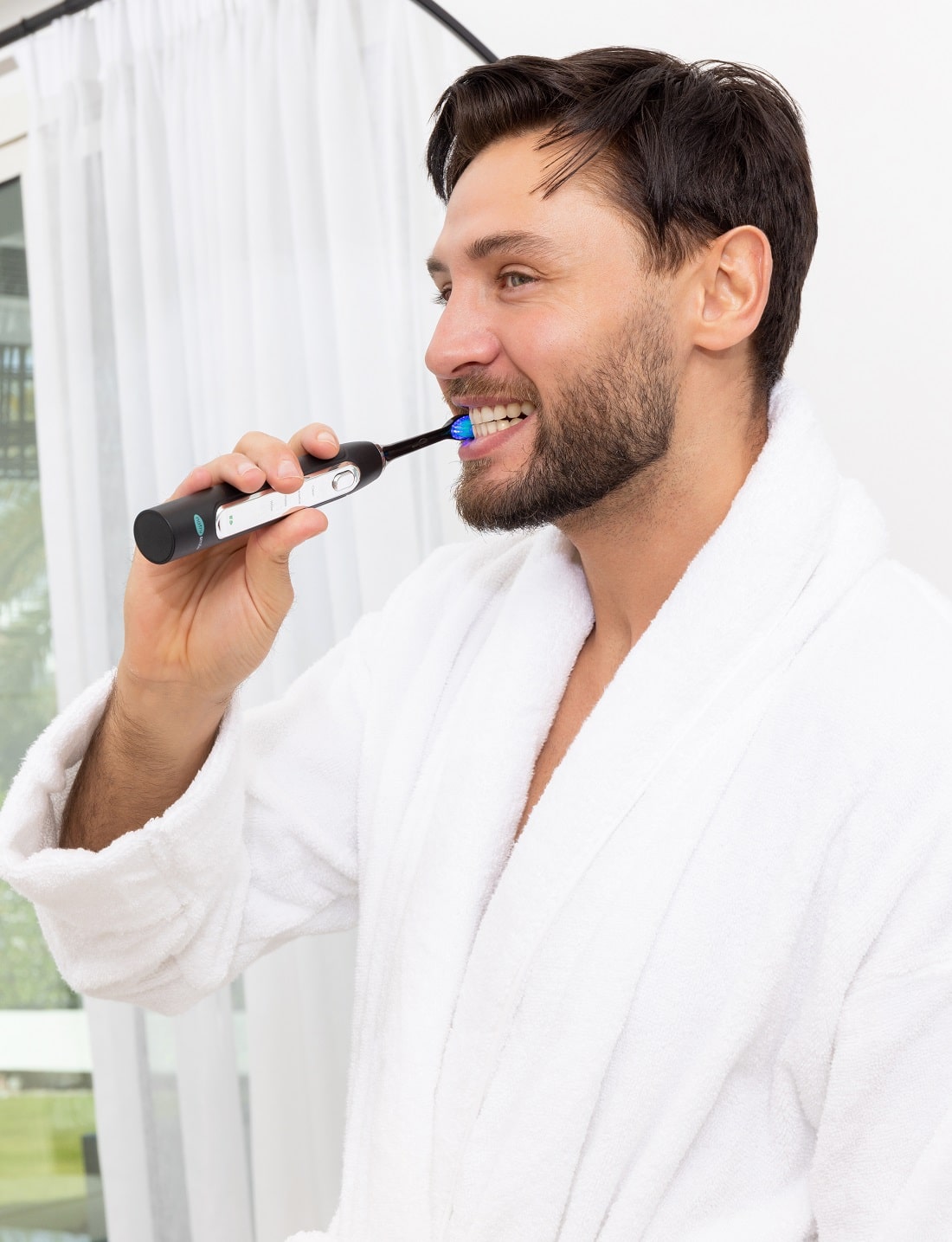 Are electric toothbrush heads safe for your teeth?
Manufacturers must demonstrate the safety and effectiveness of electric toothbrush heads through research to be awarded the ADA Seal. When used correctly, electric brushing with a soft-bristled toothbrush head is more effective than manual brushing. Most clinical research shows LED whitening as the most effective teeth whitening procedure. There are, however, a few factors to consider before using our brush heads.
Brushing too hard or too long
Our electric brush heads have similar bristles to regular toothbrushes, but the sonic brushing vibration does most of the work for you. Applying the same pressure as with a manual toothbrush will erode your gums and outer dentin layer. Brushing too long with an electric toothbrush can have the same adverse effects on your teeth.
Our soft-bristled electric toothbrush heads minimize the risk of gum recession and other damage, and our toothbrush's built-in pacer and timer ensure complete cleaning and whitening.
Over-whitening and sensitivity
Although NatruSmile products are safe for sensitive teeth and our toothbrush heads have built-in safety measures, teeth whitening causes sensitivity in some users. When used as directed, LED technology minimizes potential discomfort. Like over-brushing, whitening for too long is a concern when using our toothbrush heads. To prevent possible harm, only use a whitening toothpaste for 2 to 4 weeks once every 6 months, using a regular one after.
Electric Toothbrush Heads FAQs
Still not sure about the NatruSmile Teeth Whitening Toothbrush Heads? Here are answers to the questions our customers ask us the most.
Are electric toothbrush heads interchangeable?
Electric toothbrush heads are interchangeable as long as they are from the same brand. After you are finished using a NatruSmile electric toothbrush head, all you need to do is pop it out, discard it in the trash, and replace it with a new one.
If you try to use a different brand of electric toothbrush heads with your NatruSmile electric toothbrush handle, it will not fit correctly. Since it won't work with our whitening technology, you also cannot achieve a whiter smile with other whitening brush heads.
Are electric toothbrush heads soft?
Does teeth whitening damage your enamel?
Not all electric toothbrush heads are soft. Unfortunately, this means that your electric toothbrush may damage your teeth and gums without you knowing it.
When selecting an electric toothbrush head, choose one with soft bristles to prevent potential enamel erosion and gum damage. We created NatruSmile Electric Toothbrush Heads to be as gentle as possible on your teeth and gums, so you can achieve a white, healthy smile without compromising your oral health.
How often should you change the head of an electric toothbrush?
You should change the head of your electric toothbrush once every 2 to 3 months. As you brush twice per day, your brush head wears down, rendering it less effective at cleaning and whitening your teeth.
After a few months of use, germs become another concern, as bacteria can accumulate on the bristles and transfer to your mouth, reducing the benefits of your toothpaste. By replacing your electric toothbrush heads regularly, you can protect yourself from germs and enjoy the maximum benefits of electric brushing.
How much do electric toothbrush heads cost?
A package of replaceable electric toothbrush heads costs between $20 and $50 for two or three. Replaceable heads cost more than your average toothbrush because they're designed to work with a motorized base and use advanced technology to brush your teeth more effectively. 
NatruSmile Electric Toothbrush Heads are meant to be affordable, costing as little as $20. Since they are designed specifically for NatruSmile electric toothbrushes and include Dual-Light Technology and multi-speed settings, they provide superior cleaning and whitening results at a comparatively low cost.
Can you use electric toothbrush heads while wearing braces?
Electric toothbrush heads are safe to use while wearing orthodontic appliances. Since they deliver better cleaning results than regular toothbrushes and have a smaller cleaning head, they are ideal for getting into the crevices and hard-to-reach areas between your teeth and braces.
It's worth noting that while our brush heads can help people who wear braces clean their teeth better, their whitening benefits won't work on traditional braces with wires and brackets. The light itself isn't harmful, but the whitening toothpaste it activates is.
Using a teeth whitening toothpaste while wearing traditional braces will only whiten the exposed areas of the teeth, leaving small, dark squares when the braces are removed. Plus, the whitening toothpaste can damage the orthodontic appliance.
Where should you recycle electric toothbrush heads?
Since our electric toothbrush heads contain LED lights and electronics, they are considered e-waste. To properly dispose of your old brush heads, look for a local recycling center in your area that accepts electrical equipment. Alternatively, you might be able to find a drop-off center that accepts electronic waste.
If you can't find a recycling center near you, check your local council website, and look for the, "What can I recycle?" section (or the equivalent) to see if they accept small electrical items. If they do, follow their instructions to arrange for your electric toothbrush to be collected and recycled.
Are all electric toothbrush heads the same?
All electric toothbrush heads are different. Not only are they specially manufactured to fit their respective bases, but they also come with various features and benefits.
For example, our NatruSmile Teeth Whitening Electric Toothbrush heads feature LED² Technology that activates the peroxide in our whitening toothpaste. It is developed specifically to work with the four brushing modes for a personalized experience. 
Some electric toothbrush heads are designed with completely different technology—they clean and whiten using a back-and-forth rotation that covers your teeth rather than a sonic vibration.
Brush heads are also available at different stiffness levels. Our electric toothbrush heads are soft, but there are plenty of options out there that have harsh bristles.
Are electric toothbrush heads FSA eligible?
A flexible spending account (FSA) is a pre-tax benefit account often used to cover dental and health care expenses insurance doesn't cover. You cannot use flexible spending accounts (FSA), health savings accounts (HSA), health reimbursement accounts (HRA), dependent care flexible spending accounts, and limited-purpose flexible spending accounts (LPFSA) to obtain reimbursements for electric toothbrushes because they are considered general health products.
By extension, this also means you can not receive reimbursement for replaceable electric toothbrush heads.
How long does one electric toothbrush head last?
Your brushing technique impacts how long your brush head will last. Habits like brushing too hard, leaving your toothbrush in your mouth while you multitask, biting down on the brush head, and brushing for longer than recommended wear out your bristles and cause them to fray more quickly.
Ideally, one electric toothbrush head should last longer than the amount of time you use it for. It's best to replace your electric toothbrush once every 2 to 3 months, so the lifespan of your brush ensures effective cleaning and protection up until its final use.
To ensure the bristles of your toothbrush outlast the 2-3-month window, brush as directed, practice proper brushing techniques, and store your toothbrush head in a dry location.
How do you clean electric toothbrush heads?
You can clean and disinfect your electric toothbrush head with antibacterial mouthwash. To do this, your first step is to detach your brush from the base and place it in a bowl or medium-sized container. Then, pour your antibacterial mouthwash over the head until it is fully submerged.
Let the head soak for about 5 minutes, then rinse it under hot water before reattaching it to your electric toothbrush base and leaving it to dry upright.
This cleaning method will only work with antibacterial mouthwash—choose a mouthwash that contains chlorhexidine, chlorine dioxide, or essential oils (e.g., eucalyptol or menthol) as active ingredients.
Why are electric toothbrush heads so small?
Most NatruSmile customers immediately notice our electric toothbrush heads are considerably smaller than manual toothbrush heads. This is because electric toothbrushes are designed to fit into your mouth more easily and clean hard-to-reach areas more effectively.
Because of their large size, most traditional toothbrushes cannot reach the back areas and crevices between your teeth. Electric toothbrush heads are smaller to reach further back and fit into the tight spaces in your mouth, so no plaque is left behind. Plus, the reduced size of electric toothbrush heads makes them easier to control for more precise brushing.
How can you fix an electric toothbrush head?
How to repair an electric toothbrush head (or if you can repair it) depends on how it is broken. If your electric toothbrush head snaps in half or is cracked, you can repair it with super glue or epoxy glue. If the LED light inside your brush stops working, you might be able to fix it by plugging it further into the base or recharging the base's battery.
If the bristles fray, you won't be able to reverse the damage. You also can't fix a toothbrush head exposed to excessive heat or water—these types of damage will require you to replace the brush head.
If you drop your electric toothbrush and the LED light stops working after the impact, you can try resetting it by fully charging the base and removing the head. If it still doesn't work, you will have to replace it.
Are electric toothbrush heads universal?
Electric toothbrush heads are not universal. Most brands manufacture electric toothbrush heads specifically designed to work with their electric toothbrushes.
Our toothbrush heads are no different—they are designed to plug into the NatruSmile Teeth Whitening Electric Toothbrush. If you try to plug our brush head into another toothbrush, it will not fit properly. Even if you can jam the head onto another base, LED² Technology will not activate and you will not be able to use any of our 4 brushing modes. 
The only way to achieve the whitening and cleaning benefits of our electric toothbrush heads is to use them with our LED whitening toothbrush.
What type of electric toothbrush head is best?
The best type of electric toothbrush head depends largely on individual needs and preferences. However, dentists recommend a general-purpose brush head with a round or oval shape and bristles that effectively remove plaque and debris is commonly considered the best option. These brush heads provide thorough cleaning of the teeth and gums for most people who use them. Additionally, considering factors such as gum sensitivity, orthodontic needs, whitening desires, or tongue cleaning preferences can help determine the most suitable brush head.