Add an extra layer of protection to your oral care routine with NatruSmile's Tongue Scraper. Our easy-to-use tool gently removes bacteria and debris from your tongue's surface without discomfort.
Remove food residue
Eliminate bad breath
Improve sense of taste
Boost your confidence
Add an extra layer of protection to your oral care routine with NatruSmile's Tongue Scraper. Our easy-to-use tool gently removes bacteria and debris from your tongue's surface without discomfort.
Remove food residue
Eliminate bad breath
Improve sense of taste
Boost your confidence
Regular price
Sale price
$19.99
Unit price
per
Sale
Sold out
Shipping calculated at checkout.
Bundle and Save
Split your payments up with
View full details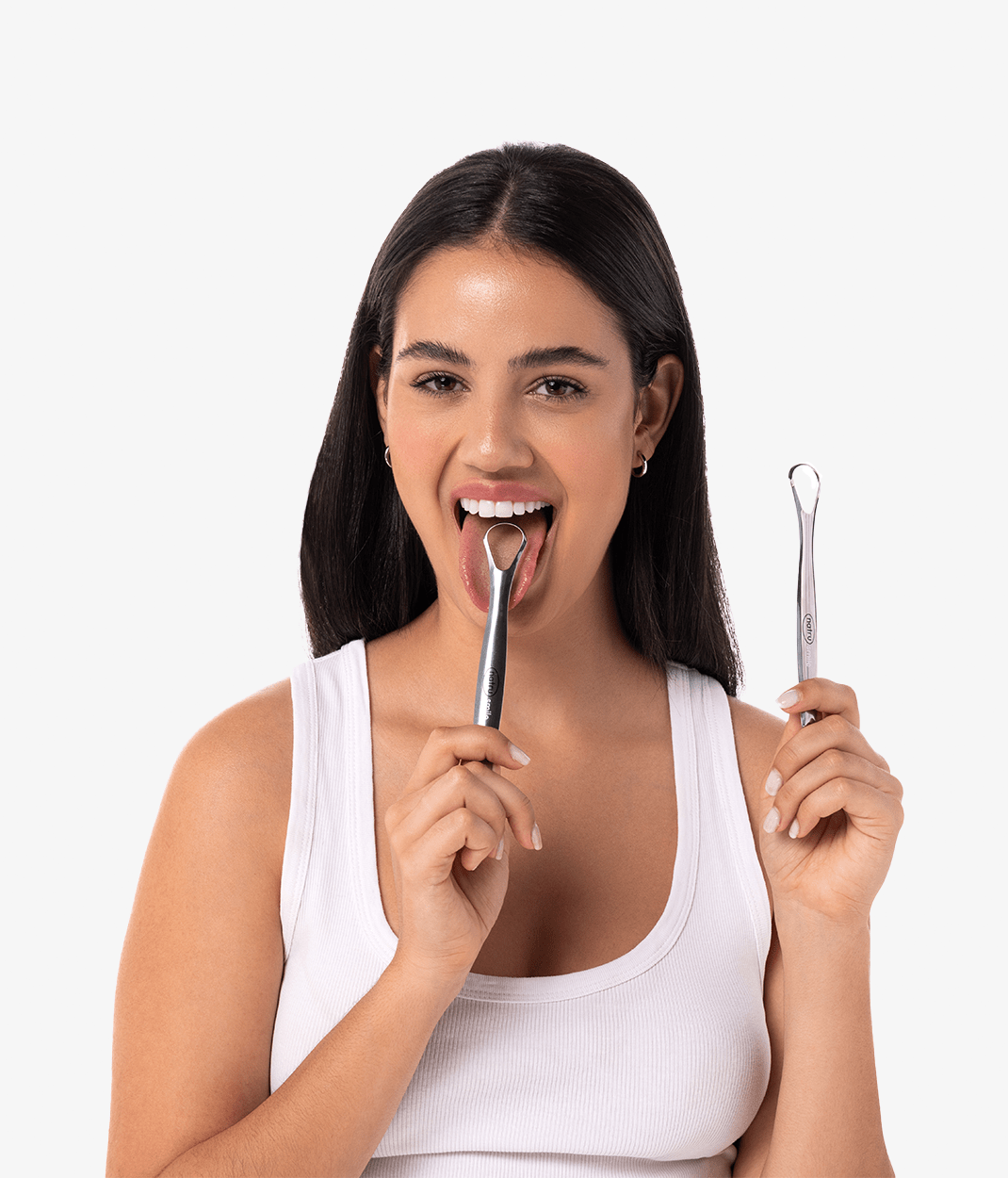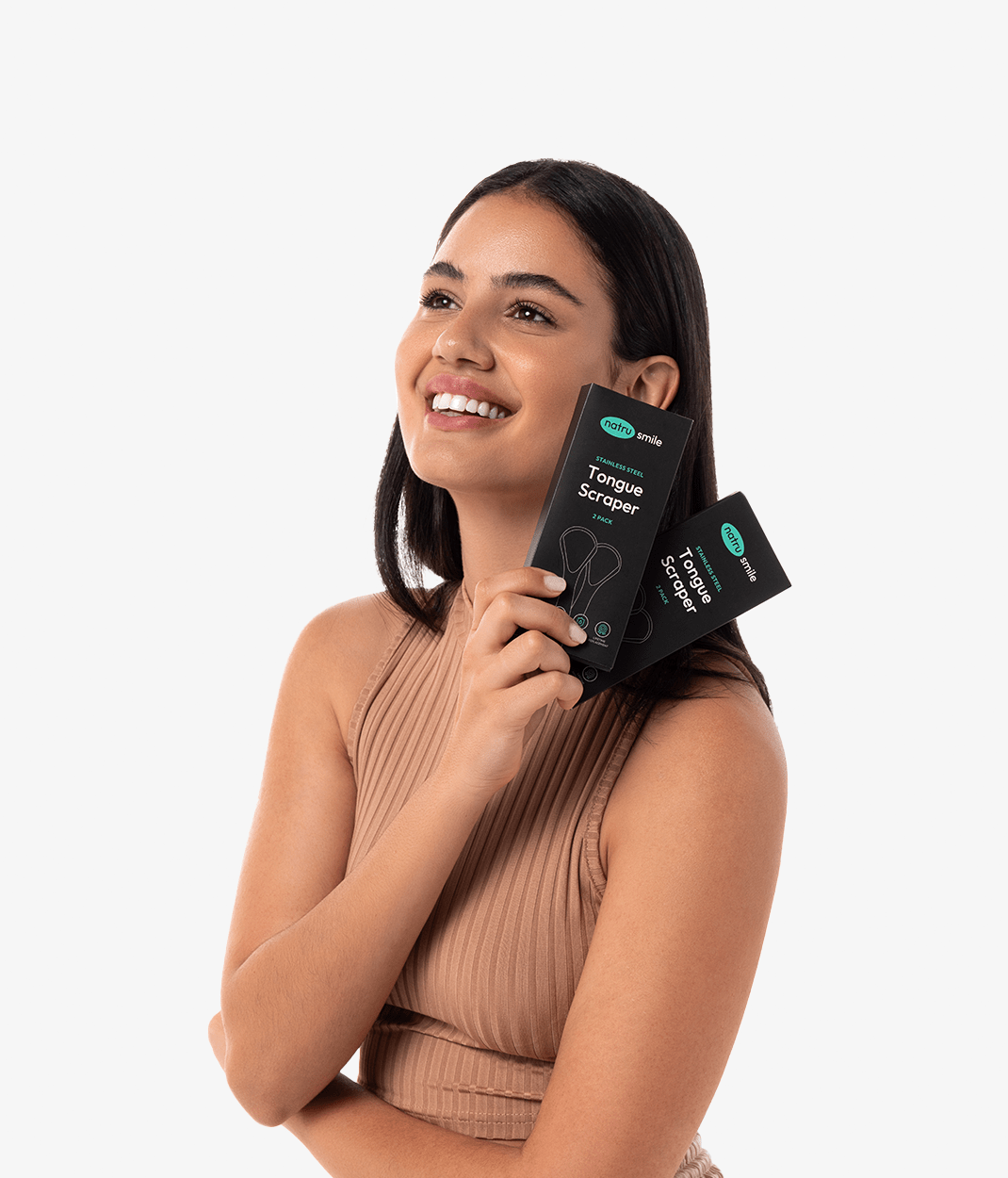 Benefits

Scrape away the bacteria and food residue that blocks your taste buds and causes bad breath in a matter of seconds.

How to use

Stick out your tongue, start the smooth edge at the very back, and run the scraper across its surface 2 or 3 times.

Shipping & returns

We happily ship worldwide and offer hassle-free returns. All products are available for immediate shipping.

Materials

Medical-grade stainless steel tongue scrapers are hygienic, durable, and keep your mouth clean without rusting.
Whiten your teeth, brighten your life.
How to use video
As featured in
How to Use a Tongue Scraper
Using the NatruSmile Tongue Scraper is as easy as 1, 2, 3. Follow the four steps below to achieve a healthier mouth in 2 minutes or less.
Open your mouth

Open up your mouth as wide as possible without causing discomfort. That way, your tongue is as visible and accessible as possible for maximum effectiveness.

1

Stick your tongue out

Stick out your tongue as far as possible to maximize the surface area the scraper covers. Start the smooth edge at the very back of your mouth.

2

Begin scraping

Press the scraper firmly onto your tongue and pull it smoothly from back to front. The rough edge will remove the coating and residue on your tongue.

3

Rinse after each stroke

After each stroke, the scraper moves the removed coating to the tip of the tongue. For complete cleaning, we recommend rinsing the scraper and your mouth.

4
Before & After results
Have you ever noticed white buildup on your tongue? Most people brush their teeth but forget that their tongue is just as important to their oral health.
Before
Scraping your tongue eliminates harmful bacteria that inflame your gums and cause cavities. Neglecting proper oral hygiene leads to other health issues like heart disease and cancer.
Unhealthy mouth
Your normal toothbrush can't reach all the crevices of your mouth. Plaque and debris are building up on your tongue where you don't always remember to clean.
Bacterial buildup on the tongue causes aesthetic issues and bad breath. This leads to self-consciousness when socializing personally and professionally
Ignoring the debris and dead cells on your tongue leads to fungal infections and spreads to the rest of your mouth, causing gum inflammation, yellow teeth, and tooth decay.
Oral health problems only worsen later in life. Those who don't take preventive measures are more likely to suffer from heart and lung problems, stroke, and cancer.
After
With every stroke, feel and see a healthy difference. Experience your full potential by keeping your teeth as clean and your breath as fresh as possible.
A healthier smile
Reach every corner and surface of your tongue and remove the buildup your toothbrush couldn't get to, leaving behind a healthier smile in two minutes or less.
Smile and open your mouth with confidence knowing your mouth is as clean and fresh as possible. Network with ease and make strong first impressions.
Keep your teeth white and your gums healthy by getting rid of your tongue residue before it turns into an infection or spreads to other parts of your mouth.
Reduce your risk of cancer, heart disease, respiratory complications, stroke, and a laundry list of other problems by protecting your oral health to the fullest extent.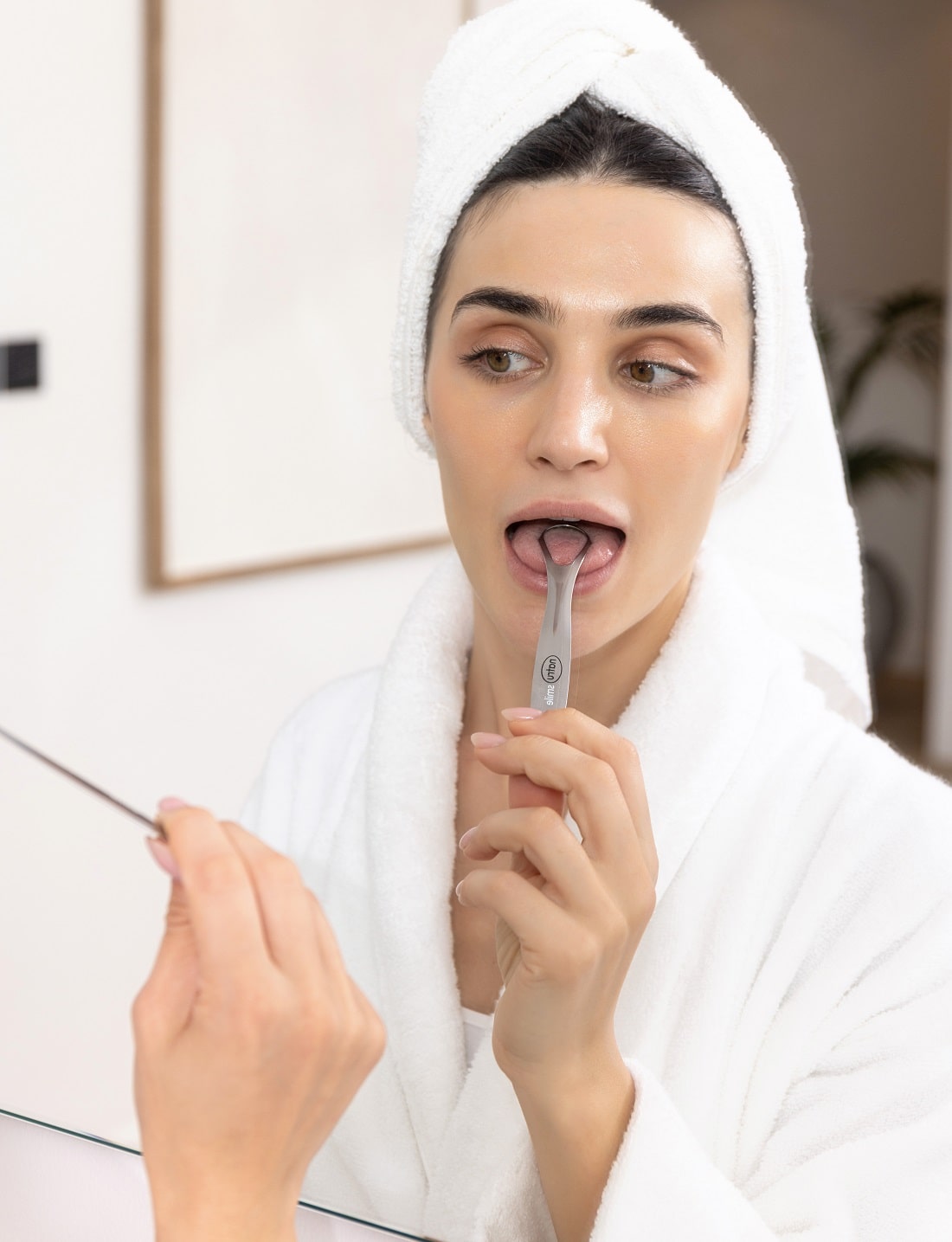 Why use a tongue scraper?
Tongue scrapers are a fast and easy way to remove the food residue, dead cells, and bacteria from the surface of your tongue. Aesthetically, this restores the pink tone your tongue should have, but it also eliminates bad breath and improves your sense of taste. Health-wise, tongue scrapers protect your mouth from fungal infections, inflamed gums, yellow teeth, and progressed forms of tooth decay.
Clear toxins from your tongue
Millions of bacteria live on your tongue. Although some are healthy, they feed on the food residue and dead cells that trap them on its surface, causing bad breath over time. A tongue scraper removes toxins from your mouth by gently lifting off the microscopic bacteria and residual buildup, leaving you with a cleaner, fresher-feeling mouth. As you scrape from back to front, you'll see the difference for yourself.
Improve your tongue's look, feel, and function
When bacteria fester inside your mouth, it forms a yellowish-white blanket over your tongue. This is visually unappealing, but it also affects your sense of taste and smell. Scraping your tongue's surface removes this residue in a matter of seconds and reintroduces your palate to a full spectrum of tastes and smells.
As a bonus, scraping your tongue improves its circulation and function. Better circulation means enhanced digestion, immune system function, and overall health.
What's Included with our Tongue Scraper?
A 2-pack of NatruSmile tongue scrapers has everything you need for a cleaner, healthier, and fresher tongue.
Smooth Metal Edge

Metal edge scrapes without hurting your tongue, allowing for a comfortable cleaning experience.

Stainless Steel Construction

Medical-grade stainless steel is the strongest and most hygienic material, ensuring durability and cleanliness.

Lightweight Design

Lightweight, concave design makes it easy to scrape and maneuver along the contours of your tongue.

Rust-Proof

Stainless steel is rust-proof, so you won't need to worry about discoloration or corrosion over time.

Easy to Store

Compact size makes bathroom and travel storage easy. Small hole at the end is perfect for hanging or attachment.
How do tongue scrapers work?
The way our tongue scrapers work is simple: just hold the scraper firmly and pull it from back to front a few times. The metal edge is concave and smooth, so you won't feel any discomfort while using it. As you scrape your tongue's surface, the bacteria and food residue will lift off in seconds. With every stroke, feel and see a healthy difference. Experience your mouth's full health potential by keeping your teeth as clean and your breath as fresh as possible.
Scraping for balanced oral bacteria
When the bacteria in our mouths are in balance, they can actually help protect us from other potential issues. But millions of bacteria on your tongue right now are causing bad breath, and worsening your oral health.
Maintaining good oral hygiene can help control bacteria and prevent harmful effects. A tongue scraper is one of the most effective ways to do this because it dislodges both the bacteria and their food source on the tongue.
Improve your digestive function
Your mouth is the first part of your digestive tract. Your taste buds, saliva, and tongue all come into play when it comes to breaking down the food you eat. A clean tongue helps your digestive system break down food by activating its enzymes, leading to better absorption of nutrients and improved digestion.
Benefits of using a tongue scraper
Using a tongue scraper is important for your digestive system, taste buds, breath, and overall oral health. And adding tongue scraping to your oral care routine makes a huge difference, but even the best tongue scraper or metal tongue scraper won't give you a full range of benefits on its own — it's part of a larger oral care regimen.
Brush, floss, then scrape
Brushing your teeth is the most important part of your oral hygiene routine. When you add scraping to the mix, you should always brush and floss your teeth before you scrape your tongue. That way, remove all the food particles and bacteria hiding between your teeth before they end up back on your tongue.
Examine your tongue afterward
If you're scraping your tongue because you're concerned about its appearance, look closely at it after scraping. If you notice it is excessively red, purple, white, or black, or if it has a coating that won't come off, it could be a sign of an underlying health issue.
NatruSmile is your complete whitening system
Recommended by Real Dentists
We work hard to ensure our products work as effectively, safely, and gently as possible. Before selling our tongue scraper to you, we tested and verified it with real dentists.
Endorsed by Dr. Greg Grillo D.D.S
Dr. Greg Grillo, D.D.S., a US-based dental specialist, brings 28 years of experience in all facets of the dental profession. Dr. Grillo verifies and endorses all NatruSmile products, including our tongue scraper.
28 years serving patients
Experienced clinician
Dental Advisory board
Greg Grillo, D.D.S. earned his Doctor of Dental Surgery degree from the University of Washington School of Dentistry. He currently serves as an executive of Method Pro and sits on the advisory board for Quip.
Don't Just Take Our Word For It
Dozens of industry veterans recommend our tongue scraper as a beneficial addition to your oral health routine for a whiter, healthier smile.
Home whitening and oral care excellence!
As a trusted dentist, I highly recommend the NatruSmile home whitening kit for achieving a brighter, more radiant smile. With its safe and effective formula, you can whiten your teeth conveniently from the comfort of your own home. You can truly experience professional-quality results with NatruSmile and achieve your dream smile!
Dr. Andrés Arias
Serving patients since 2018
5-star home treatment products that work!
My recommendation as a orthodontics of dento-factor facial orthopaedic specialist is that NatruSmile products are 5-star home treatment products that are perfect for young adults to use safely and effectively at home to achieve an awesome smile. I would highly recommended NatruSmile to anyone looking to improve their daily oral care routine.

Dr. Mai Abdelsalam
Orthodontics of dento-factor facial orthopaedic specialist
Eliminates problems with home whitening!
I recommend NatruSmile products because so many others that exist in the market come with problems. Either it does not whiten the teeth enough or they bring a lot of sensitivity and the process is very slow. NatruSmile products eliminates these problems and delivers a smile you always dreamed of in a short time, without pain and at a very competitive cost.
Dr. Daniel Echeverry
7 years as a specialist in oral rehabilitation or prosthodontist
Effective products that will improve your smile!
NatruSmile is a game-changer for improving your oral health and smile. They offer teeth whitening solutions, electric toothbrushes, and tongue scrapers to create a winning combination for a brighter, healthier mouth. These products are safe and effective at removing plaque and stains on the surface of your teeth and I highly recommend NatruSmile's products.
Amber Lust
8 years of dental assisting
Who Recommends Us?
From beauty and wellness to lifestyle and health, the people you trust the most use NatruSmile's tongue scraper to achieve their dazzling smiles.
Our Happy Customers
Our loyal customers are just like you. Hear what real people are saying about the NatruSmile Tongue Scraper.
For the first time, my bad breath is GONE
For as long as I can remember, I've struggled with bad breath. My dentist recommended using a tongue scraper to remove more of the harmful bacteria in my mouth because brushing my tongue wasn't working. Every morning and night, I scrape my tongue as a part of my regular routine and I can happily say my dentist was right.
A healthier smile in literally 2 minutes
I've been using NatruSmile's Tongue Scraper for a few weeks now. It's amazing how it removes buildup from every corner and surface of my tongue - something I haven't been able to do with brushing alone. It's helped me keep the rest of my mouth healthy and feeling fresh, and I plan to keep my everyday scraping habit for good.
I'm healthier and more confident….
I've always been self-conscious about opening my mouth in public because my tongue always seems to be white. Even if I brush it day and night, I always seem to have nasty residue and semi-bad breath. When I ordered the NatruSmile tongue scraper and carrying it with me to work, I found these problems went away almost completely.
The missing link in my oral hygiene!
I thought brushing and flossing were enough until I tried NatruSmile's Tongue Scraper. I tried a different tongue scraper to no avail, but the stainless steel construction makes all the difference. It reaches where my toothbrush can't and removes bacterial buildup. My mouth feels cleaner and fresher. I can't believe I've been missing this in my routine!
More than just oral health - seriously
Using NatruSmile's scraper for my tongue has made me realize oral health is about more than just my teeth. I've drastically improved my oral health, and my dentist said the overall circulation and function of my mouth have improved. Better digestion, immune system function, and overall health – all from scraping my tongue twice a day!
I improved my taste by scraping my tongue
Certain foods started to taste odd and I realized my tongue is to blame. I've tried a few brands, and NatruSmile's scraper is by far the best. It's made from sterile and durable stainless steel, so it really does a number on bacteria. I definitely see the difference as I scrape from back to front. My mouth tastes normal again.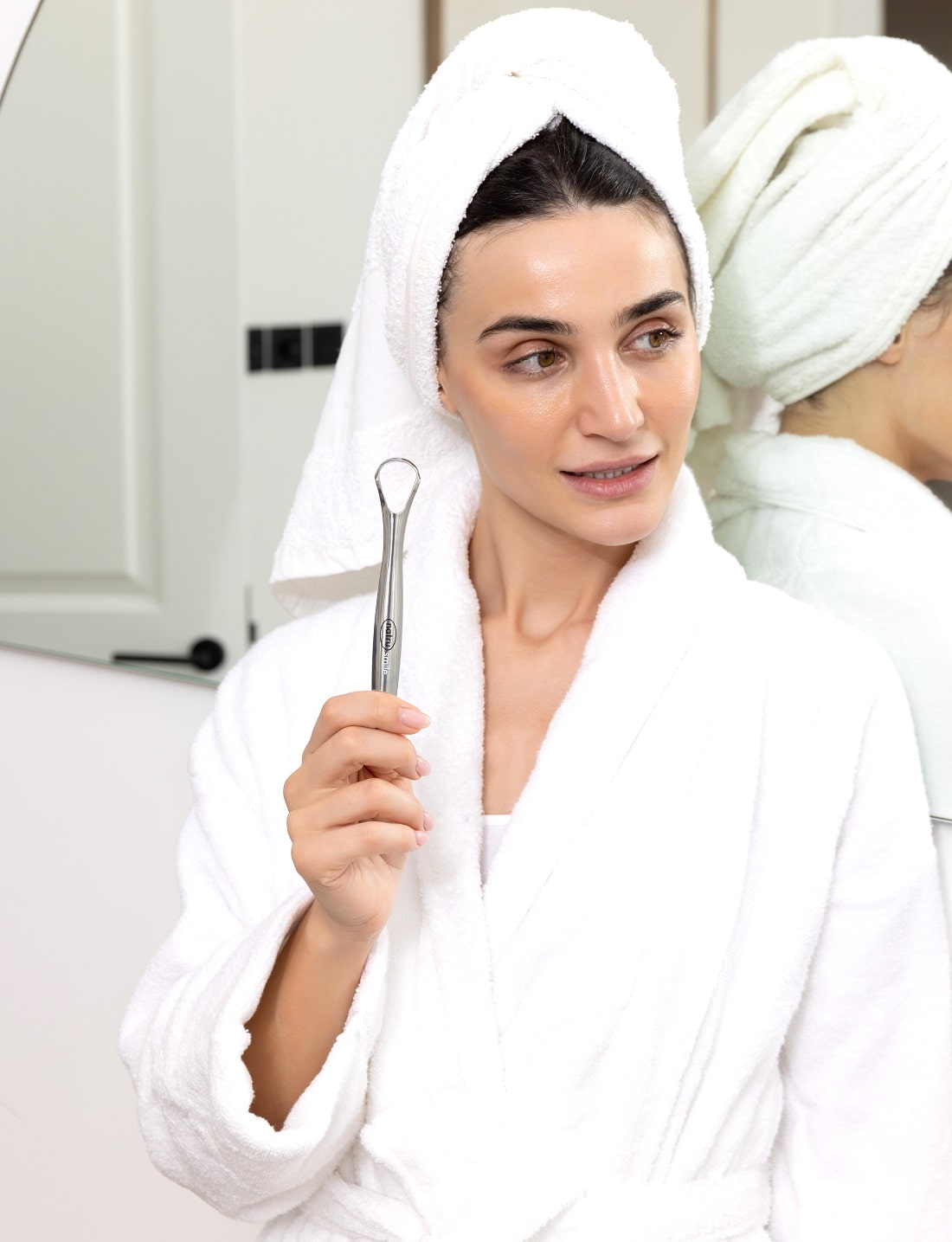 Are tongue scrapers Safe?
According to the ADA and dozens of online medical publications, tongue scrapers are completely safe to use. As long as you use them correctly and don't press too hard, there is no risk involved in using a tongue scraper. The best technique is to hold the scraper firmly and pull it from back to front 2-3 times, without pressing too hard on your tongue. Still, there are a few safety tips to keep in mind.
Overextending or pressing on your tongue
Your tongue can be sensitive to certain movements. Hyperextending your tongue to reach certain parts of your mouth might result in immediate pain and subsequent soreness if you aren't careful. If you press too hard using the scraper, you won't achieve better results, but you do risk hurting your tongue.
Replacing your regular oral care routine
Although tongue scrapers are safe and highly effective, they are not a replacement for your everyday oral health routine. The ADA states you should brush twice a day and floss at least once to maintain your oral health.
Using anticavity mouthwash, tongue scrapers, and other oral health enhancers is an excellent addition to these critical steps, but it is in no way a substitute. NatruSmile customers who use our tongue scrapers but ignore the rest of the ADA-recommended routine will not see the same results.
Tongue Scraper FAQs
Still not sure about the NatruSmile Tongue Scraper? Here are answers to the questions our customers ask us the most.
Where can I buy a tongue scraper?
The best place to buy a tongue scraper is online—that way, you can do all the research you need to do ahead of time.
NatruSmile tongue scrapers are available for immediate purchase at the top of this web page. We offer worldwide shipping and hassle-free returns on all of our orders. For those who want to buy in bulk, we also offer quantity discounts for additional packs.
Alternatively, you can find our tongue scrapers at select brick-and-mortar retailers and specialty online outlets.
Do tongue scrapers cause damage?
When used properly, tongue scrapers do not damage your taste buds. That said, make sure not to apply too much pressure that may harm your taste buds during use. Remember that using a scraper to clean your tongue should be a gentle process that does not cause any pain or damage.
Aside from potential problems with pressure, some customers find that the tongue scraper stimulates their gag reflex. If you have a sensitive gag reflex, a tongue scraper won't cause damage. But it may be uncomfortable.
Is it OK to not clean your tongue?
Although scraping your tongue with a tongue scraper is proven to be beneficial, it isn't a requirement per the ADA's recommendation, nor is it a "must" for other governing bodies. It's perfectly fine not to use a tongue scraper—however, for optimal oral hygiene, it is recommended that you scrape your tongue at least once a day.
If you decide not to use a tongue scraper, you should still clean your tongue while brushing your teeth. If you brush your teeth but not your tongue, chances are that you'll still have excessive bacteria throughout your mouth, causing bad breath and possibly other health problems.
Bottom line? Cleaning your tongue is important for good oral health, and using a tongue scraper is one of the best ways to do it.
Is it good to scrape your tongue?
Scraping your tongue is a good idea, especially if you have a problem with bad breath and notice a yellow film over the surface of your tongue. Bad breath (halitosis) is an issue that affects your self-esteem and ability to socialize with others, and may even hurt your career.
According to comprehensive research published in 2022, tongue scrapers are more effective at removing bacteria, debris, and food particles from your tongue than regular brushing.
The tongue can also be telling of how healthy the rest of your body is (hence the term "tongue diagnosis," which originated in traditional Chinese medicine). This is part of the reason doctors ask you to stick out your tongue during routine exams.
The connection between your tongue, its health, and the rest of your body is complicated, and how exactly a tongue scraper can benefit it requires more concrete research. At the very least, scraping your tongue is proven to benefit your oral health, which does have a direct impact on your well-being.
The NatruSmile Tongue Scraper is designed to remove harmful bacteria, food particles, and toxins that cause bad breath. Regularly scraping your tongue with our tongue scraper will improve your oral hygiene and potentially reduce the number of visits to the dentist. Plus, it's a great way to freshen up after eating!
Do dentists recommend tongue scrapers?
According to dental experts, using a tongue scraper is one of the most effective ways to reduce bacteria in your mouth, clean your tongue, and fix halitosis (bad breath).
NatruSmile tongue scrapers are specifically tested, verified, and endorsed by Greg Grillo, D.D.S., an industry veteran with nearly 30 years of experience in dental practice, advisory, and consulting.
What do tongue scrapers do?
Tongue scrapers are oral hygiene tools designed specifically to clean the surface of the tongue and have great benefits. They are typically made of metal or plastic and have a flat, curved shape with a handle for easy grip. The primary purpose of a tongue scraper is to remove the buildup of bacteria, food debris, dead cells, and other impurities that accumulate on the tongue's surface, that can cause bad breath and an unhealthy mouth!
Regular use of a tongue scraper offers several benefits, which is why we love them! It helps to eliminate the unpleasant odour caused by bacterial residue on the tongue (bad breath), thereby improving breath freshness. It also aids in maintaining a clean and healthy mouth, contributing to overall oral hygiene. Additionally, tongue scraping can enhance taste perception by removing the buildup that can dull the taste buds.