Add whitening to your oral care routine with NatruSmile Teeth Whitening Toothpaste. Restore your beautiful smile while protecting your mouth from cavities and gum disease.
PAP formula
Superior oral protection
Peroxide-free whitening
Whitens several shades
Add whitening to your oral care routine with NatruSmile Teeth Whitening Toothpaste. Restore your beautiful smile while protecting your mouth from cavities and gum disease.
PAP formula
Superior oral protection
Peroxide-free whitening
Whitens several shades
Regular price
Sale price
$19.99
Unit price
per
Sale
Sold out
Shipping calculated at checkout.
Bundle and Save
Split your payments up with
View full details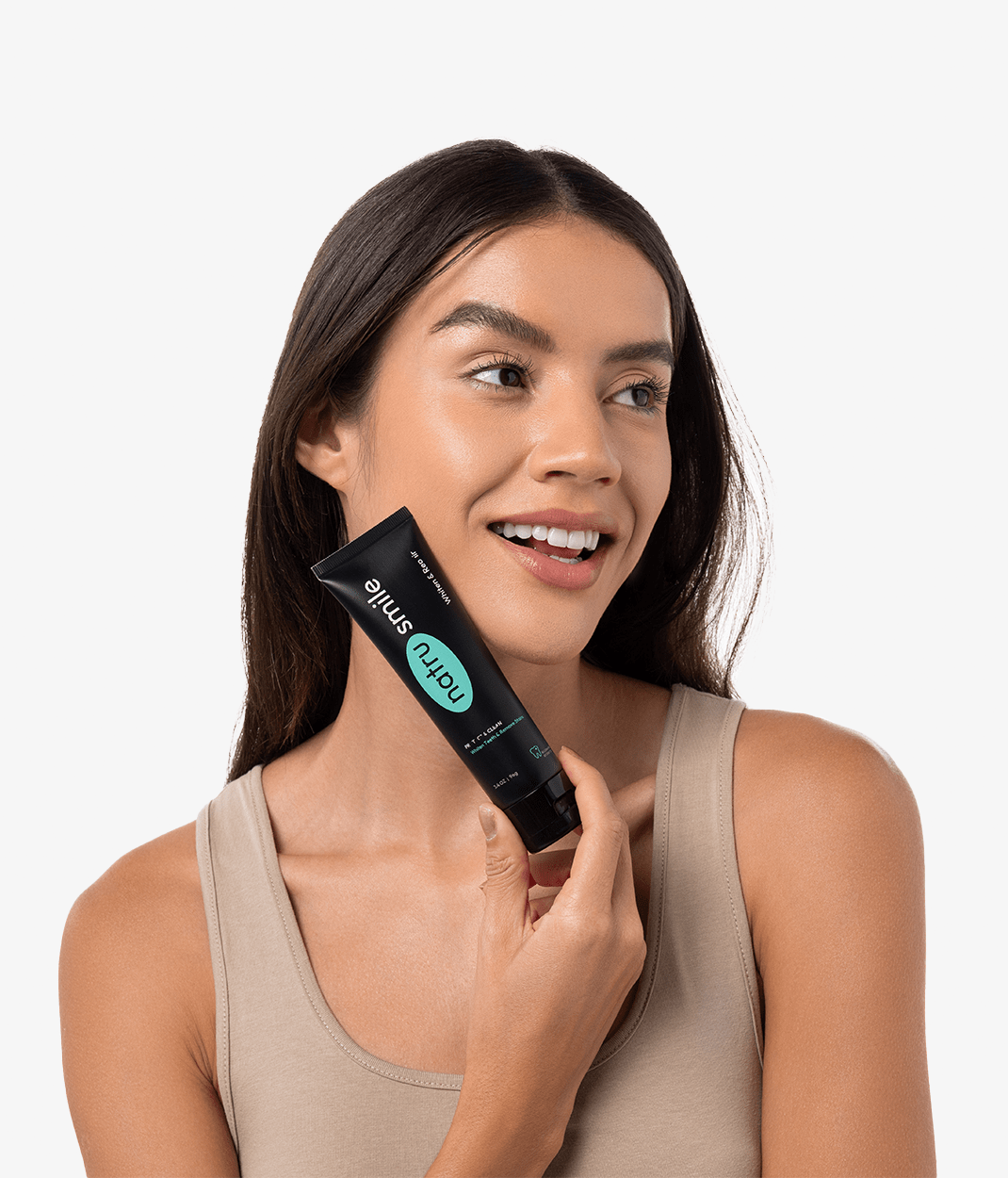 Benefits

Our powerful formula protects and cleans your mouth while safely whitening and repairing your gleaming smile.

How to use

Use 1-2 times daily as an alternative to your regular toothpaste. Brush for 2 minutes, then rinse thoroughly with warm water.

Shipping & returns

We happily ship worldwide and offer hassle-free returns. NatruSmile whitening toothpaste is available for immediate shipping.

Ingredients

PAP whitening formula safely whitens teeth at and below the surface, attacking deep-set stains without damaging enamel.
Whiten your teeth, brighten your life.
How to use video
As featured in
How to Teeth Whitening Toothpaste?
Replace your regular toothpaste with NatruSmile Teeth Whitening Toothpaste during your morning and nightly oral care routine for a beautiful smile that stands the test of time.
Apply toothpaste

Put a pea-sized dollop of our teeth whitening toothpaste on your toothbrush. If you prefer, wet the brush before adding the toothpaste and brushing your teeth.

1

Brush your teeth

Brush as you normally would (2 minutes, 2x daily, with gentle circular motions). For best results, use our teeth whitening toothbrush or LED whitening electric toothbrush.

2

Spit out the toothpaste

Spit out the toothpaste after brushing for 2 minutes. Don't eat or drink anything for 30 minutes after. Enjoy fresher breath, whiter teeth, and a cleaner mouth.

3

Rinse with mouthwash

After brushing, use our teeth whitening mouthwash to eliminate bad breath, enhance your whitening results, and better protect your mouth from cavities and gum disease.

4
Before & After results
Whiten and repair your teeth while protecting them from cavities, bad breath, and harmful plaque. See the results for yourself just a few days after making the switch.
Before
As plaque builds up, it yellows or dullens your teeth and causes foul-smelling breath. Poor oral hygiene is linked to numerous health problems and causes self-consciousness.
Unhealthy mouth
Bad breath and yellow teeth make it harder to speak, smile, and publicly interact with others. When you don't present yourself well, people perceive you as less friendly and trustworthy.
Untreated plaque buildup turns into cavities, gingivitis, and severe oral conditions later on. As bacteria eats away at your teeth, a mild condition can turn into gum disease or tooth loss.
Years of neglect or improper care entail dental restorations and treatments that cost thousands. In the case of severe oral health problems, invasive cosmetic surgery might be required.
If you have poor oral hygiene, you cannot have teeth whitening treatments. Since whitening agents go deep into your enamel, the existing gum inflammation or tooth decay is problematic.
After
NatruSmile Teeth Whitening Toothpaste eliminates harmful bacteria, removes surface plaque, and leaves you with a cleaner and brighter smile than you had before.
Glowing healthy teeth
When you smile and speak confidently, you'll come off as friendlier and more engaging to your peers. This makes networking, dating, interviewing for jobs, and everyday socializing easier.
By eliminating the bacteria that cause cavities and gingivitis, you reduce your risk of future health issues. These include serious oral health conditions and other health problems like heart disease.
Avoid costly dental restorations, impress your dentist, and make bi-annual check-ups a breeze. By taking good care of your mouth, you ensure your next visit won't be for another six months.
Enjoy professional whitening treatments on your terms, with minimal sensitivity and maximum results. When you have good oral health, you don't need to worry about other issues before whitening.
Why use teeth whitening toothpaste?
Whether you want to maintain the effects of a professional whitening treatment or your teeth need a few shades of improvement, our whitening toothpaste is the perfect solution for touch-ups and enhancements. By replacing your regular toothpaste with NatruSmile Teeth Whitening Toothpaste, you can take advantage of the fastest, most straightforward, and most affordable solution to whiter and healthier teeth.
Superior oral protection
According to CDC data, 25% of adults currently have one or more cavities, and the vast majority (70%) have some form of gingivitis or gum disease. These problems (and other oral health issues) are almost always preventable with a proper oral care routine.
Most whitening toothpastes use abrasives to remove surface stains or color-changing dyes to temporarily counteract the yellow color of your teeth. NatruSmile's peroxide-free formula does more than just change the color of your enamel—it offers superior oral protection from cavities, bad breath, gingivitis, and gum disease for a smile just as healthy as it is white.
Amplify your whitening results
In-office teeth whitening costs thousands. The results it yields are supposed to last years, but that all depends on whether or not you maintain your teeth. When used in combination with our teeth whitening toothbrush, our toothpaste boosts the results from professional treatments and teeth whitening kits, so you can smile brighter for longer.
What's Included In Teeth Whitening Toothpaste?
Our teeth whitening toothpaste has everything you need to elevate your oral hygiene routine and protect your pearly whites.
Non-abrasive formula

Our non-abrasive formula safely removes surface stains and enhances your whitening results without damaging your enamel.

Deep-penetrating PAP

PAP formula goes beneath the surface of your teeth to slowly lift stains that may have been present for years.

Minty fresh finish

Menthol gives our toothpaste a fresh taste that lingers. You won't just look fresher after using it, you'll feel fresher, too.

Peroxide-free whitening

Our formula contains no peroxide chemicals, making it perfect for anyone looking for an equally-effective alternative.

Safe for sensitive teeth

The concentration of ingredients in our formula has been tested to ensure minimal sensitivity during and after use.
How Does Teeth Whitening Toothpaste Work?
NatruSmile Teeth Whitening Toothpaste protects your mouth from cavities while freshening your breath and keeping your teeth white. Its non-abrasive nature makes it ideal for sensitive teeth, and the deep-penetrating formula lifts surface stains without damaging your enamel.
The power of PAP
Phthalimidoperoxycaproic acid (PAP) is like a detergent for your teeth—it breaks up the stains on and under your enamel, lifts them, and gradually rinses them away. It is a safe and proven way to remove all kinds of stains, which is why dentists use it over other whitening agents. 
Our unique PAP formula strikes the perfect balance between safety and effectiveness to remove years' worth of staining without causing discomfort or damage. After a few brushes, you'll notice the stains coming off your teeth. Over the course of your treatment (2-4 weeks), you'll start to see the compounding effects of daily use.
Boosts results from our whitening kits
Whitening toothpaste is ideal for whitening a couple of shades and touching up your smile, but it won't get you the same results as extensive treatments. Our LED-activated whitening kit uses higher concentrations of whitening gel and longer exposure times to target even the deepest stains. Brushing with our toothpaste while using our whitening kit amplifies the results of both, helping you achieve dentist-level whitening at a fraction of the cost.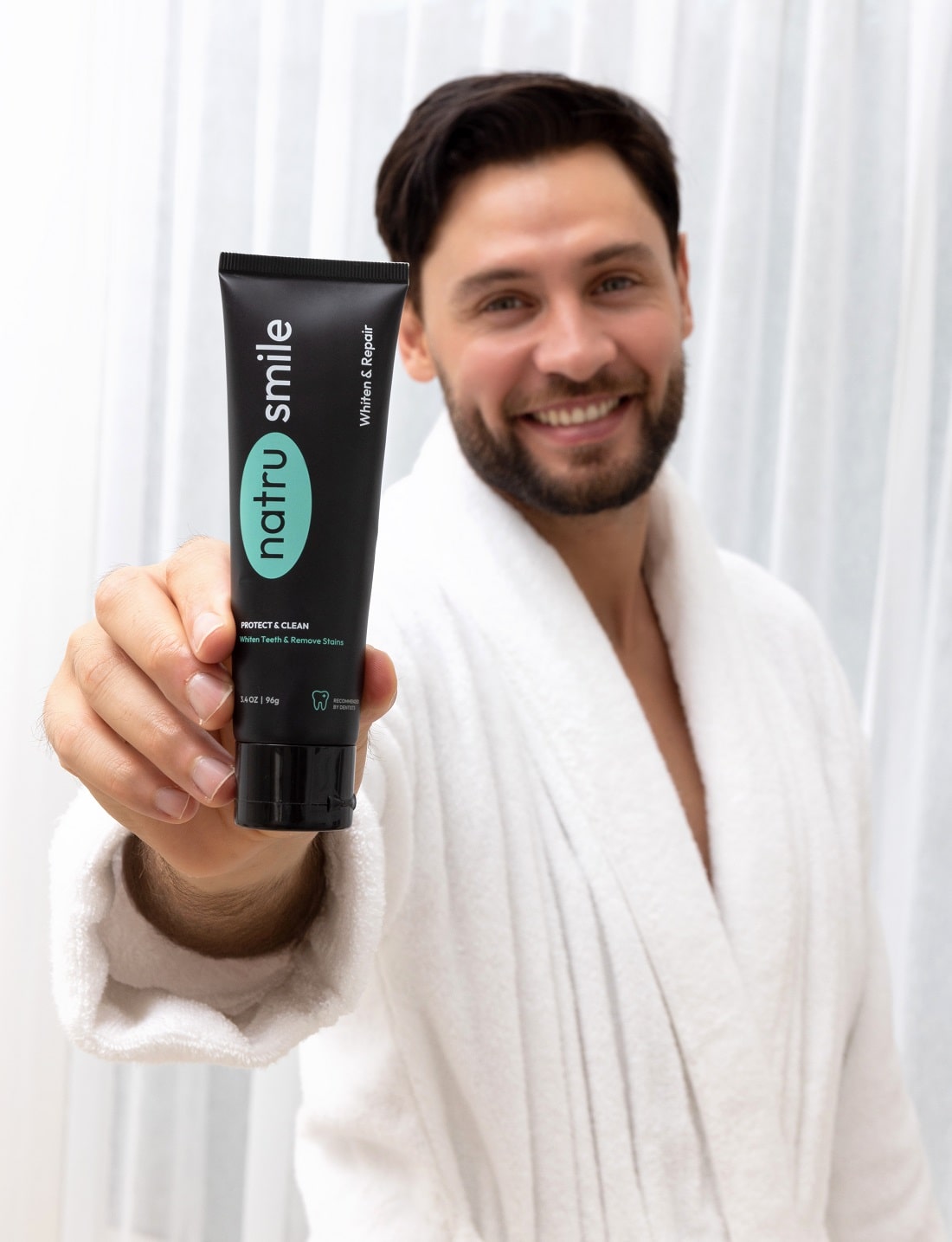 Common Ingredients in Teeth Whitening Toothpaste
Lots of whitening toothpastes contain ingredients that don't actually help your teeth. Turmeric, for example, has been marketed as a whitening agent, but research shows that it's nothing more than a fad. Purple whitening toothpaste—a new trend that also falls short—doesn't do anything to remove your stains, it just counteracts the yellow tint of your teeth for a short time.
We only use proven ingredients in our whitening formula, so you can rest assured you'll achieve optimal whitening results.
PAP (Phthalimidoperoxycaproic acid)
PAP is a newer whitening agent, but it is quickly gaining traction in the dental community as a powerful alternative to traditional peroxide whitening. In our whitening toothpaste, it works similarly to peroxide. 
When you brush with NatruSmile toothpaste, the PAP permeates your enamel pores and eliminates stains without abrasion. It begins working instantly, lifting surface stains and gradually fading deeper ones. After using our toothpaste for 2-4 weeks, it will have enough time to work to its fullest extent. 
Our other whitening products work the same, but longer exposure and LED activation allows for deeper penetration of the gel.
Natural peppermint flavor
Our toothpaste uses natural peppermint flavorings to give you long-lasting fresh breath and a pleasant taste. Our peppermint flavor is derived from natural oil, so you'll have a minty fresh finish for longer than with other toothpaste brands.
Recommended by Real Dentists
Dental professionals across the country recommend NatruSmile Teeth Whitening Toothpaste as a safe and effective toothpaste replacement for whiter and healthier teeth.
Endorsed by Dr. Greg Grillo D.D.S
Dr. Greg Grillo, D.D.S., a US-based dental professional, brings 28 years of experience in all facets of the dental profession. Dr. Grillo verifies and endorses all NatruSmile products, including our whitening toothpaste.
28 years serving patients
Experienced clinician
Dental Advisory board
Greg Grillo, D.D.S. earned his Doctor of Dental Surgery degree from the University of Washington School of Dentistry. He currently serves as an executive of Method Pro and sits on the advisory board for Quip.
Don't Just Take Our Word For It
Dental professionals nationwide recommend the NatruSmile Teeth Whitening Toothpaste as an excellent way to restore your radiant smile.
Home whitening and oral care excellence!
As a trusted dentist, I highly recommend the NatruSmile home whitening kit for achieving a brighter, more radiant smile. With its safe and effective formula, you can whiten your teeth conveniently from the comfort of your own home. You can truly experience professional-quality results with NatruSmile and achieve your dream smile!
Dr. Andrés Arias
Serving patients since 2018
5-star home treatment products that work!
My recommendation as a orthodontics of dento-factor facial orthopaedic specialist is that NatruSmile products are 5-star home treatment products that are perfect for young adults to use safely and effectively at home to achieve an awesome smile. I would highly recommended NatruSmile to anyone looking to improve their daily oral care routine.

Dr. Mai Abdelsalam
Orthodontics of dento-factor facial orthopaedic specialist
Eliminates problems with home whitening!
I recommend NatruSmile products because so many others that exist in the market come with problems. Either it does not whiten the teeth enough or they bring a lot of sensitivity and the process is very slow. NatruSmile products eliminates these problems and delivers a smile you always dreamed of in a short time, without pain and at a very competitive cost.
Dr. Daniel Echeverry
7 years as a specialist in oral rehabilitation or prosthodontist
Effective products that will improve your smile!
NatruSmile is a game-changer for improving your oral health and smile. They offer teeth whitening solutions, electric toothbrushes, and tongue scrapers to create a winning combination for a brighter, healthier mouth. These products are safe and effective at removing plaque and stains on the surface of your teeth and I highly recommend NatruSmile's products.
Amber Lust
8 years of dental assisting
Who Recommends Us?
A few of our most loyal customers come from the beauty and wellness communities, including makeup artists, fitness instructors, nutritionists, and more.
Our Happy Customers
NatruSmile customers from all over see powerful results with our teeth whitening toothpaste. Read their stories and see how they achieve and maintain perfect smiles with NatruSmile.
Great tasting toothpaste!!
The NatruSmile Whitening Toothpaste is a godsend! It's the perfect way to amplify my whitening treatments. I appreciate the non-abrasive formula, as it's been gentle on my sensitive teeth and prevents enamel erosion. And my breath? Fresh all day. Best of all, I got my order in just a couple days. Clearly, NatruSmile cares about their customers.
Verified by real dentists and it shows
I use the NatruSmile Whitening Toothpaste in conjunction with their whitening kits. It's been a game-changer and improves the results from my LED treatment. My teeth are several shades whiter, and I feel like my teeth have never been healthier. It's very clear that this toothpaste has been tested and verified by real dental professionals!
I've regained my confidence at work...
I'm not exaggerating when I say NatruSmile toothpaste has changed my life a little bit. My teeth are noticeably whiter, which was something I was very insecure about. At work, I now smile and speak confidently, and my colleagues are starting to pick up on my improved personality. I've never been able to seize the moment quite like I can now…
Visibly whiter teeth after just a few uses
I've seen visible results (a couple of shades whiter) after just a few uses of my NatruSmile whitening toothpaste. The unique whitening formula is top-notch, and I was delighted to find that it was gentle on my sensitive teeth. I use it with the NatruSmile LED electric toothbrush and will certainly be buying another tube or maybe 10!! Haha
Great product, and great taste...!!
I always switch my regular toothpaste out for NatruSmile Whitening Toothpaste while I go through professional whitening sessions. It amplifies the effects of the treatment and helps me achieve a whiter shade and longer results. Since it's non-abrasive, it doesn't worsen the pain I already have from bleaching my teeth. NatruSmile all the way!!!
Love the mint Toothpaste!!!
I've been using NatruSmile Whitening Toothpaste together with the mouthwash for a few weeks now, and they're the dream team when it comes to simple and effective whitening and cleaning! My teeth are several shades whiter, and my breath is fresh all day. I strongly recommend for anyone who needs a quick touch-up for a healthier looking smile.
Is Teeth Whitening Toothpaste Safe?
Whitening toothpaste is safe under certain conditions, including your toothbrush and brushing techniques. Other factors that impact safety include overuse and misuse of the toothpaste itself. Since our toothpaste includes PAP (a strong whitener), individuals with sensitivity might experience temporary discomfort when using it.
Use as directed to prevent adverse effects
Regarding any bleaching or whitening agent, the main concerns revolve around potential damage to the enamel and its effectiveness. Although evidence supporting these potential effects is inconclusive, overusing our toothpaste or brushing incorrectly can increase the risk of damaging your enamel.
We recommend using a soft-bristled toothbrush using gentle circular motions. Brush gently at the gum line to remove plaque and debris while avoiding any hard scrubbing or excessive abrasion. Do not use teeth whitening toothpaste more than twice per day, and don't leave the toothpaste on your teeth for an extended period.
Use the right toothbrush to ensure safe whitening
Brushes with hard bristles can lead to enamel damage and other oral health issues, so be sure to use a soft-bristled brush when brushing with our toothpaste. Our bamboo teeth whitening toothbrush is designed to minimize sensitivity while maximizing the effects of our toothpaste. 
For those who want greater whitening and protection, our LED whitening electric toothbrush uses blue light to activate the whitener in the toothpaste for more powerful whitening.
Teeth Whitening Toothpaste FAQs
Still not sure about the NatruSmile Teeth Whitening Toothpaste? Here are answers to the questions our customers ask us the most.
Which toothpaste is best for teeth whitening?
Teeth whitening toothpaste is the most popular option for quick and easy improvements to your smile, so there are hundreds of different products available. Unfortunately, most of them aren't very effective. 
Turmeric is a common ingredient in some whitening toothpastes, but its whitening effects are minimal. Many new toothpaste brands are coming out with purple toothpaste, which has a heavily pigmented dye that perfectly contrasts with your teeth, giving you an almost instantaneous white smile. This toothpaste doesn't actually remove your stains, it only changes their color.
Whitening toothpaste that contains sodium bicarbonate (baking soda) is excellent for removing surface stains and discoloration, but it won't be able to tackle deep stains or yellowing.
NatruSmile Teeth Whitening Toothpaste doesn't rely on abrasion or acidic ingredients to remove stains. Our formula is gentle enough for sensitive teeth, and it won't damage your enamel when used as directed.
Can you use teeth whitening toothpaste with braces?
Whitening your teeth with braces is sometimes possible. 
Traditional braces have brackets and wires, which cover the majority of your teeth's surface area. If you use any whitening product (including our toothpaste) on top of them, it will only produce whitening results on the exposed outer sections of each tooth. This means that once you have your braces removed, your teeth will be unevenly whitened, which will look unattractive.
If you wear Invisalign trays or lingual braces, you don't need to worry about coverage because the visible parts of your teeth will be completely accessible to the whitening agent in your toothpaste.
How long does teeth whitening toothpaste last?
The whitening results from teeth whitening toothpaste typically last up to 4 months with proper use and maintenance. When used in conjunction with other whitening products, such as our teeth whitening gel pens or mouthwash, the results often extend past 4 months. 
To ensure complete, long-lasting results, brush with our toothpaste twice per day and use one of our specially designed toothbrushes that help our whitening formula work its magic.
Does teeth whitening toothpaste damage your enamel?
Research regarding whether or not peroxide-based whitening toothpaste can damage your teeth is ongoing and inconclusive. All whitening treatments alter the enamel in some way, but higher concentrations of peroxide (35% or more) cause the most measurable damage. A March 2022 study from F100Research concluded that whitening toothpaste can damage your enamel when it is used too much or for too long.
Our whitening toothpaste uses PAP, not hydrogen peroxide. And it certainly doesn't use such a high concentration of any bleaching agent. Although PAP is still an emerging compound in dentistry, it is quickly garnering the approval of dental professionals worldwide (including those who endorse our products).
The professional consensus on teeth whitening toothpaste is that it is completely safe when used as directed for as long as directed. NatruSmile Teeth Whitening Toothpaste is clinically tested and backed by real dental professionals, so you can rest assured that your enamel is protected using our products.
Does teeth whitening toothpaste cause sensitivity?
Whitening toothpaste, like all other whitening products, has the potential to cause teeth sensitivity. About 1 in 8 people suffer from dentin hypersensitivity (i.e., chronic teeth sensitivity), but the number of people who experience at least some level of sensitivity when using whitening products is higher.
When you put a whitening agent on your teeth, there's no guarantee you won't feel slight discomfort, but there are things you can do about it. NatruSmile Teeth Whitening Toothpaste is formulated to minimize sensitivity and ensure you get the whitening results you want without any of the associated pain.
If you experience sensitivity during or after whitening, try lowering the frequency of treatment or using a desensitizing mouthwash or topical solution to ease the sensation.
Can I use teeth whitening toothpaste everyday?
Teeth whitneing toothpaste is safe for use twice per day, as long as you are following the recommended instructions for use. If your teeth become sensitive or irritated after using our toothpaste, lower the frequency of use to once daily or every other day until sensitivity subsides. 
Although it is safe to use PAP whitening toothpaste every day, we recommend only using it for a 2-4 week stint, especially if you're using other whitening products as well. Limiting your overall use will ensure you don't do any damage to your teeth or over-whiten them.
How much does teeth whitening toothpaste generally cost?
Teeth whitening toothpaste usually costs between $6 and $20. 
On the low end, most whitening toothpastes are ineffective—they don't have the right ingredients, formula, or testing to back them. If you're looking for a good whitening toothpaste, the prices usually start around $15 and can increase up to about $20. 
NatruSmile Teeth Whitening Toothpaste is available at the top of this page for $19.99, which is at the high end of the average spectrum. Since we rigorously test our product for safety and effectiveness and build a network of verified dental professionals who verify it, there are more costs that go into its production. But you get what you pay for, and when you order from us you'll get a premium quality toothpaste that delivers exactly the results you're looking for.
Is whitening toothpaste bad for your teeth?
Whitening toothpaste itself is not bad for your teeth, but incorrect use or overuse can be. 
Whitening toothpaste that contains hydrogen peroxide, carbamide peroxide, PAP, or any other bleaching agent, should not be used more than twice a day, and it should never be left on your teeth for longer than your brushing duration. Since it is a strong whitener, overapplication can result in slight discomfort while you use it. Over time, it could even result in some enamel damage.
The implications of overuse extend to other whitening products as well. Lots of NatruSmile customers use teeth whitening toothpaste alongside whitening kits or professional treatments. Doing so is safe, but users need to be careful not to overuse the products, especially if they have high concentrations (between 30% and 40%) of a bleaching agent.
Where can I buy teeth whitening toothpaste?
NatruSmile Teeth Whitening Toothpaste is available for immediate purchase at the top of this page. We ship internationally, accept nearly a dozen forms of payment, and begin processing your order as soon as you place it.
Alternatively, you can find our products at a few specialty online outlets and brick-and-mortar retailers.
Is teeth whitening toothpaste effective?
Teeth whitening toothpaste is effective when it uses the right whitening agent. It is generally recognized as an effective whitening solution because it permeates pores in the tooth enamel to break down and remove stains at and beneath the surface. 
Whitening toothpastes that include citric acid, harsh abrasives, or disproven ingredients from whitening fads will not show the same effectiveness, and can potentially be harmful to your mouth.
Does teeth whitening toothpaste remove stains?
Teeth whitening toothpaste is the most effective way to remove surface stains because it uses a combination of physical and chemical action to break through tough stains. Unlike other whitening products, toothpaste doesn't require trays or strips, which makes it easier (and more convenient) to use. 
In terms of stain removal efficacy, NatruSmile Teeth Whitening Toothpaste is the best choice because it contains PAP, a new, innovative alternative to traditional whitening agents. 
A 2019 study and a more recent 2021 study are among the several that have found PAPe-based whitening products to be safer and more reliable than other active whitening ingredients. The unique formulation in our toothpaste works quickly to penetrate and remove tough stains, leaving you with a brighter, whiter smile.
Can kids use teeth whitening toothpaste?
Children under 12 years of age should not use our teeth whitening toothpaste. Children have a higher risk of overuse and can be more sensitive to the whitening agent our toothpaste contains. 
If your child is over 12 years old, you should still talk with their dentist before introducing a whitening product into their oral care routine. A dentist or dental hygienist can advise you on the best product for your child's teeth.
Can teeth whitening toothpaste cause dry mouth?
A rare side effect of teeth whitening products is teeth dehydration. This is caused by the whitening agent in the toothpaste interacting with the saliva in your mouth, causing it to evaporate and leaving your teeth dried out.
To rehydrate your mouth after using whitening toothpaste, always rinse with warm water or use our teeth whitening mouthwash, which has remineralizing properties. Remember to drink enough water throughout the day while using whitening toothpaste to keep your mouth hydrated and avoid dryness.
When will I see the results from teeth whitening toothpaste?
How quickly you see results from our whitening toothpaste will vary depending on the severity of your discoloration, frequency of use, and whether or not you're using other products. 
NatruSmile customers who have extremely yellow teeth might see noticeable results after one or two brushes, while those with mild discoloration could take a few weeks to see noticeable improvement. If you are using one of our teeth whitneing kits or gel pens, you will see more pronounced changes more quickly.